HARUNIRE Terrace (ハルニレテラス) is a commercial complex in Karuizawa operated by the famous Hoshino Resort. The traditional-look terrace has the Yu River (湯川) flowing on its right and is surrounded by a Japanese elm forest. With many trendy restaurants and boutique shops, the terrace is one of the most popular spots in Naka-Karuizawa for those who want to take a break from sightseeing in the renowned summer resort. While many stores there don't open until late morning, because of Bakery & Restaurant Sawamura, many people can still be seen there from early morning.
A List of Recommended Shops and Restaurants at HARUNIRE Terrace
Tip: If it suddenly rains when you visit HARUNIRE Terrace, you can borrow an umbrella for free!
Where Is HARUNIRE Terrace
Karuizawa Hoshino Area, where HARUNIRE Terrace is located, is a town loved by writers in the Taishō period. In addition to the rich nature where more than 80 different kinds of wild birds and Japanese serow reside, Hoshino Onsen Tombo-no-Yu is another reason that tourists would come over to visit.
How to Get to HARUNIRE Terrace
HARUNIRE Terrace is around a 15 to 20-minute walk from Naka-Karuizawa Station.
The free shuttle bus departs from the south exit of Shinano Railway's Naka-Karuizawa Station (中軽井沢駅). The bus trip will take around 6 minutes.

Note that the free shuttle bus service is only for guests of Hoshinoya Karuizawa and Hotel Bleston Court.
You can also take a bus from JR Karuizawa Station's north exit and get off at Hoshino Onsen Tonbo-no-Yu (星野温泉トンボの湯). The bus trip will also take around 20 minutes.
Refer to HERE for the bus timetable.
Karuizawa Umbrella Sky (軽井沢アンブレラスカイ)
From early June to the end of the rainy season each year (usually early July), HARUNIRE Terrace will become more beautiful as more than 100 umbrellas in various colors are hung between the buildings and the trees on the terrace. When the sun goes down, the umbrellas are lit up, creating a fantastic atmosphere that is completely different from the daytime.
And when it rains, various plant and animal patterns will appear on the wet wooden deck. It can be a Japanese elm leaf, a squirrel, or even an Asian black bear!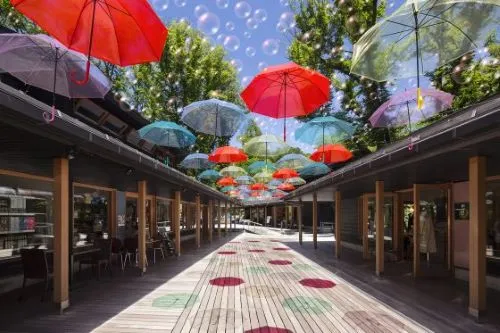 So while many try to avoid traveling during the rainy season, visiting Karuizawa during this time of the year won't totally be a bad idea!
Karuizawa Umbrella Sky is held from 8 am to 10 pm from the 2nd of June to the 9th of July in 2023.
The nighttime light-up is on from 6 pm to 10 pm.
Soap bubbles will appear at HARUNIRE Terrace at 10 am, 4 pm, and 8 pm unless it rains.
From 1:30 pm to 3:30 pm on Saturdays, tools are provided to bag super big soap bubbles at the square next to Hoshino Onsen Tobo-no-Yu!
Bakery & Restaurant Sawamura (ベーカリー&レストラン沢村)
Bakery & Restaurant Sawamura is the first shop to open each day. Infamous for its freshly baked bread and pastries, it is where many who stay in Karuizawa Hoshino Area will visit for breakfast.
Because the level of service, the internal vibe, and the bread are similar across the baker's bakeries, please refer to our articles on Old Karuizawa Ginza Street for more information about Bakery & Restaurant Sawamura!
Note that there aren't many vegetarian light meal options at their restaurant.
Bakery & Restaurant Sawamura's Business Hours
Bakery & Restaurant Sawamura is open from 7 am to 9 pm.

The last order at the restaurant is taken at 9 pm. The restaurant is closed at 10 pm.
Sekireibashi Kawakami An (せきれい橋 川上庵)
Sekireibashi Kawakami An is another top-related restaurant with a branch at HARUNIRE Terrace. If you have been to Kawakami-An in Tokyo or on Old Karuizawa Gina Street, you will agree that HARUNIRE Terrace is the perfect place for it to have another restaurant at. The terrace's stylish appearance perfectly matches the soba noodle restaurant's trendy look!
Because the level of service, the internal vibe, and the menu are similar across Kawakami-An's restaurant, please refer to our Old Karuizawa Ginza Street article for more information about Sekireibashi Kawakami An!
HARVEST NAGAI FARM (ジェラート HARVEST NAGAI FARM)
On a hot summer day, HARVEST NAGAI FARM is the best shop to head to. Operated by Nagai Form (永井農場) at the foot of Mt. Asama (浅間山), the gelato there is made each morning with milk delivered directly from the farm. Throughout the year, more than 40 flavors can be found at HARVEST NAGAI FARM!
In addition, HARVEST NAGAI FARM is where you can discover new ways of consuming vegetables. Aside from the flavors made with fresh fruits, there are also rare flavors such as rice, corn, and asparagus!
In addition to gelato, you can also find liquid yogurt and other dairy products. If you arrive early, fresh produce might also be at the entrance.
HARVEST NAGAI FARM's Business Hours
HARVEST NAGAI FARM is open from 10 am to 6 pm.
Izumi-ya Dembee (和泉屋 傳兵衛)
If you are after souvenirs and snacks made by a long-established confectionary maker, Izumi-ya Dembee is the place to go. The shop, which was opened in the early 20th century utilizing local specialities such as pinto beans, walnuts, and milk, has a reputation for making delicious snacks.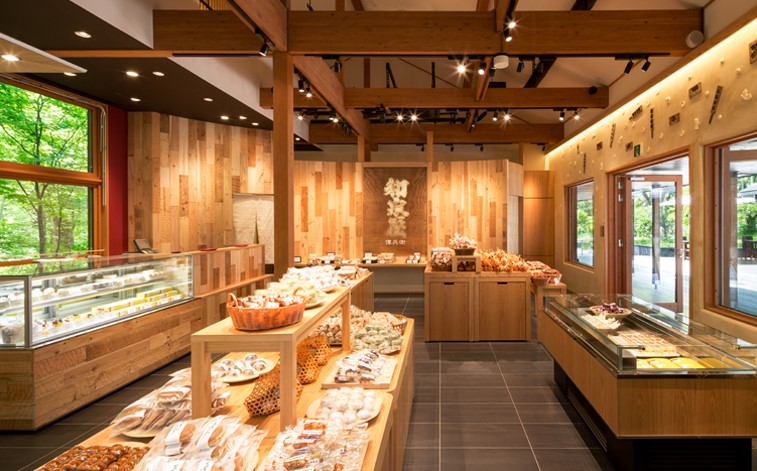 The most popular sweets series is its walnuts range confectionary.
For example, Korokoro Kurumi (ころころくるみ), a manjū bun that has a slight cinnamon scent. Because the cake is made with honey, apple, and nuts, such as crushed walnuts and almonds, it has a crunchy texture. Unlike manjū buns found elsewhere in Japan, Korokoro Kurumi is more like a dried apple and nut pie.
While it can only be consumed on the same day, the Walnut Riceball (Kurumi Dango, くるみ団子) is another traditional sweet that many come back for. The rich walnut puree covering the rice stick is just amazing!
If you love cheese, you will love Izumi-ya Dembee's Karuizawa Hanjuku Cheese (軽井沢はんじゅくチーズ). As you bite through the cheesecake, the texture changes from fluffy soufflé-like to rich half-baked cheese! The cake also has a chocolate version called Hanjuku Shokora (はんじゅくショコラ). Inside its moist skin is finely made dark chocolate that even those who aren't fond of sweets would enjoy.
For something more special, give HARUNIRE Terrace no Kokei (ハルニレの小径) a try. It is a confectionary made with Nagano Prefecture's pinto beans. The pudding and alcoholic jelly are also receiving high attention from Izumi-ya Dembee's customers!
Izumi-ya Dembee's Business Hours
Izumi-ya Dembee is open from 10 am to 5 pm on weekdays and extended business hours to 6 pm on weekends and public holidays.
Karuizawa Vegetable Kokopelli (Karuizawa Vegetable ココペリ)
For freshly harvested fruits and vegetables, head to Karuizawa Vegetable Kokopelli. Including the fertility deity's name in its shop name, it brings you the deliciousness of Karuizawa's and the surrounding areas' fresh produce!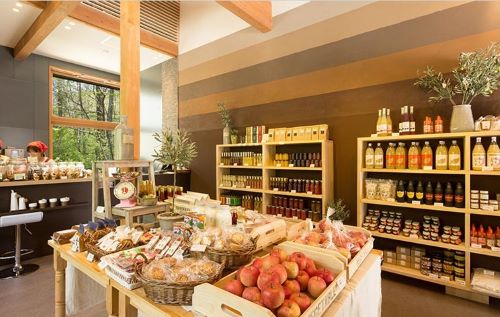 Of course, as a tourist, you don't want to carry a large lettuce back to your hotel room. But that doesn't mean the grocery store isn't worth your time, as there is more than one way to enjoy these fresh ingredients. Not only does the shop sell jams in various flavors, it also sells freshly baked items, pickled, seasoning, dairy products, and smoothies!
Karuizawa Vegetable Kokoperi's Business Hours
Izumi-ya Dembee is open from 10 am to 5 pm on weekdays and extended business hours to 6 pm on weekends and public holidays.
il Sogno Pizzeria (イル・ソーニョ)
While the vegetarian menu items are limited, the pizzeria il Sogno is a restaurant to stop by for lunch if you are stricter with your vegetarian diet. It is always easier to ask the restaurant to remove certain ingredients from your meal when it comes to pasta and pizza. Plus the restaurant is really accommodating when it comes to special dietary requirements.
il Sogno is a pizzeria that is particular about using local fresh produce. Each of them was carefully selected by the chef from a farm about 2 km away! Whether it is bagna cauda made from plenty of vegetables, Roman-style pizza baked in a stone oven, and pasta or grilled dishes, they all taste amazing!
If you visit the restaurant with a group of people, you can reserve/request a private room. In addition, there are also terrace seats for those who enjoy outdoor dining.
Tip: While a reservation isn't required, it is best to do so if you want to dine on weekends or public holidays. You can call il Songo at +81-267-31-0031. Even if the restaurant is fully reserved, it is likely you can still be seated in around 15 to 30 minutes.
il Sogno Pizzeria's Business Hours
il Sogno Pizzeria is open from 11 am to 10 pm. The last order is taken at 9 pm.
Discover Other Attractions in Karuizawa Hoshino Area
As you might have guessed already, HARUNIRE Terrace isn't the only tourist spot in the Karuizawa Hoshino Area. You would want to check out a couple more attractions close to the terrace, including unique churches and hot spring facilities. If you want to escape from the crowd, there is also a cafe in the forest with a lakefront view where you can ice skate in the winter!
For more information, refer to our article on Karuizawa Hoshino Area!