Miyama Park (みやま公園) in Tamano City is an enormous park that boasts a size of more than 200 hectares. It hosts 150,000 trees spanning more than 300 species, including plums, camellias, azaleas, maples, and about 7,000 cherry trees that bloom one after another throughout the year!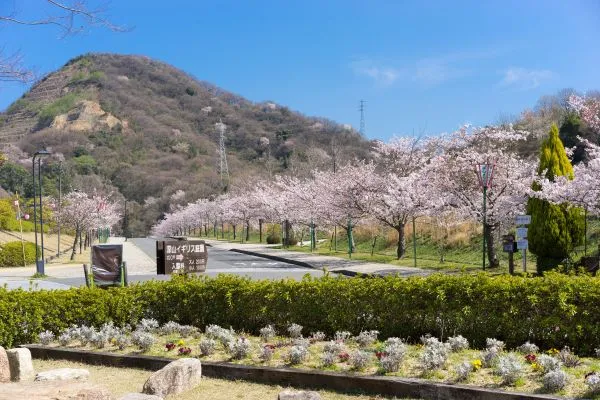 The Roadside Station (道の駅), located on one side of the park, offers freshly harvested fruits, vegetables, and local specialties. There is also a bakery, a cafe, and a food truck available for visitors (=゚ω゚)ノ.
For some photos of the dishes on offer, please refer to their website HERE.
Important: We have received advice from the park staff that they currently don't have any vegetarian dishes. Some menus may appear vegetarian but have meat/fish extract in their broth/sauce.
Tip: But things might change in the future. So when you get there, you can always utilize the phrases in our Essential Japanese Travel Phrases for Vegetarians and Vegans article to see if there is anything that you can eat!
Opening Hours of Cafe and Bakery at Miyama Park
The bakery is open from 8 am to 3 pm daily except Tuesday (unless it is a public holiday).
The cafe is open from 8:30 am to 5 pm except for Tuesday.

The lunch menu is served from 11 am to 3 pm.

The food truck is open on weekends and public holidays. It may or may not open on weekdays.
The Japanese restaurant – Gonta Chaya (権太茶屋) is open from 11 am to 5 pm daily except for Wednesdays.
Bike Rental at Miyama Park
To fully explore Miyama Park, renting a bicycle to get around can be a great way to save time!
The park's office offers bikes of various sizes. The office is open daily from 8:30 am to 4:30 pm except for Wednesdays and from the 29th of December to the 3rd of January. If Wednesday is a public holiday, it will close on the next business day instead.
Prices are listed below for bicycle rentals of up to 3 hours. It will cost 100 yen per hour after the initial 3 hours.
Elementary school students and younger: 200 yen
Everyone else: 300 yen
Electric-assisted bikes: 500 yen
To check out where they put their bicycles, please refer to Tamano City's website HERE and translate it using Google Chrome's translation function at the right of the address bar. Location A on this MAP is where the office, Miyama Center House (深山センターハウス), is located.
Please remember to return your rented bike to the office during their business hours on the same day.
Meeting the Ducks and Swans in Miyama Park
There are a few ponds in Miyama Park. Around the Akamatsuike Pond (赤松池), you will most likely find swans and a couple of different species of ducks!
The ducks are migratory birds, so you will most likely see them from October to March each year (=゚ω゚)ノ.
There aren't any rules that forbid you from feeding them. But if you do, give them some healthy snacks and watch out for your fingers.
The Best Time to Visit Miyama Park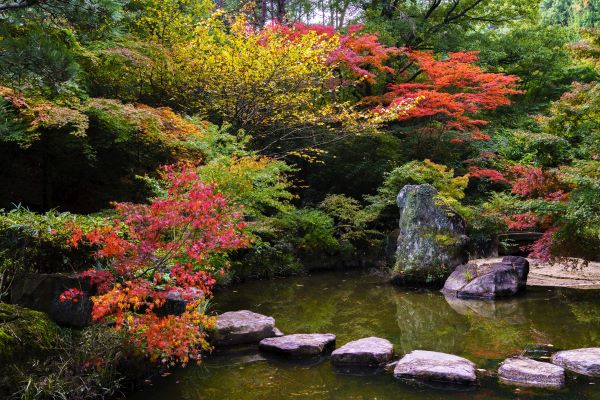 Cherry Blossom: early to mid-April (around 7,000 cherry trees)
Wisteria: late April to early May
Azalea: late April to mid-June (around 10,000 Azalea trees)
Hydrangea: mid-June (around 1,500 trees)
Fall Foliage: early to mid-November
Miyama British Garden (深山イギリス庭園)
Next to Miyama Park Roadside Station is this lovely English garden.
The concept of the garden is the 20th-century traditional English garden featuring many flowers and trees that coexist with their beauty in the natural landscape.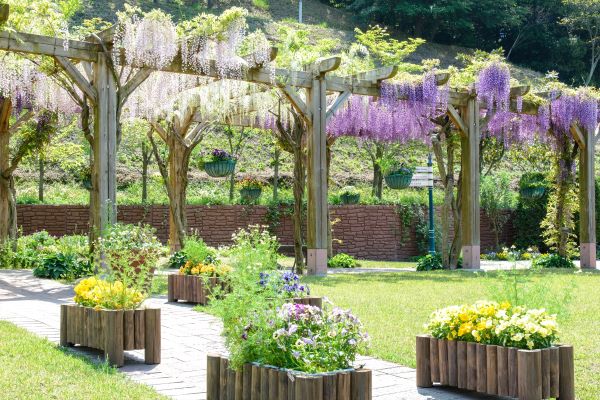 If you love wisteria, visit the garden from late April to early May, and you may find a flowering tunnel made of five different types of wisteria that vary in color.
Miyama British Garden's Admission Fees, Opening Hours, and Access Information
The admission fee is

100 yen for elementary school students and the elderly who is 65 years old and above
200 yen for adults

The garden is open from

9 am to 4:30 pm from March to November

The garden is closed on Wednesdays and from the 29th of December to the 3rd of January.

If Wednesday is a public holiday, it will close on the next business day
By Train: Take a JR train that stops at Bizen-Tai Station (備前田井駅). From the station, it will be a 20-minute walk
By Bus: from JR Okayama Station's bus stop No. 2, take National Highway No. 30 Line bound for Tamano (国道30号線:玉野方面) and get off at Miyamakōen Iriguchi (深山公園入口).

The timetable for this line can be found

HERE

(Japanese only). Please refer to the table on the left on both pages only.

The tables on the first page are for services going to Miyama Park, and the tables on the second page are for services heading back to Okayama Station. The tables in green are for weekdays, and the tables in red are for weekends and public holidays.
You can also board the bus from JR Uno Station's No. 1. As Miyama Park is in between JR Okayama Station and JR Uno Station, if you board from JR Uno Station, please refer to the tables on the first page for buses departing for JR Uno Station. The tables on the second page are for buses departing for Miyama Park.
As Miyamakōen Iriguchi isn't a big stop and thus isn't listed on the timetable. Please use the arrival time at Tai stop (田井) and Yokotaguchi (横田口) for approximation.
From JR Uno Station, the bus trip should take around 15 minutes.
Tip: Check out THIS PAGE to see if the coupon for the admission fee is available!
Explore Other Interesting Places Close to Miyama Park
Miayma Park isn't the only attraction in Tamano City (玉野市) worth your time.
Find out what else you can do and where else to go when you come to this part of Okayama Prefecture with our Tamano City article (=゚ω゚)ノ.