If you plan to visit Nokonoshima Island in Fukuoka, ensure Nokonoshima Island Park (のこのしまアイランドパーク) at the northmost of the island is on your itinerary. It is the most beautiful part of Nokonoshima. Especially with its breathtaking view of the flower fields and magnificent ocean as the backdrop, the park of 150,000 square meters has been enchanting visitors with its natural scenery throughout the year!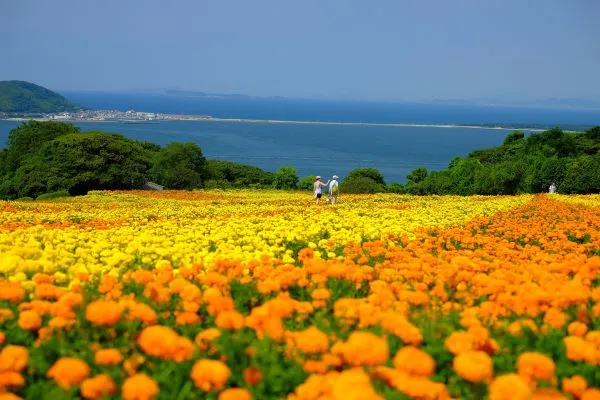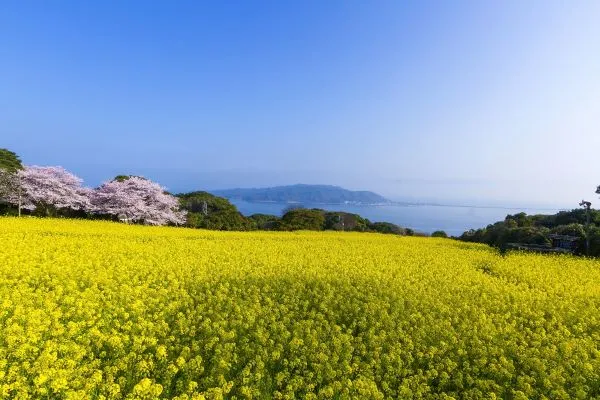 Amongst all the flowers blooming at Nokonishima Island Park, the rape blossoms are well known to bloom from late February to mid-April. Because the flowering season of the rape blossoms overlaps with cherry blossoms, the number of visitors usually peaks from late March to early April.
The park usually receives the second wave of tourists from early October to early November to adore the 500,000 cosmos.
Whilst we have only listed two of the most popular flowers planted in Nokonoshima Island Park, it doesn't mean other types of flowers aren't stunning!
Please refer to the official website HERE for the flowering calendar in Nokonoshima Island Park. Remember to change the language to English at the top right-hand side (click on the words "日本語").
The Kannon Bodhisattva of Love (恋の観音様)
At the far back of Cafe Yumeji (喫茶夢路) by the coast, there is a small worship hall with a Kannon Bodhisattva enshrined.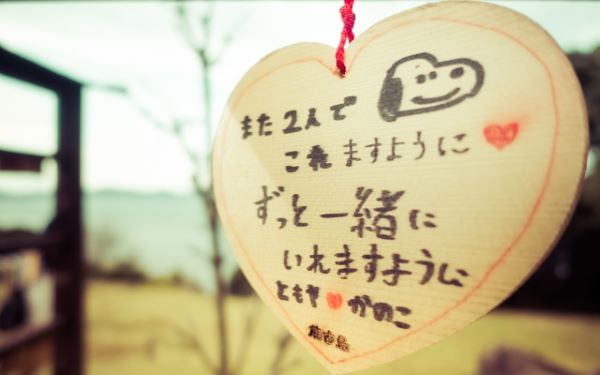 This Kannon statue has been worshiped by those who wish to find the right partner and/or pray for a happy and healthy relationship among singles and/or unmarried couples.
But more recently, the third type of pilgrim has emerged. Those whose wishes were granted would also return to the Kannon Bodhisattva to convey their appreciation.
From Cafe Yumeji, you can purchase a normal wooden pentagon ema plaque or a heart-shaped ema to write down your wishes before hanging it next to the small worship hall.
The Facilities in Nokonoshima Island Park
The retro-style buildings from the Meiji to early Shōwa periods are reproduced in the park, which is great for photo taking.
Inside one of those houses, you will find a cheap Japanese snacks shop, Omohideya (思ひ出や). As all the snacks are cheap, you can fill up a basket, which will still cost under 1,000 yen in total!
Inside the house called Hyakushoya (百姓屋), traditional Japanese toys are placed in the traditional house for you to discover. These toys were kept to entertain young children until a few centuries ago. And yes, you are welcome to play with them too.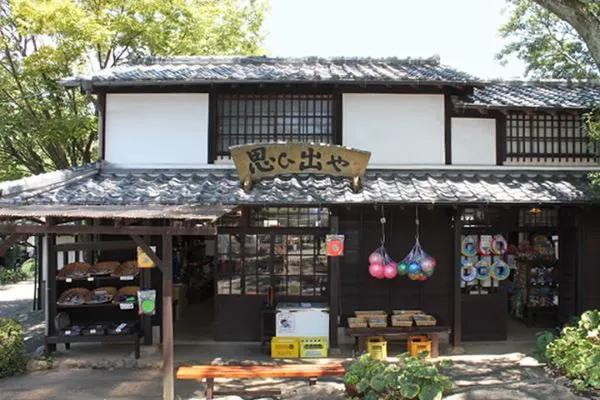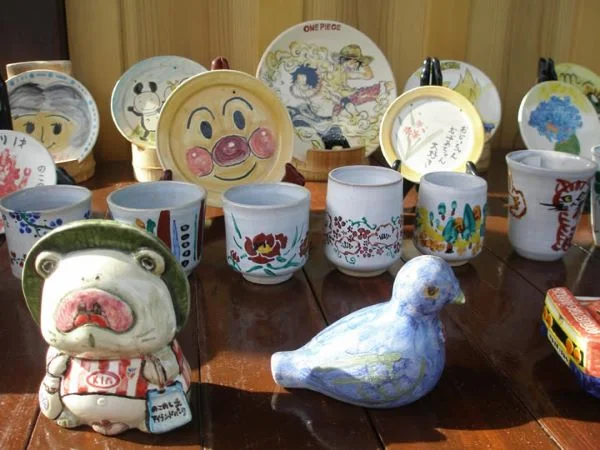 You can also participate in a pottery-making or coloring workshop costing as little as 800 yen.
Please note that it may take up to two months for them to fire the pottery you make, and unfortunately, they won't be able to send your craft overseas either.
That being said, some people just enjoy the making process even if they can't take it with them. However, if you wish to bring a final product back home as a souvenir, the pottery coloring worship is probably better.
Important: Let the staff know you want to bring the final product home on the same day because firing is required for some pottery coloring workshops.
For those who would like to stay on the island, you will probably want to reserve one of their cottages as early as possible to avoid disappointment.
How Long to Spend in Nokonoshima Island Park?
It is better to leave yourself around 3 hours from when you arrive at Nokonoshima Island. This includes time for photography, desserts in the cafe, spending time with the animals at a zoo, and taking an easy stroll around the park.
Please note that if you are heading to Nokonoshima Island, the waiting time for the returning ferry in the late afternoon may take up to an hour.
Important: There is no pure vegetarian savory menu on Nokonoshima Island Park. If you are strict with your diet, it is best that you bring your lunch and enjoy a picnic in the lawn area.
Nokonoshima Island Park's Opening Hours, Admission Fee, and Access Information
The park is open from

9 am to 5:30 pm
9 am to 6:30 pm on Sundays and public holidays from spring to autumn

The admission fee is

1,200 yen for senior high school students and above
600 yen for elementary and junior high school students
400 yen for children from the age of 3
For detailed access information, please refer to Nokonoshima Island Park's website HERE. They have summarised all the transportation methods really well, with links to various timetables.
Tip: If you are an international student, show your student ID to get a 50% off the admission fee!
Discover Other Parts of Nokonoshima
While Nokonoshima Island Park is the island's biggest attraction, there are a couple of other spots that might interest you.
So refer to our article on Nokonoshima to enrich your itinerary!