Saijō Inari (最上稲荷山妙教寺) in Okayama City is a special place as it is one of the only few spots in Japan that combine Buddhism and Shintoism. It is also one of the major Inari Shrines in the country (the other two are Fushimi Inari Taisha (伏見稲荷大社) in Kyoto and Toyokawa Inari (豊川稲荷) in Aichi).
As the formal name of Saijō Inari is Saijō Inari-San Myōkyō-Ji Temple, we will refer to it as "Temple" here.
The symbol of the Temple is the gigantic Saijō Inari Torii Gate that stands out, even from a distance. With a height of 27.5 meters and two pillars with a diameter of 4.6 meters, the total weight of this gate is a whopping 2,800 tons!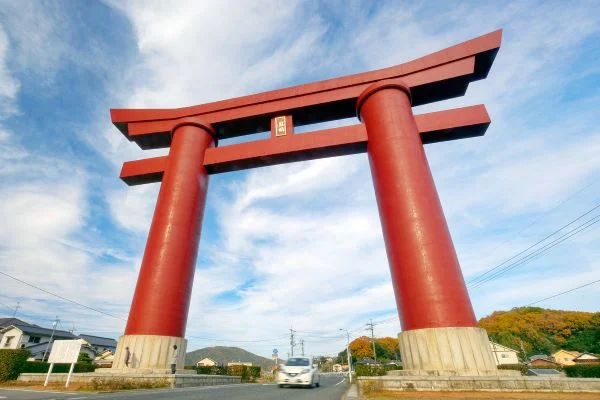 It was first completed in 1972 and underwent a major renovation in 2014. Passing through the gate, though, doesn't mean the Temple is within meters. It is actually closer to the Takamatsu Jōshi Kōen Park (高松城址公園), and the reason has everything to do with Toyotomi Hideyoshi (豊臣 秀吉)'s footstep in the Temple and the Takamatsu Castle. From the Saijō Inari Torii to the Temple, it is another 40-minute walk.
With a history of more than 1,200 years, there are many spots, such as the Kanshō-Tei Garden (寒松庭) and the secret stone Hachijōiwa (八畳岩), that are worthwhile to explore!
For more information about the Temple and a map of its precinct, please refer to their website HERE. If the map on the English website disappears again, you can refer to their Japanese website HERE for an idea.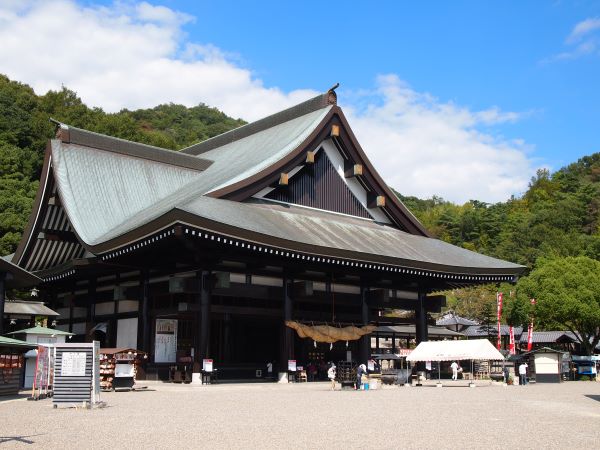 Tip: Please show the staff at the Kansho-Tei Garden THIS COUPON on your device's screen (you can print it out as well) to get a 200 yen discount on the admission fee.
Hachijōiwa (八畳岩) and The Inner Shrine (奥の院)
The view from Hachijōiwa is magnificent. But to get there, it involves a bit of hiking. So, we highly recommend you visit Hachijōiwa first when you get to the Temple. You want to get there while you still have enough physical stamina!
The Inner Shrine isn't on the English map for some reason, but it is definitely there, and your trip to the Saijō Inari won't be complete without visiting the beautiful fox statue!
Be warned, though, to get to the Inner Shrine, it is a 15-minute hike further up the Hachijōiwa. So head up while you still have the energy (=゚ω゚)ノ.
Shōjin Ryōri Cuisine and Staying at Saijō Inari
You can enjoy a 10-courses (1,800 yen) or a 11-courses (3,850 yen) vegetarian set menu (Shōjin Ryōri) in one of the private rooms in Kenmyōkaku (顕妙閣) at the Temple.

Please call to book at least 5 days in advance at +81-86-287-3706 from 9 am to 4:30 pm.
Note Kenmyōkaku is closed on Wednesday.

With 9,900 yen, you can stay in one of the rooms in Kenmyōkaku overnight. The price includes dinner and breakfast. From the balcony, you can see the great torii gate of Saijō Inari!

Check-in is from 4 pm, and please check out by 9:30 am the next day.
Please call to book at least 7 days in advance at +81-86-287-3706 from 9 am to 4:30 pm.
Saijō Inari's Opening Hours and Access Information
There is staff in the office from 5:30 am to 4:30 pm.
Kanshō-Tei Garden is open from 9:30 am to 3 pm.

The admission fee to the garden is

300 yen for adults
200 yen for students, excluding elementary school students
Free otherwise

From JR Okayama Station (岡山駅)'s west exit, it is a 20-minute drive.
From JR Bitchū-Takamatsu Station (備中高松駅), it is a 5-minute drive.
Other Attractions in Okayama City