When you travel up to the Aomori Prefecture, there are a couple of hidden but interesting destinations that you might be interested in, and Sukayu Onsen (酸ケ湯温泉), nestled in the Hakkōda Mountains, is one of them. Especially if you are after a unique hot spring experience and you are the adventurous type, Sukayu Onsen, located between Hakkōda Ropeway and Oirase Gorge, could be a great spot for you to spend a night at.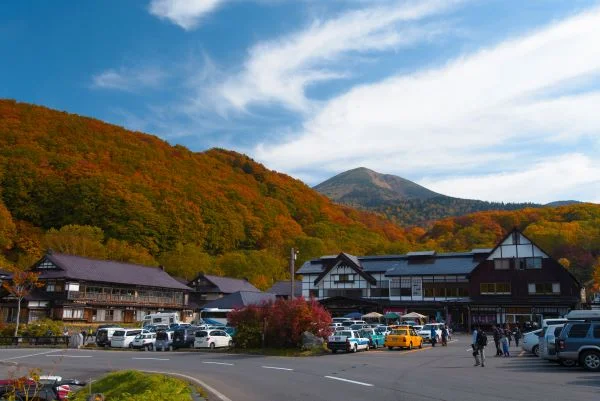 So what is so special about Sukayu Onsen despite the beautiful nature that surrounds it?
Sukayu Onsen is probably most famously known for its mixed-gender onsen – Hiba Senin Furo (ヒバ千人風呂). And yes, when we say mixed-gender, it is a public bathing facility that both genders can use at the SAME TIME Σ(゚Д゚).
Explore Sukayu Onsen With a Guided Tour
If you prefer to be guided when you visit Sukayu Onsen, how about joining the below tour?
The Unique Onsen Experience at Sukayu Onsen
If you are looking for memories that will last you a lifetime, this might be the one you want to challenge yourself with…(albeit some areas are female-only without barriers).
Sukayu Onsen does understand that the mixed-gender onsen isn't for everyone. So for our female friends, between 8 am to 9 am in the morning and evening, you can enjoy the Hiba Senin Furo without the presence of any male guests.
Other than these time slots, although not as big as the Hiba Senin Furo, the Tama no Yu (玉の湯) is another single-gender onsen facility for anyone uncomfortable sharing onsen with the opposite sex.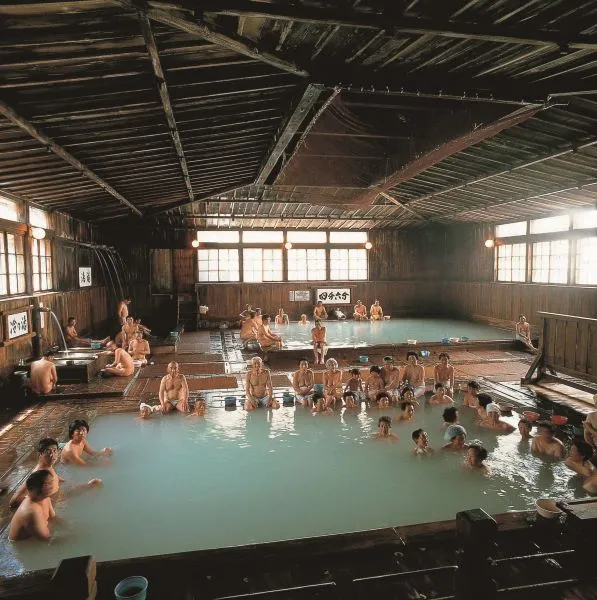 Important: Each of the onsen pools at Sukayu Onsen has a different temperature and acidity. One of them, called Nettō (熱湯), has an acidity of pH1.7. Due to the strong acidity, you may want to bathe there for only 5 – 10 minutes.
Before you head off and prepare to warm up in the hot springs, it will be a good idea to check with the hotel if they have a guide indicating how long an individual should be in the onsen.
Regardless of Sukayu Onsen's unique bathing system, the sulfur-based onsen is said to be quite effective for those with various physical disorders such as muscle pain, joint pain, and poor circulation (=゚ω゚)ノ.
Tip: if you are a vegetarian like us, don't forget to inform them of your dietary requirements when you book (=゚ω゚)ノ.
The Origin of Sukayu Onsen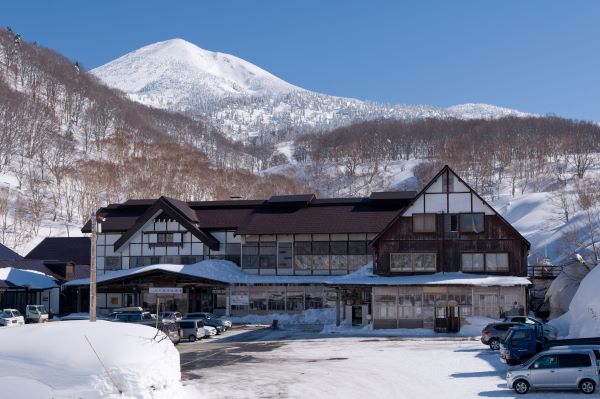 Sukayu Onsen was discovered approximately 300 years ago. At the time, it was called "Shika-yu 鹿湯".
The Onsen was found by a hunter who saw shika (deers) healing their wounds with the onsen. From this, the onsen was then called Shika-yu.
After its discovery, because of the high acidity of onsen water, the name became Suka-yu 酸ヶ湯 (the "su" meaning acid in Japanese).
Events at Sukayu Onsen
Please note the below events are currently not available.
At Sukayu Onsen, various guide tours are scheduled depending on the reason. For more information on what is on and the exact dates the tours are on, please refer to the announcement on their website HERE and translate the webpage by using Google Chrome's translation function at the right of the address bar. The tour guide can speak English, so you can still participate in the tour even if you don't understand Japanese ('ω')ノ.
Show shoe Hiking in January and February.
Snow corridor trekking from late March to the beginning of April.
Trekking in the summer months
Important: Please also note that the tour bookings are to be made at the hotel's reception (usually at least 1 day in advance). The tours are not free of charge, even if you stay overnight at the hotel.
How to Get to Sukayu Onsen
Please take the JR Bus Mizuumii-Gō (みずうみ号) and get off at Sukayu Onsen (酸ケ湯温泉).
From Aomori:
To get to Sukayu Onsen, please take JR Bus Mizuumii-Gō from either JR Aomori Station's bus stop no. 11 or bus stop no. 1 located at JR Shin-Aomori's east exit.
From Lake Towada (only accessible from mid-April to mid-November):

To get to Sukayu Onsen, please take JR Bus Mizuumi from JR Tohoku Bus Nenokuchi Station (ジェイアールバス東北 子ノ口駅)
Tip: If you are coming from Aomori and want to stay overnight at Sukayu Onsen, book their free pick-up and drop-off services in advance (=゚ω゚)ノ.

The hotel is currently able to pick up its guests from the Auga Parking Lot (アウガ駐車場) close to JR Aomori Station from 10:15 am and 2 pm. The drop-off back to the same location from Sukayu Onsen departs the hotel at 8:50 am and 12:30 pm.

The travel time between JR Aomori Station and Sukayu Onsen is approximately 60 minutes.
Sukayu Onsen Campsite (酸ヶ湯キャンプ場)
If you are visiting the area during the summer months, the Sukayu Campsite will operate between late June and October. Please refer to their website HERE. Again, the website is in Japanese, so translate it with Google Chrom's translation function. If you need assistance, contact us HERE, and we will get back to you ('ω')ノ.
Traveling South to Oirase Gorge