Just a 30-minute drive from Hakata, Mt. Abura (油山) in Fukuoka is a great destination for those who enjoy nature and love to get up close to farm animals. Not only is there a 47-hector-wide farm that has around 400,000 visitors each year, but you can also hike through the mountain for stunning scenery and overlook Fukuoka's cityscape!
A List of Contents
Mo Mo Land (もーもーらんど油山牧場)
Mo Mo Land, located at the hillside of Mt. Abura, is the biggest attraction on the mountain. With many farm animals kept on the farmland and children-friendly facilities, it is a popular spot for a family weekend getaway.
If you aren't exactly an animal person, you can still enjoy the farm by licking the soft serve cones made from freshly squeezed milk. Also, you are able to experience a clear and wide view of Fukuoka's cityscape framed by the surrounding nature. You can even see the airplanes taking off and landing at Fukuoka Airport!
If you love hiking or camping, visit the Aburayama Citizen's Forest (油山市民の森), which is around a 30-minute walk from the farm. You can choose from various hiking courses and different camping options.
Activity Menu Offered by Mo Mo Land
At Mo Mo Land, there are a couple of activities that you can participate in, including:
Milking
Mountain biking
Horse riding (the horse is led by staff)
Feeding goats and sheep
Butter making (only held on weekends and public holidays)
Please refer to HERE for more details on each activity, including the cost. You can translate it by Google Chrome's translation function at the right of the address bar.
If you would like to join one of the activities listed above, head to the information counter for the exact activity time and make a reservation.
As you might have guessed, the most popular activity at Mo Mo Land is milking the cows. So, if you are interested in participating, arrive at the farm early and put your name down!
As to the butter making, you will be given a container with fresh cream. The process from there is surprisingly easy. All you need to do is keep shaking for around 10 to 15 minutes. While the method is simple, be prepared to have muscle pain the following day (´▽`*).
After the oil is separated from the water and after rinsing three times, you can enjoy your hard effort with the crackers provided by the farm!
Mo Mo Land's Playground
If you are traveling with children, bring them to the playground for the play sets that will keep them occupied. They will certainly enjoy the 48-meter-long slide, where they can adore the awesome view as they go down.
While adults can slide down the slide, too, be prepared to have a painful butt because of all the weight we put on as we grow older (´▽`*).
Although Mo Mo Land is more or less an ordinary farm, it is a hidden gem for those who want to escape the fast-paced city life for a couple of hours. The scenery, the nature, and the animals here will certainly heal your exhaustion from the daily hustle and bustle, especially when you have their soft serve in your mouth!
Tip: Before queuing up for the soft serve cone, remember to get a ticket from the vending machine.
In addition, the new Forest Adventure Area is scheduled to be opened in 2023's autumn!
Mo Mo Land's Opening Hours and Access Information
Mo Mo Land is open from 9 am to 6 pm daily except the 1st and the 3rd Wednesdays of the month and the 29th of December to the 3rd of January.

If Wednesday is a public holiday, it will close on the next Wednesday.

On Sundays and public holidays from March to November, shuttle buses operate between Fukuoka City Subway's Fukudaimae Station (福大前駅) and Mo Mo Land.

You can refer to HERE and click "運行時刻および運賃について" for the service's timetable.
The bus departs from the Fukudaiseimon-mae stop (福大正門前) at Fukudaimae Station's exit no. 1.
Aburayama Citizen's Forest (油山市民の森)
The best spot for hiking and camping near Fukuoka's city center is probably Aburayama Citizen's Forest. The 93.7-hector park is the city's treasure trove for wild birds, flora, and fauna.
In autumn, hiking through the mountain trails in Mt. Abura is probably one of the best ways to enjoy the stunning season. The fresh streams and waterfalls scattered along the trail are also the highlights of the hiking courses in the park.
The 52-meter suspension bridge in the photo was restored in 1978. Since it is around 30-meters above the river, it might thrill you if you are afraid of heights.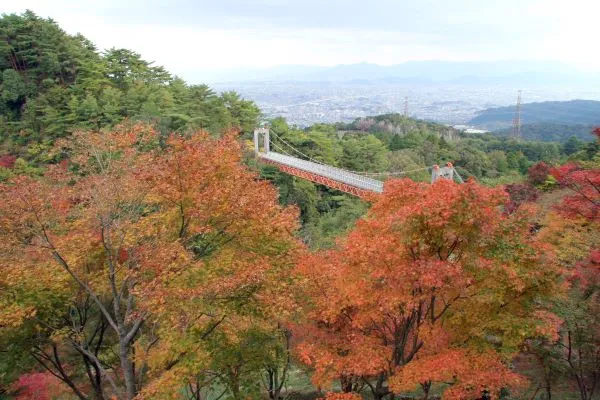 But, the color of fall is most vivid around the bridge at Momiji-dani (紅葉谷). So don't give it a miss just because you dislike heights.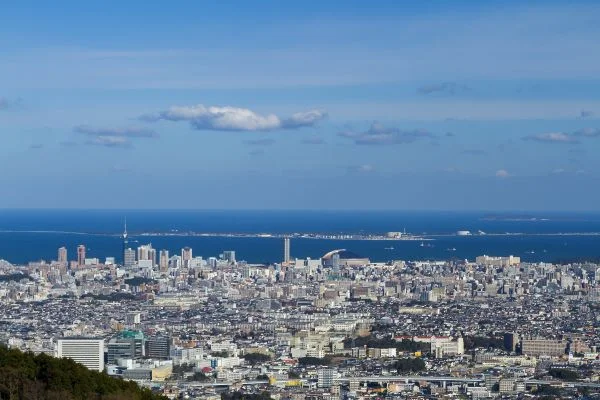 If hiking isn't your thing, there are also a couple of attractions around the campground, including a grass ski area. The Aburayama Citizen's Forest Central Observatory (油山市民の森 中央展望台) will enable you to see as far as Hakata Bay. You can even see the cottages in Mo Mo Land!
From late winter to early spring, you can also admire the beauty of plum and cherry blossoms without much hiking!
Staying Overnight at Aburayama Citizen's Forest
If you would like to stay overnight at Aburayama Citizen's Forest, please refer to their website HERE and translate to English by Google Chrome's translation function at the right of the address bar. For a list of items that you can buy from the shop, including camp-related items, please refer to HERE.
To make a booking, please give them a call at +81-92-871-6969. The staff will most likely only speak Japanese.
Important: Please note they don't provide rental services for slipping bags and cooking utensils/ingredients.
Aburayama Citizen's Forest's Opening Hours and Access Information
The park's office is open from 9 am to 5:15 pm.
Aburayama Citizen's Forest is best accessed by car. The car park is open from 9 am to 6 pm.
Aburayama Citizen's Forest is closed when Mo Mo Land is closed.
Shuttle buses depart from Mo Mo Land.

Refer to HERE for the timetable.
It is free to board on weekends and public holidays. On a weekday, it costs 200 yen.
Aburayama Kannon Shōgaku-ji Temple (油山観音 正覚寺)
Depending on which hiking route you choose, you might come across Shōgaku-ji Temple, commonly known as Aburayama Kannon.
Shōgaku-ji, which belongs to the Rinzai sect, was erected by Seiga Shōnin (清賀上人), a monk from India in the early 8th century. The reason why the mountain was named "Abura" or "oil" in English is said to have something to do with Seiga Shōnin too.
Apparently, Shōgaku-ji was one of the 360 temples in the area back then. At the time, Seiga Shōnin made oil from camelia's fruit and distributed it to the temples around to keep the lights in the worship hall on. This is why the mountain was later named "Abura".
Unfortunately, the temples in Mt. Abura were all destroyed by the civil wars in the late 16th century. Shōgaku-ji was restored in 1694 with the support of Fukuoka Domain's first lord. The Kannon Bodhisattva statue was made in the Kamakura period (1192 – 1333) and is now an Important National Cultural Property.
Aburayama Kannon Shōgaku-ji's Opening Hours and Access Information
Aburayama Kannon Shōgaku-ji is open from 7 am to 5 pm.
The temple is around a 20 to 30-minute walk from Aburayama stop (油山バス停).
Discover Other Amazing Destinations in Fukuoka City
Wondering where else around Mo Mo Land is worth your time? Check out our article on Fukuoka City!
In the article, we have included various attractions that may suit your interests. There is also information available on Fukuoka's famous Yatai street stalls (=゚ω゚)ノ.