Although Shima Onsen in Gunma Prefecture isn't known to be a spot for fancy food, it has a couple of cafes, restaurants, and street food you need to try out during your visit. Some are traditional snacks or sweets unique to the area, and others are just delicious as fresh ingredients sourced locally are used, and all dishes are made to order. So read on if you are interested in where to get nice food at Shima Onsen!
Takadaya Confectionary (高田屋菓子舗)
Onsen Manjū is a must-eat traditional confectionary when you visit a Japanese hot spring town. At Shima Onsen, one of the confectionery shops that has long been loved is Takadaya. The sweet buns sold there are sweetened with brown sugar. The modest sweetness with a scent of salt is the perfect formula for you to desire more Takadaya's manjūs!
Takadaya's current owner/sweets maker is the third generation. After graduating from a confectionery college, he was trained at three different confectionary shops before returning to Shima Onsen. It is no wonder why the locals love Takadaya's traditional sweets and are highly recommended to tourists.
You can most likely get the freshly made buns when you get there. While the shelf life is short (with a maximum of three days), make sure you grab enough of them. The confectionary maker doesn't have another branch!
Another must-try confectionary sold at Takadaya is Nure Amanattō (濡れ甘納豆). Nure Amanattō is a type of traditional sweet where beans are pickled in sweeteners. At Takadaya, scarlet runner beans are simmered for five days with natural sweeteners before the beans are packaged. Different from the normal Amanattō that is usually covered in white sugar, Takadaya's Nure Amanattō, named Oiranfurō (おいらんふろう), isn't as sweet, allowing you to taste the deliciousness of the beans!
And what will surprise most people is that they even sell Onsen Manjū Gelato!
Takadaya Confectionary's Business Hours and Access Information
Takadaya Confectionary is open from 8 am to 6 pm.
The sweets maker is around a 1-minute walk from the bus stop, Shima Onsen.
Sobazanmai Nakashimaya (そば三昧 中島屋)
If you don't mind non-vegetarian dipping sauce, head to Sobazanmai Nakashimaya for lunch. It is where you can enjoy soba noodles with three different dipping broths in one meal! Furthermore, the family-run noodle restaurant specializes in mushroom tempura!
The handmade soba noodles are made by mixing the soba from Tsumakoi Village nearby and Hokkaidō. And the best way to enjoy the nice fragranced noodles is by dipping them in the restaurant's specially prepared sauce. This is why the most popular menu is Fukayama Soba (深山そば), a menu item that comes with three small plates of noodles and three bowls of dipping sauce in different flavors!
Nameko is the flavor that is served throughout the year. The small, amber-brown mushroom with a slightly gelatinous coating that can sometimes be found in miso soup is also great for making soba dipping sauce. Depending on the season, other kinds of sauce include apple tempura, sweet pepper, Mizuna (Japanese mustard green), or other vegetable combinations!
In autumn and winter, Kinoko Soba (きのこそば) is also recommended. The soup you dip the soba noodles in is cooked from eight different types of mushrooms! It is just hard to resist the rich taste of freshly harvested mushrooms!
Tip: Sobazanmai Nakashimaya's menu has photos for each dish, making it easy for non-Japanese speakers to order.
Sobazanmai Nakashimaya's Business Hours and Access Information
Sobazanmai Nakashimaya is open from 11 am to 3 pm or until sold out.
The Soba restaurant is around a 2-minute walk from the bus stop, Shima Onsen.
Kashiwaya Café (四万温泉柏屋カフェ)
The cafe that you have to visit during your time at Shima Onsen is Kashiwaya cafe. Renovating from the old Kashiwaya Clothing Store, the cafe fits really well with the hot spring town's Showa-style township. Opened in 2002, Kashiwaya Cafe is a popular attraction in Shima Onsen. Although it doesn't have a vegetarian light meal menu, it is a great spot in the hot spring town to enjoy some morning or afternoon tea!
For more information, refer to our article on Kashiwaya Ryokan/Cafe.
Yaki Manjū Shimamura (焼まんじゅう島村)
As you walk around the hot spring town, you will be lured to Yaki Manjū Shimamura by the mouthwatering scent that wafts in the air. What is grilling on charcoal are skewers that look similar to the Dango mochi found across Japan. But instead of rice cakes, it is manjū buns!
Yaki Manjū is Gunma's local street food introduced in the late Edo period. Skewers of sake manjū are dipped in homemade miso sauce and grilled over a charcoal fire. However, unlike other manjū buns in Japan, the Yaki Manjū doesn't have any fillings.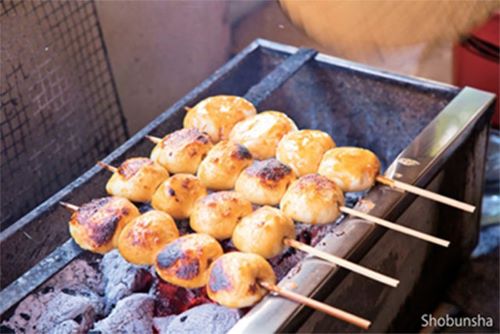 The steamed buns with a soft texture are baked to order. The charcoal-grilled fragrant sweet buns would still be appetizing even if you are full from lunch!
Yaki Manjū Shimamura's Business Hours and Access Information
Yaki Manjū Shimamura is open from 10 am to 5 pm or until sold out.
The shop is just at the bus stop, Kiri no Ki Daira (桐の木平).
Discover Other Attractions at Shima Onsen
Nature is definitely the selling point of Shima Onsen. And in addition, the hot spring town has a couple of historical and cultural spots you might be interested in visiting. Furthermore, a ryokan is rumored to be the stage of the Ghibli movie Spirited Away!
So refer to our Shima Onsen article for where to stop by during your time at the onsen town!