Kinosaki Onsen (城崎温泉) in northern Hyōgo Prefecture has become more and more popular among tourists both locally and overseas. Not only does the hot spring town have Michelin's two-star rated scenery, but it is also filled with historical and cultural charms. But because the region is famous for Tajima beef, it might be difficult to find a place to dine if you are a vegan or vegetarian. Fortunately, there are a couple of vegan-friendly restaurants and hotels in Kinosaki Onsen!
The Vegan-Friendly Restaurants in and Close to Kinosaki Onsen
Tip: Refer to HERE for Kinosaki Onsen's vegan-friendly ryokans and hotels.
Kinosaki Ashiyu Cafe (お芋とカヌレ 城崎足湯カフェ)
Because Kinosaki Onsen is at least 2 hours away from Kyoto and Osaka, leaving for the hot spring town first thing in the morning, it will be the morning tea time when you arrive. Conveniently located close to the JR Kinosaki Station, Kinosaki Ashiyu Cafe is a great place for snacks with a cup of tea or coffee!
Kinosaki Ashiyu Cafe offers various sweet potato desserts and Canelé. Besides the normal table seats, there are also seats around the two foot spas (=゚ω゚)ノ.
If you are unsure what to order, how about a Grilled Sweet Potato Canelé Soft Serve (焼き芋カヌレソフト)? It is a dessert that allows you to taste all of the cafe's specialties. Adding to the rich milk soft serve, the sightly salted sweet potato chip is crispy, and the freshly baked sliced sweet potato has a soft and flaky texture. You can also go with the premium version with Sweetened sweet potato purée!
The Sweet Potato Cheesecake (お芋のチーズケーキ) is also recommended for those who love cheese. The combination of sweet potato and cheese is incredible and a good match to coffee.
If you are a vegan, order a cup of sweet potato chips and enjoy the foot spa!
Tips:
☛ Remember to bring a towel to dry your feet. Towels can be purchased from the cafe, though.
☛ The foot spa at the back of the cafe offers a better vibe.
Kinosaki Ashiyu Cafe's Business Hours and Access Information
Kinosaki Ashiyu Cafe is open from 9 am to 6 pm.
The cafe is a 1-minute walk from JR Kinosaki Onsen Station (城崎温泉駅).
Cafe&Bar 3rd
For lunch, Cafe&Bar 3rd can be a good and affordable option. The cafe is vegan-friendly and offers two vegan lunch options, and can replace milk with soy milk for coffee.
The vegan bean curry is loved by those who have tried it. The other vegan option is a Fresh Local Plate filled with fresh and grilled local vegetables and rice. The plate also comes with a cup of soup and salad. If you are a vegan, remember to let the staff know to make the plate without the sausage. You will get 100 yen off!
Note they can't exclude the garlic and onion used in curry.
Tip: Cafe&Bar 3rd makes good coffee!
Cafe&Bar 3rd's Business Hours and Access Information
Cafe&Bar 3rd is open from 8 am to 5 pm from Thursday to Tuesday.
The cafe is a 3-minute walk from JR Kinosaki Onsen Station (城崎温泉駅).
Sanpou Nishimuraya (さんぽう西村屋 本店)
When visiting a hot spring town like Kinosaki Onsen, we inevitably want to dine at a Japanese restaurant. But because bonito is a key ingredient of most Japanese dishes, finding one that can cater to the vegan diet can be hard. But don't worry! While limited, Sanpou Nishimuraya has vegan and gluten-free options for dinner! In addition to the amazing food menu, you can enjoy attentive customer service that feels like a luxury inn!
Sanpou Nishimuraya is a modern Japanese restaurant run by Nishimuraya, one of Kinosaki Onsen's top ryokan. The restaurant, which opened in 2019, has a stylish design with the traditional hearth as a motif. This is why the center of the restaurant has a high ceiling with a firepit in the middle, where the chefs prepare the food. Apparently, the design was inspired by an old Sanpou Kōjin Shrine that used to stand where the restaurant is. The shrine of the God of Fire was rebuilt as Mihashira Shrine (三柱神社) at the side of the restaurant's ground, and the restaurant's was designed to match the shrine.
The premium seats are, of course, the counter seats, where you can see the chefs cooking up close during dinner time (which can upset you if you are a vegan or vegetarian). You can also head to the 2nd floor to overlook the hearth from above.
The Vegan Options at Sanpou Nishimuraya
At Sanpou Nishmuraya, organic vegetables harvested locally and ingredients unique to the region are used. The chefs aimed to provide you with seasonal flavors of the Tajima region that aren't just delicious but beautifully presented.
The vegan options available are Soba Noodles & Tempura for Lunch and the vegan dinner course, Mihashira (三柱). The home soba noodles are made from the local buckwheat species, Akahana Buckwheat (赤花蕎麦). The noodles are coupled with crispy seasonal vegetable tempura, a side dish, and a bowl of miso soup. The dinner course Mihashira is a low-calorie, healthy, gluten-free, vegan course that uses plenty of local Tajima vegetables.
Important: Both lunch set and dinner course require a reservation at least 3 days in advance. You can make a reservation through their website HERE. When you reserve, please state you need the entire course to be vegan, including the dipping sauce.
Tip: If the vegan course menu isn't on the reservation page, contact them via Sanpou Nishimuraya's Instagram Account.
The restaurant was named Sanpou to express Nishimuraya's motto. It means the business wants to provide a positive experience for the customers, the community, and the business itself. The name is also a sign of gratitude to the Sanpo Kōjin (三宝荒神), who has long protected this hot spring area as the guardian deity of the fire and fireplace of the hot spring inn.
Sanpou Nishimuraya's Business Hours and Access Information
Sanpou Nishimuraya is open from

11 am to 2:30 pm for lunch (L.O. 1:30 pm)
6 pm to 10:15 pm for dinner (L.O. 9 pm)

The restaurant is a 12-minute walk from JR Kinosaki Onsen Station (城崎温泉駅).
From Kinosaki Onsen Ropeway, it is a 3-minute walk.
Restaurant Ricca (レストランRicca)
Restaurant Ricca is your best choice if you are after a restaurant in Kinosaki Onsen to celebrate a special occasion. The stylish Western-style restaurant is another facility run by Nishimuraya.
Situated in a leafy area, Restaurant Ricca offers a top-class dining experience. From the floor-to-ceiling window, you can enjoy the seasonal scenery of the vast forest garden as you taste the carefully prepared French and Italian cuisine. The restaurant is particular about consuming only locally grown ingredients. This benefited the local farmers and allowed you to taste the fresh produce harvested nearby! Of course, ingredients containing preservatives and additives aren't used.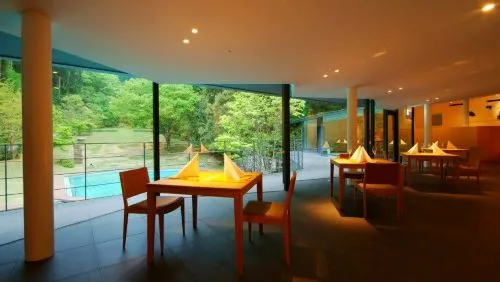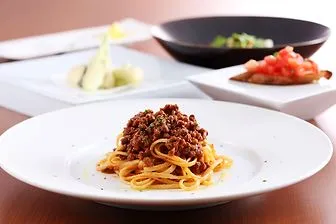 While Tajima Beef is what the restaurant specializes in, it also offers a vegan dinner course. Each dish is an ingenious creation made by the skilful chefs. You will most likely taste a few ingredients for the first time!
Refer to Restaurant Ricca's menu HERE and make a reservation!
Restaurant Ricca's Business Hours and Access Information
Restaurant Ricca is open from

11:30 am to 2:30 pm for lunch (L. O. 1 pm)

Please reserve by 5 pm the day before.

5:30 pm to 9:30 pm for dinner (L. O. 7 pm)

Please reserve by 2 pm on the day.

The restaurant is a 20 to 25-minute walk from JR Kinosaki Station.
From Kinosaki Onsen Ropeway, it is an 8-minute walk.
Important: All guests have to be 10 years or older.
Maruyama Coffee Shop (まるやまコーヒーショップ)
Because the accommodation cost in Kinosaki Onsen is high, especially during the peak tourist seasons, staying close to Toyooka Station can save you a lot of money. If you are a vegetarian, before jumping onto a train to the hot spring town, visit the Maruyama Coffee Shop for breakfast!
The cafe has a relaxing atmosphere created by the brick walls and antique lighting and old-fashioned style furniture. The coffee at Maruyama Coffee is carefully brewed using a siphon, which is probably why the coffee is highly praised by its customers.
For breakfast, the Almond Toast is popular. It also comes with a small salad and a cup of coffee or tea. It is simply irresistible to the nice smell of the lightly grilled toast with almond butter and almond flakes!
The hot cake is another popular menu item. After receiving an order, the staff will start making your order using a griddle, so the hot cakes passed to you are always freshly made, piping hot, and fluffy. Adding the margarine and honey given, the hot cakes are amazing.
Important: The cafe allows smoking, so you might want to take away your order if you hate the smell.
Maruyama Coffee Shop (まるやまコーヒーショップ)
Maruyama Coffee Shop is open from 7:30 am to 6 pm.
The cafe is a 2-minute walk from JR Toyooka Station (豊岡駅).
Mame Cafe (まめ cafe)
For lunch, you can also consider visiting Mame Cafe, a small tofu dish restaurant a few stations away from Kinosaki Onsen. The usually vegan-friendly restaurant offers delicious Tofu Skin Bowls (湯葉丼セット) and Yutofu Set (湯豆腐セット). Both set menus come with a small cup of rich soymilk, which is really delicious. They can make these set menus and a couple of other menu items vegan upon request.
As soon as you enter the cafe, there are various kinds of tofu in the display fridge. There are even soymilk donuts! All tofu sold here is reasonably priced. Most of them are from a tofu maker in Toyooka City, Sobunosato (蘇武の里), a tofu shop popular among the locals. Because the tofu is properly made, you can enjoy the original taste of tofu, and it is delicious even when eaten with just salt!
Each morning, freshly made tofu without preservatives is delivered to Mame Cafe, which is turned into amazing dishes.
Another fact that is worth highlighting about Mame Cafe is the oil used. Instead of the cheaper canola oil, the healthier sesame oil is used for stir-fried and deep-fried dishes!
Important: Depending on the day, Mame Cafe may offer menus that use meat, fish, and eggs. It is probably best to call them at +81-796-20-3825 to confirm if they can cater to a vegan diet on the day.
Tips:
☛ Arrive early. The cafe is small and can be full by noon. Unfortunately, they don't take any reservations.
☛ The soymilk soft serve cone is really nice.
Mame Cafe's Business Hours and Access Information
Mame Cafe is open from 11 am to 5 pm from Tuesday to Saturday.

The last order is at 4:30 pm.
Tofu is sold from 11 am to 6 pm.

The cafe is around a 15 to 20-minute walk from JR Ebara Station (江原駅).
Potential Vegetarian-Friendly Restaurants Around Toyooka Station
Gyoza Genten (ぎょうざ健天)
Namaste Toyooka Main Store (ナマステ豊岡本店)
Kakurenbo (かくれんぼ): Okonomiyaki Restaurant
Porco Rosso (ポルコロッソ): Italian Restaurant
Kinosaki Onsen's Vegan-Friendly Ryokans/Hotels
Exploring Kinosaki Onsen
Kinosaki Onsen (城崎温泉) is one of the most popular destinations in northern Hyōgo Prefecture among tourists both locally and overseas. Not only does the hot spring town have a traditional relaxing vibe, but the scenery from Mt. Daishi (大師山) has earned a Michelin two-star rating!
For more information about what to do and where to go, please refer to our Kinosaki Onsen article!