Akiu Ōtaki Fall (秋保大滝), also known as the Akiu Great Fall, is the must-see spot in Akiu Onsen. The 55-meter tall waterfall is just spectacular no matter which season you visit. It was thus chosen to be one of Japan's Top 100 Waterfalls and a designated National Place of Scenery Beauty.
You can hike down the 800-meter promenade to the waterfall basin from the observatory deck. However, while the ample amount of negative ions during this trip will certainly give you some health benefits, the staircases are quite steep, and you can get wet as you approach closer to the waterfall. So please walk carefully to avoid falling straight down…
Tips:
☛ An easier way to head down to the waterfall basin is by walking at the side of the motor road from Saikōji Temple/Akiu Ōtaki Fudōson.
☛ You will most likely get wet if you try to get close to the waterfall (basin). So bringing a set of changing clothes will be a good idea.
Akiu Ōtaki Fall's Fall and Winter Season
Akiu Ōtaki Fall's

autumn

starts in

late October and peaks in early November

. As the waterfall is a renowned spot for its fall color, try to avoid weekends and public holidays to avoid crowds.
For

icefall

scenery, visit Akiu Great Fall in

January and February

. The view is equally magnificent!
How to Get to Akiu Ōtaki Fall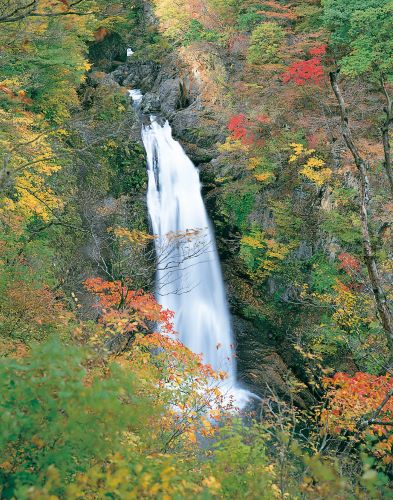 Please refer to our Akiu Onsen article's How to Get to Akiu Onsen session. Whether you plan to take Miyagi Kōtsū or Sendai City Bus, get off at Akiu Ōtaki (秋保大滝).
Saikōji Temple (西光寺)
If you plan to take a bus to Akiu Great Falls, you will first encounter Saikōji Temple after you get off the bus. The temple that is commonly known as Akiu Ōtaki Fudōson (秋保大滝不動尊) is the inner temple of the Isshakuji Temple (立石寺) in Yamagata Prefecture erected by Jigaku Daishi (慈覚大師) from Mt. Hiei.
In 860, when Jigaku Daishi was on his way back to Kyoto, he received a divine message and carved a Fudō Myōō statue (不動明王). This is the origin of Saikōji.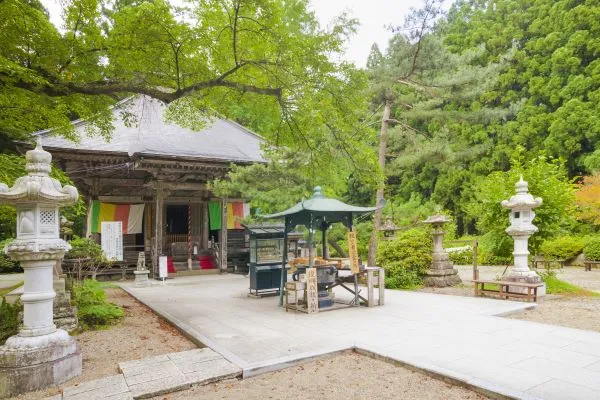 Another version of the event sequence is that Jigaku Daishi underwent a 100-day rough training at Akiu Ōtaki Fall before establishing Isshakuji.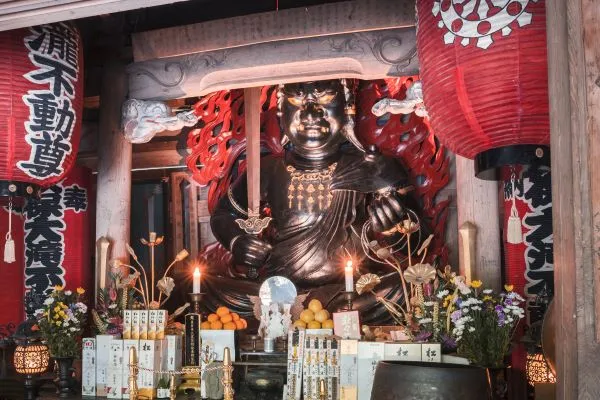 The current Akiu Ōtaki Fudōdō Hall was reconstructed by a monk called Chisoku Shōnin (知足上人) in 1825.
Akiu Ōtaki Fudōson is Saikōji's main image. As you get closer to the worship hall, you will be stunned by his size as he is 3.3-meter tall. The flame attached to his back being as high as 5-meter!
The giant bronze statue was completed with Chisoku Shōnin's effort. It is said that after he saw the statue's completion, he jumped into the Akiu Ōtaki Fall while praying for the statue to have the power to grant people's wishes. Since then, the temple has become a popular spot for pilgrims seeking help from a diety.
So if you have something you need help with, how about asking Akiu Ōtaki Fudōson for assistance?
In addition, it is said that if you can find a Koi fish on the pillar's carving, you will be blessed with good relationships!
In spring, during the Akiu Ōtaki Fudōson Festival (秋保大滝不動尊大祭), Akiu's Rice Planting Dance (秋保の田植踊) is performed to entertain the Fudōson. The dance was registered as an Intangible Cultural Heritage by UNESCO.
The temple's office is open from 9 am to 5 pm.
Tips:
☛ Stopping by the Ōtaki Resthouse (大滝れすとはうす) at the entrance of Akiu Ōtaki Fudōson is highly recommended. Entry is free, and you can source some fresh local produce and/or a plate of pasta or pizza!
☛ Just next to the bus stop, Akiu Ōtaki (秋保大滝), the soba noodles served at Nidaime Tamaki-an (二代目たまき庵), are made from scratch. The chef grinds the buckwheat seeds and makes noodles from the ground flowers. Remember to bring your vegan soba dipping sauce, as their sauce contains bonito extract.
Teahouse Fudō Chaya (不動茶屋)
Right next to Akiu Ōtaki Fall's observation deck is a teahouse called Fudō Chaya. It is the place to visit if you feel a bit peckish. While its appearance might not look fancy or super appealing, the taste of its menu items rivals high-class restaurants!
The Japanese-style cafe is owned by the Ōta Tofu Shop (太田とうふ店), a popular tofu store with a long history in Akiu. Whether it is the Japanese desserts or light meals, they are all impeccably prepared. Besides the magnificent waterfall, dining at Fudō Chaya will surely highlight your trip to Akiu Onsen.
The recommended menu items include Triangular Abura-age Beancurd (三角油揚げ), Ginjō Tofu (吟醸豆腐), Aobata Tofu (あおばた豆腐), and Genmai Kuromitsu Mochi Rice Cake (玄米くるみ餅).
If you like soy milk, order a cup of soy milk or soft soy serve. You will be surprised by its thickness!
Important: Remember to let the cafe know your dietary requirements so they can prepare your orders beforehand. You can utilize the phrases from our Essential Japanese Travel Phrases for Vegetarians and Vegans to communicate with the friendly staff, who can speak a little bit of English.
Fudō Chaya is open from 10 am to 4 pm daily.
Akiu Ōtaki Botanical Garden (秋保大滝植物園)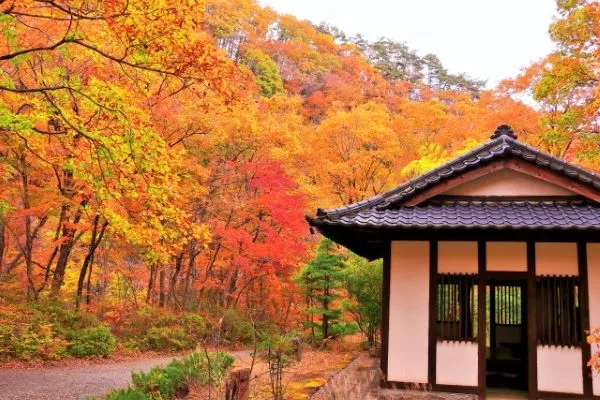 West of Akiu Ōtaki Falls, the Akiu Ōtaki Botanical Garden is filled with around 900 different types of plants. Flowers like azalea, rhododendron, water lily, and fall foliage decorate the garden's ground throughout the year. Unlike the powerful Akiu Ōtaki Falls, the garden provides a peaceful and calm ambiance.
Situated in the Futaguchi Gorge (二口峡谷), the Sudare Falls (すだれ滝) and Mizore Falls (みぞれ滝) in Akiu Ōtaki Botanical Garden are two other waterfalls that you will encounter during your visit. Each of them has its charms!
The pond will have many tadpoles from late June to early July, so you might even find some frogs around!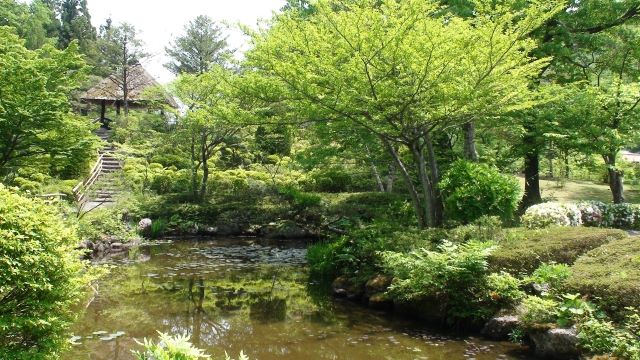 Tips:
☛ The required time to explore Akiu Ōtaki Botanical Garden is around 90 to 120 minutes.
☛ Rhododendron Festival (シャクナゲふれあいまつり) is held in May, whereas the Autumn Festival (あったか・ほっこり秋保大滝植物園まつり) is held in November.
Akiu Ōtaki Botanical Garden's Opening Hours, Admission Fees, and Access Information
Akiu Ōtaki Botanical Garden is open from 9 am to 4:30 pm from April to November.

The last admission is at 4 pm.

The admission fee is

240 yen for adults
180 yen for senior high school and university students
120 yen for elementary and junior high school students

The garden's access information is the same as Akiu Ōtaki Falls.
Tip: Free entry on the 4th of May!
Futakuchi Gorge (二口峡谷)
Traveling further west from Akiu Ōtaki Botanical Garden, another scenic spot awaits.
The 8-km Futakuchi Gorge stretches as far as the prefectural border between Miyagi and Yamagata Prefectures. A 2 km natural trail along the gorge is well-maintained for you to walk on.
And the highlights? The Anetaki Falls (姉滝) is a designated National Natural Monument. Whilst not marked on Google Maps, there is an Imōtotaki Falls (妹滝) just in front of the Anetaki Falls.
Important: It is possible to get to Anetaki Falls by car by taking the Forest Road Futakuchi Line (林道二口線). However, please be aware of the narrow road. This method may not be recommended for inexperienced drivers.
Banji-iwa (磐司岩), a designated National Place of Scenery Beauty, is the most magnificent part of the entire Futakuchi Gorge. It is a tuff rock wall with a maximum height of 150 meters and stretches over 3 km long!
Tip: Visit Banji-iwa Observatory (磐司岩展望所) during sunset for the breathtaking scenery – the rock surface is dyed red by the setting sun.
Regarding the rock's name and origin, according to urban legend, Banji was a hunter's name who hunted in the area. The mountain's guardian god is referred to as Banji by the locals as well.
Besides the waterfalls and strangely shaped rocks, another charm of Futakuchi Gorge is the variety of plants and animals. If you are lucky, you might be able to spot Japanese macaques or Japanese serow in the forest. Although it is harder to spot birds in the dense forest, it is likely that you can still hear their songs (*´ω`).
Futakuchi Gorge's upstream is situated within the Zaō Quasi-National Park (蔵王国定公園). The mid and downstream belongs to Futakuchi Kyōkoku Prefectural Natural Park (県立自然公園二口峡谷), which is where the 2 km hiking trail is located. Akiu Ōtaki Falls, Rairaikyō Gorge, and Akiu Onsen Town are located further down the Natori River (名取川), flowing through the gorge.
Futakuchi Gorge's Fall Foliage Season
The autumn color usually peaks in late October at Futakuchi Gorge.
How to Get to Futakuchi Gorge
From Akiu Ōtaki Falls, take Sendai City Bus bound for Futakuchi (二口行き) and get off at Futakuchi (二口). From the bus stop, it is around a 15-minute walk to the trailhead.
Important:
☛ The 2 km promenade consists of earthen roads, so hiking shoes are recommended!
☛ The Forest Road Futakuchi Line (林道二口線) is closed from November to March.
Tip: There are toilet facilities at Sendai-shi Akiu Visitor Center (仙台市秋保ビジターセンター).
Discover Other Fantastic Attractions in Sendai
You might not be aware of it, but Sendai, the Tōhoku region's biggest city, receives more than 20 million tourists each year!
So if you want to find out how Sendai managed to attract so many people to visit it, refer to our article on Sendai, which is filled with historical, cultural, and natural attractions (=゚ω゚)ノ.