Are you a sweet tooth? If yes, then you can't miss out on the famous sweets maker in Japan, Toraya!
Toraya's history goes way back to the early 16th century Kyoto. It was chosen as a purveyor to the imperial court from the late 1500s. When Japan's capital transferred to Tokyo, it also successfully established its foothold in the new capital. Now Toraya has more than 75 shops in Japan and a tea room in Paris!
While you can buy Toraya's Wagashi (Japanese sweets) from most the department stores in Japan's major cities, the experience is never the same as dining at Toraya Kōbō (とらや工房) close to Gotemba Outlet in Shizuoka Prefecture!
Toraya Kōbō at a Glance
There are a total of 10 Toraya tea rooms globally, including the one located in Paris. But, there is only ONE in Toraya Kōbō. As many of Toraya's tea rooms are inside big buildings, the dining experience is pretty much the same as another well-run cafe in the country.
The Toraya Kōbō in Gotemba is different. With a large front garden and bamboo forest next to it, it will feel like you are in Kyoto's Arashiyama with a lot fewer people (=゚ω゚)ノ.
We really have to say; before we stepped into Toraya Kōbō's grounds, we were actually just expecting another well-designed cafe house!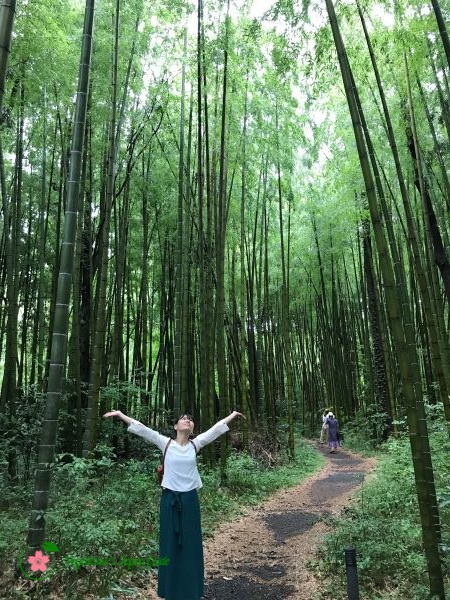 Toraya Kōbō's Sweets Menu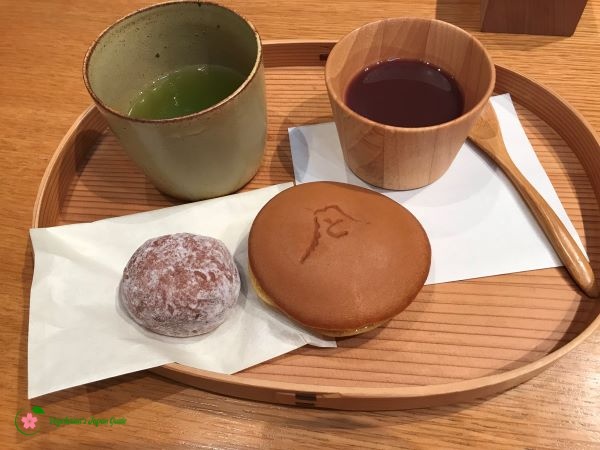 The main menu at the Kōbō is, of course, various Japanese sweets. But they also have a light lunch menu. It sadly sold out while we were in the queue, though. So our advice is to be there early if you plan your visit during lunchtime.
We actually arrived around 3 pm, so we couldn't really blame them (´▽`*).
The most popular and well-known wagashi at Toraya is Yōkan. It is a bar of gelled sweet bean paste made of red beans, sugar, and agar-agar. Our Japanese friends were so happy when we brought back Toraya's Yōkan for them as souvenirs.
At the Toraya Kōbō, though, people come for the Toraya Dorayaki. Toraya Dorayaki is a red-bean pancake consisting of two small pancake-like patties made from castella wrapped around a filling of sweet azuki bean paste. It is only able to purchase from Kobo (refer to the bottom right sweets in the photo above!).
Please note the Dorayaki contains eggs, so if you can't have them, please check out other Toraya Kōbō's Wagashi Confession!
Tip: The sencha (Japanese green tea) served at the Toraya Kōbō can be re-filled unlimitedly. The staff will happily give you another cup of tea when you return your empty cups. And guess what? You will be able to choose between hot and cold, no matter what your original order was!
Our Tips When You Visit
The number of sweets is limited per day. This is because they actually make them at the Kōbō, so certain types of sweets might run out before Kōbō closes.
So if you like what you are having and want to have more or bring back some as souvenirs, we highly recommend you purchase them earlier rather than later!
It is also worthwhile to visit the Toraya Kōbō more than one time. Since the menu at the Kōbō changes according to the season, you will definitely find sweets that were not on the menu during your last visits!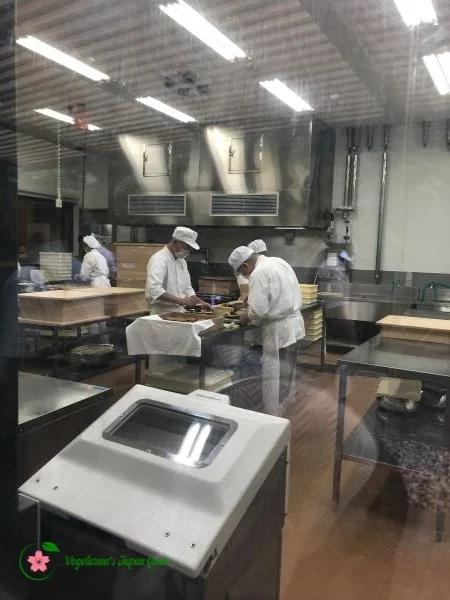 Note: There was no English menu when we visited. But don't worry, there are photos on the menu, and all the sweets you can purchase on the day will also be displayed!
Check out their Instagram HERE, which is updated frequently on what they are making!
How to get to Toraya Kōbō?
Get off at JR Gotenba station and take the free shuttle bus to Gotenba Premium Outlet. From the outlet, it is a 20-minute walk.
The shuttle buses depart from JR Gotemba Station every 15 mins from 10 am.
Note: Since the outlet is closed on the 3rd Thursday in February, you will have to catch a taxi from the train station if you want to go to Toraya Kōbō on that day.
Click HERE for more information on how you can get to the outlet. There are direct bus services from Tokyo, as well as Kawakuchiko and Fuji-Q Highland at Mt Fuji.
Toraya Kōbō's Business Hours
April – September: 10 am – 6 pm (or until sold out)
October – March: 10 am – 5 pm (or until sold out)
The café is open daily except for Tuesdays. If Tuesday falls on a public holiday, it will be opened and closed on the following day.
Note: It also closes between the end of December and the beginning of January.