Whether you are planning a day trip to Kōyasan or want to spend a night in the sacred mountain, Kongō Sanmai-in should be on your itinerary. The temple that has multiple important national cultural properties and national treasures is a spot that shouldn't be overlooked!
Assuming you will be coming from the Daimon Gate and walking on Kōyasan's main street. If you turn into the first small street on your right after passing the bus stop – Senjuin-bashi (千手院橋), you will find Kongō Sanmai-in (金剛三昧院) after a 5-minute walk.
Don't underestimate this small road, though! It is the entrance to one of the routes of Sacred Sites and Pilgrimage Routes in the Kii Mountain Range, the Kumano Kodō Kohechi Route (熊野古道小辺路), connecting to the Kōyasan and Kumano Hongū Taisha Shrine!
Important: Before you get too excited, it should be warned that Kohechi Route is one of the most difficult routes. So unless you are fully prepared, don't risk your life for the sake of fame and likes on social media!
Kongō Sanmai-in's History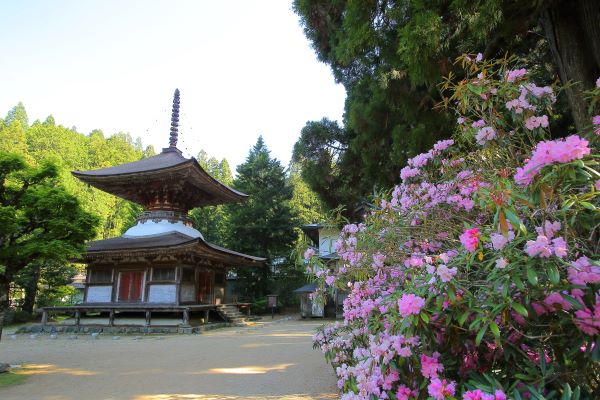 Nonetheless, let's go back to Kongō Sanmai-in. The temple was erected in 1211 under the order of Hōjō Masako for the posthumous soul of her husband, Minamoto no Yoritomo (源頼朝), the warrior who established the Kamakura shogunate (鎌倉幕府) back in 1185.
The temple received generous support from various powerful samurai families, including the Ashikaga (足利) and the Atachi (安達), which allowed the temple to expand to the size that we see today.
Originally a zen temple with monks from different Buddhism Sects working as the Abbots at Kongō Sanmai-in, the temple was once a rare Buddhism training site where one could learn about Zen (禅宗), Risshū (律宗), Pure Land Buddhism (浄土教), and Esoteric Buddhism (密教).
As Kongō Sanmai-in is relatively isolated by itself in terms of its location, when Kōyasan suffered from fire hazards, the buildings on the precinct were able to escape from the fate of being burnt down. This is why the temple is so valuable, with many pagodas and worship halls being built in the Kamakura period (1185 – 1333).
Those buildings have mostly been designated national important cultural properties, with one pagoda (多宝塔) as National Treasure! More important national cultural properties are waiting for you to explore inside those gorgeous halls. This includes statues, paintings, and also the bell!
The Powerful Rāgarāja
While you stroll around the temple, remember to pray to the Rāgarāja (愛染明王), a diety that looks over relationships.
Rāgarāja is commonly known as someone in charge of an individual's romantic relationships. However, his role involves all sorts of personal relationships that each of us holds, whether it is with your parents, your children, your friends, your colleagues, or even your customers – you might still want some blessing from Rāgarāja!
Brought to Kōyasan from Kamakura when the temple was firstly built, the statue is the origin of Kongō Sanmai-in and is also listed as one of the National Important Cultural Properties.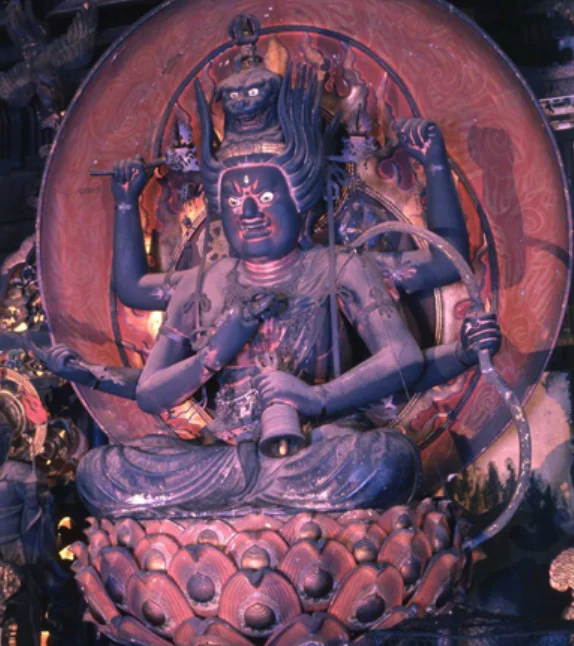 Staying Overnight at Kongō Sanmai-in
For those who are not in a hurry to visit another region in Japan, how about spending a night at Kongō Sanmai-in? It is your chance to experience a night full of traditional Japanese elements!
For us vegetarians, the best part is that you don't even need to request special meals to be made as they already cater to vegetarians!
Also, to make your stay more interesting, you can choose accommodation plans that include incense making or a tour around the temple. They have a translation machine, so it will not be an issue for those who don't speak Japanese!
To make a booking, you can do it through booking.com or Expedia as their website HERE is only available in Japanese.
Important: Please note that most of their rooms do not include private bathrooms and are divided by fusuma sliding doors from other guestrooms, which can be noisy if your neighbors don't realize how loud their voices can be.
Tip: If you have noticed the rhododendron blooming at one side of the photo above, there are more on the ground of Kongō Sanmai-in. Come between late April and mid-May if you want to observe more of them!
Kongō Sanmai-in's Opening Calendar, Admission Fees, and Access Information
Kongō Sanmai-in is open from early March to early December
The admission fee is usually 300 yen
The temple is just a 5-minute walk from the bus stop, Senjuin-bashi (千手院橋)
Discover other Attractions in Kōyasan
To find out more divine places to visit during your time at the sacred mountain, such as Okunoin, please read our article on Kōyasan. You will also find information on restaurants for you to enjoy the vegetarian Shōjin Ryōri, as well as other temples where you can stay overnight!