If you are into shopping and trendy cafes, come to Kurokabe Square (黒壁スクエア) when you visit Nagahama in Shiga Prefecture! In this shopping district, not only are there boutique shops selling intricately hand-made glass items, but there is also a museum filled with figurines of various animes, animals, demons, and many other topics!
Coming to Nagahama by train, you might notice a glass painting of Toyotomi Hideyoshi and Nagahama Castle at the west exit. These different colored glass pieces make the painting deeply connected with the glass art culture of Nagahama, centered in Kurokabe Square.
Kurokabe Square's History
Apart from its location, what enabled Nagahama to thrive as a merchant town was a tax-free system for commercial transactions introduced by Hideyoshi. Even after the Edo period (1603 – 1867), the city continued to experience high economic growth, attracting many banks to have one of their branches set up in Nagahama.
One of them is a national bank that got its name changed to Meiji Bank (明治銀行) in the Meiji period (1868 – 1912). The branch that was built in 1900 was a Western-style wooden building. Due to the building being black, the locals referred to it as the Kurokabe Bank, which means 'black wall bank'.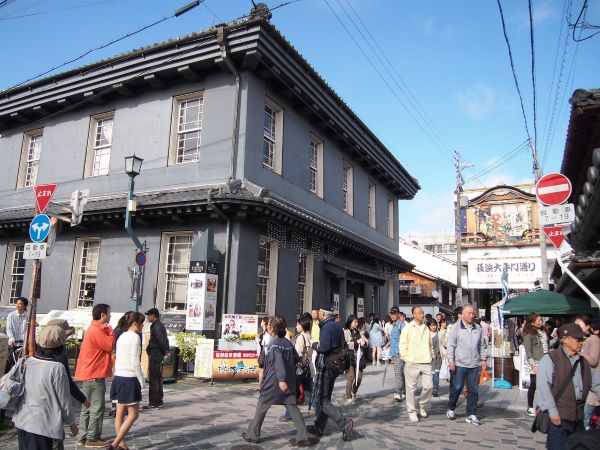 After the Meiji Bank was relocated, the building was initially utilized as a Catholic church in the Showa period (1926 – 1989). However, economic activities started to slow down in the mid-Showa period. Consequently, it was feared that the Kurokabe Bank would face demolition in 1987 after the church decided to relocate.
However, as the architecture was loved and well-received by the locals, a conservation movement started, and a company called Kurokabe was established. In 1989, Kurokabe Bank was reborn as Kurokabe Glass Kan (黒壁ガラス館), a shop that sells glasswork from other countries around the world.
In the 2000s, Kurokabe Glass Kan received great attention and interest from global artists, creating a glass culture boom in Nagahama. Many competitions and exhibitions of glassworks were held throughout the year, making the city the center of Japanese glass art culture.
Kurokabe Glass Kan
Nowadays, glass shops, workshops, cafes, and galleries are still heavily concentrated around Kurokabe Glass Kan. The area where all these boutique shops and restaurants are located is called "Kurokabe Square". It is now a major tourist spot visited by millions of tourists each year!
In Kurokabe Glass Kan, you will find everyday glassware and gorgeous earrings made from glass and maybe even a glass fountain pen!
Please refer to their website HERE for a list of stores and restaurants. You can also book various glass art-making activities and workshops from their website.
Kurokabe Glass Kan's Opening Hours and Access Information
Kurokabe Glass Kan opens from 10 am to 5 pm.
It is around a 5-minute walk from JR Nagahama Station (長浜駅).
Kaiyōdō Figure Museum Kurokabe (海洋堂フィギュアミュージアム黒壁 龍遊館)
If you love figurines, don't miss out on Kaiyōdō Figure Museum Kurokabe when you visit Nagahama! The museum has over 5,000 figures of various sizes on display and over 100 different figurines for you to choose from at the museum shop!
After you step into the museum, if you don't head straight to the exhibition rooms to explore the models and figures, you might end up with a suitcase of figurines before you even get to the exhibition rooms (´▽`*).
At the entrance of the exhibition section, you will see several capsule toy machines lined up on one side of the wall. Insert the coin you received when you enter the museum, and the machine will convert it into a souvenir for you!
The exhibition space is divided into two sections. In the first exhibition room, the history of Kaiyōdō is illustrated by the figures that the company manufactured. Although the explanation is all in Japanese, it won't be hard to grasp how the quality of the products has advanced.
In the second exhibition room, you will see a portrait above each exhibition box. Those portraits show you what the maker of the figurines below looks like. Of course, a brief background is given, but in Japanese only.
Other permanent exhibits include dinosaurs, anime characters, birds, insects, animals, Buddhas, deities, and monsters. From time to time, a special exhibition will be held as well.
Kaiyōdō's History
The company started in 1964 when Miyawaki Osamu (宮脇修) opened a plastic model shop in Osaka. Osamu, born in Kōchi Prefecture, was passionate about the ocean. This is why he named the shop 'Kaiyōdō'.
Since then, he has held plastic model workshops and figure exhibitions during the shop's expansion. In 1977, a new shop called Kaiyōdō Hobby Kan (海洋堂ホビー館) was opened in large storage around 60 square meters. It became a social gathering place for people who enjoy figure collecting and model building. The shop was also where garage kits (an assembly scale model kit) were born.
In 1984, as the company transformed into an original figure maker, Kaiyōdō Gallery (海洋堂ギャラリー) was opened in Tokyo as a shopfront to sell the figures made by Kaiyōdō. At this time, models and figures did not just become a hobby catered to minorities. It became widely known and accepted by the general public.
The late 1990s was the era when anime figurines were mass-produced. As a leading maker, on top of anime-related figurines, Kaiyōdō also specializes in models and figures in various areas, such as animals, tanks, dinosaurs, and cultural topics, such as Buddhas and demons in Japanese folktales.
Figurine Making Workshops
Kaiyōdō Figure Museum isn't just a place where you examine intricately made figurines. It is also an attraction where you can make your figurines!
If you are still interested, plan your visit on the weekends or public holidays between 10 am and 3:30 pm. When you arrive, please let the staff know your intentions to join one of the workshops.
Important: English-speaking workshops are not currently available. If you don't speak Japanese, it may be a difficult experience for you as you will be relying on translation tools and body language.
Kaiyōdō Figure Museum Kurokabe's Opening Hours, Admission Fee, and Access Information
The museum is open from 10 am to 5 pm.

The last admission is at 4:30 pm.

The admission fee to the exhibition area of the museum is

1,000 yen for adults
500 yen for elementary and junior high school students
Free for one preschool child per adult

It is free to enter the museum shop.
From JR Nagahama Station (長浜駅), it is a 5-minute walk.
Tips: People usually spend around 60 – 90 minutes in the museum.
Discover Other Exciting Attractions in Nagahama City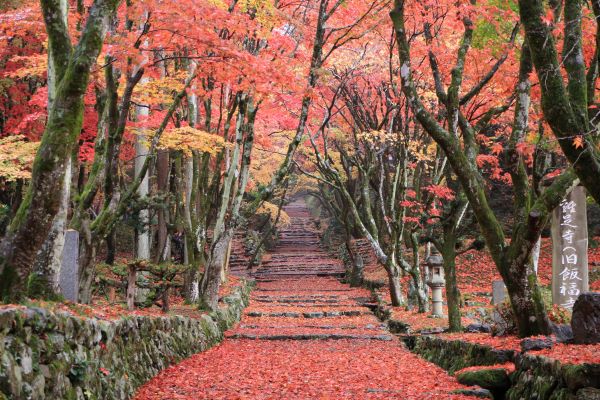 Nagahama, the second biggest city in Shiga Prefecture, is rich in history and nature. Toyotomi Hideyoshi's success in becoming the leader of Japan in the second half of the 16th century is said to have started from here.
Apart from the cultural and historical attractions, the city will also excite shopaholics and figurine manias!
For more information, please refer to our article on Nagahama (=゚ω゚)ノ.