If you want to experience Japanese culture, such as a tea ceremony, Japanese sweets making, Japanese Sake, and spending time with Maiko, come to Japanese Culture Experience An (日本文化体験庵), located in Kyoto's Gojō area!
Apart from all the indoor experiences, they also provide short Kyoto city strolling tours for you to discover all the fun facts about Kyoto that only the locals know about!
The most exciting experience you can get from the Japanese Culture Experience An is probably a half-day Kyoto tour guided by a Maiko (apprentice Japanese entertainers who perform traditional Japanese art forms)! What kind of experience beats exploring Kyoto's beauty with a well-trained Maiko San? Not to mention there will be plenty of photo opportunities with her at Kyoto's famous destinations!
Our Experience at Japanese Culture Experience An
We were actually walk-in customers. The store is just next to the kimono rental shop that we went to dress at. As I had just started learning the Japanese tea ceremony back then, when I saw the signboard, I dragged my friend in.
We were lucky that there were no bookings when we visited the store, so we had all the staff in the store and even the owner to attend to us! They kindly offered to take photos for us during our experience and recommended we take photos with their Japanese-style interior settings in the shop.
The experience we chose was the "Higashi Making Experience and Tea Ceremony", which includes the following:
☆ Grinding the dried tea leaves into matcha powder
☆ Dry Japanese sweets making
☆ Simple Tea Ceremony
The whole experience was really fun! The staff explained how each step of the process should be performed and patiently guided us while we actually tried it ourselves.
It was our first time grinding tea leaves. Seeing the powder coming out was particularly satisfying while our arms were sore from the grinding (yes, we were not that fit (´▽`*)).
Dry Japanese Sweets Making Japanese Culture Experience An
The dry Japanese sweets making gave us more of an understanding of the manufacturing process of the delicious sweets you see being sold at shops in Japan.
We were surprised that only a proper mold and sugar are required!
Tea Ceremony Experience Japanese Culture Experience An
By dressing in kimono and sitting on our legs while holding the whisker, it started to feel like we were one of the grand tea masters in ancient Japan!
Note that there was a bit of change in the shop's interior after our visit. Currently, all customers will sit at tables in the shop instead of on the tatami mats.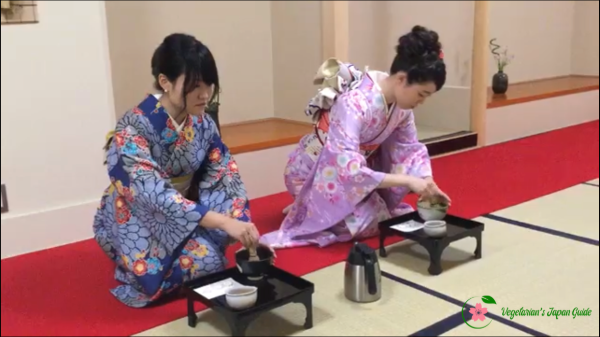 Tip: If you do wish to complete your experience on the tatami mats, make sure you include this as q request as a new area where you can sit on the tatami mats during your experience will be made available soon (=゚ω゚)ノ.
On the way out, we were given a Japanese sake sample for us to try on. Whilst they currently don't sell sake anymore at Japanese Culture Experience An, they do have a Japanese sake tasting section that you can book to discover more about different types of Japanese wine!
Other Experiences at Japanese Culture Experience-an
At Japanese Culture Experience An, choose as many experiences as you like, and don't worry about the language barriers. All of the experiences below are available in English as well!
Tea Ceremony
Japanese Sweets Making
Japanese Wine/Sake Tasting
Japanese red bean paste bun making
Time With Maiko or Even Taiyu (highest rank of Japanese entertainers – only 5 in Japan at the moment)
Kyoto Gojo Small Street Strolling
Maiko Bus
Tips:
☛ Book in advance HERE to ensure your place and PAY A CHEAPER PRICE!
☛ If collecting certificates is your kind of thing, make sure you include this option when you book your experience (extra 300 yen)
☛ Take photos with the Japanese-style setting in the shop during and after your experience!
Tea Ceremony at Japanese Culture Experience-an
Japanese sweets are a MUST for the Japanese tea ceremony. So all of the tea ceremony experiences they provide come with at least one yummy Japanese sweet.
If you are in a rush or have a tight budget, try the simple Tea Ceremony experience for just 1,000 yen. You will be shown how to perform the Tea Ceremony in the simplest way.
If you have more time, then the Higashi Making Experience & Tea Ceremony is recommended!
With just 3,760 yen, you will be:
☆ Grinding your own matcha powder
☆ Making the Japanese Sweets (dry type) with the highest class of sugar in Japan – the Wasanbon (the sweets melts in your mouth!)
☆ Whisking your own bowl of matcha! (we were told that to have enough power to make your own bowl of tea, the grinding process takes around 10 minutes. We gave up after 2 minutes as the pain started to set in in our arms. Fortunately, the store offers powder that is already ground when making your own tea.)
Tea Ceremony & Nerikiri-Wagashi Experience: Apart from the dry type of Japanese sweets, there is also a wet type of traditional sweets called Nerikiri. It is made with sweetened white bean paste and glutinous rice flour.
→ Note that this experience doesn't involve grinding your own matcha powder.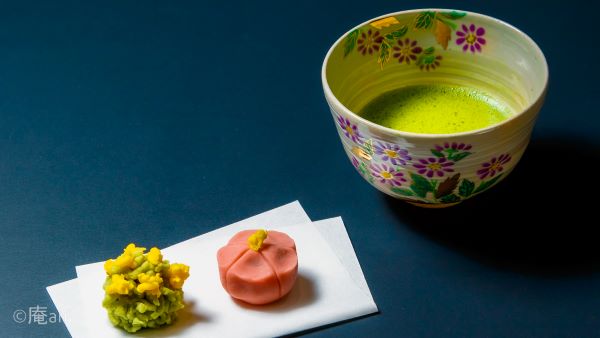 → You will be making 2 different seasonal designs of Nerikiri, which will be a great experience (even if you don't consider yourself an artist). It is the process of shaping the sweets that is the most enjoyable.
Japanese Sweets Making at Japanese Culture Experience An
There are 3 types of Japanese sweets that you can make at the store:
☆ Higashi
☆ Nirikiri
☆ Floral Wagashi
Higashi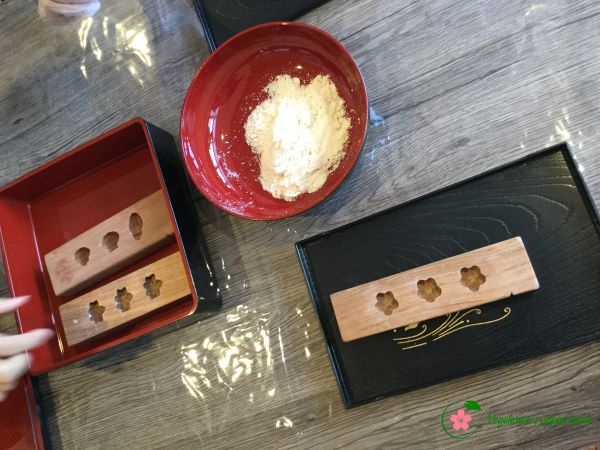 You will be using the highest grade of Japanese sugar – Wasanbon, to make the sweets.
To make Higashi with Wasanbon, you will be asked to choose your favorite wooden mold. With the mold, you will be pressing the Wasanbon into the mold until the openings are completely filled. The mold is then separated to allow you to easily take out the pressed Higashi.
Nerikiri
Unlike the dry Japanese sweets – Higashi, Nerikiri is a bit wet as it is made with sweetened white bean paste and glutinous rice flour. Although making the white bean paste isn't too hard, it is extremely time-consuming.
Thus, you will be using the pre-made paste from one of the shops with a long history in Kyoto (good taste guaranteed!) and making the paste into 2 different kinds of seasonal flowers with different artificial coloring.
Floral Wagashi
As for the floral wagashi, it is beautiful! And you probably won't be able to do the same experience elsewhere!
The base of the Japanese sweets is the same white bean paste from one of Kyoto's Sweets shops with a long history. On top of the base, you will be decorating the base with real flowers and finishing up with transparent jelly.
Click HERE for more photos!
Japanese Wine/Sake Tasting
You will be tasting and learning about 3 or 5 different kinds of Kikizake (利き酒). Each Sake has its own special taste.
Time with Maiko and Taiyu at Japanese Culture Experience An
With as low as 2,200 yen, you will be able to be in the same room with real Maiko. Photo opportunities with the Maiko are guaranteed!
Book HERE for one of the Maiko experiences and time slip into ancient Kyoto with trained Maiko San! They will be more than happy to answer your questions that you may have as well!
Please find a list of experiences that they offer HERE with photos and pricing included (=゚ω゚)ノ.
Tip: If you are vegetarian or have other dietary requirements, feel free to include this when you reserve your spot. They will try their best to accommodate!
Maiko Bus at Japanese Culture Experience An
Currently, there are a total of 8 tours that you can choose from to experience different kinds of Japanese culture, such as a tea ceremony with Maiko San and touring Kyoto with her.
All tours include 1 Japanese cultural experience with Miako San, and, visiting Higashi-Yama area in Kyoto with her accompany. If you fancy having kaiseki lunch or dinner with the gorgeous lady, it's possible too at an affordable price!
Click HERE for the full list of the tours you can book with Japanese Culture Experience An! Please note extra charges apply if you require the whole experience to be in English (around 10% more than the listed price). As there is currently no English website for this tour package, please contact us HERE if you require assistance reading their website.
Business Hours of Japanese Culture Experience-an
The shop is currently opened between 8 am to 10 pm daily. But the hours may change. So if you are planning to visit it, it is always best to make a booking in advance!
If you are coming for an experience, please only enter the shop 5 minutes before your experience starts to avoid congestion in the shop ('ω')ノ
How to get to Japanese Culture Experience An
If you are taking Kyoto Municipal Subway, get off at Gojō Station, and it is a 1-minute walk from exit no. 1
If you are taking Keihan Railway, it is a 10-minute walk from Keihan Railway's Gojō Station's exit no. 3
If you are taking a bus from Kyoto Station, please take route 5 or route 26 and get off at Karasuma Gojō. The shop is just 3-minute away from the bus stop.
Note the shop is on the second floor of the building. The staircases to the shop are on the street so you won't miss them.
Visit Amanohashidate for One of the Three Views of Japan
If you haven't been to Amanohashidate for the celebrated view, then you definitely should when coming to Miyazu!
Check out our article on Amanohashidate to find out why people are bending down over on the observatory and how the 5,000 pine trees can grow on the 3.6 km sandbar surrounded by seawater!