If you are traveling away from Fukuoka's city center, the Uminonakamichi Seaside Park (海の中道海浜公園) is another destination in Fukuoka City that has flowers blooming all year round. In fact, if you love taking photos in flower fields, Uminonakamichi Seaside Park is the best place to be in Fukuoka! In addition, the park has a 12 km cycling course along the coast, flower fields, and basically all the different areas in the park!
If cycling doesn't sound too exciting, how about exploring the park with an electric kickboard or even a segway?
The 350-hector-wide park is also home to more than 500 cute animals (such as capybaras) that you can observe up close or even give a gentle stroke.
In summer, many locals visit the park for western Japan's largest outdoor leisure pool to escape the heat.
And when the Christmas illumination is set up in December, the park is one of the most romantic places in Fukuoka.
Below is a summary of the various areas in Uminonakamichi Seaside Park
Tip: You can explore the park with Uminonakamichi Seaside Park Segway Tour!
The Flower Fields in Uminonakamichi Seaside Park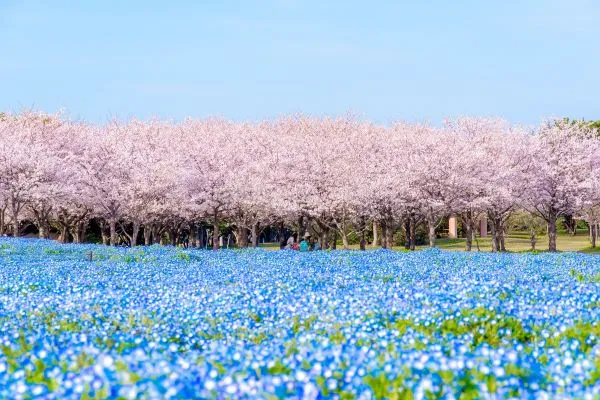 What Uminonakamichi Seaside Park is most renowned for is probably the wide range of flowers blooming across the many flower fields in the park. There are a total of eight flower spots in the park with various flowers planted, which color the park gorgeously.
From late March to early April, around 1,600 cherry trees will form a couple of cherry blossom tunnels here and there in the park!
From May to early June, you can enjoy the elegant fragrance from the 1,800 roses of 220 different species in both the Rose Garden and Flower Museum.
Please refer to the map on the official website HERE for a visual idea.
You can also check out the flower calendar of Uminonakamichi Seaside Park HERE. Just note the table is an image and won't be translated even if you change the language setting to English. But you can refer to the photos below the table with the flower's name translated.
The Animal Forest (動物の森) in Uminonakamichi Seaside Park
If you are a big animal lover like us, come and play with around 50 different kinds of animals living in the Animal Forest in Uminonakamichi Seaside Park!
The zoo-type facility aims to allow visitors to observe or even pet the animals they keep. This is why a side of the animals' nest (such as prairie dogs) is made transparent where appropriate.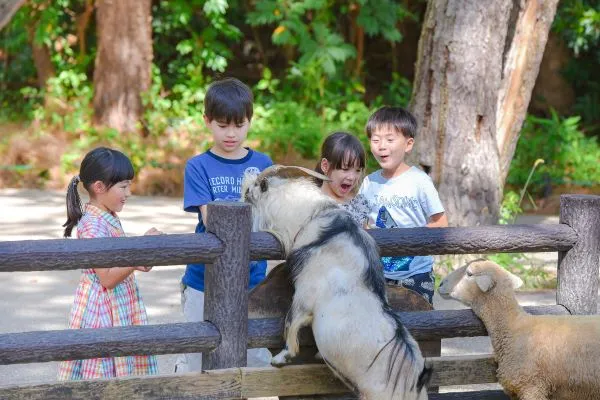 In the Fureai Animal Hut (ふれあい動物舎), guinea pigs are there for you to give them some gentle strokes from 1:10 pm to 3 pm!
You can refer to the official website HERE for more details about the Animal Forest.
Obstacle Courses and Playground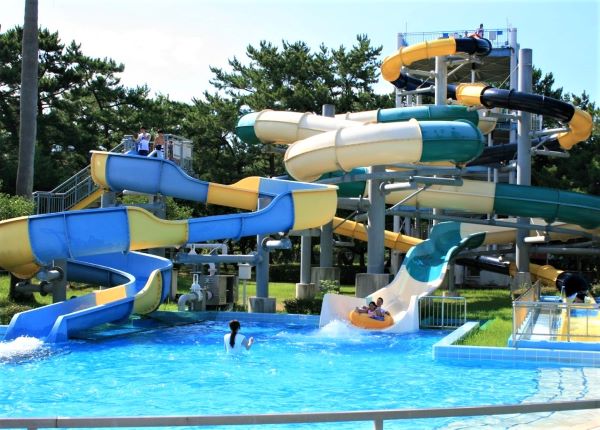 With various obstacle courses and playgroup equipment, your children will have a lot of fun at various parts of Uminonakamichi Seaside Park.
In summer, remember to bring your swimming suit to chill down at the park's Sunshine Pool. The summer-only water park has six pools catering to different age groups. Regardless of your age, you will surely enjoy an afternoon sliding down the water slides, with the longest one being 34 meters!
Uminaka Christmas Candle Night
On the weekends from mid-December to Christmas Day, visit Uminonkamichi Seaside Park for a romantic and heart-warming atmosphere. Around 10,000 lanterns are placed on the ground to create a fantastic view just right for Christmas!
Below are a few details of the 2022 event:
It was held on the 17th, 18th, 24th, and 25th of December from 5:30 pm to 9 pm.

The last admission is at 8:30 pm.

The cost was:

290 yen for anyone 15 years old and older
210 yen for anyone 65 years old and older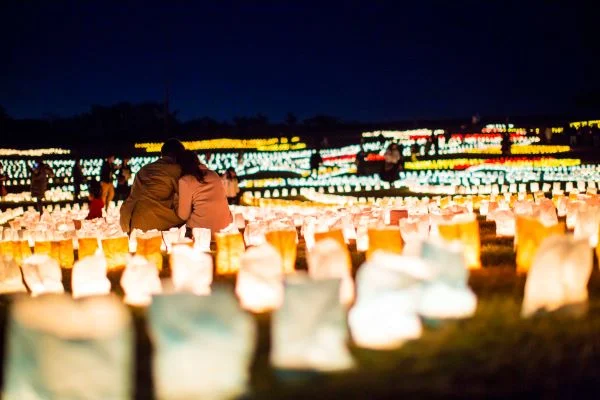 Moving in Between the Attractions in Uminonakamichi Seaside Park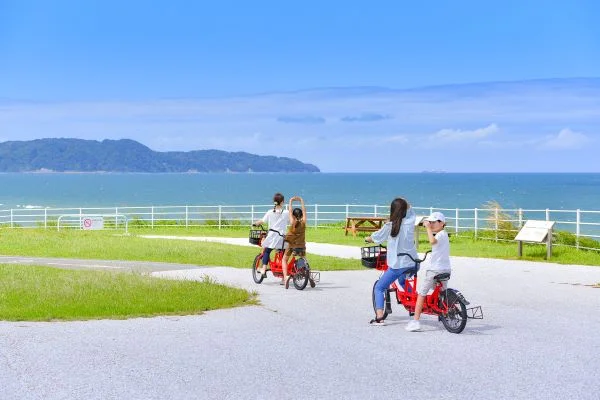 As you can imagine, getting to different parts of such a spacious park can be tiring. So the park has come up with a couple of different methods for you to choose from.
Park bus
Bicycle
Electric kickboard
Segway
For the 12 km cycling route, please refer to the map HERE.
For more information on each option, please refer to the official website HERE and translate the page to English by changing the language setting at the top right of the website.
Uminonakamichi Seaside Park's Opening Hours, Admission Fee, and Access Information
Uminonakamichi Seaside Park is open from

9:30 am to 5:30 pm from March to October
9:30 am to 5 pm from November to February
The last admission is an hour before the park's closing time
The park is closed on New Year's Eve and New Year's Day and on the first Monday and Tuesday of February.

The admission Fee is

450 yen if you are 15 years old and above
210 yen if you are 65 years old and above
Free otherwise
Uminonakamichi Seaside Park is just next to JR Uminonakamichi Station (海ノ中道駅).
You can also take a ferry from Hakata Port (博多港) and get off at Uminonakamichi Ferry Terminal (海の中道渡船場).
Discover Other Amazing Destinations in Fukuoka City
Wondering where else around Ōhori Park and Maizuru Park is worth your time? Check out our article on Fukuoka City!
In the article, we have included all sorts of attractions that may suit your interests. There is also information available on Fukuoka's famous Yatai street stalls (=゚ω゚)ノ.