Tateyama Kurobe Alpine Route (立山黒部アルペンルート) is a scenic route that goes through the Japanese North Alps, connecting Toyama prefecture and Nagano prefecture. It's also known as the Roof of Japan. This spectacular route is known for a magnificent 20-meter snow corridor that can only be experienced in limited spots worldwide. In 2022, you can walk in the snow corridor from the 15th of April to November. But, we believe the best season for visiting is autumn, especially if your home country snows during winter!
In autumn, you avoid the massive crowd. In addition, starting from JR Toyama Station (富山駅) to the top of the alp of 3,015 meters above the ground, you will experience an amazing four seasons view in just one autumn day (check out the fall foliage viewing timing table at the end of this article)!
If you are worrying about whether you can hike to the top of the mountain, don't worry! The whole Alpine Route offers various transportation options, including cable cars, busses, trolley buses, and ropeways that will bring you to the top of the mountain – Murodo. In between each transport mode, there are different beautiful treks for those who fancy a walk into nature.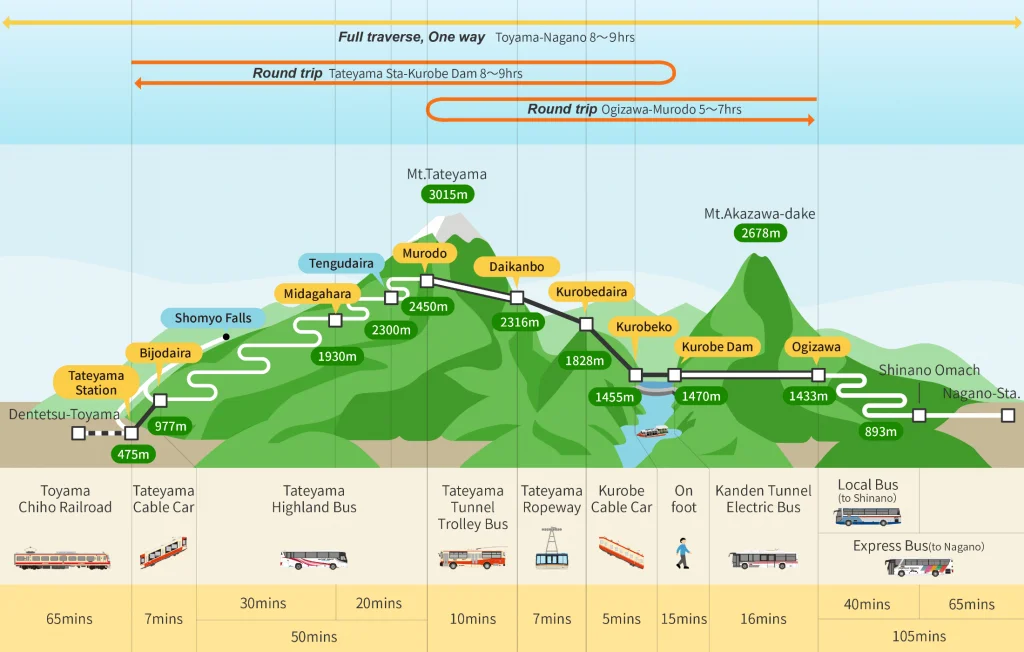 Tips:
☆彡 Get some food from convenient stores before you start your trip! Unfortunately, there aren't too many choices for food on the route.
☆彡 As Japanese hikers love this place as well, avoid weekends as well as Japanese public holidays. As a general guide, the route is busy during
   ☛ Mid-April to Mid May
   ☛ Mid August
   ☛ Early October
*** The recommendations below are for those who plan to spend only one day on the whole route. For a stay over multiple days, check out the transport time schedule and official crowdedness forecast to plan HERE) ***
Should I Start the Route from Toyama or From Nagano??
As you may have gathered from the transport mode map above, you may start your exploration of the great Tateyama Kurobe Alpine Route from either the Toyama side or the Nagano side. So how will you decide which city to start with?

Based on our personal experience, we recommend starting from Toyama. Many tourists start from Nagano, so starting from Toyama will allow you to enjoy the magnificent scenery with the smallest crowd around. (Note that this may not be the case if you go between April and June for the snow corridor!)
What to Do with My Luggage?
Baggage forwarding services between the two sides of the route are available at each end of the alpine route. The service will cost you 2,500 yen per luggage. Please refer to the official website HERE for more information.
Important: Before the pandemic, they used to be able to forward your luggage to Nagano Station. But this is not the case in 2022. If your final destination is Nagano Station and you require the baggage forwarding service, you will need to pick it up from Shinano Ōmachi Station (consider this when you book your accommodation and bus ticket from Ogizawa).
Tip: If you do want to stay anywhere on the route that isn't around the stations where the Alpine Route Baggage Forwarding Service is available, you can always ask your hotel to arrange for private luggage shipping to your next accommodation ('ω')ノ. The other option is the coin lockers at each station (excluding Tengudaira) on the route. It costs money, but you want to be as light as possible when trekking!
What Time Should My Day Start?
Assuming you are staying in one of the cheaper accommodation options in Toyama City the night before, your day should start really early. Especially if you (like us) want to catch the first train from Toyama, which departs at approximately 6 am.
And Your Journey Begins!
Stop 1: Dentetsu Toyama Station (電鉄富山)
Your 65-minute train ride to Tateyama Station starts here!

If you are catching the first train, you might need to wait a bit before they allow you to the platform after you pass the ticket gate. But this is what your train should look like (though always confirm the indicator screen around the platform)!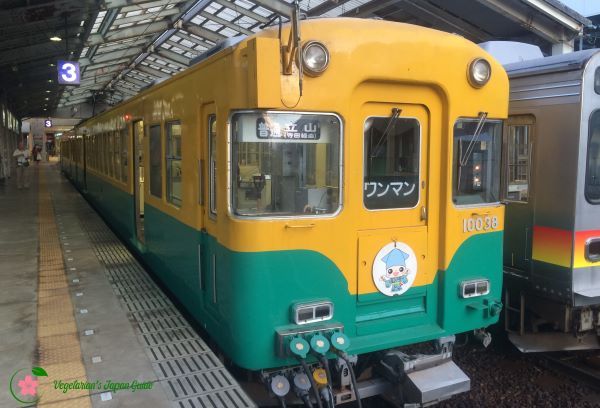 Check out the view during this train ride. Already scenic!

And a good time to catch up on some sleep too
(´▽`*).
Important: If you purchased a Tateyama Kurobe Alpine Route Option Ticket or Alpine-Takayama-Matsumoto Area Tourist Pass, there is no need to buy another ticket to travel from Dentetsu Toyama to Tateyama Station. This journey is included in your set ticket.
Stop 2: Tateyama Station (立山駅)
Important: when you arrive at Tateyama Station, go straight up one level and head straight towards where the shop is (instead of heading straight left to queue for the cable car). The Tateyama Kurobe Alpine Ticket Sales Counter is at the back of the shop (refer to the map HERE).
You will need to exchange your pre-purchased ticket for the real route set tickets. You will also be given a number here that determines what time you can board the cable car to Bijodaira Station.
Here start your 7-minute cable-car ride to Bijodaira (美女平)!

Please follow others and queue to board the cable car.
Tips: When boarding the cable car, don't sit on the seats but go straight to the front of the cable car to enjoy the panorama view on the way to Bijodaira!
Stop 3: Bijodaira Station (美女平)
If you have time, you have the option of trekking around the forestry area at Bijodaira Station to experience the fresh air and various wildlife!
The bus service you should catch is depending on your next stop. There are two corridors to two different bus stops.
☆ One is express to the top of the mountain – Murodō (50-minute ride), or
☆ Stopping over at Midagaraha and/or Tengudaira (30-minute ride).
Tip: Sit on the left-hand side of the bus to see the Shomyo Fall (称名滝) during this bus ride! (if you are starting from Nagano, then RHS)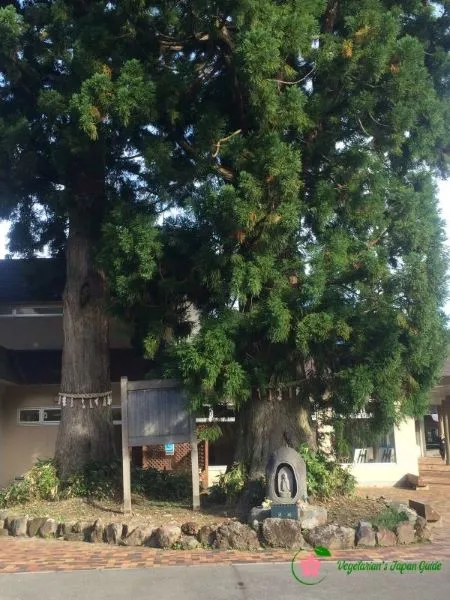 Stop 3.01:On the Way to Midagahara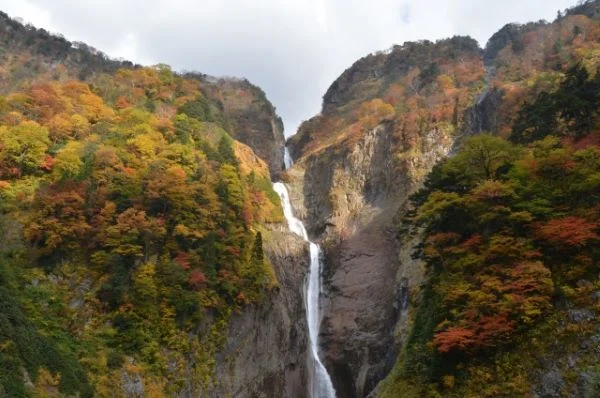 On the way to Murodō, your bus driver will most probably stop or drive really slow and start talking.
He/she is trying to direct your attention to the left – Shōmyō Fall (称名滝). It is most beautiful during the autumn foliage season when leaves start to redden.
Stop 4: Midagahara Stop (弥陀ヶ原)
At Bijodaira Stop, if you have time, enjoy the trekking courses (3 courses with the longest one taking approximately 2 hours return).
If you do choose to stay at the Midagahara Hotel, the hotel provides its customers with free activities such as nighttime stargazing and staff-led highland trekking!
Check out the trekking map (it may give you some ideas despite being in Japanese) provided by Midagahara Hotel.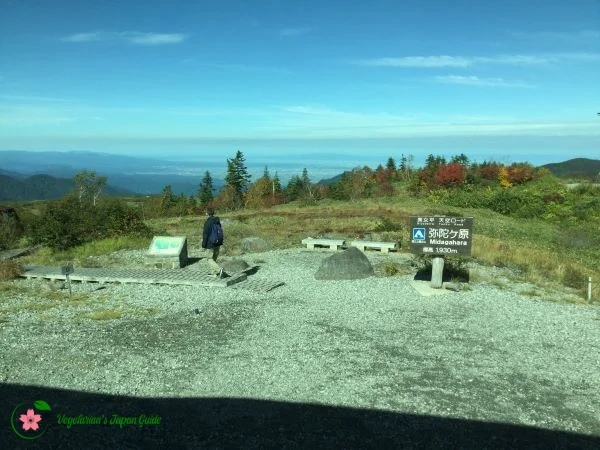 Stop 5: Murodō (室堂) – The Top of the Mountain!
The first thing you will want to do when you arrive at Murodo is to take a picture with the landmark. There are professional photographers around to help tourists take photos with it. And don't worry, they don't charge you unless you want the photo from their camera!
Get your water bottle ready! The famous Teteyama Tamadono Spring Water is among the most natural spring water that we have ever tasted! It is coming directly from the snowmelt in the area. There are also scoops for you to use if you require it ('ω')ノ.

After you fill up your bottle, start trekking/hiking (or if you go between April to June, enjoy the snow)!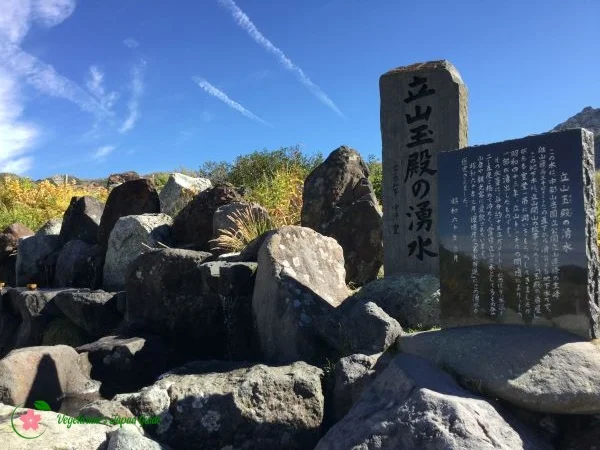 Stop 5.01: Backcountry Skiing, Snow Walking, and Sledding at Murodō
The snow/ski season here in Mt. Tateyama is between April and May. Ski on 3,000 meter-tall mountain will be a once-in-a-lifetime experience ('ω')ノ. Hotel Tateyama offers free rentals of snowshoes, stock, long boots, and sled. Otherwise, you'll need to bring your own gear.
Various snow activities that you can enjoy HERE, at Murodō including the FAMOUS SNOW CORRIDOR WALK (the Japanese official website link as the English official website is lacking activities information)!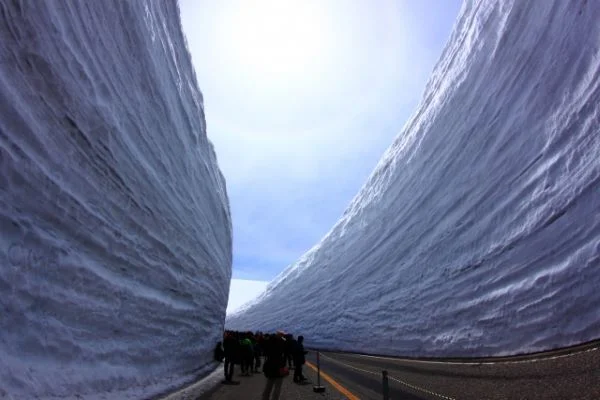 Stop 5.02: Hiking at Murodo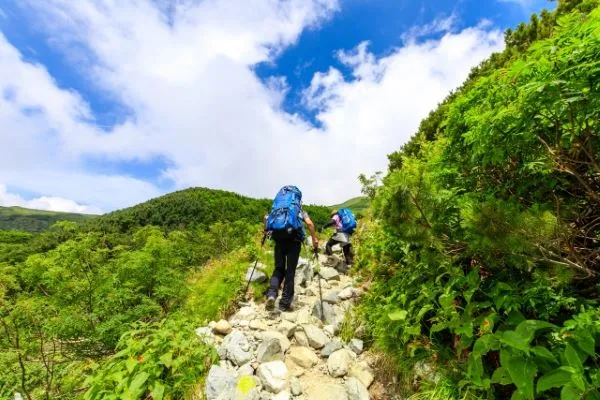 ☛ Hiking: to the top of the mountain to enjoy the panoramic view of the surrounding mountain scenery. There is even a chance to see Mt Fuji on a sunny day!
Allow yourself approximately 3 hours and 40 minutes (climbing 2 hours + 1 hour and 40 minutes going back to Murodō)
Stop 5.03:Trekking at Murodō
☛ Trekking: there are various trekking courses in the area. Consider the amount of time you have and choose the course that best suits you.
No matter which course you choose, make sure you walk to the Mikurigaike Pond! The view there includes a reflection of the mountain in the pond and is absolutely breathtaking.
Check out the photo on the official Japanese website (unfortunately, the English version doesn't have as many photos)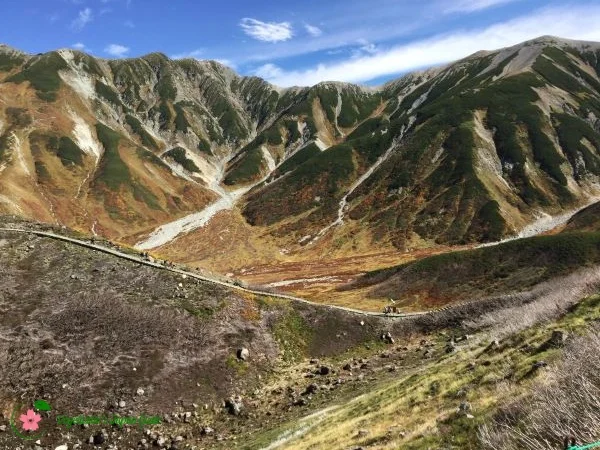 Stop 5.04: Camping at Raichōsawa Camping Ground (雷鳥沢キャンプ場)
For those who love camping, how about bringing your own tent and camping at Raichōsawa Camping Ground?
Whilst you have to bring your own food, so you don't starve during the time you spend on the campground, it will definitely be an unforgettable experience!
From late May to early July, the longer you stay in the Murodō area, the larger the chance you have got to spot one of these nearly extinct birds of Tateyama Kurobe Alpine Route – Raichō!
Tips: During the peak camping season in August, you might want to bring one of those mobile toilets with you. This is particularly the case in November when the toilet at the campground becomes unavailable.
Stop 5.05: To the Murodō Trolley Bus Stop
After you tire of the awesome Murodo area, head to Murodō Station and take the Tateyama Trolley Bus to Daikanbō.
Stop 6: Daikanbō (大観峰)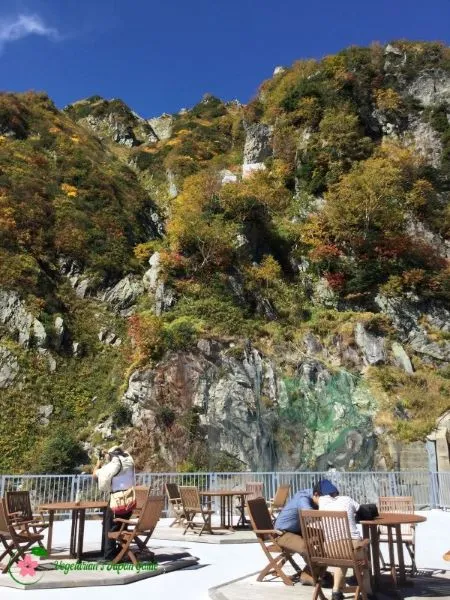 Enjoy the observation terrace, which allows for a view over the fantastic mountain and Kurobeko Lake view before you head off and queue for the ropeway to Kurobedaira!
←←←←←The Terrace &Daikanbō
View from the Terrace↓↓↓↓↓

Stop 7: Kurobedaira (黒部平)
After a 7-minute panorama scenic view, you will reach Kurobedaira.
The photo at the right is the ropeway that you will be getting off.
If you are hungry, visit the Restaurant Kurobedaira here at Kurobedaira Station (located on the 2nd floor of the station) to fill up your stomach while enjoying the magnificent mountain view over Kurobedaira. (Note that for vegetarians, you probably won't be able to find a true meat-free dish. The dishes selling at the restaurant probably all contain fish/meat stock. Please refer to their allergen info under each of the dishes on the MENU). You can also use the phrases in our Essential Japanese Travel Phrases for Vegetarians and Vegans article to order.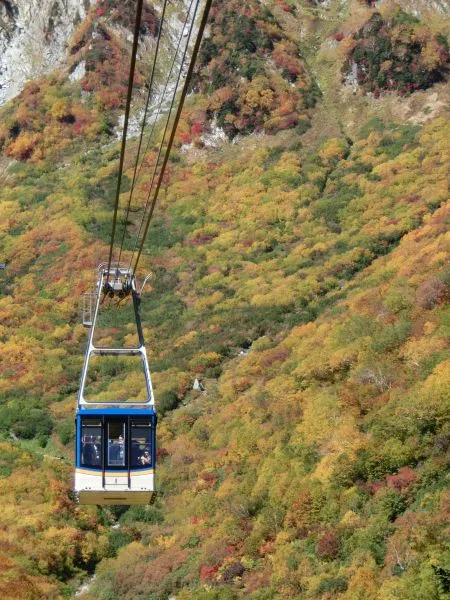 If you are not in a rush, walk around the station for a different view of the mountain range. We especially recommend the Panorama Terrace. Check out the photos on the official Japanese website!
You can also pay their botanical garden a visit to see the high-altitude plants!
Tips: If your water bottle is empty, fill it again with the sweet spring water at the Kurobedaira Landmark!
Stop 8: Kurobe Dam and Kurobeko Lake (黒部湖・黒部ダム)
Kurobe Dam is famed as the dam with the highest altitude in Japan that is not to be missed!!!
Take the lake Pleasure Boat to tour around Kurobeko Lake! You will be traveling between the mountains surrounding the dam whilst having a different view of the great Kurobe Dam.
To get to the boat boarding deck, please check the indicator at the station for direction.
If you find yourself walking on top of the dam, you are walking in the wrong direction!
Time required: 30 minutes
Distance traveled: 11.5 km
Service Period: June to the 10th November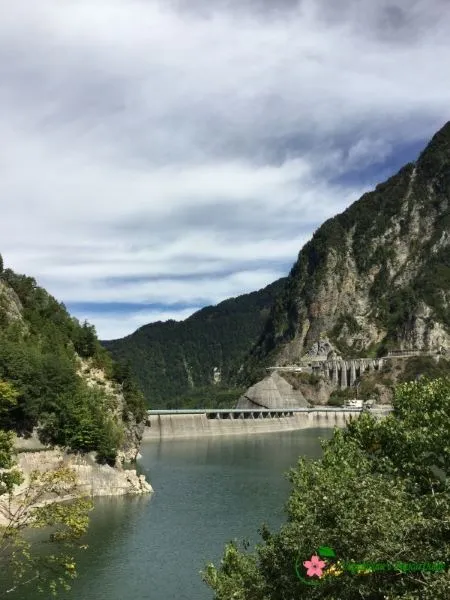 To us, the 1,100 yen for the ferry ticket is totally worth it! A highlight is a bridge that can be seen during the boat ride.
There are quite a few trekking courses of different lengths at Kurobe Dam Station. Check out the area map at the station and choose a course for light trekking!

After your leisure walk around Kurobeko Lake, on your way to Kurobe Dam Station, the view from the top of the Kurobe Dam is absolutely breathtaking!
Great View From the Top of Kurobe Dam!!! →→→→→
There are various lookout decks around the Kurobe Dam. If you are unafraid of the height, we highly recommend you climb up as the photos that can be taken from the decks are magnificent! Check out a detailed illustration of various decks HERE.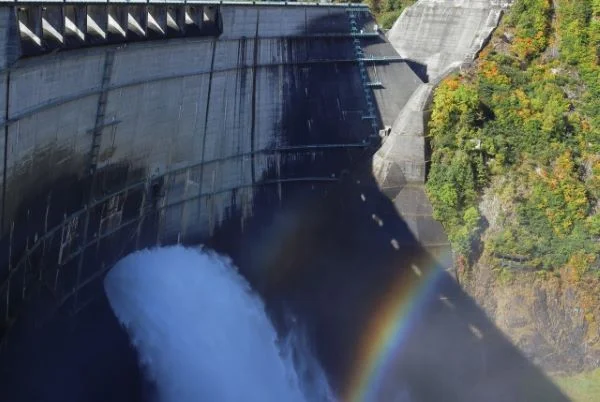 Also, if you want to see the 10 tons per second of water pouring out of the dam, make sure you plan your trip to Kurobe Dam between the end of June to the 15th of October!
If the weather is good, you will be able to see a RAINBOW alongside the water coming out of the dam (*'▽').

Step Back to Civilizations
From Kurobe Dam Station, you'll be taking the Kanden Tunnel Electric Bus to Ogizawa. After crossing through Mt. Akawaza-Dake, you'll arrive at Ogizawa Station. From here, you can choose to take a bus or train to JR Shinano Omachi or JR Nagano Station.

Electric bus stop at Ogizawa Station →→→→→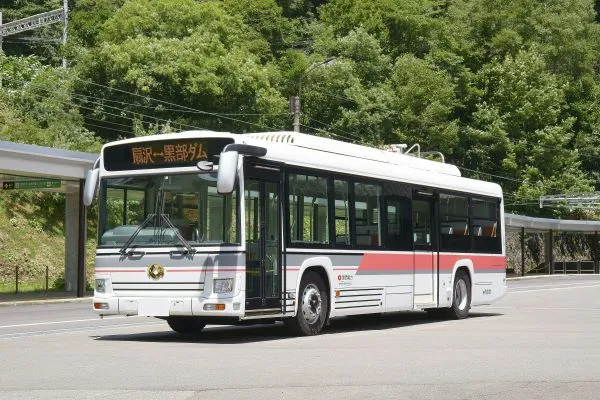 Important: If you have purchased the route's option tickets or tourist pass and later decided you want to tour around Shinano Omachi Station before heading to Nagano, you will have to pay extra for the travel between Shinano Omachi and Nagano Station.
Extra Information about the Tateyama Kurobe Route
Fall Foliage Season:
| | | | | | | | | | |
| --- | --- | --- | --- | --- | --- | --- | --- | --- | --- |
| Station/Stop | Shomyo Falls | Bijodaira | Midagahara | Tengudaira | Murodō | Daikanbō | Kurobedaira | Kurobe Dam | Ogizawa |
| Average Viewing Time | End of Oct to Early Nov | End of Oct to Early Nov | End of Sep to Early Oct | Mid Sep to End of Sep | Mid Sep to End of Sep | End of Sep to Early Oct | Mid-Oct to end of Oct | Mid-Oct to end of Oct | Mid-Oct to end of Oct |
Past Weather/Temperature Average at Murodō
| | | | | | | | | | | | |
| --- | --- | --- | --- | --- | --- | --- | --- | --- | --- | --- | --- |
| | Mid Apr | Late Apr | Early May | Mid May | Late May | Early Jun | Mid Jun | Late Jun | Early Jul | Mid Jul | Late Jul |
| Temp | 1℃ | 4℃ | 5℃ | 8℃ | 9℃ | 9℃ | 10℃ | 11℃ | 12℃ | 15℃ | 16℃ |
| Possibility of Sunny – Cloudy Day | 68% | 81% | 72% | 81% | 84% | 78% | 79% | 63% | 64% | 72% | 72% |
Check out things to do on the official website

HERE
| | | | | | | | | | | | | |
| --- | --- | --- | --- | --- | --- | --- | --- | --- | --- | --- | --- | --- |
| | Early Aug | Mid Aug | Late Aug | Early Sep | Mid Sep | Late Sep | Early Oct | Mid Oct | Late Oct | Early Nov | Mid Nov | Late Nov |
| Temp | 18℃ | 15℃ | 14℃ | 13℃ | 12℃ | 11℃ | 9℃ | 6℃ | 4℃ | 2℃ | 0℃ | -4℃ |
| Possibility of Sunny – Cloudy Day | 88% | 74% | 62% | 68% | 62% | 66% | 70% | 65% | 73% | 72% | 62% | 69% |
So… How Much Does It Cost to Experience the Tateyama Alpine Route??
You have 3 options:
Tateyama Kurobe Option Ticket (save 2,660 yen!) – Currently Not on Sale for 2022. For the time being, please refer to HERE for other options
Alpine-Takayama-Matsumoto Area Tourist Pass (unlimited rides!)
Pay the normal fare from station to station. This option is more expensive, but you can reserve tickets online!
Important: The first 2 options above are only for people who entered Japan as temporary visitors with a "Temporary Visitor" stamped on their passport.
Tateyama Kurobe Option Ticket – Currently Not on Sale for 2022:
If you plan to only enjoy the Tateyama Kurobe Alpine Route and not the areas around, then this is the ticket for you!
The option ticket is a ONE WAY ONLY ticket that enables you to travel from either Jr Nagano Station through the Alpine Route to Dentetsu Toyama Station (next to Jr Toyama Station) or the other way around.
Important:
 ☛ To get the 2,660 yen saving, you have to purchase the ticket at least 1 day in advance AND outside of Japan
 ☛ The ticket is non-refundable unless the transport modes included in the set ticket are out of service (note that even in this case, as different companies operate JR East and JR West, you cannot get a refund from JR East if you got your ticket from JR West and vice versa)
 ☛☛If you fulfilled the ticket refund requirements, you can refund your ticket at Dentetsu Toyama Station only if you purchased your tickets in JR East areas
 ☛ The ticket is valid for 5 consecutive days
 ☛ De-boarding from a bus traveling from Ogizawa Station to Nagano Station is not allowed
 ☛ An extra 210 yen is payable If you boarded a limited express to travel between Tateyama and Dentetsu-Toyama Stations

Where to Purchase Tateyama Kurobe Option Ticket and Its Valid Route:
Check out a list of JR stations that you can purchase the ticket from HERE
Check out the Visual Valid Routes Map HERE
Price of Tateyama Kurobe Option Ticket:
 ☛ 9,800 yen for ages above 11 and 4,900 yen for kids between 6 and 11 years old
Alpine-Takayama-Matsumoto Area Tourist Pass:
If you plan to visit the surrounding areas of Tateyama Kurobe, the Alpine-Takayama-Matsumoto Area Tourist Pass is recommended.
The 5 consecutive days pass allows you unlimited travel between all stations in the Tateyama Kurobe Alpine Route and is also valid for the Takayama, Gero, Nagoya, Kiso Fukushima, and Matsumoto areas (note: JR trains only for these areas)!
Validity and Prices
 ☛ The ticket is valid for 5 consecutive days
 ☛ 18,600 yen for adults and 9,300 yen for children between 6 and 11 of age when purchased outside of Japan from a travel agent
 ☛ 19,600 yen for adults and 9,800 yen for children between 6 and 11 of age when purchased in Japan
Below is a list of popular destinations that you can travel to with this pass. Click on each of them to discover all the great attractions that you can visit in each area!
Please refer to the official website for more information such as the route map HERE.
Where to Purchase
Check out where you can purchase overseas and within Japan HERE.
A Side Trip to the Stunning Kurobe Gorge
Kurobe Gorge (Kurobe Kyokōku) is one of Japan's top 100 hidden scenic spots and is located in the mountains of the Northern Japan Alps. It is the No.1 V-shaped Gorge in Japan! With its almost vertical cliffs and virgin forests plus the hot springs in the area, it is one of the most popular places for Japanese seeking relaxation amidst nature.
If the famous Tateyama Kurobe Alpine Route is also on your itinerary, why not enjoy the two most beautiful hidden places in Japan in one go since they're so close to each other!