Have you heard of the Seto Ōhashi Bridge (瀬戸大橋)? It is currently the world's longest 2-tiered bridge system!
With a total length of 13.1 km, it takes approximately 20 minutes to cross that bridge by car or train. If you want to see this world record-breaking bridge that crosses five small islands in the Seto Inland Sea, read on!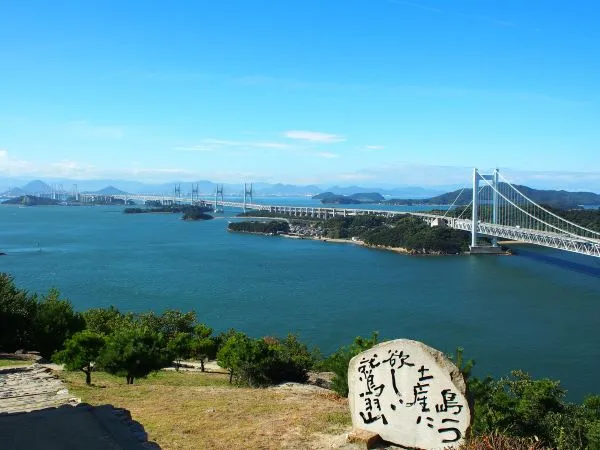 At Shōshūhō (鐘秀峰), the summit of Mt. Washu or Washuzan (鷲羽山) in the Seto Island Inland Sea National Park, you will get a panoramic view of 50 islands of different sizes together with the famous Seto Ohashi Bridge!
Referring to the photo on the left, if it is a sunny day, that will be the view you will be able to enjoy (we, unfortunately, got there on a rainy day, but that just makes our photos special as they look more like one of the Chinese Ink Paint masterpiece!).
Whilst the top of the mountain is 133 meters above sea level, you don't need to hike all the way up! Convenient as always, bus services are running from the closest train station – JR Kojima (児島駅). From the bus stop at Washuzan Observation Deck no. 2, it is just a simple 10-minute walk to the Summit Observation Deck!
One of the greatest things about this place is that you won't encounter a large crowd of tourists, giving you all the time you need for the beautiful photos and memories!
The photo at the left is the staircases leading to the Summit.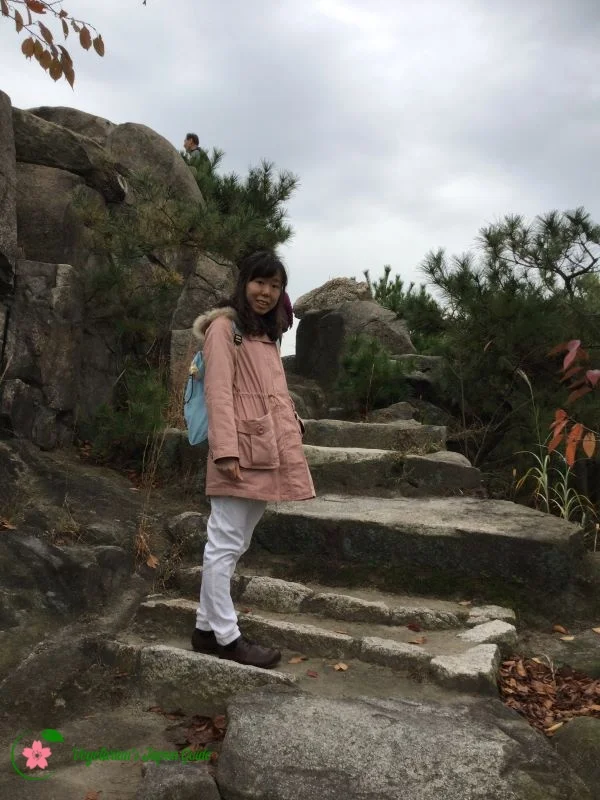 Washuzan and Seto Ohashi Sunset Viewing Bus Tour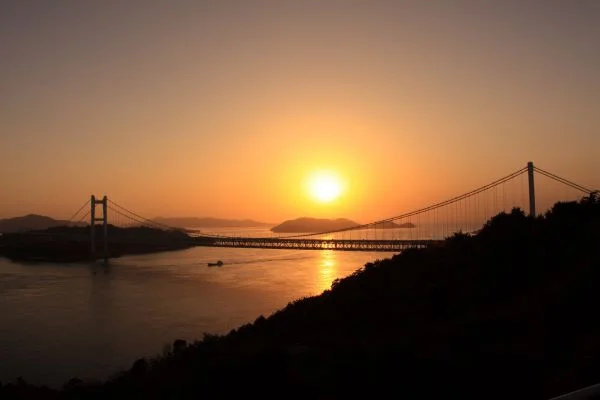 The sunset from Washizan was chosen by the Japanese Sunset Selection Committee to be one of the 100 Best Sunsets In Japan!
Isn't that enough reason to visit Washuzan the next time you visit Okayama Prefecture?
If you are keen on adoring the sunset view from Shōshūhō, Shimoden Bus (下電バス) has a sunset viewing bus tour running every Friday, Saturday, and the night before all Japanese public holidays.
With just 520 yen, you will be able to add this spectacular view to your scenic photo collections!
If you are staying at one of the below hotels, the bus can pick you up from the hotel. Otherwise, board the bus from JR Kojima Station.
Washuzan Shimoden Hotel (鷲羽山下電ホテル)
Washu Highland Hotel (鷲羽山ハイランドホテル)
Kurashiki Setouchi Kojima Hotel (倉敷せとうち児島ホテル))
The tour has two scenic viewing stops, including Mt. Sanhyaku (三百山) and the Washuzan Observation Deck (鷲羽山展望台). At each stop, you will have approximately 15 minutes to enjoy the breathtaking scenery.
Please find below the timetable for the bus departing time at JR Kojima Station's (児島駅) bus stop no. 5. The whole tour takes around 2 hours and 10 minutes.
| | | | | | | | | | |
| --- | --- | --- | --- | --- | --- | --- | --- | --- | --- |
| | Apr/May | Jun/Jul | Aug | Sep | Oct | Nov/Dec | Jan | Feb | Mar |
| JR Kojima Station | 17:30 | 18:00 | 17:30 | 17:00 | 16:00 | 15:30 | 16:00 | 16:20 | 17:00 |
Ticket is sold on the bus
The Fall Foliage Season at Mt. Washu
If you love the extra color in autumn, drop by Mt. Washu from mid to late November when the mountain is colored vividly by the autumn foliage!
How to Access Shōshūhō?
Hop on the JR train from your closest JR train station heading towards JR Kojima Station (児島駅)
From JR Kojima Station, take the Shimoden Bus's Shimotsui Junkansen Line (下津井循環線) from bus stop no. 4 in front of JR Kojima Station
Get off at Washuzan Observation Deck no. 2 (鷲羽山第二展望台). This is where you board the bus to return to JR Kojima Station as well
Walk/trek for 10 minutes, and you will be at 133 meters above sea level!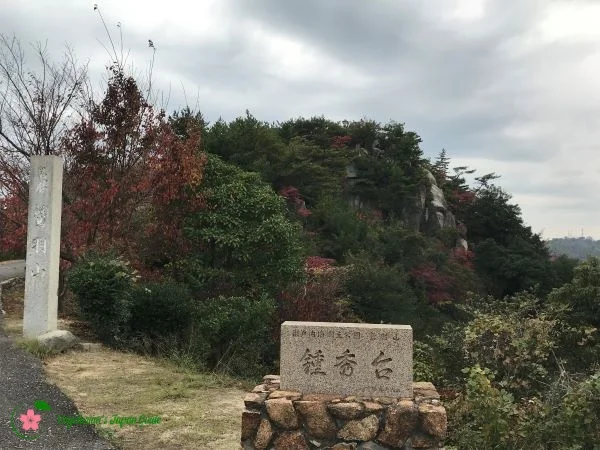 Tip: There are 3 observation decks on the way to Shōshūhō for your eyes and camera(s)
Click HERE for the bus timetable departing JR Kojima and Washuzan Observation Deck no. 2 in Japanese. As there is currently no English version on the official website, please CONTACT US if you require assistance in reading the timetable (=゚ω゚)ノ,
The Bus Fare to Shōshūhō/Mt. Washu from JR Kojima Station
A one-way ticket from JR Kojima Station to Washuzan Observation Deck no. 2: is 170 yen (90 yen for children)
Purchase the 1-Day Bus Pass: Jeans no Machi Kojima One-Day Bus TIcket (ジーンズのまち児島 バス一日乗車券) for 620 yen (310 yen for children) if you plan to explore other attractions in Kojima District
Travel with JR West Japan's Setowa Application
With the JR West Japan Setowa application from your phone, there are quite a few discounted passes that you can buy to travel around the area.
Note that you will need to create an account on JR West Japan's website. There is currently no English version.
Click HERE for more information in Japanese.
Discover Other Attractions Close to Mt. Washu
In addition to Mt. Washu, there are a couple more attractions in Kojima District that you might want to stop by. Kojima, Japan's denim mecca, has an area called Kojima Jeans Street that is filled with jeans-related decorations. Whether you are interested in shopping or not, it is just fascinating to see how the Japanese bring advertisement to the next level!
Moreover, if you love cycling, you can visit Mt. Washu by renting a bicycle from Kojima Station and cycling through the 6.3 km Kaze no Michi that goes past Shōshūhō!
There is also a Kojima Student Uniform Museum for you for a cosplay session in various types of Japanese uniforms!
To find out all the great attractions in Kojima District, refer to our Kojima District article!
Visit the Venice of Japan: Kurashiki Bikan Historical Quarter
Before you head to Shōshūhō for the stunning scenery, how about visiting the little Venice of Japan first?
Kurashiki Bikan Historical Quarter (Kurashiki Bikan Chiku, 倉敷美観地区) is a historic area consisting of classical Japanese architecture mainly with few exceptions.
With a variety of shops, eateries, and galleries in the area, you can easily spend a whole day here without getting bored!
Find out more about this gorgeous part of Japan with our Kurashiki Bikan Historical Quarter article!