The Kurashiki Bikan Historical Quarter (倉敷美観地区), also known as Japan's "Little Venice", is a historical area comprising classical Japanese architecture with a few outside influences such as the Ohara Museum of Art, which looks like a Greek temple. It is situated along the Kurashiki River in the Okayama Prefecture. The Kurashiki River was originally used as a canal approximately 400 years ago. With the canal surrounded by unique traditional Japanese housing, it isn't just one of the main attractions for tourists visiting Okayama Prefecture, but also a popular Japanese drama/movie shooting location!
With a variety of shops, eateries & galleries in the area, you can easily spend a whole day here without getting bored (=゚ω゚)ノ.
How to Get to the Kurashiki Bikan Historical Quarter??
It is just a 10-minute walk from JR Kurashiki Station (倉敷駅)!

Click HERE for the official Kurashiki Walking Map with information about shops, museums, and most importantly, restrooms!!!
Tips: Instead of following Google Maps, we recommend actually walking past the local shopping streets to experience the local atmosphere (and some pre-shopping of course (≧▽≦)).

After you get off at the JR Kurashiki Station, head to Ebisu Dori Shotengai/Ebisu Street Shopping Street (えびす通り商店街). Ebisu Dori Shotengai is connected with Hon Dori Shotengai/Main Street Shopping Street (本通り商店街), so you can follow that pathway to the end of Hon Dori Shotengai. Once you reach the end, you will be able to see the beautiful white Japanese traditional housing and the willow trees along the edge of the canal!
Important: a lot of the shops and restaurants at Kurashiki Bikan Quarter are closed on Mondays (=゚ω゚)ノ
List of Attractions in Kurashiki
Tenryo Coffee Shop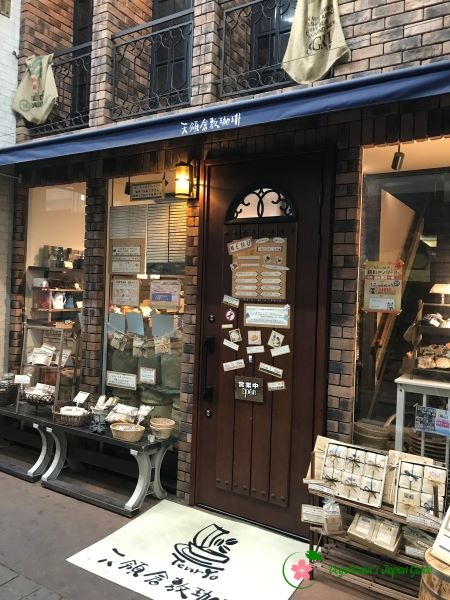 When you visit Kurashiki, don't forget to grab a cup of coffee and even a few packed freshly roasted beans to take home with you before you head to the famous Bikan Historical Quarter from Tenryo Coffee Shop (天領倉敷珈琲)!
Just 5 minutes of walking from JR Kurashiki Station, you will easily spot this small but unique European-style coffee shop.
For more information about this lovely place, please refer to our Tenryo Coffee Shop article!
Tourist Information Center – Kurashikikan (倉敷館)
When you first arrive at Kurashiki Bikan Quarter, you find the white building next to a little bridge for more tourist information!
It is opened daily between 9 am ~ 6 pm, but note that the business hours might differ between the end of December to early January.
You will also be able to purchase tickets of Kurashiki Bune Nagashi (Kurashiki River Boat Tour) here (=゚ω゚)ノ.
Tips: If you have already bought too many things on your way to Bikan Areas, light up yourself with the coin-operated lockers here!
Facilities at Tourist Information Center
Ground level: Information counter, rest area, coin lockers, toilet, sales counter for Kurashiki River Boat Tour
Second level: Rest area, breastfeeding room, diaper changing table
Kurashiki Denim Kimono Rental at Kurashiki Kimono Komachi (倉敷着物小町)
Heard of a denim kimono? Dress in one before you pose in more photos and continue your adventure around Kurashiki Bikan Quarters!
Kojima district, located in the southwest of Kurashiki, is Japan's denim mecca. The Japanese denim is of quality so great that people are willing to pay more than $300 for a pair!
Here at Kurashiki Kimono Komachi (倉敷着物こまち), you'll be able to experience this uncommon fusion. With just 6,050 yen, you will also be able to enjoy all that Okayama Prefecture has to offer (the denim and the Japanese culture). Click HERE for more information!
Kurashiki River Boat Tour (くらしき川舟流し)
To fully experience the Kurashiki Bikan Area, the Kurashiki River Boat Tour is one of the many attractions that you can not miss out on!!!
Board the boat to experience the Edo era atmosphere and get your photos of the Bikan area from a different perspective!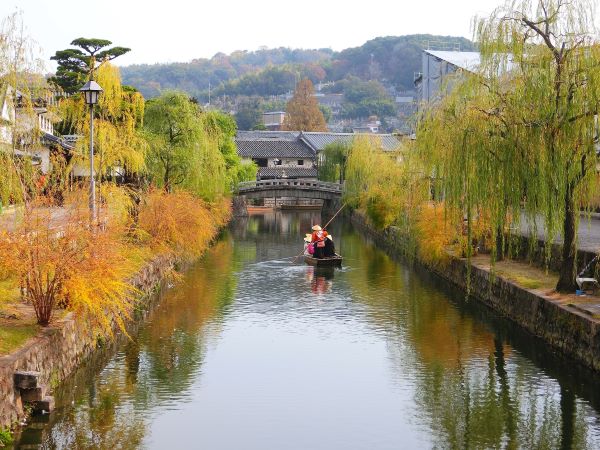 It is a 20-minute tour that operates on a 30 minute interval.
Get your ticket from

Kurashikikan

.
No pets are allowed.
Max number of people on board is 6 people.
Important: Please don't be late as your tickets will be forfeited!
Tour Operating Hours between Mar and Nov: 9:30 – 17:00 on a daily basis except the 2nd Monday of each month.
Tour Operating Hours between Dec and Feb: 9:30 – 17:00 on weekends and Japanese public holidays.
Price: 500 yen for adults and 250 yen for children. Children under the age of 5 are free!
If the tour is canceled due to rain or strong wind, or tourist events, you will be able to get a refund from Kurashikikan during its business hours (refer above)!
Ōhara Museum Of Art (大原美術館)
When you walk around Kurashiki Bikan Areas, it is hard to miss the Greek temple-styled building. Ōhara Museum of Art is the first privately owned Western Art Museum in Japan. More recently, it also exhibits works of Eastern artists as well.
Due to the value of the collections in the museum, the American fighter pilots were explicitly instructed to avoid bombing Kurashiki during WWII!
The museum was first opened in 1930 by Magosaburō Ōhara (大原 孫三郎). In the main building, you will find works by famous artists such as Gauguin, Degas, Renoir, Matisse, Picasso, and even Pollock.
Find out more HERE about the collections that you will be able to see when you visit the Ohara Museum of Art!
The gardens in the museum are also very eye-catching. There are various statues crafted by many world-renowned artists waiting to be admired! (=゚ω゚)ノ
Ōhara Museum of Art's Ticket Price
1,500 yen for adult
500 yen for primary – high school students
Ōhara Museum of Art's Exhibition Hours
9:00 ~ 17:00 with the last admission at 16:30 daily except Mondays snd between 28th – 31st of Dec
Note:
→ the business hours may be extended during long Japanese holidays such as Golden Week.
→ if Monday is a Japanese public holiday, the museum will be opened
Shinkei-En (新渓園)
The Shinkei-En, next to the Ōhara Museum Of Art, is another point of interest with relation to the Ōhara family.
This villa was built in 1893 in celebration of the 60th birthday of Kōshirō Ōhara, the first president of Kurabo Industries Ltd. (倉敷紡績). After Magosaburō Ōhara took over the family business, he gifted this villa to Kurashiki City for the local residents to enjoy!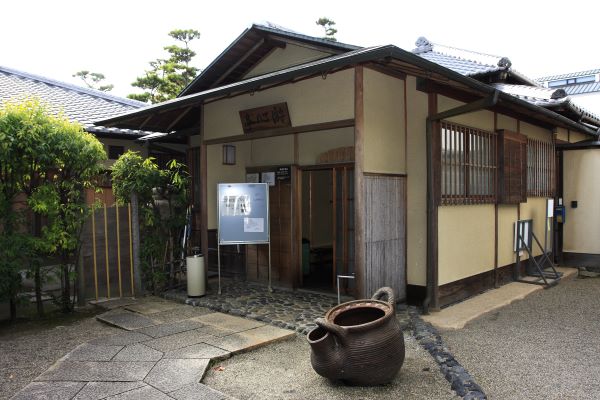 Entry to the facility is free. However, not all areas are open each day. Please refer to the noticeboard at the entrance to confirm if any areas are closed to the public for the day (refer to the photo above).
Apart from the well maintained Japanese garden that was designed by a famous designer at the time, you will want to spend some time at the Great Hall – Keikendō (敬倹堂) if it isn't rented out for events.
You really don't get that many chances to enter a hall that is as big as the size of 56 tatami mats!
One tatami mat is of a size of about 0.9 m by 1.8 m depending on the region.
From late February to early March, there will be 30 sets of Hina Dolls on display as part of the Kurashiki Hina Matsuri Festival (倉敷雛めぐり).
If you are going to visit Kurashiki during this time of the year, Shinkei-En is definitely a place you want to add to your itinerary!
Get Happiness from Yuurin-an Cafe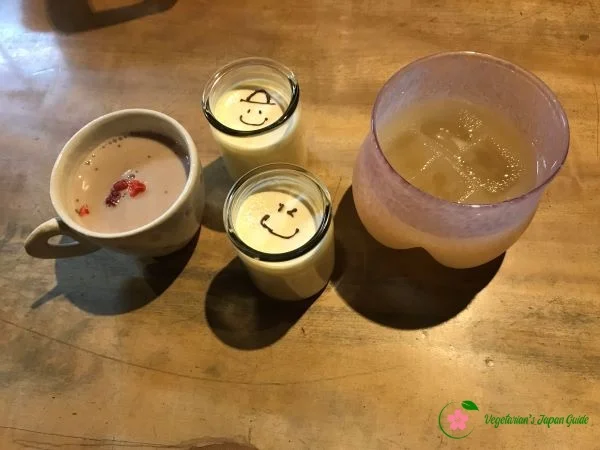 Are you hungry yet?
Want to get some special memories from your trip to Kurashiki Bikan Quarter?
Come to Yuurin-an (有鄰庵)!
Their desserts are very cute and one of the dishes comes with unlimited rice! At the cafe you might also have a great cultural Japanese experience!
Click HERE for more information about how to obtain happiness for you and your friends and families (=゚ω゚)ノ

Kurashiki Archaeological Museum (倉敷考古館)
Opposite the Kurashikikan (Kurashiki Tourist Information centre) and next to the Nakahashi Bridge in the Bikan area, you will find this house with black and white bricks, called the Kurashiki Archaeological Museum. There you will be able to learn about the history of Okayama Prefecture.
It has a suite of collections and artifacts from the Paleolithic period to the Kamakura period (1192 – 1333) as well as the Muromachi period (1336 – 1573). These historical periods were when the first emergence of samurai began, the warrior caste, and the establishment of feudalism in Japan.
You can check out pictures of what is on exhibits HERE. Though, unfortunately, there is not yet an English version.
Admission Fees, Exhibition Hours and How to Get to Kurashiki Archaeological Museum
500 yen for adult
400 yen for high school and university students
300 yen for primary school students
Access to special exhibitions will incur additional expenses
Opening Hours are 9:00 ~ 17:00 with the last admission at 16:30 daily except Mondays and Tuesdays and between the 27th of Dec – 2nd of Jan
Note: If Monday or Tuesday is a Japanese public holiday, the museum will still be opened and close on the next business day instead.
Japanese Folk Toy Museum (日本郷土玩具館)
When you stroll beside the canal, you might walk past a white Japanese traditional housing. This building houses a large display of Japanese Folk Toys.
The Japanese Folk Toy Museum has around 30,000 folk toy collections from various regions and times of Japan (from the 1600s to the present time). The building was actually a rice granary back in the Edo Era, which is why the display rooms aren't as big as you might expect.
Check out a display room HERE. You will be amazed!!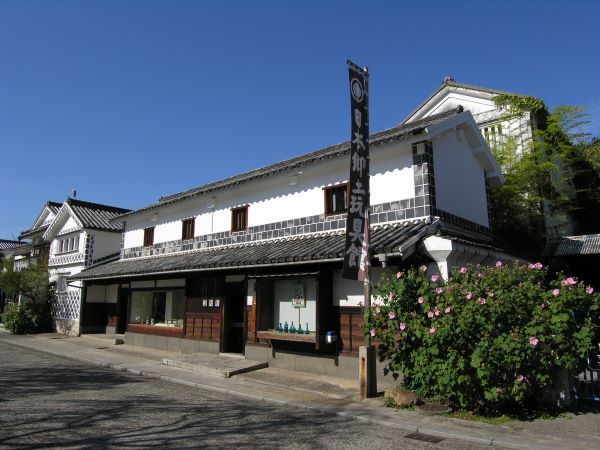 The best thing about this museum is that you won't need to pay to walk around its courtyard, terrace, and gallery. It is only inside the museum that you will need to pay for admission.
Admission Fees, Exhibition Hours and How to Get to Japanese Folk Toy Museum
Adult: 500 yen
Middle school, high school, and university students: 300 yen
10:00 ~ 17:00 for most areas daily except the 1st of Jan
Please click HERE for each area's business hours in detail.
Kurashiki Denim Street (倉敷デニムストリート)
Kojima District which is around 40 minutes away by train from JR Kurashiki Station is the origin of Japan's denim industry.
If you don't have time to admire the panorama view of the Seto Ōhashi Bridge (瀬戸大橋) and the Seto Inland Sea or have your free cosplay session at the Kojima Student Uniforms, then at least drop by this end of the Bikan Quarter for some denim shopping and enjoy some dark blue coloured ice cream or light meal (=゚ω゚)ノ.
The Kurashiki Denim Street is just a minute's walk from the Japanese Folk Toy Museum!
Local Farmers' Market at Kurashiki Shopping Streets
There are quite a few shopping streets around JR Kurashiki Station.
Currently, from 8 to 11 am on the 3rd Sunday of each month, there are farmers' markets offering fresh local produces, as well as processed food made by smaller local businesses.
If you plan to come to Kurashiki on a day when the market would open, why not get up a bit early and a treasure hunt around the station? (=゚ω゚)ノ
Night Time Wonderland at Kurashiki Bikan Quarter
Kurashiki Bikan Historical Quarter during the day is awesome, but at night-time, it is even better with the pretty lights scattered about the area!
If you have already spent money and made the effort to come to Kurashiki Bikan Quarter to appreciate the beauty of the area, why not spend the night here as well? There will be fewer tourists and more space for yourself (=゚ω゚)ノ.
Check out this article for the best accommodations at Kurashiki Bikan Historical Quarter!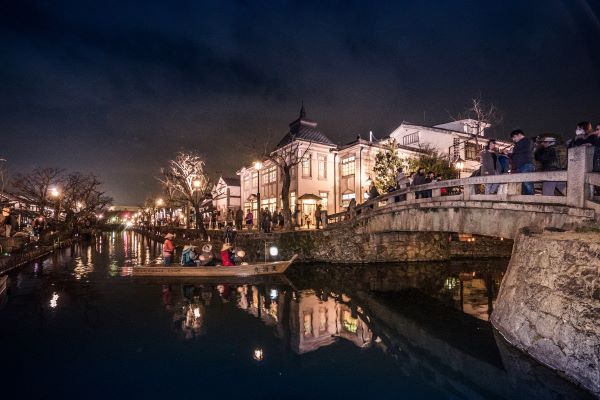 Festivals, Cherry Blossom, and Autumn Foliage Season at Kurashiki Bikan Quarter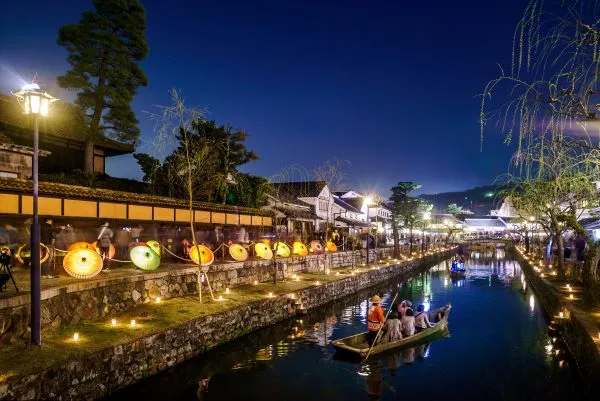 Kurashiki Hina Matsuri Festival (倉敷雛めぐり) and Kurashiki Haruyo Akari (倉敷春宵あかり): from late February to early March

In 2021, the dates are from the 27th of Feb to the 14th of Mar

Cherry blossom: from late Mar to early Apr
Autumn foliage: from mid to late Nov
Vegetarian Dining at Kurashiki Bikan Quarter
Find out more information on some vegetarian-friendly restaurants with our article that you will enjoy with your non-vegetarian friends and families!