Have you heard of a denim kimono? Dress in one before you start posing everywhere at Kurashiki Bikan Historical Quarters!
Here at Kurashiki Kimono Komachi (倉敷着物こまち) you will be able to experience this uncommon fusion. With just 5,500 yen (tax excluded), you will be able to enjoy all that Okayama Prefecture has to offer – both the denim and the Japanese culture.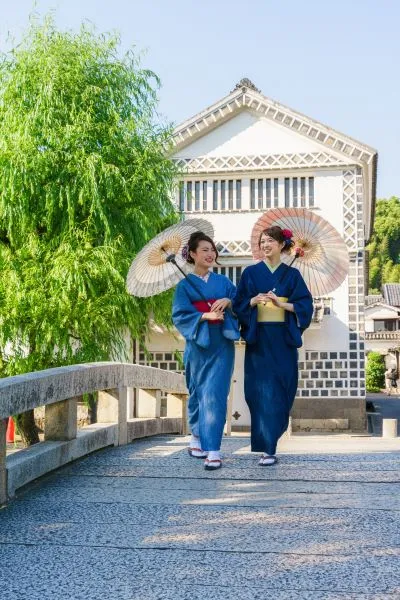 Kojima District located in the southwest of Kurashiki City, is Japan's denim mecca. The quality of Japanese denim is so superior that many people are prepared to pay more than $300 for a pair!
Kurashiki Kimono Komachi is the first kimono rental shop to offer its customers denim kimonos. If you want to own one, you can buy one!!
Having said that, a normal kimono is also available and cheaper!
Below is the current price list. For the night plan, you will need to take off the kimono yourself at your accommodation (don't worry, it is quite easy. It is really just untying the knots!) and return the kimono the next day by 12 pm.
Day Plan (Return the Kimono by 5 pm to the Shop)
Women Kimono Rental: 3,850 yen
Men Kimono Rental: 4,950 yen
Couple Kimono Rental: 7,590 yen
Children Kimono Rental: 3,850 yen
Denim Kimono: 6,050 yen (the price is the same for all gender and all age)
Night Plan (Booking Available from 3 pm; Return the Kimono by 12 pm the Next Day to the Shop)
Women Kimono Rental: 4,950 yen
Men Kimono Rental: 6,050 yen
Couple Kimono Rental: 9,790 yen
Children Kimono Rental: 4,950 yen
Denim Kimono: 7,150 yen (the price is the same for all gender and ages)
Kurashiki Kimono Komachi's Photoshoot Service
Photoshoot service (45 minutes) in the Bikan Area is also available at Kurashiki Kimono Komachi – and it is fairly priced!
3,300 yen for 1 person
4,400 yen for 2 – 4 people
Extra 1,100 yen per person if you have more than 4 people in our group
There will be more than 100 photos taken on the day, which will then be given to you via CD disc for you to extract from.
How to Get to Kurashiki Kimono Komachi
All you need to do is get off at JR Kurashiki Station, follow the google map at the left, and you will be there in 10 – 15 minutes!
Check out our recommended route HERE that differs from the google map suggested route to experience the local atmosphere (=゚ω゚)ノ.
Kurashiki Kimono Komachi's Business Hours
9:30 ~ 17:00 daily generally, although the shop may take a day off without advanced notice.
But don't worry as RESERVATION IS ESSENTIAL. They won't close the shop if you have made a reservation for that day.
Other Things to Note about Visiting the Shop
Please try to be punctual. If you are late, they will serve other customers who arrived on time first
You might be asked to pay a deposit on the reservation
As the space in the shop is limited, if you are just accompanying your family/friends, they will politely ask you to wait outside
There are no toilet facilities in the shop, so you must finish your business before you enter
Making Your Reservation
To reserve, please fill in the web form HERE (scroll down to the end of the webpage). Most questions on the web form have English translations. For the ones that don't have a translation, you can utilize Google Chrome's translation function at the right of the address bar.
Important:
☛ Please return the kimono by 5 pm to avoid extra charges
☛ If you want to dress up your kids, they need to be 4 years old and above
If you are having trouble communicating with the shop, contact us HERE, and we will be more than happy to assist.
Cancelation policy
24 hours free cancellation
50% of the cost forfeited if you cancel on the day
100% for no-show
Explore the Rest of Kurashiki Historical Bikan Quarter
Kurashiki Bikan Historical Quarter is a historic area filled with traditional Japanese buildings, perfect for some photography sessions.
With a variety of shops, trendy cafes and galleries in the area, you can easily spend a whole day here without getting bored!
Find out more about this gorgeous part of Japan with our Kurashiki Bikan Historical Quarter article!