Kurashiki Bikan Quarter is phenomenal! A great place to visit for photo taking, for the Japanese cultural experience, and for those who enjoy going to galleries and museums.
But where to dine?? Read on for some vegetarian-friendly restaurants that you will be able to enjoy with your non-vegetarian friends and families!
Vegetarian Kaiseki Ryori at Ryokan Kurashiki
Ryokan Kurashiki (旅館くらしき) is a Japanese-style hotel located in the middle of Kurashiki Bikan Quarter. With a long history, the hotel was originally owned by a family selling sugar in the Edo era (1603 – 1868). Since then, more than 200 generations have been living in this big house which later then gradually turned from a complex into a hotel. The hotel's transformation integrated the best of both the eastern and the western culture.
Staying at Ryokan Kurashiki is a great experience for all due to their top-class service and hospitality. The visitor can enjoy the beauty of Japanese culture with the comfort of western beddings. Here is the link for more photos of Ryokan Kurashiki (in Japanese, but images tell all the story!).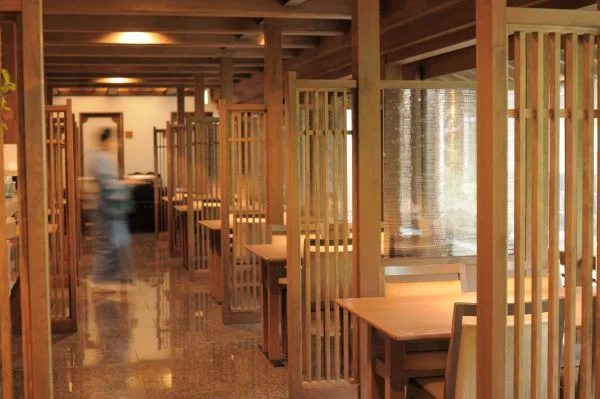 Kaiseki Ryori is a multi-course Japanese meal that is traditionally only available for dinner but is also offered at lunchtime nowadays. The course menu is extremely refined with each dish composed of different shapes, textures, and colours.
Here at Ryokan Kurashiki, even if you are not staying over for the night, you will still be able to try their gourmet meals consisting of a succession of small but beautifully presented dishes. And the best thing is, they are able to make the course vegetarian!
If it is also your dream to be served at a traditional Ryokan where the staff will be wearing proper kimono while serving you food, then Ryokan Kurashiki will make this wish come true! Whilst the price tag is certainly not for just anyone, we reckon it is worth biting that bullet!! So yes, do save up!
Here is how much it will cost you to dine at Ryokan Kurashiki's restaurant? There are 3 choices for lunch:
Kaiseki Lunch Box (四季の散歩道御膳): 2,035 yen (only available for the first 50 orders)
Ryokan Kurashiki Kaiseki (旅館くらしき御膳): 2,750 yen
Deluxe Chirashi-Zushi (花咲きちらし寿司): 1,870 yen
Kurashiki Tenshin (くらしき点心): 2,530 yen

This is the type of lunch that is served during a traditional formal tea ceremony.
HERE is the link to ryokan's website for some photos of the lunch menu (note the food in the photos aren't vegetarian).
Booking is essential and please let them know your dietary requirements when you book. You can book through emailing [email protected]. Whilst communication with the hotel in English shouldn't be a problem, if you want to learn basic Japanese phrases, we have summarised some phrases for you HERE (=゚ω゚)ノ.
And after you fill up your stomach, it's time to explore the beautiful Kurashiki Bikan Quarter!
Click check out what you can do around Ryokan Kurashiki with our article!
How to get to Ryokan Kurashiki?
All you need to do is get off at JR Kurashiki Station (倉敷駅), follow the google map at the left and you'll be there in 10 – 15 mins!
Check out our recommended route HERE that differs from the google map suggested route to experience the local atmosphere (=゚ω゚)ノ
Kamadaya Tofu Restaurant (とうふ料理 鎌田屋)
Kamadaya makes all of its soybean products in-house. The restaurant is budget-friendly and the taste is impeccable! We have got reviews to show that even big meat eater love the restaurant!
Click HERE for photos of what you can expect from there. The menu is unfortunately in Japanese, so if you require some assistance, please contact us HERE and we will get back to you (=゚ω゚)ノ.
However, please note that it has been confirmed by the restaurant that the broth contains bonito. So if you are strict with your diet, it will be hard for you to find anything to eat there…
Business Hours and where Kamadaya Tofu Restaurant Is
Tuesday to Sunday: 11:00 – 15:00 (if Monday falls on a public holiday, then it will remain open until the next day).
Taku – Hiroshima Okonomiyaki Curry (広島お好み焼 -カレー TAKU)
Heard of Okonomiyaki? It is a Japanese savoury pancake containing a variety of ingredients of your choice. The term "okonomi" translates to "as you like" in English!
There are two styles of Okonomiyaki – Hiroshima style and Osaka style. Here at Taku, they offer Hiroshima style Okonomiyaki which noodles that the Osaka style doesn't have (which is what we love about it as we're all big eaters!).
The vegetarian okonomiyaki at Taku with noodles is 803 yen. You get to choose from either yakisoba noodle or udon noodle.
When you order, don't forget to remember the following:
☛Yasaitamasoba okonomiyaki 野菜玉そば for vegetable okonomiyaki with yakisoba noodle
☛Yasaitamaudon okonomiyaki 野菜玉うどん for vegetable okonomiyaki with udon noodle
☛Yasaitama okonomiyaki 野菜玉 for vegetable okonomiyaki without noodles
You can also add the below toppings with extra charges:
Rice cake, corn, udon noodle, soba noodle, or cabbage: 110 yen
Cheese and kimchi (it should be noted that seafood may be added into the seasoning during the fermentation process): 220 yen
Click HERE for the restaurant's menu in Japanese. If you need help with the translation, contact us HERE!
Important: as yummy as the curry looks on the menu, unfortunately we have confirmed with the restaurant that the curry contains animal ingredients (even the ones containing only vegetable toppings). On the other hand, we weren't able to confirm whether the okonomiyaki sauce is vegan or not.
Business Hours and where Taku – Hiroshima Okonomiyaki Curry Is
Monday to Saturday: 11:30~14:30, 17:30~22:00(last order 21:00)
Sunday and public holiday: 11:30~15:00, 17:30~21:00(last order 20:00)
Kushu Kushu (創作洋風居酒屋9494)
Izakaya is a type of informal Japanese bar that serves various snack-size dishes that complements well with alcohol. Whilst not a restaurant, the bar does serve main dishes for hungry customers for convenience.
At Kushu Kushu, there are quite a few vegetable dishes that you can enjoy. Below is the following list for your reference:
Edamame Beans (Kuro no edamame) 黒の枝豆 330 yen
Yam mixed with plum (Yamaimo no umeniku ae) 山芋の梅肉あえ 330 yen
3 types of pickles (otsukemono) お漬物 3種 430 yen
Fried chips (Furaido Poteto)フライドポテト 380 yen
Tofu salad (Tofu salada) 豆腐さらだ 620 yen
Radish and Japanese mustard greens salad (Daikon to mizuna no sarada)大根と水菜のさらだ 580 yen
Rice cake and cheese deep fried stick (Omochi to cheese no chukaage) おもちとチーズの中華揚げ  500 yen
Rice cake pizza with lots of cheese (Tappuri cheese no omochi piza) たっぷりチーズのお餅ピザ 480 yen
Skewers (Kushiyaki) 串焼き: Thick deep fried bean curd (Atsuage) 厚あげ 130 yen, Eggplant (Nasu) ​なす   180 yen, Enoki mushroom (enoki) えのき  180 yen, Shimeji mushroom (Shimeji) しめじ  180 yen, Lotus root (Renkon) れんこん 150 yen, Okra (Okura) オクラ  150 yen, Burdock (Gobou) ゴボウ  180 yen, Shiitake mushroom (Shiitake) しいたけ 200 yen, Asparagus (Asupara) アスパラ 180 yen, Potato (Jagaimo) ​ジャガイモ   150 yen, 大Grilled rice ball wrapped with seaweed (Kinanori no yaki onigiri) きな海苔の焼きおにぎり 420 yen
Takani pickles mix with rice (Takana no maze gohan) 高菜の混ぜご飯      470 yen
Lettuce yakisoba (Assari shio yakisoba) あっさり塩やきそば​      460 yen
Important: Please note that the oil that the restaurant uses for cooking is pork oil. If you want to avoid food cooked in pork oil, then you can order the skewers (but we should note that non-vegetarian skewers are also grilled at the same place, so cross-contamination is a high possibility), pizzas…etc!
Business Hours and where Kushu Kushu Is
Wednesday to Monday: 17:30~24:00 (last order 23:30)
Note if Wednesday is a public holiday, then the restaurant will open on Tuesday in that week