Dorokyō Gorge (瀞峡) or Dorokyō Valley, located in the south of Totsukawa Village, is one of the National Places of Scenery Beauty (特別名勝). The picturesque valley remains a hidden gem to most. So if you enjoy various outdoor activities, Dorokyō can be the ideal destination to stop by when you visit the Kansai region!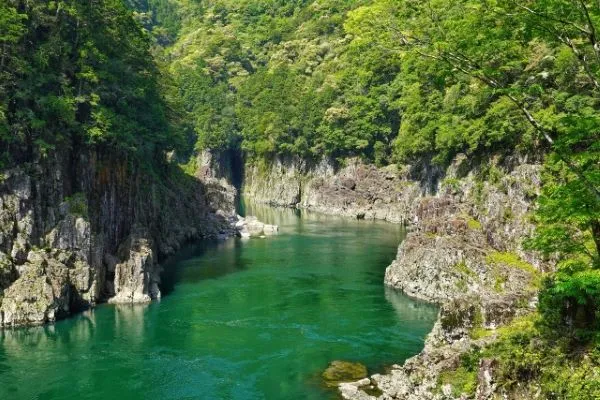 The valley spans Wakayama, Mie, and Nara Prefecture with a total length of 31 km, comprising Kitayama River (北山川), a tributary of the Kumano River (熊野川).
Upstream, the gorge is subdivided into Okudoro (奥瀞), Kamidoro (上瀞), and Shimodoro (下瀞). Shimodoro is also known as Dorokacchō (瀞八丁) and is a part of Yoshino Kumano National Park (吉野熊野国立公園).
Tip: As Dorokyō Gorge is buried deep in the mountains, remember to bring medication for travel sickness.
Explore Dorokyō Gorge With a Guided Tour
If you prefer to be guided when you visit Dorokyō Gorge, consider booking the below tour!
About the Doro Hotel
The bus stop – Dorohacchō (瀞八丁), and the car park are right next to Doro Hotel (瀞ホテル).
You will find a signboard of Dorokyō Gorge and a Trilateral Prefectural Border signboard, which is splendid, as you don't get many chances to stand at the border of three prefectures!
From the signboards, you will get a magnificent view of the gorge. The building under you is the Doro Hotel, where you can rent out SUP boards, canoes, and bicycles.
The building under you is the Doro Hotel, where you can rent out SUP boards, canoes, and bicycles.
Although it is a "hotel", it is not open for anyone to stay overnight.
The hotel first opened at the beginning of the Showa period (1926 – 1989) and was closed in 2004. Parts of the building were consequently washed away by the Great Flood on the Kii Peninsula (紀伊半島大水害), making it hard to reopen as an accommodation facility.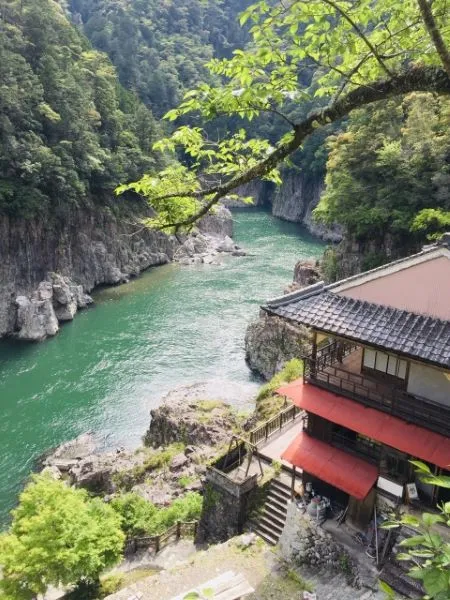 In 2013, when it finally reopened, it aimed to become the go-to place for travelers to eat and get recreational activity equipment.
From the hotel's dining area, you get a panorama of the stunning gorge.
Important: They don't have a savory vegetarian menu, and the dishes on their dessert menu mostly contain eggs.
The Cost of Canoes, SUP Boards, and Bicycle Rental
Canoes and SUP board rentals are available from 10 am to 4 pm from April to October.
The cost of a 2-seater canoe rental is 3,300 yen for 2 hours
The cost of a SUP board rental is 2,200 yen for 2 hours
Electric-assisted bicycles can be rented at 5,500 yen per day throughout the year from 10 am to 4 pm.
Tip: Talk to Doro Hotel and arrange a bike + SUP Board/Canoe trip at Dorokyō Gorge. They can arrange to place bikes/canoes/SUP boards along the gorge and collect the equipment you have used.
Sightseeing Riverboat Kawasemi (川舟観光かわせみ)
Instead of trekking your way along the gorge, we think the best way to enjoy Dorokyō is the sightseeing riverboat!
You might even spot some wild animals on the way!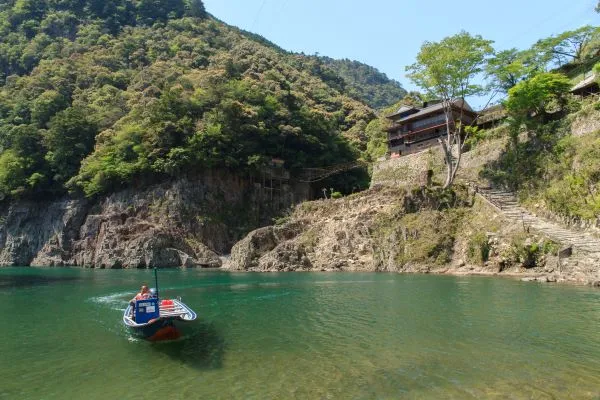 When you see the Yamabiko Bridge (山彦橋) that connects Nara and Mie Prefecture, you can try to say something out loud. Your voice should echo in the gorge. So if you aren't too embarrassed to do so, try it!
The Cost and Reservation Method of Sightseeing Riverboat Kawasemi
To board the boat, you will need at least two people. It is cheapest to have four or more people in your group. The cost of the 30-minute boat ride is below.
1,900 yen per person for 2 people
1,600 yen per person for 3 people
1,400 yen per person for 4 and more people
The business hours of Sightseeing Riverboat Kawasemi are from 8 am to 5 pm. You can make a reservation at +81-90-2196-8533 or +81-746-69-0168. If you don't speak Japanese, your accommodation staff should be able to make the booking on your behalf.
Follow the staircases from Doro Hotel, and you will get to the boarding point in no time.
How to Get to Dorokyō Gorge by Public Transport
It is easiest if you take a taxi or rent a car from JR Shingū Station (新宮駅). It will be a 45-minute drive.
To get to Dorogyō Gorge by public transport, take the Nara Kōtsū's (奈良交通) limited express 301 (特急301) Yagishingū Line (八木新宮線) bound for Totsukawa Onsen (十津川温泉), and get off at Yakuba-mae (役場前) or Totsukawa Onsen (十津川温泉). From Yamatoyagi Station, the bus trip will

take around 4 hours
cost between 2,500 to 3,450 yen
HERE is the timetable.
Note the service only operates on weekends and public holidays.

Then from Yakube-mae, take Dorokacchō Line (瀞八丁線), and get off at Dorokacchō (瀞八丁).

Refer to HERE and click "瀞八丁線・大野線時刻表" for the timetable. Note the service is extremely limited.
Discover Other Amazing Places to Visit in the Wider Yoshino District
Do you yearn for more natural beauty in this part of Nara Prefecture? Discover more astonishing places in the wider Yoshino District where Dorogawa Onsen resides with our Yoshino District article!