If you have ever wondered where the copper of the Great Buddha at Tōdaiji Temple in Nara was from, then you must visit Akenobe Mine (明延鉱山) in Hyōgo Prefecture, discovered in 809!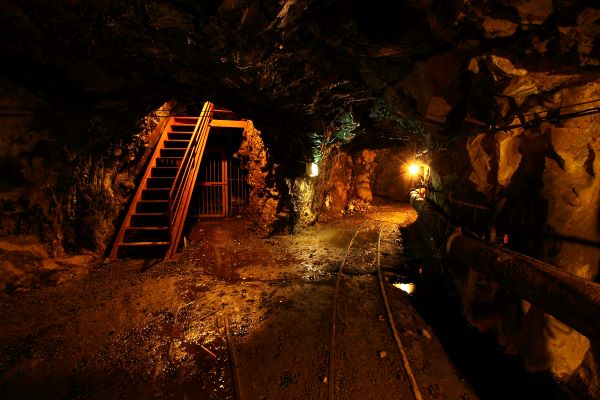 Akenobe Mine was one of the main silver sources in the Sengoku period (1467 – 1615) and copper in the Edo period (1603 – 1867). In 1902, with the discovery of the tin vein, Akenobe Mine became the best tin mine in Japan.
The tin that was dug about 500 meters underground was then transported to Mikobata Ore Processing Site (神子畑選鉱場) about 26 km away for a further refinery.
Although the mine was closed in 1987, a part of it remains open to the public for exploration. Here, you can observe the exposed rock surface, vein traces, and machinery used over the past century, such as a rock drill.
Exploring Akenobe Mine
Unlike Ikuno Silver Mine, which can be explored throughout the year without reservation, Akenobe Mine has a tight schedule. The 60-minute tour is held in Japanese only (but you can tag along even if you don't speak the language).
Sunday Mine Tunnel Tour (日曜坑道見学会)

The tour is on every Sunday from the 1st Sunday in April to the 1st Sunday in November
Application to join the tour is open from 10 am to 3 pm on the day at Akenobe Resthouse (Akenobe Ikoi no Ie, あけのべ憩いの家)
Tours will start from 10:30 am on a 30 to 90-minute interval depending on the number of participants on the day

Reservation

If you are visiting Akenobe Mine on any other days, a reservation needs to be made at least 3-days in advance to join a mine tunnel tour
Please make a reservation with Akenobe Science School (Akenobe Shizen Gakkō, あけのべ自然学校) by calling +81-79-668-0258 between 8:30 am and 5 pm
The cost of the tour is as below.
1,200 yen for adults
600 yen for elementary and junior high school students
Free for pre-school children
Tips:
☛ Remember to bring a light jacket with you in warmer months as the temperature in Akenobe Mine is around 12 – 13 degrees throughout the year.
☛ If you need assistance with making a reservation, you can kindly ask the staff at your accommodation to make a phone call for you.
For some more photos of what the mine tunnel looks like, please refer HERE.
Discover How Mining was Done in the Edo Period
To learn about how the Japanese mined precious metals, Ikuno Silver Mine in Asago City is the ideal place to visit.
For more information, please refer to our article on Ikuno Silver Mine.
From mid-July to late September, on weekends and public holidays, there are also sightseeing buses called Tajimawaru Kōseki no Michi-gō (たじまわる鉱石の道号) departing JR Wadayama Station (和田山駅) at 9:30 am. The bus tour will bring you to Ikuno Silver Mine, and the attractions around then Akenobe Mine. The mine tunnel tour is included in this bus tour (but not the cost).
For more information, you can translate THIS PAGE with Google Chrome's translation function on the right of the address bar.
The bus fare is 500 yen payable when you board the bus. Please note it is a Japanese-language tour.
One Yen Train (一円電車)
This old train carriage, previously used to carry the workers at Akenobe and Ikuno Silver Mine isn't just there for decoration. The total travel distance has been reduced from 6km to 150 meters, but the train is still running today!
So why is it called "One Yen"?
The reason was that it only cost one yen to board when the train was used to transport the tin ore from Akenobe Mine to Mikobata Ore Processing Site. That is why people call the train line Ichi-en Densha, which means one yen train, instead of its formal name – Meishindensha (明神電車).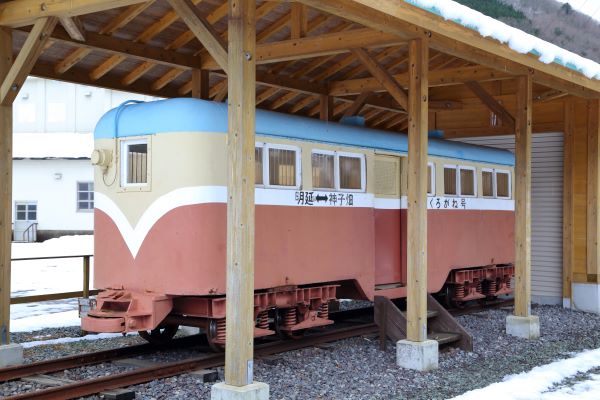 Nowadays, it costs 300 yen for adults to board the train. However, the fare for elementary and junior school students remains one yen! Your train ticket is valid the entire day for unlimited rides. Those who are only required to pay one yen will need to be accompanied by an adult.
As the train only operates on limited days, please refer to the official website HERE for the dates it will be running. You can translate the page with the Google Translate function to the right of the address bar in Google Chrome.
How to Get to Akenobe Mine
From JR Yōka Station (八鹿駅), take Zentan Bus's (全但バス) Akenobe Line (明延線) and get off at Shizen Gakkō-mae (自然学校前). From the bus stop, it is around a 10 to 15-minute walk.
Discover the Natural Wonders in Yabu City
Yabu City, where Akenobe Mine is located isn't just about mining. It is actually a destination filled with the beauty of nature.
If you love to be surrounded by magnificent natural scenery, check out or article on Yabu City!