If you are visiting Kansai and are looking for a resort area, consider Kannabe Kōgen in Hyōgo Prefecture's Toyooka City! It is a plateau located in the outer ring of Mt. Kanabe (神鍋山) and is known as one of the leading ski resorts in Kansai. When the breath of spring releases the Kannabe Kōgen from the long cold winter, it is a perfect place for outdoor recreation activities.
The volcanic activities of Kannabe volcanoes started about 25,000 years ago. After repeated eruptions, it was estimated that the eruption that happened about 3,000 years ago is the last one. Without any volcanic activities for a long time, the crater of Mt. Kannabe and its lava flow that goes as far as 15 km are both rare natural attractions in the area. In autumn, the crater is decorated with golden Japanese pampas grass ears that attract many people to adorn the gorgeous scenery.
Mt. Kannabe and Kannabe Kōgen is a plateau area surrounded by 1,000 metres tall mountains. Apart from being a ski resort for the past couple of centuries in winter, it has now been transferred into a popular all-season outdoor leisure destination where you can enjoy hiking, grass skiing, and paragliding from spring to autumn!
Below is a list of places for you to visit around Kannabe Kōgen.
How to Get to Kannabe Kōgen
From JR Ebara Station (江原駅), change for Zentan Bus Co., Ltd. (全但バス)'s Kannabe Kōgen Line (神鍋高原線) from bus stop no. 1. Depends on which attractions below you are heading to first, the closest bus stop differs.
Please refer HERE for the service's timetable. It is in Japanese only so please use the bus stop Japanese name that we specified with each of the attractions below to read.
Kannabekōgen Rest Area (道の駅 神鍋高原)
Kannabekōgen Rest Area or Echi no Michi Kannabe Kōgen is like the base of sightseeing at Kannbabe Kōgen.
Of course, you can buy fresh vegetables and souvenirs from the facility, but first, let's get some sightseeing information and maps from Kannbabe Kōgen Tourism Association (神鍋観光協会), which is just next to the vegetables and souvenirs corner!
Before you head of to find out what a crater looks like, remember to utilise the toilet facilities here. And if your water bottle's water level is running low, there are also vending machines here.
The association also holds the below guided trekking tours but only in Japanese. If you would like to participate in one of them, please contact the association by submitting your request HERE, you can also give them a call as well.
From Kannabekōgen Rest Area to the summit of Mt. Kannabe, it only takes around 30 minutes. The trails are all suitable for people without much experience without any steep slopes, making hiking at Mt. Kannabe a great choice for a family trip.
Also, if you want to cycle around the area, you can rent out one of the five power-assisted bikes from the association between 9 am and 5 pm.
500 yen for 2 hours
200 yen per hour afterward
1,500 yen for a full day rental
Kannabe Onsen Yutorogi (神鍋温泉ゆとろぎ)
After a day of hiking and trekking, you can relax in the hot spring facility at the back of the Kannabekōgen Rest Area. Although it doesn't have a private onsen pool, it does come with a sauna. Note that towels aren't provided but can be purchased at the counter.
Adults: 700 yen
Children from 3 years old to primary school students: 450 yen
Yutorogi Original hand towel: 210 yen
Bath towel: 420 yen
Due to COVID-19, the opening hours of the onsen facility are from 1 pm to 8 pm for weekdays and open earlier at 12 pm on weekends and public holidays. The last admission is at 7:30 pm.
Kannabekōgen Rest Area's Opening Hours and Access Information
The roadside station is opened from 9 am to 5 pm on weekdays and closes later at 6 pm on weekends and public holidays
It closes on Wednesdays but if Wednesday is a public holiday, it will close on Thursday instead
Note that during peak seasons such as July, August, January, and February, it is likely that the station is opened 7 days a week
If you are taking the Zentan Bus from JR Ebara Station, please get off at Kannabe Onsen Yutorogi-mae (神鍋温泉ゆとろぎ前). The station is just within a min's walk from the bus stop
Kannabe Kōgan's Wind Cave (風穴)
Mt. Kannabe has a total of four trailheads. You can refer to HERE for a visual picture of all the trails that you can choose from. The trailheads are marked as "登山口" with trail no. 4 involving taking the lift in the ski resort.
Since you travel all the way to Kannabe, trailhead no. 2 is the best trail as you will trek through the scoria layer that was created when the volcano erupted around 20,000 years ago.
Then, as you hike further, Mt. Kannabe's wind cave (風穴) is a great place to chill down with the 8 degrees wind blowing out of the cave!
Although it certainly doesn't look like it from the entrance, the wind cave that is as deep as 6 metres, has a height of 8 metres inside the cave. Before the refrigerator was invented, it was used as a natural fridge. Although the cave is closed to the public now due to collapsing concerns, apparently, the cave is still used as some sort of storage nowadays.
Mt. Kannabe Crater (神鍋山噴火口)
The hiking trail to the summit of Mt. Kannabe is surrounding by trees and seasonal flowers that are rarely seen in our daily life. But once you got to the top, the sky will open up all of a sudden!
The crater that was once bursting out boiling lava is now completely covered with grass. But even so, from the shape of the summit, it isn't hard to tell that it used to be a crater.
Taking a 15 minutes' stroll and go around the crater to observe it from various angles, the name – Kannabe will soon make sense to you. Kannabe, meaning god's pot in Japanese, is the perfect name to describe the shape of Mt. Kannabe's summit that has a sunken centre. And with an altitude of 469.5 metres, it is easier for gods living in the high sky to "use" the pot to cook if they really wanted to (´▽`*).
Paragliding and Hot Air Ballon at Kannabe Kōgen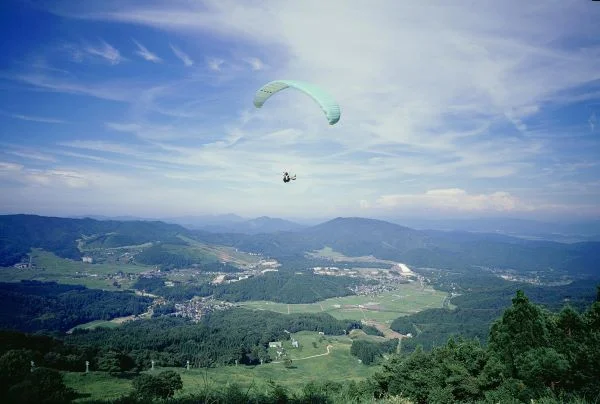 For those who like to enjoy the scenery of Kannabe Kōben from the sky, you can either get an instructor to paraglide with you or board one of the hot air balloons both from Up Kannabe Ski Resort.
For paragliding, ALEX JAPAN can accept English speakers. You can choose from a half-day (6,600 yen), a full-day (9,900 yen), or a tandem paragliding course (7,500 yen + lift cost of 400 yen). Please email them at [email protected] for availability.
For hot air balloons, there are two sessions that you can participate in on weekends and public holidays from late April to October. Each session lasts for 90 minutes.
April: 6:30 am and 4:30 pm
May: 6 am and 5 pm
June: 6 am and 5:30 pm
July: 6 am and 6 pm
August: 6 am and 5:30 pm
September: 6:30 am and 5 pm
October: 7 am and 4:30 pm
The prices are:
3,500 yen for high school students and above
2,000 yen for children
2,500 yen for elderly who is 65 years old and above
Free for children of 3 years old and younger
Note that the hot air balloons have to have at least 4 passengers for the session to be on.
Skiing at Kannabe Kōgen
As the slope of Mt. Kannabe aren't steep, when the snow covers the mountain, the UP Kannabe Ski Resort is the perfect place for inexperienced skiers and snowboarders to sharpen their skills whilst having a lot of fun.
The ski season at Kannabe usually starts from mid-December to February and possibly to early March. Night time sessions are also held on most weekends and public holidays for those who would like to end their day more actively.
For more information, please refer to their website HERE.
Apart from winter, you can still take advantage of the slopes at UP Kannabe Ski Resort in other seasons. Whether it is dry skiing or grass skiing, UP Kannabe Ski Resort is where you can find some thrill of speeding throughout the year (≧▽≦).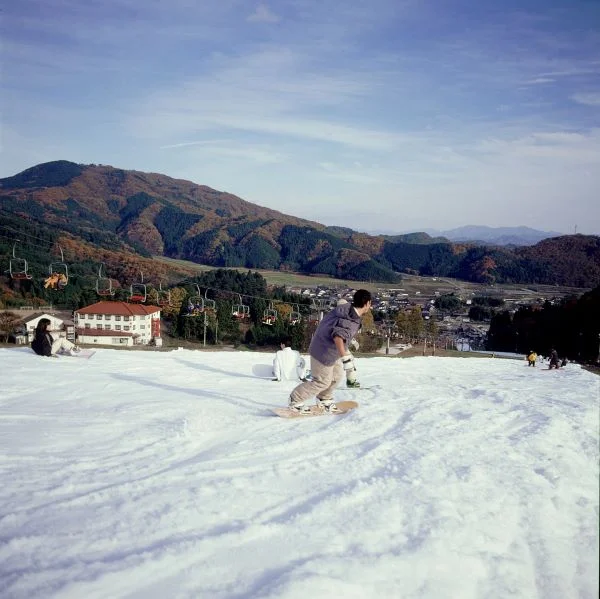 Okukan Ski Resort (奥神鍋 スキー場)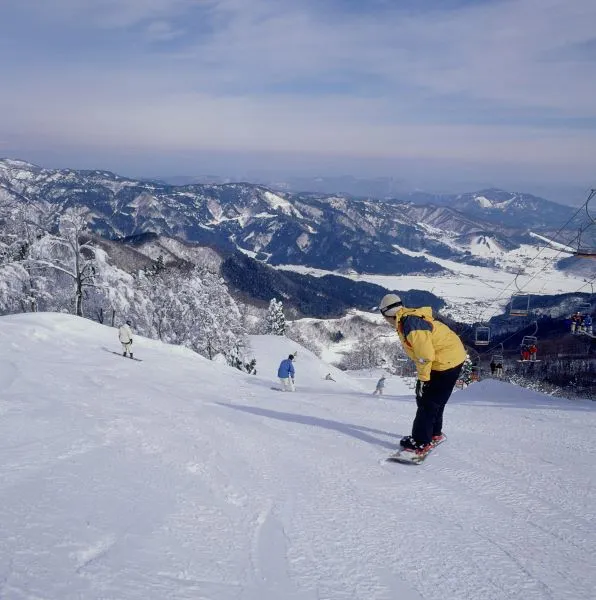 If you are more advanced in your skiing skills and are after some harder slopes to ski on, then travel a bit further from Kannabe Crater to Okukan Ski Resort. You can also enjoy paragliding here that you will be flying down from a higher spot.
The ski season is the same as UP Kannabe from mid-December to early March. As a popular ski resort in the area, there are quite a few accommodation providers for you to shop around.
For more information, please check out their website HERE by using Google Chrome and switching it to English by clicking the Google Translate icon at the right of the address bar.
How to Get to Okukan Ski Resort
If you are taking the Zentan Bus from JR Ebara Station, please get off at Yamada (山田).
Bed and Breakfast Snowland (神鍋高原ペンション・スノーランド)
One of the accommodations that we recommend is the Pension Snowland that is just a 7 minutes' walk away from Okukan Ski Resort.
The gorgeous European-style house features a high ceiling inside creating a relaxing atmosphere for the inn's guests to chill out and rejuvenate.
Apart from the dustless common area and guestrooms, the Bed and Breakfast is known for the extremely delicious French dinner course and Japanese-style breakfast. Their cooking skills are so good that even guests from France found the French dinner course amazing!
Tips: To book a stay that comes with a vegetarian dinner and breakfast, please email them at [email protected]. They will then be able to advise you of their availability and cost. As the owners don't speak Japanese, they would appreciate it if you can communicate with them in Japanese. If you need assistance, you can contact us HERE and we will be in touch. For the non-Japanese-speaking guests, they have been communicated with translation apps, which have worked okay so far.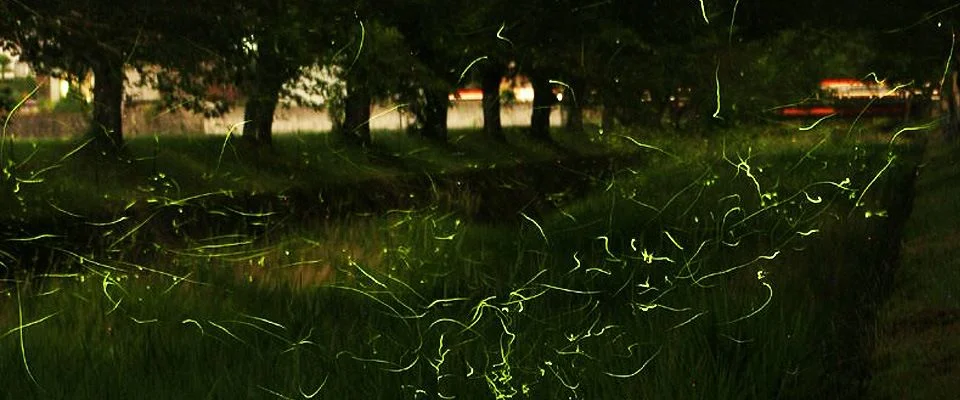 From June mid-July, where fireflies are flying around various spots in Kannabe Kōgen, remember to check with the owner for the exact places that you can find them (=゚ω゚)ノ. The owners are really kind and may even drive you there if they have time!
Note that if you want them to drive you around to find the fireflies, please do advise them of your request upon booking.
Bed and Breakfast Snowland's Basic Information
Check-in at: 3 pm, check-out at 10 am
Room types: 2 Japanese-style rooms, 4 Western-style rooms, 1 Japanese and Western-style room
Towels and toiletry will be provided but please bring your own pajamas
Payment method: cash only
Car park: free for weekdays from April to the first snow, 1,500 yen during your stay otherwise
Sobunosato (蘇武の里)
To all the tofu lovers like us, welcome to Sobunosato!
The tofu shop that has a restaurant attached is where you can source various types of soy products from. From silk tofu, fried bean curd, to deserts like soy milk ice cream and soy milk donuts, the soy products here are all freshly made on the day.
During lunchtime, there are also delicious tofu menus and a tofu buffet with award-winning rice served in the restaurant attached to the shop that is reasonably priced!
The restaurant is opened from 11:30 am to 2 pm with a lunch set costing only 1,100 yen. If the volume of the lunch set is too much for you, you can also order single items such as Yubadon Set (湯葉丼セット), which is a tofu skin donburi.
Important: Please note we have confirmed with the restaurant that the broth/sauce they use contains fish extracts.
How to Get to Sobunosato
From JR Ebara Station, please get off at Mangō (万劫). Sobunosato is only a min' walk away.
Kannabe Lava Flow (神鍋溶岩流)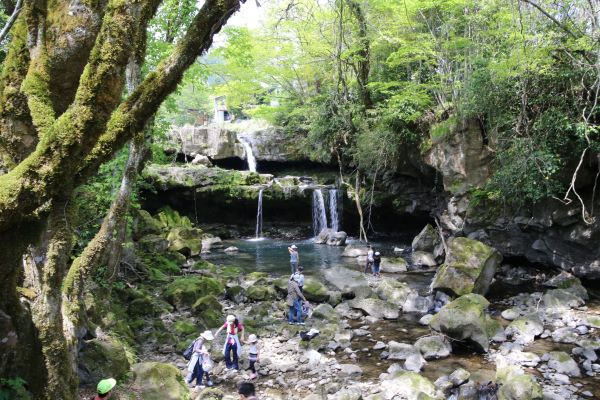 When Mt. Kannabe was erupting back then, its lava went down the valley as far as 15 km and created various terrains. Later on, with the water flow of Inaba River (稲葉川) continuously carving the basalts created by the lava, the area is full of waterfalls and pools.
From Jūgo Falls (十戸滝) at the east all the way to Tawara Falls (俵滝) at the west, the scenic route stretches as far as 7 km with more than 30 natural attractions along the track.
Important: Compared to the trail to Mt. Kannabe's crater, the lava flow trail is more uneven and slippery. So it is better if you come with at least sneakers if not hiking shoes.
The closest bus stop to the waterfalls at both ends are Kurisuno (栗栖野) for Tawara Falls and Jūgo (十戸) for Jūgo Falls. From end to end taking into account the time required for sightseeing at each attraction, the required trekking time is around 2.5 hours. Of course, you can shortcut this course if you cherry-pick the waterfalls that interest you the most as the waterfalls and pools are within minutes' walk from the main road where you can get off the bus.
Amongst all the waterfalls, the Hattan no Taki Falls in the photo to the right is the most popular waterfall. The 24 metres tall waterfall that has a large azure colour basin can be accessed by getting off the bus at Nashiki (名色). From the bus stop, it is then a less than 10 minutes' walk.
If you are driving, there is a small free car park close to the waterfall. From the car park, there is a staircase that takes around 5 minutes to get to Hattan no Taki Falls.
Tawara Falls
Ase Valley (阿瀬渓谷)
If you are seeking a hidden gem that isn't known or visited by many, Ase Valley is the valley in the uppermost stream of the Ase River (阿瀬川) is the spot in Hidaka Town (日高町). The number of waterfalls scattered in the 3 km long splendid valley is even more than those at Kannabe Lava Flow albeit the trial is also slightly harder.
You will be trekking through a broad-leaved forest that is extra stunning in autumn. But just note parts of the track aren't covered by trees which means you will want to apply sunscreen especially in summer.
Amongst the Ase Valley 48 Waterfalls ( 阿瀬渓谷 四十八滝), there are five of them known as Ase-gobaku (阿瀬五瀑) that are extra scenic, and one of them is just a 20 – 25 minutes' walk from the Asekeikoku Dai-ichi Parking lot (阿瀬渓谷第1駐車場)!
The Gendayu Falls (源太夫滝) with a height of 30 metres in the photo at the right is the representative waterfall in Ase Valley. So if you are short of time, at least top by Gendayu Falls to adorn its beauty while absorbing the negative irons surrounding waterfall (=゚ω゚)ノ.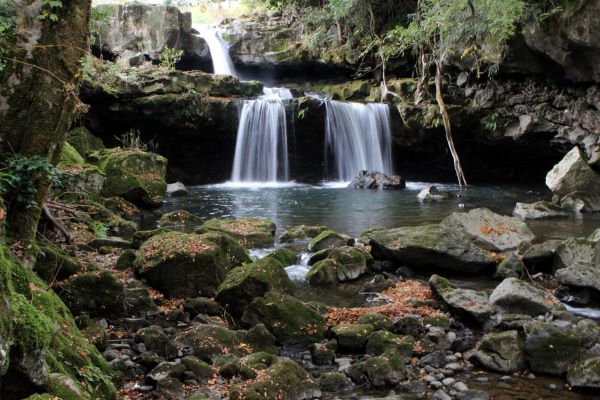 If you have time, take the Ase Valley Forest Bath Course (阿瀬渓谷森林浴コース) to see other gorgeous waterfalls such as the Nidan Falls (二段滝) at the left.
It will take around 2.5 – 3 hours for a return trip from Asekeikoku Dai-ichi Parking lot (阿瀬渓谷第1駐車場).
HERE is the map of Ase Valley. Again, it is in Japanese, but it marked and numbered all the waterfalls in the valley. The Ase-gobaku (阿瀬五瀑) that we mentioned before are marked in green.
Autumn Foilage at Ase Valley
The colour of the leaves usually starts changing their colour from late October. The season peaks from early to mid-November.
How to Get to Ase Valley by Public Transport
From JR Ebara Station (江原駅) west exit, take Toyooka City Community Bus Innaka (豊岡市営バス「イナカー」)'s Mikata Line (三方線) and get off at Kanaya (金谷). From the bus stop, it is around a 20 minutes walk to Asekeikoku Dai-ichi Parking lot (阿瀬渓谷第1駐車場).
As the number of services is limited, please refer to HERE for the service's timetable to plan.
Tonosan Soba (殿さんそば)
After you trek through the Kannabe Lava Flow, how about enjoying some freshly made soba noodles made from 100% buckwheat flour each morning?
The buckwheat flour is grounded from buckwheat grown from organic fertilisers without pesticides, making it one of the most healthy soba noodles in Japan!
Surrounding the restaurant Tonosan Soba is fields of buckwheat that is just relaxing to watch before it is harvested to become the delicious noodles that you get to enjoy.
Important: The broth of the noodle soup does contain bonito.
Tonosan Soba's Business Hours and Access Information
Tonosan Soba is opened from 11 am to 3 pm daily except Tuesdays
From JR Ebara Station (江原駅) west exit, take Toyooka City Community Bus Innaka (豊岡市営バス「イナカー」)'s Mikata Line (三方線) and get off at Tono (殿). From the bus stop, it is around a 5 minutes walk to Tonosan Soba

As the number of services is limited, please refer to

HERE

for the service's timetable to plan.
Tokose Soba (床瀬そば)
There are many handmade soba noodle restaurants in Japan. But how many of them are using the making the noodles from freshly grounded soba flour?
Tokose Soba is a restaurant in the mountains of Tajima (但馬) that is particular about making their noodle from scratch every day. The buckwheat grown with the melted snow water from surrounding mountains is said to be the key to its deliciousness. Adding yam that is also harvested from local fields, the dough of the soba noodle that is extra chewy is completed!
The restaurant is also a great place to visit for its hearth dining area. If you don't have the budget to stay overnight at one of the traditional Japanese houses in the country, come to Tokose Soba to experience what it is like to eat around a traditional hearth (=゚ω゚)ノ.
Important: The restaurant isn't a vegetarian restaurant and therefore the broth used for noodles or dipping sauce does contain fish extract. If you are strict with your diet, we recommend you bring your own broth/sauce to enjoy the otherwise vegetarian soba and side menus.
Tips: On weekends and public holidays, there might be a queue to dine at Tokose Soba. If you do have a Japanese phone number, make a booking HERE so you don't need to wait as long. You can also check with your accommodation provider to see if they can make a booking on your behalf.
Tokose Soba's Business Hours and Access Information
Tokose Soba is opened from 10:30 am to 5 pm daily
To get to the restaurant, it is a 10 mins' drive or 25 mins' by bike from Kannabekōgen Rest Area (道の駅 神鍋高原). Unfortunately, no convenient bus services is connecting Kannabe with the restaurant
Festivals at Kannabe
HERE is the link to a list of festivals that are held during the year. On top of this list, usually on a Sunday in mid or late June, there is also a Kannabe Cabbage Festival (神鍋キャベツまつり) from 10 am to 3 pm held at Kannabekōgen Rest Area (道の駅 神鍋高原)!
During the few hours, there are stalls selling dishes containing cabbage such as cabbage croquette. But please check with the staff if the dishes have any meats or seafood by utilising our Essential Japanese Travel Phrases for Vegetarians and Vegans before you order.
During the festival, you can even participate in their cabbage eating competition where you will be eating a raw cabbage within a set time limit. The person who eats the most cabbage gets to bring home a free cabbage (≧▽≦).
And if you want so seasoning to help you eat faster, there is miso paste or salt available. There will even be a bottle of green tea if you need some help to swallow!
Also, during the festivals, the freshly harvested Kannabe cabbages are sold at 100 yen each. So if you plan to cook during your time in Japan, consider bringing some of the cheap, but super sweet cabbages home!
We will update this article with the exact date when the date of the next festival is confirmed!
Visit Kinosaki Onsen for the Extraordinary Michelin Certified Sceneries
For those who are looking for a hot spring resort that has rich historical and cultural elements and the same time, can enjoy various recreational activities, make sure you visit Kinosaki Onsen (城崎温泉) that received a two star rating from Michelin at northern Hyōgo Prefecture on your next Japan trip!
The onsen town that is relatively close to Kannabe Kōgen, has prospered for more than 1,300 years. It is blessed with not only the spectacular view from Mt. Daishi (大師山) but also is close to Hiyoriyama Coastline (日和山海岸) for a mystical scenery that you have to see at least once in your life.
For more information, please refer to our article on Kinosaki Onsen!