Whether it is a competition, a match, a game, or just a bet – if you want to win, come to Katsuo-Ji Temple (勝尾寺)! Before we get to the "why", check out some great photo spots around the entrance (*´ω`).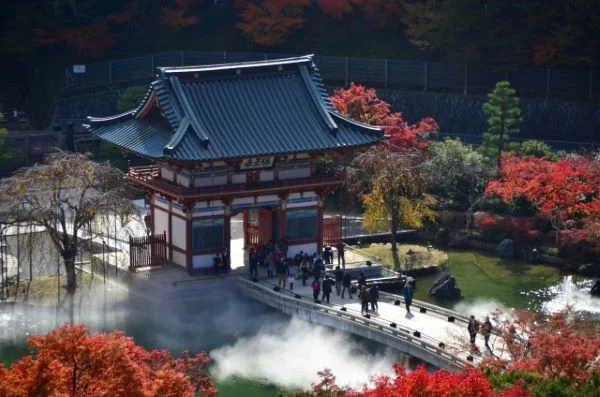 Beyond the main gate of Katsuo-Ji Temple is a bridge surrounded by mist. It is said that crossing the bridge has the same meaning as washing one's hands and rinsing one's mouth before praying at a shrine: both are rituals for purifying our bodies.
Whether the mist can purify us is another story, but it definitely makes the area more fantastic and mystical when you take photos to cherish the experience (´▽`*).
If you stand in the middle of the bridge with the gate at your back, there is a small platform to the right of the pond. This is where you can feed the hungry Koi fish in the pond!
Although the fat fish won't be there in winter, you probably won't go there in the colder months anyway (´▽`*).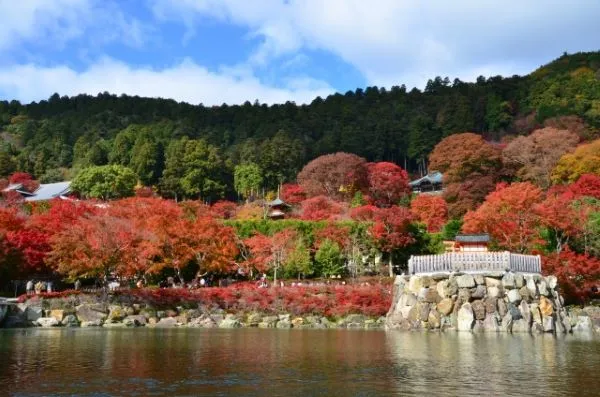 Katsuo-Ji and Daruma Dolls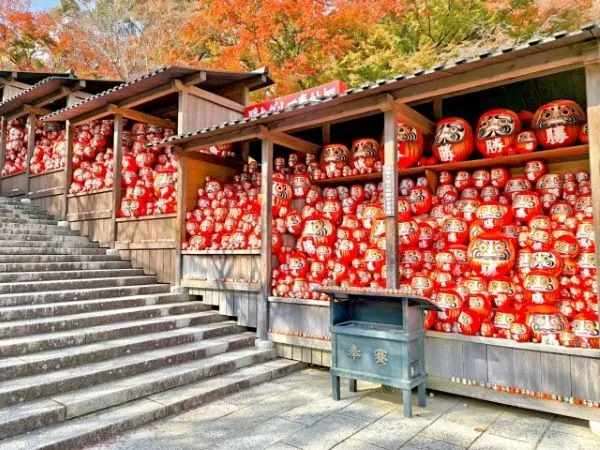 At Katsuo-Ji, you will find Daruma Dolls -lots of them! Why? Because it is a temple that is all about winning and being successful.
When the Japanese want to achieve something, they will get a daruma doll. They will write what they want to accomplish on the back of the doll and make a wish whilst drawing in the doll's right eye. After the wish comes true, they complete the doll's face by drawing its left eye. That is why you will see daruma dolls everywhere in this temple (=゚ω゚)ノ.
If you take a closer look at the daruma dolls that are placed throughout the temple, you will realize they all have different faces. This is because they were all drawn by different people. When someone has accomplished the thing that he or she wants to achieve, the daruma is brought back to the temple after reporting the good news, and appreciation is expressed to the Buddha in the main hall. You might find a few that are placed in spots where you would least expect them, such as high up on a tree! (*´ω`).
Getting Your Own Daruma Doll
If you wish to borrow Buddha's power to achieve something special (we advise that you choose something realistic and reasonable), you first choose a daruma doll from the shelf in the temple's office. After writing your goal on the back of the doll, light incense in the hall opposite the temple's office and let Buddha know what you want to achieve while asking for his blessing. Then infuse the entire doll with smoke from the incense. This is the ritual that imbues your doll with your strong intention of achieving your desired goal. While drawing Daruma's right eye, make a vow to yourself that you will achieve your goal, no matter what.
There are photos of this process on the temple's website HERE. You can translate it to English using Google Chrome's translation function at the right of the address bar.
Good luck with fulfilling your goal!
The Best Time to Visit Katsuo-Ji Temple
Cherry blossom: early to mid-April
Rhododendron: late April to late May
Hydrangea: early June to mid-July
Fall foliage: early to the end of November

Night time light-up from sunset to 7:30 pm takes place on weekends and public holidays from early to the end of November. Please note if you want to participate in this event, you will either need to drive or take a taxi as there are no bus services at night to Katsuo-Ji Temple
Katsuo-Ji Temple's Opening Hours, Admission Fees, and Access Information
Katsuo-Ji is open

From 8 am to 5 pm on weekdays
8 am to 5:30 pm on Saturday
8 am to 6 pm on Sundays and public holidays
The last admission is 15 minutes before the temple closes for the day

The admission fee is

500 yen for senior high school students and above
400 yen for elementary and junior high school students
100 yen for kids that are between 3 to 5 years old
To get to Katsuo-Ji by public transport, you can either get a taxi from Minoh Station (10 minutes) or from Senri-chūo Station (千里中央駅) (20 minutes).
You can also take a bus from Senri-chūo Station that is operated by Hankyū Bus (阪急バス).
The timetable departing

from

Senri-chūo Station is summarised on Katsuo-Ji Temple's website HERE (Japanese only).
The timetable departing

for

Senri-chūo Station can be accessed from Kankyū Bus's website HERE.

The rows in grey are for weekdays, and the rows in pink are for weekends and public holidays.
Discover Other Close-by Attractions in Minō City
There are a couple more fascinating attractions in Minō City in Osaka that you can easily form a one-day itinerary.
For more information, please refer to our article on Minō City.