If you enjoy walking along a beach, don't miss out on Kuroshima Venus Road (黒島ヴィーナスロード), which connects Kuroshima Island (黒島) with Nakanoko Island (中ノ小島) and the Hashinokojima Island (端ノ小島). When the tide is low, a romantic sandy road will appear that connects the three islands located in the Ushimadoseto Strait (牛窓瀬戸). And if you ask what is romantic about this road, it is because of the heart-shaped stones lying along it!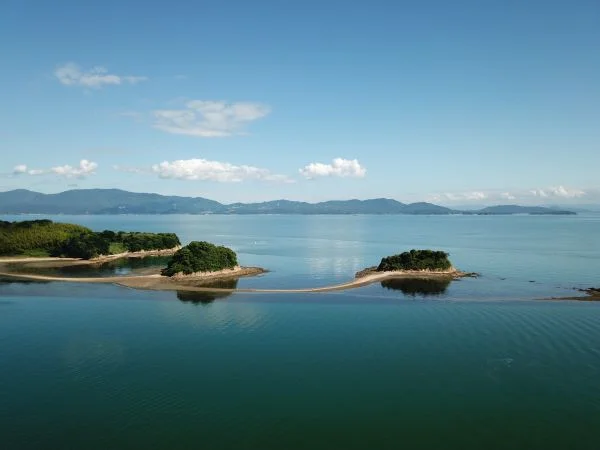 It is said that if you and your partner can find the heart-shaped stone and pick it up together while you stroll through this 800 meters road, you will have a happy life together (=゚ω゚)ノ.
As the islands aren't connected with Japan's main island, you will have to catch a boat to get to Kuroshima. As the sea is quite calm in the Seto Inland Sea, medication for travel sickness shouldn't be required.
The boats connecting you to Kuroshima Venus Road are operated by Hotel Limani Setouchi (ホテルリマーニ).
Please check the calendar on their website HERE to see if the road is suitable to be walked on the day you plan to visit (scroll down to the end of the page). The boat's departure time is also marked on the calendar.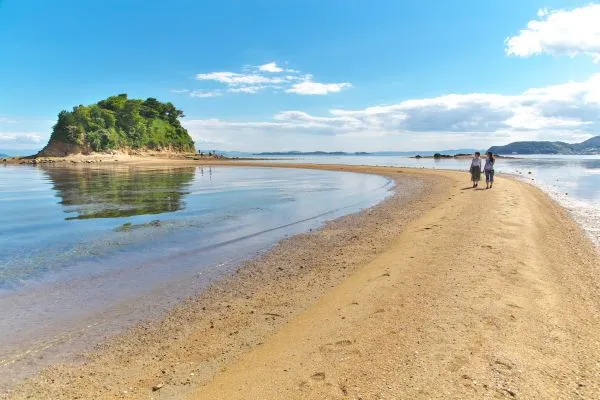 The Boat Ride from Hotel Limani Setouchi to Kuroshima Island
The required time for a return trip is 60 minutes from May to November. You will have around 40 minutes to stroll around once you arrive at Kuroshima Island

The cost is

2,500 yen for adults
1,500 yen for elementary school students
550 yen for younger children
Free for children that are between 0 – 3 years old

From December to April, this tour is shortened to 40 minutes. Y

The cost is

2,200 yen for adults
1,100 yen for elementary school students
550 yen for younger children
Free for children that are between 0 – 3 years old

Reservation is essential prior to the day. You can reserve by calling the hotel at +81-869-34-5500
Refunds are not available on the day
The boat will only operate if there are at least two guests
Please arrive at hotel reception earlier than the boat's departure time as they will need to check you in before leading you to the boarding point
Tip: Towels, rain gear, sunscreen, and sandals are recommended.
Important: There are no toilet facilities on Kuroshima Island.
Sunset from Kuroshima Island
If you can, we recommend you choose the days when the boat departs shortly before sunset. This is because the sunset at Ushimado is just stunning. It is no wonder why the sunset here was chosen to be one of the 100 Best Sunsets In Japan!
Admiring the scenery around Hotel Limani Setouchi is great. But the scenery from Kuroshima Island or Venice Road is just on another level (=゚ω゚)ノ.
Standup Paddleboarding around Kuroshima and the Surrounding Islands
From July to October each year, Hotel Limani Setouchi also runs Standup Paddleboarding around Kuroshima and the surrounding islands. As an instructor will be paddling with you, you will have nothing to worry about, even if it is your first time!
There are two courses. Both require all participants to be above the age of 10. Each session will have 2 to 4 participants. The prices listed below include the paddleboard rental fee and a return boat trip to Kuroshima.
Beginner Course (ビギナーコース)
In the 90 minutes course, you will be paddling around Kuroshima Island.
Adults: 8,800 yen
High school students: 5,500 yen
Elementary school students: 4,950 yen
Island Tour Course (アイランドツアーコース)
In the 150 minutes course, you will be touring around Kuroshima Island, Maejima Island, and Ao Island on Ushimado Straits.
Adults: 12,100 yen
High school students: 7,700 yen
Elementary school students: 5,500 yen
Booking is essential and can be made the same way you book your boat ride to Kuroshima Venice Road. The same refund policy applies as well.
It goes without saying, you will want to wear something that you won't mind getting wet.
How to Get to Hotel Limani Setouchi
From JR Oku Station (邑久駅)'s bus stop no. 5, take services bound for Ushimado (牛窓) and get off at Honrenji-Shita (本蓮寺下). The bus trip should take around 20 mins.
As Honrenji-Shita is a small stop, please use the arrival time at Ushimado (牛窓) stop as an estimate. The Ushimado stop is the next stop after Honrenji-Shita.
Note for the links above, the timetable at the top is for weekdays, and the table at the bottom is for weekends and public holidays.
Ushimado Sea Kayak (牛窓シーカヤック)
If you are into water sports, then you might want to join one of the Ushimado sea kayak tours (=゚ω゚)ノ.
The Ushimado Watertrail Company provides a variety of kayaking tour packages for you to choose from. They even have sunset and a moonlight tour! You can also add accommodation options on Maejima Island with the kayaking activity.
Sea Kayak Tours Options
Please refer to HERE and translate the webpage with Google Chrome's translation function at the right of the address bar.
The assembly point for the tours listed below is at Maejima Island Ferry Wharf (前島港FT). You will need to take a ferry from Ushimado. The ferries to Maejima Island depart from the Ushimado Port (牛窓港).
For the timetable of this ferry, please refer to HERE.

The table on the left is the departure time from Maejima, and the table on the right is for those who are boarding from Ushimado.

The return ferry ticket will cost

240 yen for adults
120 yen for children
360 yen if you are with a bicycle
Tickets can be purchased after boarding.
Except for the Easy Kayaking course, which is suitable for families with kids, other courses require you to be 16 years old or above to participate. Also, the policy is for each kayak to have two people on board. The tour guide will be on the same kayak if you are by yourself.
Booking is essential at least one day before the departure date. Cancellation within one week of the date of the course will incur penalty charges. You can make a reservation by completing their web form HERE, or give them a phone call at +81-869-34-9300.
Important: Please be at the assembly point Maejima Island Ferry Wharf at least 15 minutes before the courses' starting time. If you are driving and don't plan to board the ferry with your car, it is best to allow extra time for parking in case the car parks close to the port are full.
Tip: If you have special dietary requirements, please let them know when you book the courses. It would be greatly appreciated if you clearly state what you can't eat. It is okay if your notes are in English.
What to Bring Along to Participate in Sea Kayaking
Hats
Sun cream
Towels
Sunglasses
Insect repellent
Camera (you can borrow a general waterproof case from the company)
Clothes and shoes for changing
Find Out Other Close-by Attractions in Setouchi City
If you enjoy strolling along the beach as the sun slowly disappears from the horizon, be sure to stop by Setouchi City (瀬戸内市) in Okayama Prefecture. The sunset you will see was chosen to be one of the top 100 sunsets in Japan!
For those who find the samurais and the swords they use fascinating, you will also have great reason to visit Setouchi City. If you plan your visit, you will be able to see the swordsmiths making a real sword in front of you!
For more information, please refer to our Setouchi City article!