Shimagawa Dam (四万川ダム) is a magnificent dam completed in 1999 for flood control, river conservation, and power generation. The enchanting artificial lake is formed with its completion, and Shima Onsen's best spot to indulge yourself in nature is born! Those who love outdoor activities can also enjoy a range of water sports there.
The dam lake, Lake Okushima, is renowned for its gorgeous Tiffany blue color that the locals named Shima Blue (四万ブルー). This stunning blue color results from the diffused reflection of the light and the hot spring flown into the lake.
Because the color of Lake Okushima's water changes depending on the time, it is a spot you can stop by multiple times during your time at Shima Onsen!
Shimagawa Dam Tour and Dam Card
If you want to explore Shimagawa Dam's internally, enquire with the dam's office at least 2 weeks in advance by calling +81-279-70-4021. Note that the tour is conducted in Japanese only.
Note that you also have to have at least 6 people in your group to apply for a dam tour.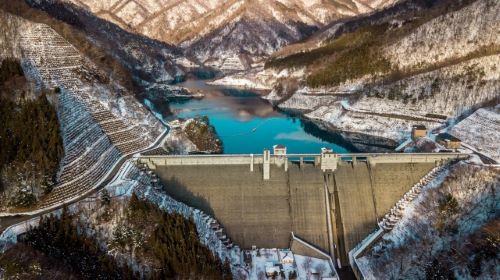 If you like collecting, visit the dam office for a free card with a photo of the Shimagawa Dam and information about the dam in Japanese on the back.
Shimagawa Dam Office is open from 10 am to 4 pm on weekdays.
Please ring the bell when you arrive.
If the office is closed, you can insert a return envelope with a stamp attached to the questionnaire box for the dam office to post it out to you. Please state what you want on the questionnaire.
Cafe L´ATELIER BLEU (湖畔カフェ ラトリエ・ブルー)
At the back of Shimagawa Dam Museum (四万川ダム資料館), there is a small cafe called L´ATELIER BLEU. Although there is no vegetarian light meal menu, you can still enjoy a cup of tea and a piece of cake there. If the weather is good, head to the Food Spa Terrace (足湯テラス) at the cafe for the natural hot spring and a better view of Lake Okushima!
Just note that only drinks are allowed when you utilize the foot spa. You can buy a towel for 200 yen.
Also, there might be only one staff running the cafe when you get there, so patience is the key!
Cafe L´ATELIER BLEU opens daily except Tuesdays and Wednesdays from 10 am to 3 pm.

You can refer to the cafe's calendar HERE.

The last order is taken at 2 pm.
How to Enjoy Lake Okushima
Multiple parks, promenades, and lookouts are maintained around the lake. So when you need a break from the onsen, how about taking a stroll around Lake Okushima and adoring the breathtaking scenery (there might be a chance for you to meet some wild animals, such as monkeys!). You can easily spend 3 to 4 hours there!
The circumference of Lake Okushima is around 4km, so it will take around 60 minutes to complete a loop on foot. You can, of course, go for a drive or cycle around the lake. But just note that driving and cycling isn't possible in winter.
Besides admiring the stunning lake from the shore, you can also canoe or SUP at Lake Okushima!
Tips:
☛ The best time to visit Lake Okushima is in the morning for the best lighting.
☛ Lake Okushima is the most beautiful, with the brightest azure from March to May when the melted snow flows into the lake. The best viewing time is from 10 am to 2 pm.
☛ The autumn season is from mid-October to early November at Lake Okushima.
Enjoying Watersports at Lake Okushima (奥四万湖)
Instead of just strolling around Lake Okushima, how about enjoying watersports there? It is the best way to adore the lake's stunning blue color!
Various SUP/canoeing/canyoning sessions all run during the day, so whether you want to paddle before breakfast or in the late afternoons, it is all possible!
Green Discovery (グリーンディスカバリー)
Green Discovery is a tour company that offers a wide variety of activities, including canyoning, SUP, and canoeing. When the weather is warm, canyoning through the river is the best way to feel the great nature of Shima Onsen because there are seven waterfalls in the valley that you will fall from!
And don't worry too much about your safety, as two experienced guides will accompany you.
As Green Discovery doesn't have an English website, enquire and book by emailing

[email protected]

.
The cost of the tour is from 5,500 yen.
The required time is 2.5 hours.
Green Discovery is open from:

9 am to 5 pm from Monday to Saturday
9 am to 4 pm on Sundays

Apart from canoeing, the gathering point for all activities at Shima Onsen is Green Discovery's office.
The gathering point for canoeing is at the Shimagawa Dam Parking Lot.
Shimagawa Dam's Opening Hours and Lake Okushima's Access Information
The dam office is open on weekdays from 10 am to 4 pm.

It closes from the 29th of December to the 3rd of January.
You can only get a card when the dam office is open.

Shimagawa Dam and Lake Okushima are around a 15-minute drive from the bus stop, Shima Onsen.
There is plenty of parking space around Lake Okushima.
Important: The road around Lake Okushima is a one-way road.
Discover Other Attractions Nearby in Nakanojō
If you want to enjoy Guma Prefecture's rural area, Nakanojō can be a nice option. It has one of the prefecture's most famous hot spring towns, a gorgeous moss park, a few flower gardens, and more!
All of these attractions aren't too far away from the Former Ōshi Station. So refer to our article on Kuni Village, the old name for a large part of Nakanojō!