North of Toyooka City, there is a beautiful coastline with crystal-clear seawater suitable for various beach activities. Having the Sea of Japan located on one side, it has been said that Takeno Kaigan (竹野海岸) is considered to be one of the best beaches in Japan. With clean and highly transparent water, the beach is perfect for swimming and for those wanting to engage in all kinds of water sports!
Takeno Beach is also known as Takenohama Beach. It is one of the beaches along the coastline that is open to the public for swimming in summer from early July to August. The beach facing the Sea of Japan is a fine white sand beach stretching around 1km in length.
Besides the summer swimming season, where there are plenty of lifeguards around to ensure your safety, there are also sea kayaking, Stand Up Paddleboards (SUP), and snorkeling sessions that you can participate in from spring to autumn.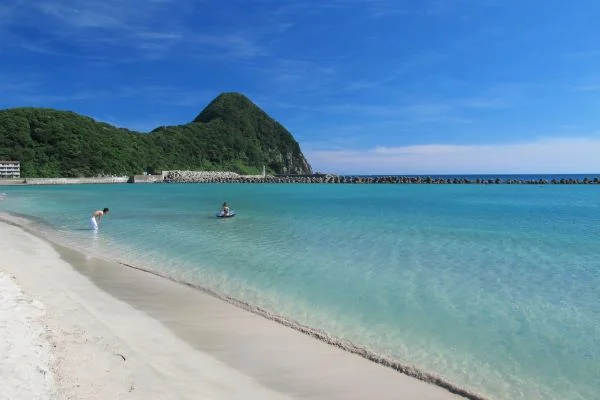 Explore Kinosaki Onsen and Takenohama Beach With an E-Bike or a Electric Tuktuk
Instead of taking the public transportation, how about exploring the famous Kinosaki Onsen and Takenohama Beach with an E-Bike or Electric Tuktuk?
Yodo no Dōmon (淀洞門) and Hasakari Rock (はさかり岩)
Yodo no Dōmon is a sea cave at Kirihama Beach (切浜海水浴場) located next to Takeno Beach.
The tunnel-like cave was formed by the erosion of the waves on the cracks of the granite and breccia layer. According to local folklore, a demon used to reside inside the cave. So when the tide is low, how about trekking down for a closer look at the cave? No, we don't believe it's haunted!
A faster way to get close to the cave is by sea kayaking. Book a session HERE and come empty-handed as the instructor leads you to explore one of the most beautiful coastal areas in the San-in region!
The website should provide you with all the details you will need to know about the sea kayaking tour. The gathering point is at JR Takeno Station (竹野駅), so it would be impossible to miss it when you arrive!
If sea kayaking isn't your thing, you can go for SUP! It is another great way to see the amazing but weirdly shaped rocks along the coastline, such as the Hasakari Rock (right photo).
For more information, please refer to HERE.
More activity options can be found on Uminoie Meri Adventure Tours' (海の家メリAdventure Tours) website HERE!
Yodo no Dōmon (淀洞門)
Hasakari Rock (はさかり岩)
Jajayama Park (じゃじゃ山公園)
For a panoramic view of the stunning Takeno Coastline, hike your way up to the lookout at the top of Mt. Jaja (ジャジャ山) at an altitude of 90 meters.
There are two trailheads to the summit. The entrance that we would recommend is close to the Ryūkaiji Temple (龍海寺). The well-maintained promenade from here does have some slightly steep slopes, but this entrance would also give you a widening view of Takeno Beach.
Albeit limited, there are benches and a simple pavilion perfect for a picnic afternoon!
If you take the other route, you will see the Stone Kannons representing the Kannon Bodhisattva enshrined in the temples of the Saigoku Kannon Pilgrimage (西国三十三所) as well as graveyards.
How to Get to Jajayama Park
From JR Takeno Station (竹野駅), it is around a 15 to 20-minute walk to the trailhead.
If you want to get to the summit from the trailhead, it should take no more than 15 minutes.
Discover Other Awesome Attractions in Toyooka City
Takeno Coastline isn't the only amazing attraction in Toyooka City. The city also has a crater covered with grass and a town that is nicknamed Tajima Province's Kyoto.
To find out more places to visit that you might be interested in, refer to our article on Toyooka City!
Visit Kinosaki Onsen for Extraordinary Michelin Certified Sceneries
For those who are looking for a hot spring resort with rich historical and cultural elements which also sports many recreational activities, make sure you visit Kinosaki Onsen (城崎温泉). The soba restaurant here is the recipient of a two Michelin star rating!
The onsen town, relatively close to Kannabe Kōgen, has prospered for over 1,300 years. Not only is it blessed with a spectacular view from Mt. Daishi (大師山), but it is also close to the stunning Hiyoriyama Coastline (日和山海岸).
For more information, please refer to our article on Kinosaki Onsen!