We all know that Japan has some of the most amazing scenery in the world. If you have traveled to Japan previously, you are probably already aware of its enchantment. Whilst the big cities such as Tokyo, Kyoto, and Osaka are undoubtedly fascinating to explore, the scenery in Aomori Prefecture in the Tohōku Region is too alluring to give it a pass!
So if you are thinking of spending a couple of days up in northeastern Japan, the below itinerary should save you some time when it comes to planning, as it includes the most beautiful and/or interesting places in the Aomori Prefecture.
Needless to say, autumn is the best season to adore the natural scenery when it is dyed with rich and vivid colors. Thus, the below itinerary is in sequence in accordance with when the attractions' fall foliage would usually peak. A one-day difference can do wonders for your photo!
Summary of the 7-Day Itinerary
The below travel plan is planned for a trip from mid-October to early November. With that being said, it is suitable from late April to November.
For this article, we will assume that you will be taking public transportation at all times. If possible, we recommend purchasing a 7-Day JR Pass, as a return trip from Tokyo Station to Shin-Aomori Station will cost you 35,340 yen. With the 7-Day JR Pass costing only 29,650 yen, you are guaranteed to save at least 5,000 yen if you follow the below itinerary completely.
You can also cut the itinerary short to five days and use the JR East Pass, currently priced at 20,000 yen.
From Tokyo Station to Shin-Aomori Station, it takes around 3 – 3.25 hours by bullet train.
If you plan on driving, we recommend renting a car at Aomori and returning it at Hachinohe. Driving from Tokyo to Aomori can be pretty tiring.
Summary of the 7-Day Itinerary in Aomori in the Tohōku Region
For the above schedule, it is best to have your day 6 or 7 fall on a Sunday.
Day 1 – Aomori City
Tokyo ⇒ Aomori
How to Get to Aomori from Tokyo
Depending on how many attractions you want to visit in Aomori City, your departure time from Tokyo may vary.
Tips: You can also choose to arrive at Aomori the night before, so you have the whole day in Aomori on Day 1.
From Tokyo, take the northbound bullet train Hayabusa (新幹線はやぶさ). The train trip is around 3.25 hours.
The bullet train will stop at a couple of stations in Tokyo (such as JR Tokyo Station and JR Ueno Station). A transfer may be necessary if your accommodation for the night before is not close to the train station where the bullet train stops. This includes if you are flying into Tokyo on Day 1.
Many attractions at Aomori are located closer to Aomori Station. So once you get off at JR Shin-Aomori Station, change for the local trains that will stop at JR Aomori Station. It will only be one stop away.
We recommend booking your accommodation around Aomori Station for convenience purposes.
So assuming your hotel is close to Aomori Station, the first thing you might want to do after arriving at Aomori is to drop your baggage at your accommodation.
If your first stop is not the accommodation, you can opt to store your belongings at one of the coin-operated lockers in the station and pick them up at the end of the day.
Exploring Aomori City
Aomori is best known for its Nebuta festival, which is held only during the summer. So amongst the many attractions in the city center, make sure you visit Nebuta Museum WA RASSE to see and feel the energetic vibe from the gigantic festival floats!
Although located further away from the city center, the Aomori Museum of Art is another popular attraction listed in most tourists' itineraries. The contemporary artworks in the museum are an absolute stunner!
Right by the museum, the Sannai Maruyama Special Historical Site was newly registered as a World Heritage in 2021. It is a place where you can discover the Jōmon civilization, which remains an important part of human history.
For a list of other attractions you may be interested in (such as souvenir shops), please refer to our article on Aomori City.
Day 2 – Mt. Hakkōda
Aomori ⇒ Mt. Hakkōda ⇒ Tsuta Onsen
The plan for Day 2 is to explore Mt. Hakkōda. The mountain has multiple picturesque hiking/trekking routes that you can choose from. If you are only after shorter trails with a maximum of 2 hours to complete, you can potentially visit a few more attractions in Aomori City in the morning before you start heading south.
If you have your luggage with you, the easiest way to explore the mountain is to take the JR Bus Mizuumi-Gō from JR Aomori Station (青森駅) and get off at Ropeway Eki-mae (ロープウェイ駅前) for the Hakkōda Ropeway. You can then check in your belongings at the Summit Station, close to the trailhead of many hiking courses.
For more details on Mizuumi-Gō, please refer to the access information in our Oirase Gorge article.
Depending on which hiking route(s) you plan to undertake, you can either walk or take the JR Bus to get back to the ropeway station to retrieve your belongings.
For a list of hiking trails in Mt Hakkōda, please refer to our article, The Complete Guide to the Stunning Hakkōda Mountains.
Jōgakura Bridge (城ヶ倉大橋)
Whether you choose to take the short 30-minute Hakkōda Gourd Line or the 4-hour Ōtake Hiking Course, stop by the Jōgakura Bridge, which is just a 30-minute walk from Jōgakura Onsen. The magnificent bridge with a spectacular view is the longest arch bridge in Japan.
If you plan to just hike around Hakkōda Ropeway, take Mizuumi-Gō and get off at Jōgakura Onsen (城ケ倉温泉)
If you plan to trek the Ōtake Hiking Course, instead of heading to Sukayu Onsen at the last part of the course, turn right to Hotel Jōgakura
For more information on Jōgakura Bridge, please refer to our article on attractions between Hakkōda Ropeway to Yakeyama!
Can I Board JR Mizuumi-Gō with Luggage?
As overseas visitors, we inevitably need to carry our suitcases or large backpacks around when we travel in Japan. The JR bus, Mizuumi-Gō (みずうみ号), has a trunk room for you to store your suitcases.
But if your suitcase is oversized or weighs more than 25 kg, the bus driver may not allow you to board. So if you do have oversized luggage, please utilize local carriers to send your belongings to your next accommodation. Although the staff at your hotel's reception should be able to organize that for you, please enquire in advance.
Utilizing Tsuta Onsen Ryokan's Pick-up Service
Other than Tsuta Onsen Ryokan, there are a couple of accommodation facilities that can provide pick-up services from JR Aomori Station at around 3 pm. For luggage storage, you can also leave it at your hotel in Aomori after you check out and explore the northern part of Mt.Hakkōda first. Just remember to keep an eye on the time and head back to Aomori Station before the pick-up time.
For more information about Tsuta Onsen, please refer to our article on attractions between Hakkōda Ropeway to Yakeyama!
If you are going for this option, you will just need to catch Mizuumi-Gō to head back to Aomori Station.
Some accommodation providers have pick-up time in the morning. If you are staying with one of those providers, you can ask them to take you to the hotel/ryokan first before catching the Mizuumi-Gō to get to Hakkōda Ropeway.
Day 3 – The Picturesque Ponds around Tsuta Onsen and Oirase Gorge
Tsuta Onsen ⇒ Yakeyama ⇒ Oirase Gorge ⇒ Lake Towada
The main reason we chose to stay at Tsuta Onsen Ryokan is to increase our chances of seeing this breathtaking view of the Tsuta-Numa Pond at dawn.
This means that you have to get up really early in the morning. Some photographers get there as early as 3:30 am!
Between mid to the end of October, the sun usually rises between 5:30 and 6:30 am. So if you stay at the Tsuta Onsen, just an 11-minute walk away, you should still be able to capture this unreal scenery by getting up at 5 am.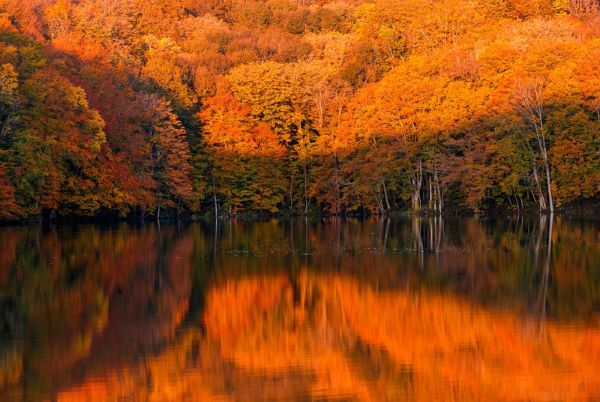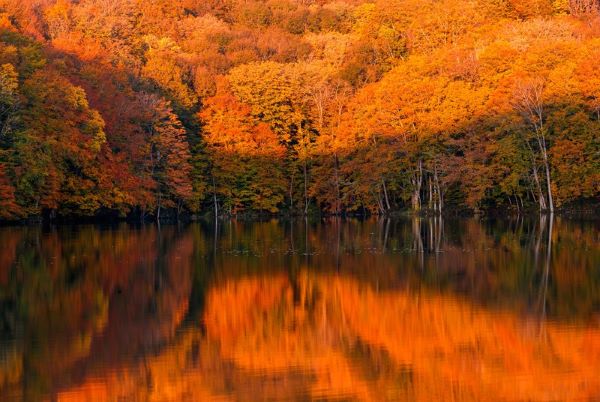 But keep in mind that it is best to get a space in the front row at the moment of sunrise so no one blocks your sight. Thus, check with the ryokan staff when you arrive for the best time to be at the observatory the following morning.
On the other hand, if you aren't interested in the scenery at sunrise, you can always just wake up in time for breakfast.
Suiren-Numa Pond (睡蓮沼) and Tsuta-Nana-Numa Ponds (蔦七沼)
After breakfast, when you are ready to explore more stunning ponds in the area, do check when the next Mizuumi (みずうみ号) will arrive at Tsuta Onsen.
If it isn't coming for another 90 minutes, follow the promenade – Numa-Meguri No Komichi (沼めぐりの小路) and stroll around Tsuta-Nana-Numa Ponds first.
On the other hand, if the bus is coming soon, take the next service for the Suiren-Numa Pond (睡蓮沼) and then return to Tsuta Onsen later.
For Suiren-Numa, you can also check it out on Day 2.
You can find more information about these ponds in our article on the Picturesque Ponds between Sukayu Onsen and Tsuta Onsen.
From Tsuta Onsen to Yakeyama to Oirase Gorge
After your photographic adventure with the picturesque ponds, gather your belongings and head straight to Yakeyama, the entrance of Oirase Gorge!
As a small transportation hub, Yakeyama has a couple of restaurants open for lunch. It also has a few attractions that may interest you, including Japan's most temperamental ginkgo tree.
For more information, please refer to our article on Yakeyama!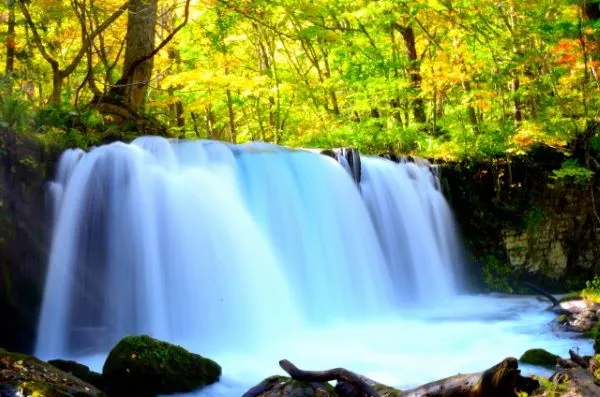 When you trek through Oirase Gorge in the afternoon, you can store your luggage at Oirase Stream Gifts and Restaurant (渓流の駅おいらせ).
Another option is to head straight to your accommodation at Lake Towada from Tsuta Onsen for a quick drop-off. After that, you can either rent a bicycle and cycle back to Yakeyama or take either the JR Bus Mizuumi-Gō (みずうみ号) or Oirase-Gō (おいらせ号).
For more information about bike rental and the beautiful gorge, please refer to our article on Oirase Gorge!
Day 4 – Lake Towada
Lake Towada ⇒ Towada City
Lake Towada (十和田湖) isn't just a beautiful lake that straddles both Aomori and Akita Prefecture in North-eastern Japan. Whether you prefer water sports, take a stroll around the virgin forest, or just like to eat, Lake Towada is a destination for everyone!
For more information, please refer to our article on Lake Towada (=゚ω゚)ノ.
Whilst Lake Towada is a must-see attraction, please keep an eye on the time as you won't want to miss the last Oirase-Gō (おいらせ号) for the day to get to Towada's city center!
Day 5 – The City Center of Towada and Hachinohe
Towada City ⇒ Hachinohe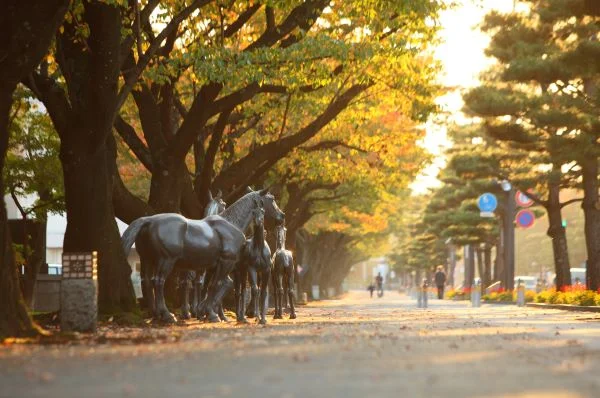 Day 5 in the city center of Towada should be relaxing, with most attractions within walking distance.
You can refer to our article on Towada City for ideas to plan your Day 5. Our recommendation is Towada Art Center, which is another art museum in Aomori with some exciting artworks that you won't want to miss out on.
Once you have finished exploring Towada City, you can either take the JR Bus Oirase-Gō (おいらせ号) or Aoimori Railway Company (青い森鉄道) to Hachinohe.
For dinner, head to Hachinohe Yataimura Miroku Yokochō (八戸屋台村みろく横丁) for the unique alley filled with stalls!
Day 6 – Attractions in Hachinohe
Hachinohe
If your Day 6 falls on a Sunday, you should get up early for the Tatehana Wharf Morning Market (館鼻岸壁朝市). No sleeping in!
The market has more than 300 stalls serving customers from dawn to around 9 am. If you overslept, then you will miss out on the chance to check out Japan's biggest morning market!
It is also a good place to source some delicious breakfast.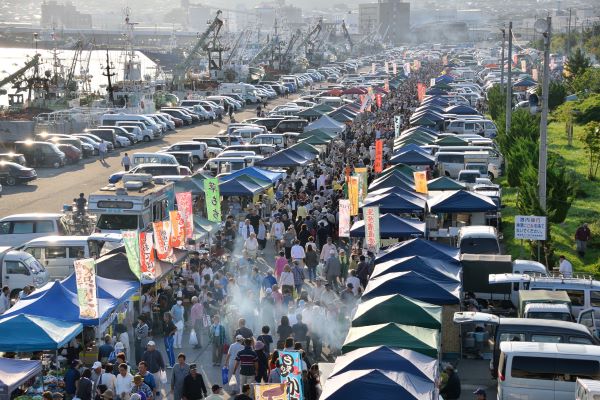 As you will be staying overnight at Hachinohe, attend the Tatehana Wharf Morning Market on day 7 instead of day 6 if it is a Sunday.
For more information on how to get to the market, please refer to our Hachinohe article.
Tanesashi Coast (種差海岸)
After spending a couple of days in the mountain, how about heading to the beach for a scenery change?
The Tanesashi Coast at the center of Sanriku Fukkō National Park (三陸復興國立公園) is an unusual beach. Instead of a sandy beach shore, it has a natural lawn spread all the way to its shoreline! As one of the National Places of Scenery Beauty along the Tanesashi Coastline, you can admire more than 650 different types of plants that bloom from spring to fall!
For more information, please refer to our article on Tanesashi Coast.
For Day 6 afternoon, you can cherry-pick some attractions in the city from our Hachinoe article.
Day 7 – Temples in Hiraizumi Town and Tokyo
Hachinohe ⇒ Hiraizumi ⇒ Tokyo
On your way back to Tokyo, how about stopping by Hiraizumi Town for some historical and culturally rich atmosphere?
The town was once Kyoto's rival for its refined culture and elegant surroundings in the 12th century. Until now, it retains its charm and traces of its former greatness. If you are after a cultural and scenery feast, it is the destination that you don't want to miss!
For more information, please refer to our article on Hiraizumi.
For luggage storage, you can utilize the coin-operated lockers at Hiraizumi Station.
Planning to Spend More than 7 Days in Japan? Check out Itinerary to Other Parts of Japan!
If you have more than 7 days to spend in Japan and struggling to decide where to visit next, we have a couple more itineraries to other parts of Japan with fascinating attractions.
Please refer to our Japan Itinerary Category for more information!