On the south end of Higashi Park (東公園), close to JR Yoshizuka Station, you can find Tōkaebisu Shrine (十日恵比須神社), a usually quiet shrine. However, during the Tōkaebisu Festival, from the 8th to the 11th of January, around one million people usually flood the shrine! Not only can you wander through the 300 stalls set up on the sides of the approach, but what the pilgrims are after is the lucky items lucky draw.
Obviously, there will be bigger prices, but everyone who participated in the lucky draw is guaranteed a couple of traditional lucky items.
What is Tōkaebisu?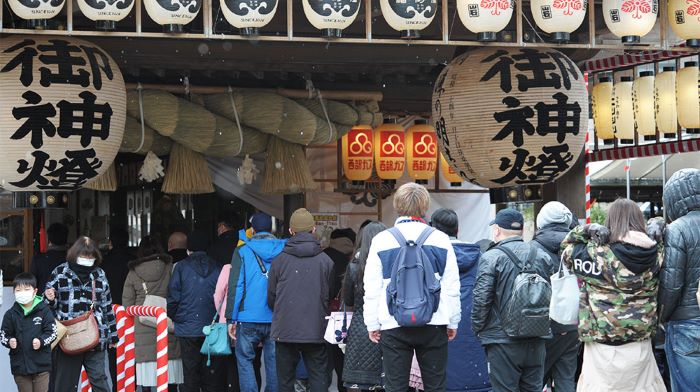 Tōkaebisu is a festival for pilgrims to pray for the prosperity of their businesses.
The shrine's main god, Ebisu, is a god of the sea where people pray for a good fish catch. Combined with another god, Daikoku-sama (大國様), who is the god of harvest, Tōkaebisu Shrine became the go-to place to pray for prosperity back when agriculture and fishing were mainstream.
The Daikoku Enshrined in Tōkaebisu Shrine
Daikoku-sama is short for Ōkuninushi Ōkami (大國主大神), the god enshrined in Izumo Taisha (出雲大社) in Shimane Prefecture. If you don't know about Izumo Taisha, it is the most important Shinto Shrine in Japan. It is said that in November, all the main gods across Japan will gather at Izumo Taisha for reporting.
Originally, Tōkaebisu Shrine only had Ebisu enshrined. But later on, the shrine had the honor of enshrining a part of the spirit of the Ōkuninushi Ōkami. So now, both the son (Ebisu, the right photo above) and the father (Daikoku-sama, the left photo above) can be worshipped at Tōkaebisu Shrine!
Tōkaebisu's Lucky Draw
Similar to how the Japanese like to have a beckoning cat that is said to have the power of inviting more customers to visit the shop/restaurant, other items such as dolls of the lucky god and an abacus are considered lucky charms for tradesmen. The best place to source these lucky items in Hakata is Tōkaebisu Shrine!
So during the festival, even normal salarymen would queue up for the lucky draw. After all, the 2,000 yen entry fee won't go wasted.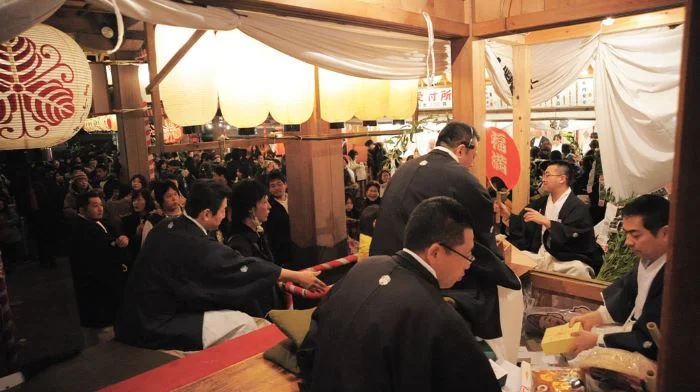 Borrowing Money from Tōkaebisu Shrine
Another main purpose for people to participate in the festival is to borrow money from the shrine.
This money that the shrine lends out is called Ebisu-zeni (えびす銭) and starts at 200 yen. It has a similar meaning to lucky items. The custom is you invest the 200 yen into your business which hopefully will bring you more money. Then the following year, you return double the amount to the shrine.
Nowadays, an old coin from centuries ago is lent to the pilgrims. People then put this Ebisu-zeni in their wallets. By doing so, they hope more and more money will be on their way. But please make sure you return the coin to the shrine the following year.
Kachi Mairi (かち詣り)
On the 9th of January afternoon, Hakata's Geishas will dress up formally and head to Tōkaebisu Shrine. In addition to watching their graceful walking style, they treat the general public with traditional music performances while singing traditional songs.
If you can see them up close, you will notice the traditional hairpin on their hair all have rice ears attached. It is another tradition for them when they pray during the festival.
The Lanterns at Tōkaebisu Shrine
A special thing in Tōkaebisu Shrine's precinct is the lanterns. Traditional lanterns are generally made with stones, but the lanterns at Tōkaebisu Shrine are made of ceramic!
Tōkaebisu Shrine's Opening Hours and Access Information
The shrine's office is open from 9 am to 5 pm.
From JR Yoshizuka Station (吉塚駅) or Fukuoka Subway's Chiyo-Kenchōguchi Station (千代県庁口駅), it is a 5-minute walk.
Explore Hakata With a Guided Tour or Hire a Photographer
If you prefer a guide to introduce you to the charms of Hakata, how about joining one of the below tours? You can also hire a photographer for a private photoshoot session!
Tip: Refer to HERE if you want to rent a Kimono when you are in Hakata!
Discover More Attractions Around Hakata Station
Want to find out about more unique attractions you might be interested in or delicious restaurants to treat yourself to around Hakata Station?
Refer to our article on Hakata, in which we introduce attractions such as a rooftop shrine or a gorgeous Japanese garden for a brief break!
Discover Other Attractions in the Wider Fukuoka City
If you have more time to spend in Fukuoka, the city has a couple more awesome destinations that might interest you, including islands with vast, stunning flower fields.
For more information, please refer to our article on Fukuoka City!