Tokashiku Beach (渡嘉志久ビーチ) on the west side of Tokashiki Island is close to Tokashiku Village center. Because it is located in a bay cove, the waves are calmer and easy to swim in. Compared to Aharen Beach, it is less busy. So while there might not be as many shops around, it can be a better spot to enjoy the underwater world. Plus, the chances of meeting a sea turtle are high at Tokashiku Beach!
In addition, it is easier to meet a sea turtle around Tokashiku Beach because four or five of them live at the bay. So when they are hungry, they swim closer to Tokashiku Beach for the seaweed growing around the coast.
Tip: Sea turtles are often spotted on the north side of the beach. You can also join a sea turtle tour.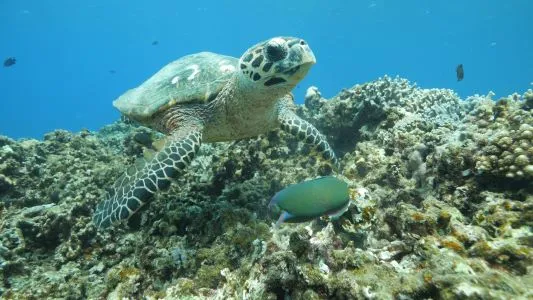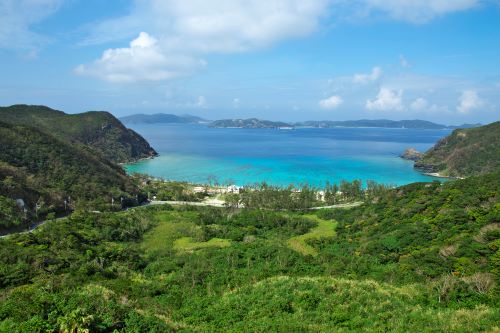 Furthermore, it is one of the best spots on Tokashiki Island to adorn the stunning sunset over Kerama Strait (慶良間海峡). And without much light pollution, a sky full of stars would follow after the sun disappeared from the horizon!
Moreover, because mountains surround Tokashiku Beach, you can hike to the two nearby lookouts below for exceptional beach scenery.
Tips and Things to Note About Tokashiku Beach
Like Aharen Beach, shower facilities and toilets are available at Tokashiku Beach (but there are no change rooms or coin-operated lockers). However, Tokashiku Beach is also divided into areas, and the lifeguards in the Swimming Surveillance Area will strongly recommend lifejackets.
Tips:
☛ The best diving and snorkeling spot is in the cove's middle, around 150 meters from the shore. The depth there can be up to 6 meters, so fins are essential to get there.
☛ Stay at Tokashiku Marine Village for easy access to Tokashiku Beach in the early morning and from late afternoon to early evening to increase your chances of meeting a sea turtle!
☛ Lifejackets can be rented out for free from the lifeguard tower.
☛ Watersport-related equipment can be rented from Tokashiku Marine Village and Gakiya Marine House (我喜屋商店), but overnight guests have priority.
☛ It is best to bring your food as there are only a few restaurants around Tokashiku Beach. But if you want to dine locally, Tokashiku Marine Village serves a vegan curry set, which includes a drink and salad.
How to Get to Tokashiku Beach
Tokashiku Beach is around a 10-minute drive from Tokashiki Port (渡嘉敷港).
Due to the hilly terrain, accessing Tokashiku Beach with a rental bike isn't recommended.
For the history buffs out there, Tokashiku Beach was where the U.S. army landed when they invaded Tokashiki Island in World War Two.
Explore Tokashiki Island With a Guided Tour
If you prefer a guide to introduce you to the charms of Tokashiki Island, how about joining one of the below tours?
Tokashiku Marine Village (とかしくマリンビレッジ)
Tokashiku Marine is conveniently located at the back of Tokashiku Beach for those who want to enjoy the magnificent ocean view all day. While the rooms aren't the best, we reckon it is the best hotel on Tokashiki Island if you are after a place to stay for exceptional service!
In addition, while there are almost no shops around Tokashiku Marine Village, there is a shop close to the reception that sells snacks, alcohol, and more!
Besides the typical Western-style room, you can also spend a night in their Japanese-style room to enjoy the traditional Japanese elements, such as tatami mats and a futon bed!
But just note: if you are sensitive to noise, the soundproofing isn't as good at Tokashiku Marine Village as the building was completed in the late 20th century.
Of course, you can rent out everything you need to enjoy snorkeling/diving from the hotel (excluding swimming suits). The Village also holds various watersport sessions for its guests to get the most out of their time at Tokashiku Beach, including Jet Ski, SUP, and snorkeling!
Tips:
☛ Tokashiku Marine Village provides hotel guests with a free shuttle bus service twice a day to Aharen Beach. Refer to HERE for more details.
☛ Tokashiku Marine Village will try their best to cater to its guest's special dietary requirements. But note that if your accommodation plan includes all-you-can-eat dinner/breakfast, no special meals will be prepared.
☛ You can also order their vegan curry set for lunch for 1,200 yen, which includes salad and a drink.
☛ You can book your stay via klook!
How to Get to Tokashiku Marine Village
Tokashiku Marine Village provides free pick-up and drop-off services from Tokashiku Port. Please let them know if you need this service when booking.
Discover Other Parts of Tokashiki Island
While Tokashiku Beach is one of our favorite parts of Tokashiki Island, the island has much more to offer, including several observation areas providing magnificent scenery and hidden beaches that remain unknown to tourists.
If you are interested in finding out more about what Tokashiki Island can offer, refer to our Tokashiki Island article!