Shima Onsen (四万温泉), located in a national park, is a great destination for a weekend getaway. You will definitely enjoy the traditional and tranquil ambience of the town. While spending a night at Shima Onsen is recommended, if that isn't an option for you or you would like to hop between different onsen facilities in the hot spring town, here are a list of hot spring pools that you are welcome to visit!
The below spots are listed according to their distance from the bus stop, Shima Onsen (四万温泉):
The Free Hot Spring Facilities at Shima Onsen
The same as Kusatsu Onsen, Shima Onsen also has three free communal bathhouses and three of them being open to tourists. These bathhouses get cleaned after the opening hours each day. As a tourist, because these onsen pools are free and are utilized by the locals who don't have a bathtub at home, please try to keep them as clean as possible.
Just like any other free communal baths in the area, the hot spring pool is small, fitting a maximum of three people when no one stretches out their legs. But the good thing about a small bathtub is that the hot spring in the tub is always fresh as the onsen flows into the tub nonstop!
Each one of them has a donation box attached. Feel free to leave some money in it to contribute to the facility's daily maintenance.
No towels or toiletries are provided at these facilities.
Please limit your hot spring session to 30 minutes, especially at these free hot spring facilities.
Kawahara Hot Spring (河原の湯)
Just like its name, Kawahara no Yu (Kawahara Hot Spring) is an onsen facility adjacent to a riverbed. It is also one of the three free communal bathhouses open to tourists.
While Kawahara Hot Spring looks more like a toilet due to its appearance, the exterior, inner walls, and bathtubs are also made of stone. So in a way, it would feel like bathing in a stone cave. But don't worry! Just like you can't see the river through the glasses on the door, no one can see you from the outside either.
There is a small park above the bath, perfect for cooling off after a hot bath!
Because Kawahara Hot Spring is located at Shima Onsen's main bus stop, many tourists would want to check it out. So your bathing time might be disturbed, making you feel like a zoo animal.
Important: Don't bring any valuables to Kawahara Hot Spring. The simple shelf in the changing area is invisible from the bathtub. If you can't store your valuables somewhere safe, put them in a plastic bag and keep them close to you.
How to Get to Kawahara Hot Spring
Kawahara no Yu is currently open from 9 am to 2 pm.
Kawahara Hot Spring is around a 1-minute walk from the bus stop, Shima Onsen.
Shima Tamura (四万たむら)
The next spot we want to introduce is Shima Tamura, Shima Onsen's oldest ryokan, founded over 500 years ago. As one would have expected, Shima Tamura has a splendid traditional-looking entrance finished with a thatched roof! The floor beyond the entrance is covered by tatami mats, allowing you to enjoy the comfort of the traditional flooring material.
Shima Tamura is surrounded by a forest called Tamura Forest (たむらの森). This means you can enjoy the quietness, birds chirping, and fresh air during your stay. Even better, the water from the tab is mineral-rich from Mt. Inazutsumi (稲包山). So the water you will come across at Shima Tamura is all high quality!
For those who love looking at cultural properties and Japanese architectural style, you will have a lot of fun exploring Shima Tamura. The decorations, exhibits, and interior designs will surely catch your attention when you travel between different facilities in the ryokan. In particular, the exhibition room steeped in history close to the entrance is like a small museum filled with old photos and many valuable items, such as Buddha statues.
If you would like your room to overlook Shima Onsen's mountains, consider booking a room at their Suiyōkan (水涌館). While the middle-ranked guestrooms located at the higher levels of the complex are away from the hot spring pools, you will still get the widest view through the room's almost ceiling window.
Shima Tamura's Hot Spring
Important: Since the pandemic, Shima Tamura's hot spring pools are closed to day visitors until further notice.
For Shima Tamura's hot spring pools, there are seven of them, including the ones that you can rent for private use. All of them have hot springs with high moisturizing effects. There is also a hot spring drinking fountain.
The open-air bath, Ryugu (竜宮), is an interesting one amongst the hot spring pools. As it is located next to a river, it will disappear when the amount of water flowing in the river increases (´▽`*).
For those who are comfortable sharing their bathing time with strangers, be sure that you visit Mori no Kodama (森のこだま), Shima Tamura's best open-air hot spring pool. Situated next to the river and close to a waterfall, the surrounding scenery and the sound of water flow enhance the relaxation effect of bathing at Shima Tamura!
Some might be unaware of it, but Shima Onsen's hot spring is used for cooking. The porridge served at Shima Tamura is cooked with Shima Onsen's hot spring. The rice is soaked in the hot spring overnight before it is cooked for the ryokan guest to enjoy in the morning!
Tip: The Private Bath Crystal can be rented between 3:30 pm to 11 pm. The cost is 2,200 yen for 40 minutes.
Things to Consider Before Booking
Shima Tamura's wooden structure doesn't have good soundproofing.
The internal of the ryokan is like a maze to some people. This could be a bit problematic if you prefer facilities to be close to you.
Shima Tamura's buildings show signs of aging.
If you prefer not to consume fish, meat, or egg, Shima Tamura can only exclude one of them from the meals served.
How to Get to Shima Tamura
Shima Tamura is around a 3-minute walk from the bus stop, Shima Onsen.
Kami no Yu (上の湯)
Kami no Yu is another free communal hot spring facility that tourists are welcome to utilize. Different from Kawahara no Yu, Kami no Yu has two hot spring pools, allowing more people to bathe at the same time. But the real reason for having two hot spring pools is for those who want to experience two different temperatures, one is hot, and the other one is super hot (´▽`*).
In addition, compared to Kawahara no Yu, the lighting at Kami no Yu is better.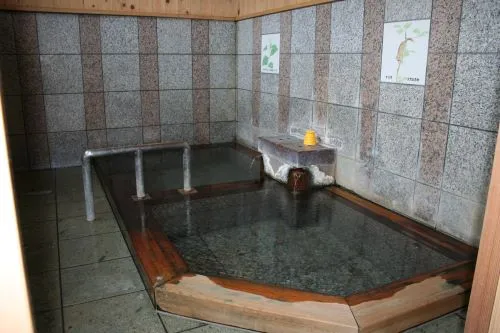 Important: The temperature of the hot spring is relatively high as it flows directly from the source, so please adjust the temperature by adding water from the hose provided.
Close to Kami no Yu, there is also a municipally operated foot spa called Yamaguchi Kawane no Ashi Yu (山口川音の足湯). As it is located in the forest, it is a nice spot to enjoy some calm moments in nature. Note that to get to Yamaguchi Kawane no Ashi Yu, you need to cross the metal bridge to the other bank of the Shima River. Google Maps will most likely lead you in the wrong direction.
How to Get to Kami no Yu
Kami no Yu is around a 3-minute walk from the bus stop Tsukimibashi (月見橋).
Shima Seiryu no Yu (四万清流の湯)
Shima Seiryu no Yu, opposite Kashiwaya Ryokan, is one of the best public baths for day visitors. The municipal-managed hot spring facility has gender-separated indoor and outdoor baths, a drinking hot spring fountain, and a spacious resting area with tatami mats. It is also the only hot spring facility in Shima Onsen that opens at night for day visitors. Amenities are also provided at Shima Seiryu no Yu.
The spot is particularly recommended for our male readers as the male open-air bath is directly facing the Shima River. So while indulging in the nice hot spring, you can adore the river that is water dyed in what is known as the Shima-Blue color.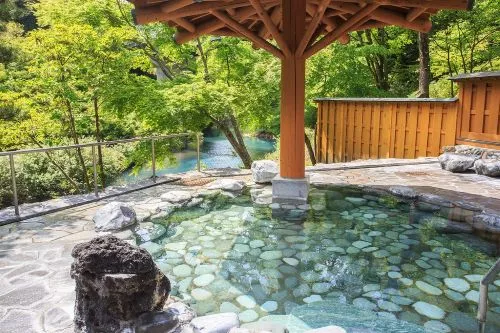 Although the female baths don't have a river view, the indoor bath is decorated with impressive stained glass, and the outdoor bath has a gorgeous garden attached.
After paying the admission fee at the reception, you can also choose to rent a towel set for 100 yen.
But just note the hot spring at Shima Seiryu no Yu is circulated instead of getting the onsen from the source continuously.
Tips:
☛ If you love the occasional encounter with wild animals, Shima Seiryu no Yu is a spot where monkeys and Japanese serows are regularly spotted!
☛ There are coin-operated lockers for your valuables. The cost is 100 yen per use.
☛ There is a vending machine and a free tea corner.
Important:
☛ Please keep your admission fee receipt with you as staff will be checking them on your way out.
☛ Please follow the instruction at the drinking fountain. Overdrinking the hot spring can be harmful to you.
Shima Seiryu no Yu's Opening Hours, Admission Fees, and Access Information
Shima Seiryu no Yu is open daily except the 4th Wednesday from 10 am to 8 pm.

The bathhouse may be closed from the end of December to the beginning of January.

The admission fee is

500 yen for 2 hours
800 yen for 4 hours (only on weekdays)

Shima Seiryu no Yu is just a one-minute walk from the bus stop, Seiryu no Yu Iriguchi (清流の湯入口). From the bus stop, Shima Onsen, it is around a 20-minute walk.
Gomuso Hot Spring (御夢想の湯)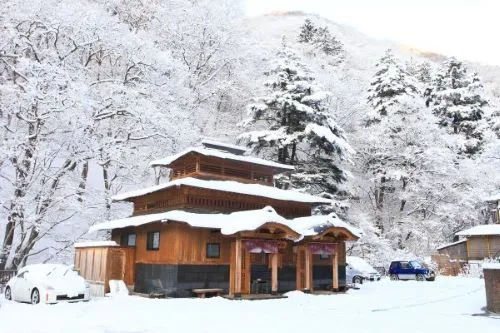 Another one of the communal bathhouses that tourists are permitted to enjoy is Gomusho Hot Spring, next to Hinatami Yakushidō Temple.
After the renovation in 2006, the bathhouse now has a splendid Karahafu appearance (cusped gable). The bath is related to Shima Onsen's legend that it was named after the oracle dream that Usui Sadamitsu had.
The good thing after the renovation is that the shelf to store your belongings is visible from the onsen pool, so you can keep an eye on your belongings!
Important: Leave before or right at the bathhouse's closing time. Otherwise, you might get locked inside by the auto-lock.
Gomuso Hot Spring's Opening Hours and Access Information
Gomuso Hot Spring is open daily from 9 am to 3 pm.
Shima Onsen Public Bath is a 25-minute walk from the bus stop, Shima Onsen.
Discover Other Attractions at Shima Onsen
So where else in the hot spring town is worth your time? Aside from the natural attractions, Shima Onsen has a couple of historical and cultural spots you might be interested in visiting. Furthermore, a ryokan is rumored to be the stage of the Ghibli movie Spirited Away!
So refer to our Shima Onsen article for where else to stop by during your time at the onsen town, including a couple of delicious places to try out!