On the way to Shima Onsen's best natural spot, Lake Okushima, how about making a detour to Hinatami Yakushidō (日向見薬師堂)? The temple with a thatched roof is the legendary birthplace of the hot spring town. In addition, it also has a connection with the Sanada clan, a famous samurai family in the late 16th century!
The History of Hinatami Yakushidō
In 989, Usui Sadamitsu (碓井貞光), a warrior, camped there and read the sutra for the entire night. Touched by his sincerity, the mountain god gave him an oracle. In his dream, he was told of the location of a spring source that is able to heal forty thousand different kinds of illness.
So after the spring source was found, a worship hall was constructed at the place where the oracle was given.
Usui Sadamitsu was a warrior of the legendary Japanese hero Minamoto no Yorimitsu (源頼光). Sadamitsu is known as one of The Four Guardian Kings under Yorimitsu.
The worship hall was rebuilt in 1598 under the order of Sanada Nobuyuki (真田信幸) to pray for victory in wars. It was once a national treasure but was changed to an important national cultural property in 1950.
Hinatami Yakushidō's worship hall is also the oldest temple in Gunma Prefecture. A Healing Buddha is enshrined here. Pilgrims would visit Hinatami Yakushidō to pray for curing illnesses.
Sanada Nobuyuki was the feudal lord governing the region at the time. Although you might not be familiar with the name, his younger brother is Sanada Yukimura, a really famous samurai in the Sengoku period under Toyotomi Hideyoshi!
Tips:
☛ Check with Tea House Nihatami Chaya (日向見茶屋) close by for Goshuin. If you prefer Goshuin to be written in front of you, head to Sohonji Temple (宗本寺), around a 15 to 20-minute drive away. Hinatami Yakushidō is looked after by Sohonji, but please call +81-279-75-3069 in advance.
☛ The fall foliage at Hinatami Yakushidō peaks around mid-November.
Other Things in or Close to Hinatami Yakushidō's Precinct
The thatched roof building in front of the worship hall is called Okomoridō (お籠堂). This is for the pilgrims to stay and purify their minds and bodies via chanting. In addition, there is a small worship hall enshrining Maya Fudō (摩耶不動) in Hinatami Yakushidō's precinct, a god in charge of matchmaking and fertility!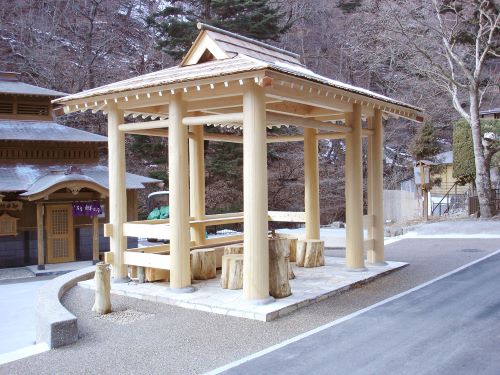 After finishing strolling around Hinatami Yakushidō, how about dipping your feet into the foot spa called Hinatami Yakushi no Ashiyu (日向見薬師の足湯)? The foot spa in front of the temple is a great place to unwind and enjoy the scenery (=゚ω゚)ノ.
Note that the foot spa can only be used from 9 am to 5 pm.
How to Get to Hinatami Yakushidō
Hinatami Yakushidō is around a 25-minute walk from the bus stop, Shima Onsen.
Discover Other Attractions at Shima Onsen
Nature is definitely the selling point of Shima Onsen. And in addition, the hot spring town has a couple of historical and cultural spots you might be interested in visiting. Furthermore, a ryokan is rumored to be the stage of the Ghibli movie Spirited Away!
So refer to our Shima Onsen article for where to stop by during your time at the onsen town!