With a height of 234 meters, Fukuoka Tower (福岡タワー) is Japan's tallest tower on the beach shore. From the tower's observation deck, you can get a panoramic view of Fukuoka City and Fukuoka Bay. While the observatory is somewhat small compared to other towers, such as the Tokyo Sky Tree, the daytime and nighttime view is still very impressive and was chosen as one of the Top 100 Night Views in Japan!
Furthermore, the sandy beach shore at Momochi Seaside Park, located in front of the tower, is another reason the Fukuoka Tower is one of the most popular attractions in Fukuoka's city center.
A List of Contents
Tip: You can pre-purchase Fukuoka Tower's admission ticket through klook!
Fukuoka Tower (福岡タワー)
Smartly utilizing the tower's height, most of Fukuoka Tower's attractions allow you to enjoy some sort of activity and a spectacular view through the ceiling-to-floor window.
Observation Floor 3F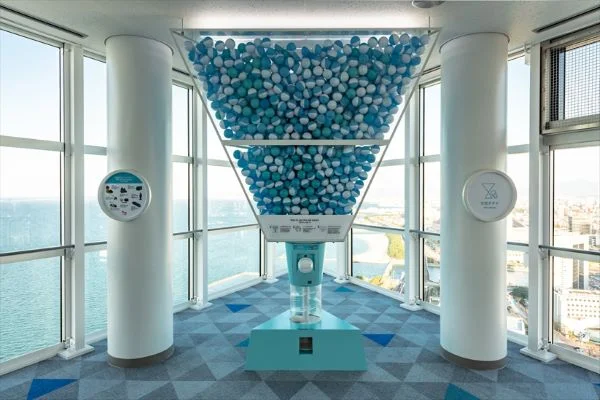 The best way to explore Fukuoka Tower is to start from the top floor because you can't re-enter the observatory.
The top observation level, Observation Floor 3F, gives you a wide and clear view from 123 meters above the ground. There are a couple of attractions on this floor, including a gigantic capsule toy machine – Sky Gacha (天空ガチャ) and binoculars that are equipped with virtual reality!
Sky Walk 123
While binoculars are a common feature at observatories, the binoculars at Fukuoka Tower are an enhanced version.
Instead of only enabling you to see an object afar clearer, they provide you with the virtual reality of the 13 popular sightseeing spots in the city.
This can be a good way to decide where to head next!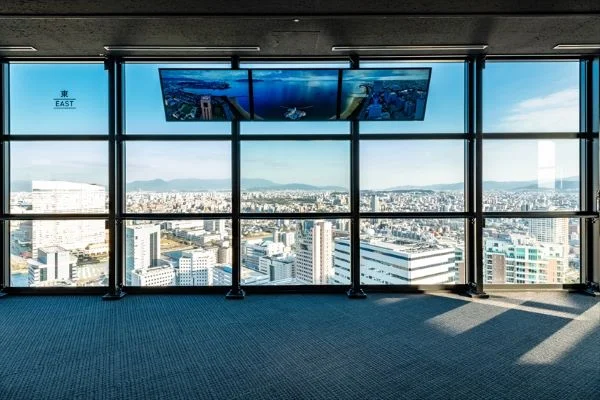 Fukuoka Tower, A Lover's Sanctuary (恋人の聖地)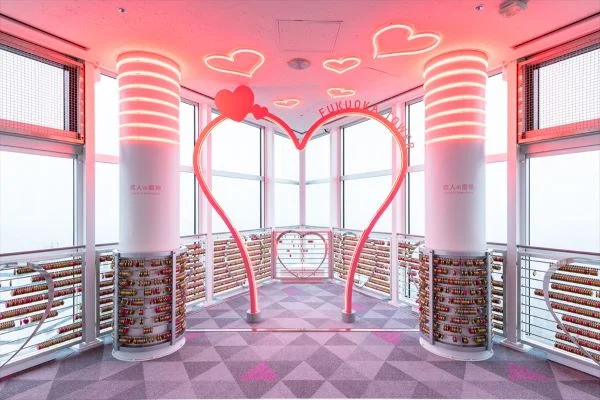 If you are visiting Fukuoka Tower with your partner, you can purchase one of the Fukuoka Tower's heart-shaped padlocks and lock it at the fence in the Lover's Sanctuary area while you enjoy the stunning view of Fukuoka's cityscape.
Twice a year, the padlocks will be taken off the fence and offered to Atago Shrine (愛宕神社), which is a famous spot for marriage.
Observation Floor 2F: SKY Cafe & Dining Refuge
The best observatory restaurant in Fukuoka City is just located on the second top floor of Fukuoka Tower. On a clear sunny day, dining at the SKY Cafe & Dining Refuge is one of the best ways to celebrate special occasions!
Note that you will need to purchase a ticket to get to the cafe/restaurant.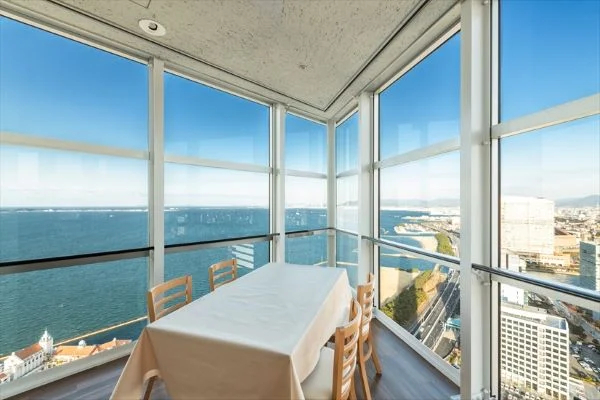 Tip: The restaurant can cater to special dietary requirements for the dinner course. Please let the restaurant know when you make a booking.
Fukuoka Tower, a Venue of Illumination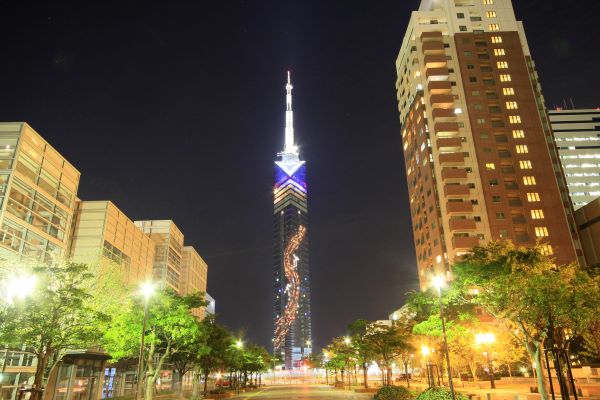 At night, Fukuoka Tower is transformed into a massive lighting show display. The images shown on this skyscraper match the festivals coming up (such as Halloween and Christmas), so remember to snap a selfie with it at night!
For the best viewing spot and the illumination schedule, please refer to the map on the official website HERE.
Tip: There is no toilet in the observation area. So utilize the toilet facilities on the first floor before you head up.
Fukuoka Tower's Opening Hours, Admission Fees, and Access Information
Fukuoka Tower is open from 9:30 m to 10 pm.

The last admission is 30 minutes before closing time.
The tower won't open on the 26th and 27th of June in 2023.

The admission fee is

500 yen for elementary and junior high school students
200 yen for children 4 years old and older
Momochi Seaside Park (シーサイドももち海浜公園)
Did you know there is a beach just at the outer skirt of Fukuoka's city center?
Momochi Seaside Park, in front of the trendy-looking Fukuoka Tower, is a park by the sea, which is mostly covered with white sand. In the hot summer, you are welcome to dive into the cool water.
Free shower facilities are available in the park, making it a go-to place for the locals to cool down.
When you need a place to rest, head to the Mediterranean-style resort, Marizon (マリゾン), connected to the 2.5 km sandy beach. Apart from the magnificent white-colored cathedral, cafes, restaurants, and shops sell marine-related products.
At night, the resort is lit up, creating a romantic atmosphere!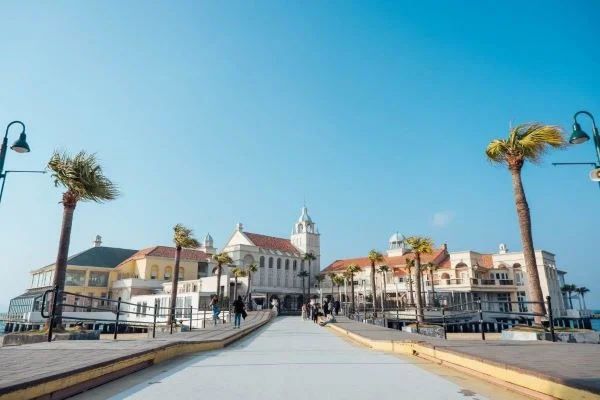 Tip: If you enjoy water sports such as SUP boards, head to Alpha Stance (アルファースタンス) for equipment rental and/or a guided lesson. HERE is their website for more information. You can translate it with Google Chrome's translation function.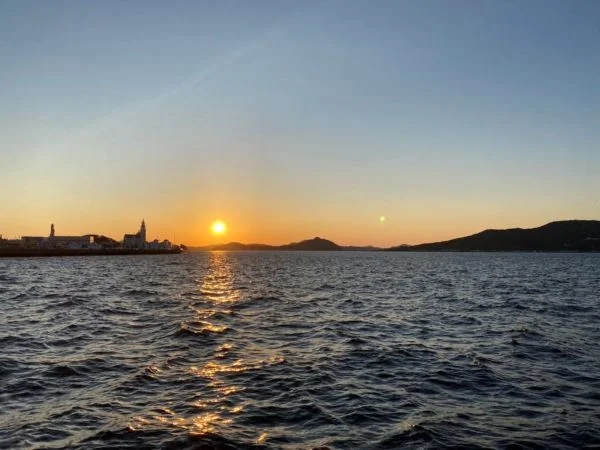 The park is also a popular dating spot for its stunning sunset view. Spending a relaxing late afternoon by walking along the beach shore and enjoying the sun gradually disappearing from the horizon is a great way to enjoy what Fukuoka has to offer.
For a list of facilities available in the park, please refer to the official website HERE.
How to Get to Momochi Seaside Park
From Hakata Bus Terminal (博多バスターミナル) bus stop no. 6, take the Nishitetsu Bus route 306 and get off at Fukuoka Tower Minami-guchi (福岡タワー南口). The bus trip will take around 30 minutes.
From Tenjin Bus Center (天神バスセンター) bus stop 1A , take Nishitetsu Bus's route W1 or 302 and get off at Fukuoka Tower (福岡タワー).
You can also change to Fukuoka City Subway from Hakata Station and get off at either Nishijin (西新駅) or Fujisaki Station (藤崎駅).

From either station, it is approximately a 20-minute walk.
Discover Other Amazing Destinations in Fukuoka City
Wondering where else around Momochi Seaside Park is worth your time? Check out our article on Fukuoka City!
In the article, we have included various attractions that may suit your interests. There is also information available on Fukuoka's famous Yatai street stalls (=゚ω゚)ノ.