After visiting Kusatsu Onsen, you can drive up to Shiga Kōgen. The 43km-long scenic freeway connecting the two popular destinations is National Highway No. 292, also known as Shiga Kusatsu Kōgen Route (志賀草津高原ルート). The route goes as far as Shibu Onsen (渋温泉郷) in Nagano Prefecture, close to the Jigokudani Snow Monkey Park. So if you plan on taking a road/bike trip in Japan, how about visiting three of Japan's top destinations in one go by driving through Shiga Kusatsu Kōgen Route? Compared to the touristy Kusatsu Onsen, Shibu Onsen retains the ambience of a traditional hot spring town, which is suitable for those seeking some quietness, as well as for those who prefer an off-the-beaten-path destination.
Regardless of the season, the view you will get at the highest point of the Japanese National Highway, Shibu Tōge Pass (渋峠) at an altitude of 2,172 is just going to be magnificent!
Especially in the early summer morning, you may see the beautiful sunrise scenery reflecting on the sea of ​​clouds and the sky!
Shiga Kusatsu Kōgen Route's Four Seasons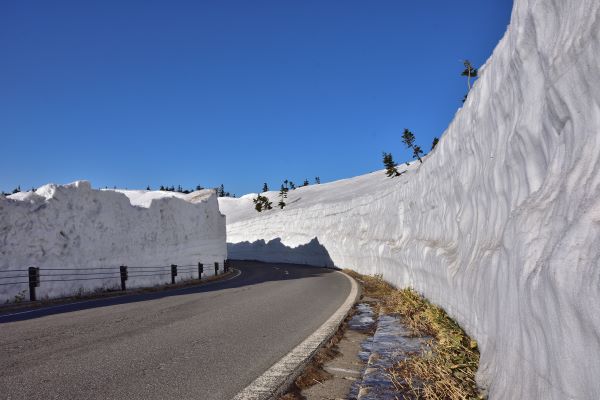 Because of the heavy snow, Shiga Kusatsu Kōgen Route is closed for traffic from late November to mid-April. When it is finally open after the snow on the road is ploughed away in late April, it is another spot in Japan to experience the snow wall/corridor other than the Tateyama Kurobe Alpine Route!
The 1km long snow corridor can last until early May each year. On average, the snow wall is between 5 to 8 meters tall. Obviously the earlier you get there, the taller the wall is going to be!
The snow at the summit around the area can last until early May. So if you drive on Shiga Kusatsu Kōgen Route in early spring, you might still be able to capture the scenery of mountains with a snow cap.
From mid-September, the colors of the mountains that the route goes through will start changing, making the fall foilage-decorated Shiga Kusatsu Kōgen Route one of the best highways to drive on from early to mid-October in Japan!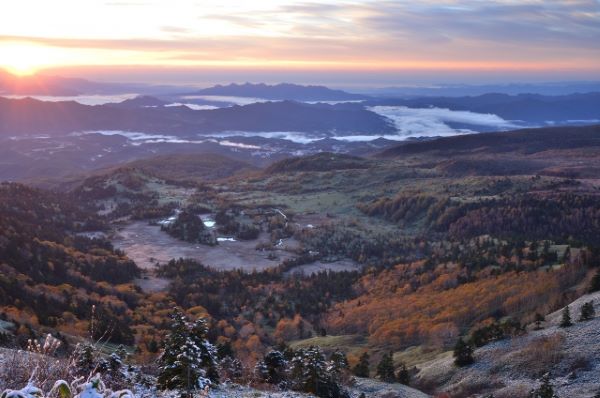 The Famous Spots Along Shiga Kusatsu Kōgen Route
Sesshōkawara (殺生河原)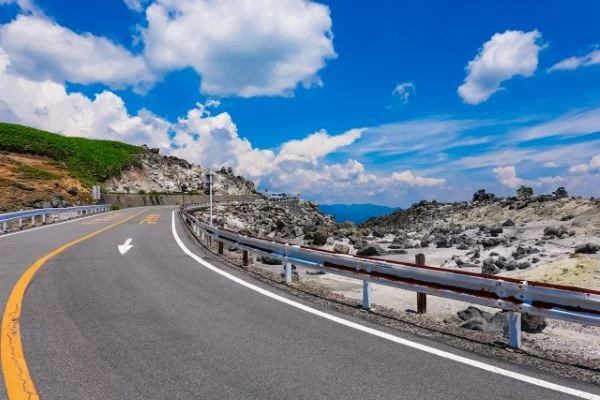 As you drive along Mt. Kusatsu-Shirane's (草津白根山) mountain road, you can observe the landscape of an active volcano, especially around Sesshōkawara (殺生河原). If you understand Japanese, you might find the spot's name spooky, as Sesshō means killing.
Due to the hydrogen sulfide gas in the atmosphere, hardly any plants can grow around there.
Around the highway, the ground is mostly colored white, with some black volcanic rocks exposed. Although it is a desolate landscape, it is where you can feel the dynamism of nature!
It also proves that Mt. Kusatsu-Shirane is still an active volcano, with the 2018 eruption changing the landscape dramatically!
Yugama (湯釜)
Another spot along Kusatsu Kōgen Route is Yugama. The emerald green color of the hot spring pond is as vivid as paint! But it isn't somewhere you want to bathe in as your body will be dissolved by the acidic hot spring with a ph scale of less than 1!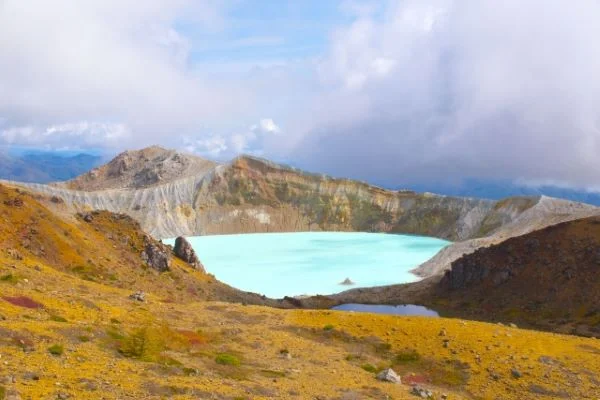 To get there, park your car at Kusatsu Shirane Resthouse (草津白根レストハウス). It will just be a 15-minute gentle hike to Yugama.
Important: Kusatsu Shirane Resthouse (including the car park and toilet facilities) is closed from October 2022 until further notice. If you are unable to read Japanese but would like an update on the latest information about the rest house, you can reach out to us HERE.
Yumi-ike Pond (弓池)
Close to Yugama, Yumi-ike is another scenic spot to stop by. From Kusatsu Shirane Resthouse, if you trek in the opposite direction, you will arrive at this gorgeous pond in no time. It is also a place to compensate for disappointment when the promenade to Yugama is closed for safety reasons.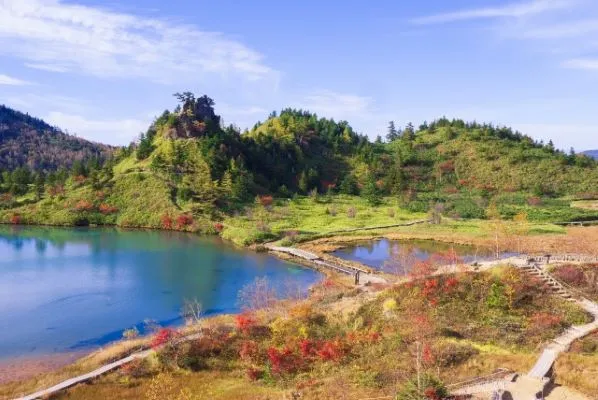 Things to Watch Out for While Driving on Shiga Kusatsu Kōgen Route
☛ Due to heavy snowfall, Shiga Kusatsu Kōgen Route is closed from late November to late April. Traffic controls may be in place if it is determined that the area is dangerous to enter during the warmer months. Refer to the official website HERE for more road information. You can translate it using Google Chrome's translation function at the right of the address bar.
☛ Drive carefully on Shiga Kusatsu Kōgen Route to avoid running over wild animals, such as a Japanese serow.
☛ The toilet facilities along Shiga Kusatsu Kōgen Route are limited.
☛ The road around Shibu Tōge Pass may be frozen until the beginning of May. Snow tyres may be required.
☛ Please do not park between the road that has "駐停車禁止" marked. The gas surrounding the area isn't safe to stay for an extended time period.
☛ If you happen to hear thunderstorms nearby while you are on the hiking trails to Yugama, please be careful so that you don't get struck by lightning.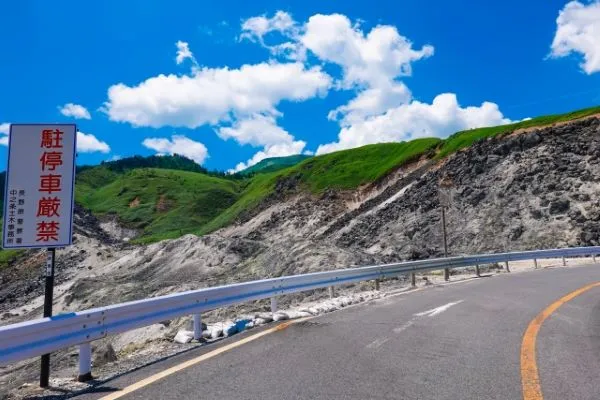 Tips:
☛ Close to the highest point of the Japanese National Highway, there is a small space where you can park your car. However, please still obey the traffic rules while you enjoy the spectacular scenery at Shiga Tōge Pass.
☛ Take a rest at Shibutoge Hotel (県境の宿 渋峠ホテル), close to the Highest Point of Japan's National Routes. There is a small cafe and a restaurant. You can rely on our article on Essential Japanese Travel Phrases for Vegetarians and Vegans to order the food you can eat.
Discover Attractions in Kusatsu Onsen
If you haven't already, plan a visit to Kusatsu Onsen, one of Japan's most well-known hot spring towns!
In addition to the public and communal bathhouses, Kusatsu Onsen has much to offer. Whether it is soba noodles, traditional sweets or outdoor activities, such as obstacle courses and skiing, you surely won't be bored at Kusatsu Onsen!
For more information, refer to our article on Kusatsu Onsen (=゚ω゚)ノ.