If you are a cat lover, head to Mangyō-ji (普賢山萬行寺) because you will most likely be served by two black cats at the reception! In addition, what will catch the attention of history buffs is the temple's crest. Contrasting the crest used by other Pureland sect temples in Japan that uses wisteria, Mangyō-ji uses the Mōri clan's (毛利氏) crest, the flower of sagittaria trifolia.
Back in the mid-16th century, when Oda Nobunaga was invading Osaka's Ishiyama Hongan-ji (石山本願寺), Mangyō-ji sent out armor, weapons, and food to assist the Mōri Clan that Oda's force was deterred as a result. Mangyō-ji thus was allowed to use Mōri clan's crest since then.
In Japan, sagittaria trifolia is also called Shōgun-kusa (勝軍草). It is treated as an auspicious motif as the name has the meaning of 'winning the wars'.
The Two Cat Reception Staff
The reception beyond the Sanmon Gate has two black cats stationed (well, not always). One is Kurosuke, and the other is Yōda, born in 2014. The two beckoning cats are quite smart and don't mind being touched. This is why many cat lovers will end up spending a long time at the reception.
You might encounter a few more cats in the temple's precinct besides the two cats at the reception. Although stray, they are quite used to humans and might let you pet them.
What to Pay Attention to at Mangyō-ji
Feel free to stroll around the magnificent Hondō Hall (本堂) if no event is held when you visit. Remember to check out the two Onigawara ridge‐end tiles (鬼瓦). When facing the front of the worship hall, the one at the left is female, and the one at the right end is a male Onigawara.
At the right of the worship hall, there is a cherry tree and firethorns that decorate the precinct from autumn to spring.
On top of the bell tower, Mangyō-ji also has a Taiko drum tower (太鼓楼). It is used to notify the locals that a Buddhist service will start soon.
Also, if there is an emergency in Hakata, it was announced by sounding the Taiko drum here as well.
Tomb of the Famous Prostitute Meigetsu (名娼明月のお墓)
At the side of the Sanmon Gate, there is a grave of a famous prostitute named Meigetsu.
The lady's original name was O-Aki born, in the Bitchū Province (備中国), which is today's western Okayama Prefecture. After knowing her father passed away in the Ishiyama Hongan-ji War (石山合戦), she traveled to Hakata to meet her fiancée.
Unfortunately, the guy who was going to marry her had passed away too. Losing hope in her life, she jumped off Hakata Bay but was saved.
While she worked in the red-light district in Hakata, her master allowed her to regularly visit Mangyō-ji. This is where she reunited with the head monk of the temple, Seikai Jōnin (正海上人), who she first encountered during the Ishiyama Hongan-ji War. Listening to the teaching from Seikai Jōnin, her faith in Buddhism increased day by day.
When she passed away, she was only 22. Miraculously, on the morning of the 49th day, a white lotus flower bloomed from her grave. People thus believe she had been welcomed to Amida Buddha's Pureland.
A Brief History of Mangyō-ji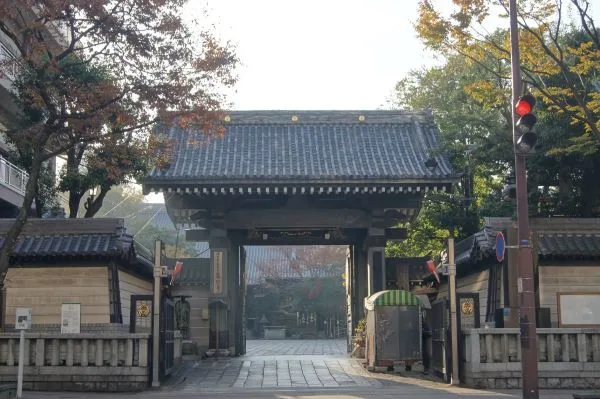 Mangyō-ji was started by the disciple of Osaka's Ishiyama Hongan-ji temple's head monk. A small hut was built when he spread the Pureland sect's teaching in Hakata in 1529. After a few relocations, the temple was moved to its current location in 1665.
Apparently, the temple set the foundation for many highly revered monks' success.
Mangyō-ji's Opening Hours and Access Information
If you are taking a bus, get off at Canal City Hakata-mae (キャナルシティ博多前).
From Hakata Station (博多駅), it is around a 10-minute walk.
From Fukuoka Subway Gion Station's (祇園駅), it is around a 3-minute walk.
Explore Hakata With a Guided Tour or Hire a Photographer
If you prefer a guide to introduce you to the charms of Hakata, how about joining one of the below tours? You can also hire a photographer for a private photoshoot session!
Discover More Attractions Around Hakata Station
Want to find out more attractions you might be interested in or delicious restaurants to treat yourself to around Hakata Station?
Refer to our article on Hakata, where we have attractions such as a rooftop shrine or a gorgeous Japanese garden for a brief break!
Discover Other Attractions in the Wider Fukuoka City
If you have more time to spend in Fukuoka, the city has a couple more awesome destinations that might interest you, including islands with vast, stunning flower fields.
For more information, please refer to our article on Fukuoka City!