If you are both a foodie and a cat lover, you will find Ou Island (Oujima, 奥武島) in southern Okinawa very attractive. What could beat the experience of filling your mouth with Okinawa-style tempura while observing cute cats doing adorable cat things? Furthermore, you have a magnificent ocean view as the backdrop!
How to Get to Oujima
From Naha Airport (那覇空港), it is a 35-minute drive. If you don't plan to rent a car, take route 50 from Naha Bus Terminal (那覇バスターミナル) and get off at Okutake Iriguchi (奥武入口). From the bus stop, it is a 15-minute walk to Oujima.
HERE is the timetable for the service. The white table is for weekdays, the light blue table is for Saturdays, and the pink table is for Sundays.
Other than Route 50, you can also take Route 53 and get off at Ou (奥武). But just note that while Route 53 crosses the bridge to Oujima, it offers fewer services.
Fun fact: In summer, many local kids will dive into the sea from the Ou Bridge. So if you see someone trying to jump off the bridge, they are most likely just enjoying the thrill – not committing suicide.
After crossing the Ou Bridge (奥武橋), if you turn left, there is a car park. If the weather is nice, the island cats might already surround your car as soon as you open the door!
Many of them linger around the toilet at the side of the car park, making it one of the few public toilets in the world where you might want to stay even after going about the toilet business.
How to Get to Naha Bus Terminal from Naha Airport
Naha Bus Terminal is located just a 2-minute walk away from Okinawa Urban Monorail's (沖縄都市モノレール) Asahibashi Station's (旭橋駅) east exit.
Ou Island's Profile
In Okinawa, there are a total of four islands that are named Oujima. In ancient times in Okinawa, the body would be carried to one of these four islands when a person passed away and placed in a cave. It is said that these caves are illuminated by a yellow glow, prompting the locals to name them "Ou" Island (yellow was pronounced "Ou" in Okinawa before).
The Ou Island in Nanjō City (南城市) is just 100 meters away from Okinawa's main island. Despite its history, it is nowadays a lively island. This small island, touting a circumference of only 1.7 km, is home to around 1,000 people. This resulted in highrises being developed on a significant portion of the island.
While the cityscape looks no different from other parts of Japan, you will find most outdoor benches and tables aren't occupied by humans but a few of the many felines residents!
Unlike most domestic city cats, the cats on Ou Island aren't afraid of humans. They won't run away when you try to sit next to them. Even if you try to touch them, they will let you (although they might walk away if they want to be left alone).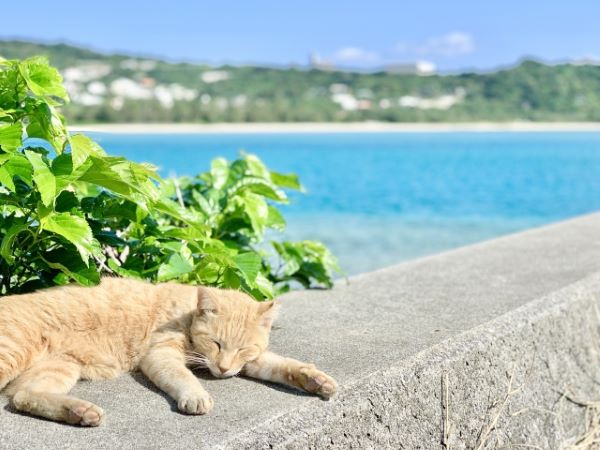 Ōshiro Tempura Shop (大城てんぷら店)
Among all the tempura shops on Oujima, Ōshiro Tempura Shop is the most popular in the southwest of the island. Even at 3 pm on a weekday, there are queues in front of the shop.
If you aren't in a hurry, we recommend you dine in the restaurant so you may experience the need to move the cats resting on the table or the chair away.
So what are the characteristics of Okinawa-style tempura? Well, firstly, they are large in portion. A lot larger than those that are sold in the food court in Japanese department stores. Secondly, they are covered with thick, crunchy batter and seasoned with salt, making them great finger food. Furthermore, there is usually a sauce bar for you to add to your tempura.
Important:
☛ Watch your tempura. The cats can be quite sneaky. Your food may be inside their stomach already by the time you are ready to eat it.
☛ Please refrain from giving the cat your food, even if they stare at you with their big innocent eyes.
Ōshiro Tempura Shop is open from 11 am to 5:45 pm daily except Mondays.
Teruchan Tempura Shop (てるちゃん 天ぷら)
If the queue at Ōshiro Tempura Shop is too long, head to Teruchan Tempura Shop. Although it isn't as well-known a shop, its taste rivals Ōshiro Tempura's taste. Plus, the portion is larger and probably cheaper!
For our vegetarian friends, the vegetarian menu of Teruchan Tempura is Latok, a type of seaweed with a soft and succulent texture. You can also use the phrases in our Essential Japanese Travel Phrases for Vegetarians and Vegans article to check with the staff to see if they have new menus that you can eat.
Teruchan Tempura Shop is open from 11 am to 5 pm from Tuesday to Sunday.
Oujima Sightseeing Glass Boat (奥武島海底観光グラスボート)
Whilst we don't go to aquariums or zoos anymore for animal welfare reasons, observing the sea life in open water is definitely attractive.
The Oujima Sightseeing Glass Boat is the perfect way to see various sea creatures living freely under the water without getting wet. Various types of fish and coral can be seen clearly through the boat's glass floor!
Important: The boat won't operate during bad weather.
Tip: The boat won't sway much. But if you are worried, remember to take preventative measures for sea sickness.
Oujima Sightseeing Glass Boat's Business Hours, Cost, and Access Information
The business hours are from 9 am to 4:30 pm.
The cost is

1,500 yen for adults
750 yen for children from the age of four and elementary school students

The boat trip lasts around 30 minutes.
Tip: Let the staff at the ticket counter know you have visited their homepage to get a 20% off on your ticket. In Japanese, it is pronounced as "Homepage wo Mimasita (ホームページを見ました)".
Ou Island Beach (奥武島ビーチ)
Close to the Ou Bridge (奥武橋), there is a small beach. Although it isn't a designated swimming area, it is where the locals cool down on a hot summer day.
On the island's southwest, Oujima Beach is a great place for beginners to learn diving. Just note that there are no diving schools/shops on Oujima. So if you want to rent the diving equipment or hire a coach, make a reservation with one of the schools/shops on Okinawa's main island.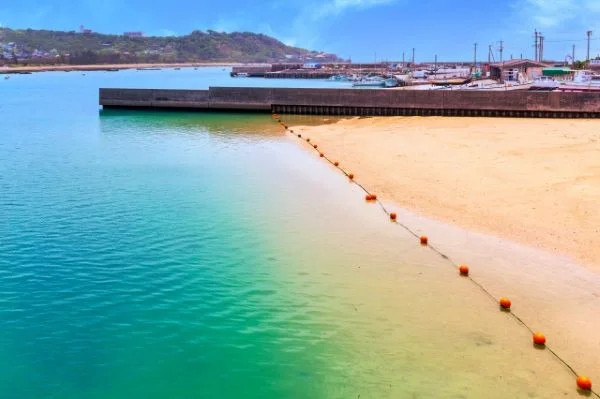 Oujima Ryūgūshin Place of Worship (奥武島 竜宮神拝所)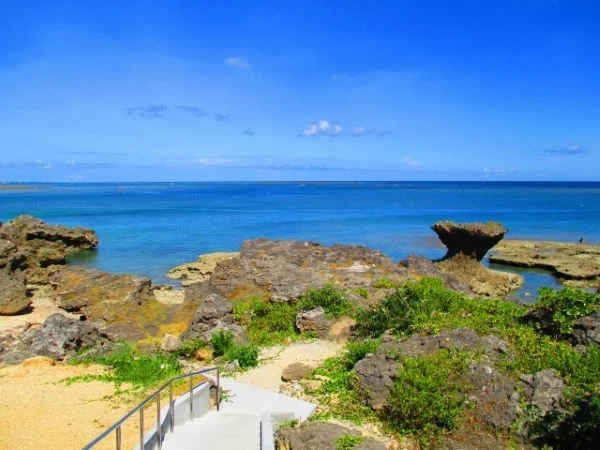 Oujima is also known as an Island of Prayer (祈りの島). There are many places of worship on the small island. One of them is in front of the oddly shaped rock in the photo.
The rock is treated as an object of worship for the God of the Sea (Ryūgūshin, 竜宮神), and many locals pray to it for safe sailing and bountiful fishing.
Unlike other parts of Japan, there aren't any structures in front of the rock acting as a place of worship. Instead, a sequence of stones is stacked on top of each other above a flat limestone surface.
Oujima Kannon-dō (奥武島観音堂)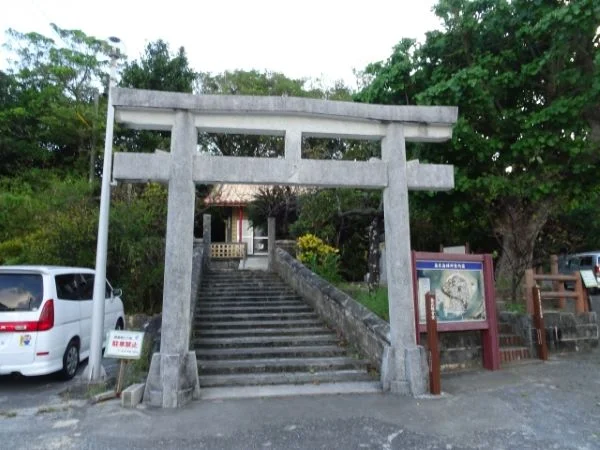 In the middle of Ou Island, there is a Kannon-dō. It is a temple with a grey stone torii gate erected in 1615.
At the time, the islanders rescued a shipwrecked Chinese vessel. After the crew recovered from their injuries, they gifted the locals a golden Kannon Bodhisattva statue. A temple was thus built to enshrine the Kannon Bodhisattva.
Although the golden statue was lost during the war, the statue was remade with ceramic. Until now, Oujima Kannon-dō is still where the islanders head visit when they wish to offer prayers.
Discover Other Cat Islands in Japan
Oujima Island isn't the only island in Japan known as a "cat island". Many of these islands are actually scattered across the country.
To find out about other cat islands in Japan, refer to our article on the Top 10 Cat Islands in Japan!
The Rabbit Island in Japan
In addition to all the cat islands, Japan also has a rabbit island!
If you are interested, find out more information about this island with our article on Ōkunoshima, an island with a massive rabbit population!