You probably have heard about the cat islands in Japan, and maybe you have even been to one, but did you know that Japan has a rabbit island too? Ōkunoshima (大久野島) is a small island floating on the Seto Inland Sea. The island in Hiroshima Prefecture has more than 1,000 wild rabbits (as of 2019), which is a paradise for those who love to see the fur babies munching on the vegetables or fruit on your hand!
A List of Contents
Explore Ōkunoshima With a Guided Tour
If you prefer a guide to introduce you to the charms of Ōkunoshima, how about joining one of the below tours?
Private Full-Day Okunoshima and Saijo Sake Breweries Tour
About the Rabbit Island, Ōkunoshima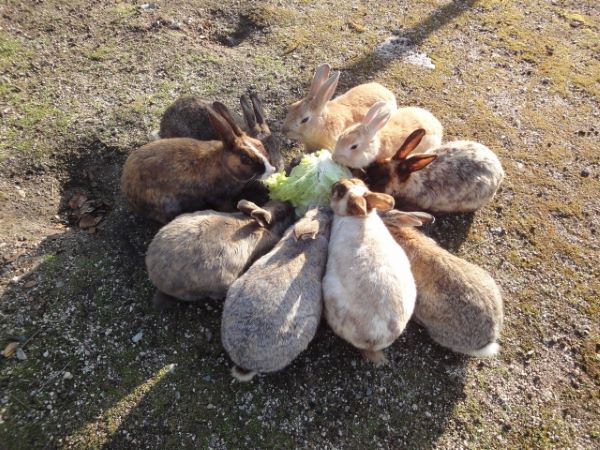 Ōkunoshima is a small island with a circumference of 4.3 km that floats off the coast of Takehara City (竹原市) in Hiroshima Prefecture. Because of its huge rabbit population, people call it rabbit island.
Feeding the rabbits on the island is a must for anyone who adores these fur babies. But on top of that, the island also has many more charms awaiting for you to discover!
How to Get to the Rabbit Island, Ōkunoshima?
To get to Ōkunoshima by public transportation, it is easier to board a ferry from the Tadanoumi Port (忠海港) in Takehara City. Ferries also depart from Ehime Prefecture's Sakari Port (盛港), but it is harder to get to the port by bus or train. However, if you are willing to self-drive, the car park at Sakari Port is likely to have more vacancies as there should be fewer people boarding the ferry from there.
Please refer to the official website HERE for the ferry's timetable (scroll down to plan your trip session). Note the 9th service from Sakari Port will not stop at Ōkunoshima (大久野) from November to January (the one marked with a ※ sign).
A one-way trip takes around 15 minutes.
The cost of the ferry ticket is as below:
360 yen for junior high school students and above
180 yen for elementary school students
Free otherwise
Note that you won't be able to drive around Ōkunoshima. So if you drive over to Tadanoumi Port, leave your car in the parking lot.
How to Get to Tadanoumi Port
If you are coming from other parts of Japan, take the bullet train and get off at JR Mihara Station (三原駅). From there, change for JR's Kure Line (呉線) and get off at JR Tadano-Umi Station (忠海駅).
From Tadano-Umi Station to Tadano-Umi Port, it is around a 3-minute walk.
If you are coming from Hiroshima's City Center, you can also take Geiyō Bus's (芸陽バス) Kaguyahime-gō (かぐや姫号) from Hiroshima Bus Center (広島バスセンター) or Hiroshima Station (広島駅) and get off at Tadano-Umi Station (忠海駅).
HERE is the timetable for the bus service to Tadano-Umi Station.
HERE is the timetable for the bus service to Hiroshima Station.

Please use the bus stop's Japanese name to read.

If you plan to board the bus from Hiroshima Station, please head to stand C at the south exit.
The bus trip will take around 90 minutes.
A one-way ticket costs 1,500 yen.
When you get to Tadanoumi Port, head to this trendy black-colored building first. This is where the ferry ticket counter is located. The souvenirs of Ōkunoshima are also sold there.
Important: Leave yourself ample time at Tadanoumi Port to purchase a ticket. Especially on weekends and public holidays, it will likely be packed with tourists.
Tips:
☛ Check in your luggage at the ticket counter to lighten yourself up during your time at Ōkunoshima. One piece of baggage will cost 500 yen.
☛ Free shuttle buses are running between Ōkunoshima Second Pier (where you will arrive at Ōkunoshima) and Kyūkamura Hotel, which is close to Ōkunoshima Visitor Center.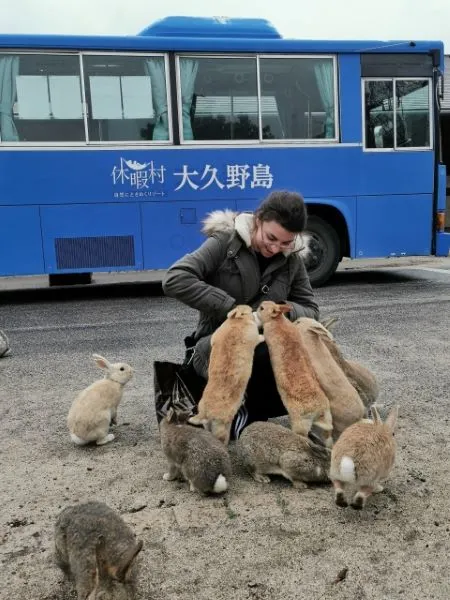 Why Are There Rabbits on Ōkunoshima?
The reason why rabbits reside on Ōkunoshima is not clear yet. However, one of the theories is that it all started when eight rabbits were left on the island by members of a local elementary school in 1971. Because there weren't many predators on Ōkunoshima for rabbits, the population increased rapidly, especially with the vegetables and treats brought by tourists.
The rabbits on Ōkunoshima are all European rabbits, the same species as Peter Rabbit!
Tip: Instead of stroking the rabbit's back, most rabbits would prefer that you stroke their chins.
What to Watch out for when You Play with and Feed the Rabbits
Be on the lookout for rabbit holes, so you don't trip over one
If you are going to sit on the ground, make sure you don't sit on rabbit poo
Don't chase the rabbits around
Don't try to hold the rabbit
Don't give the rabbits human food such as bread and chocolate
Don't give the rabbits vegetables or fruit that they can't eat. This includes shallot, potato, garlic, and mandarin
Cut the fruit (such as bananas) into smaller pieces when you give it to them
When feeding the rabbits with your hands, flatten your fingers. Their eyes aren't good that they might accidentally bite you if you don't do so

Also, please don't put your hand around their mouths. They may mistake your fingers for food

Dispose of any food that the rabbits can't finish. The leftovers will attract crows' attention, leaving the location of rabbit holes exposed to them. This will result in rabbits being attacked by crows
Don't feed the rabbits on the side of the road or near the entrance of buildings. This will result in them lingering around the road and accidentally being run over by cars
Watch out for rabbits on the road if you are cycling around the island
Don't bring your pets to Ōkunoshima
Tips:
☛ Remember to source some vegetables and/or fruits before you board the ferry for the rabbits. You can also purchase some rabbit feed from Tadanoumi Port (but they love fresh vegetables such as carrots/fruit more).
☛ If you have purchased the rabbit feed from Tadanoumi Port's ticket counter, bring the feed bag back in exchange for a rabbit postcard!
What to Wear and Bring to Ōkunoshima
Long pants and a pair of sneakers are recommended. When the rabbits come up to you, they might grip onto your legs.
Sunscreen during the warmer months and a thick jacket in winter
Lunch/snack as there is only one restaurant on the island
Enough fluid so that you don't need to buy from the vending machine
Wet wipes to clean your hands and potentially your clothes after playing with the rabbits
Travel sickness medication
The Best Seasons to Visit Ōkunoshima
Spring

: More rabbits will be out under the sun as the weather will still be a bit chilly. Plus, the cherry blossoms will be blooming!

Summer

: You can enjoy the crystal clear water at the beach and most likely be accompanied by a couple of rabbits. There is also a high chance that you may run into baby rabbits born in late spring to early summer.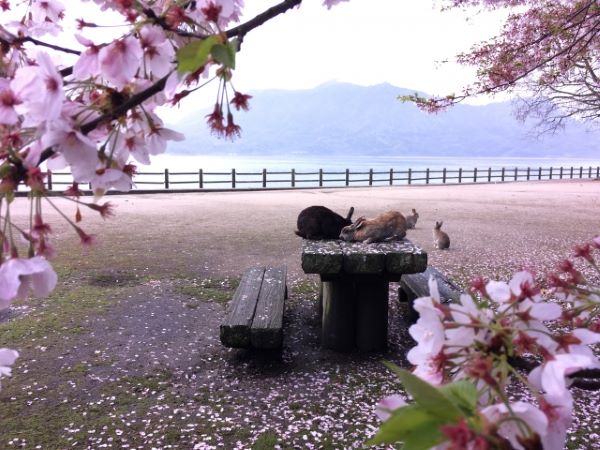 Bicycle Rental on Ōkunoshima
While Ōkunoshima isn't all that big, cycling around the island is probably the best way to enjoy your time on Ōkunoshima. Not only will you be able to cut down the time spent on getting from A to B, but the sea breeze is what you would want on a hot summer day!
You can rent a bike from Kyūkamura Ōkunoshima (休暇村大久野島).
The Island Where Poisonous Gas Was Produced During World War II
While Ōkunoshima is considered a peaceful place to be now, the remains of the poisonous gas plant tell a different story.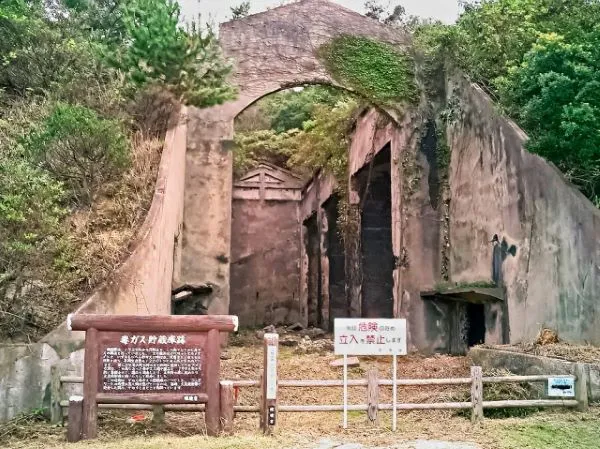 From 1929 to the end of World War II, Ōkunoshima, now a utopia for rabbits, was where the Japanese army manufactured poisonous gas.
To hide the fact that the nation was making poisonous gas from its citizens, Ōkunoshima's residents were forced to leave their homes, and the island was then erased from the map. In fact, even the workers weren't aware that they were making poisonous gas this whole time! It was kept as a top secret within the army.
The poisonous gas made on Ōkunoshima was really powerful. Not only did it destroy the enemies in the war, but the gas-making process also resulted in permanent damage to the workers.
If you are interested in learning more about this dark history of Japan, stop by Okunoshima Island Poison Gas Museum (大久野島 毒ガス資料館). Work clothes from that time are exhibited. Explanations about the poisonous gas damage are also on the display panels.
From the 1960s, Ōkunoshima finally became habitable again and safe enough to breed these adorable rabbits!
Ōkunoshima Island Poison Gas Museum's Opening Hours, Admission Fees, and Access Information
The museum is open from 9 am to 4:30 pm except from the 29th of December to the 3rd of January.

The last admission is at 4 pm.
It is possible for the museum to close without notice.

The admission fee is 150 yen for 19 years old and above. Free otherwise.
From Ōkunoshima Second Pier, it is around an 8-minute walk.
Power Plant Ruins (発電場跡)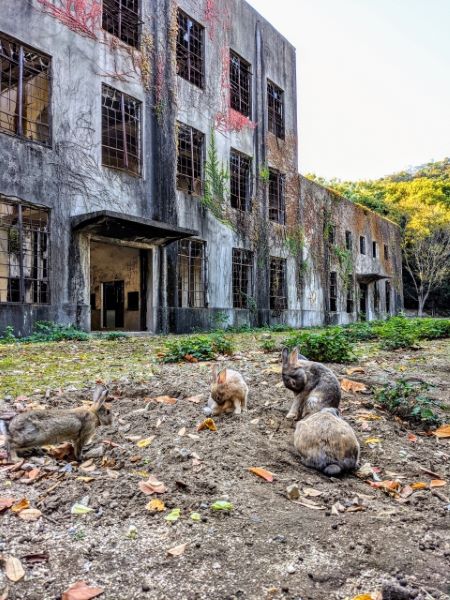 Ōkunoshima also has a power plant, which used to be an essential infrastructure to run the poisonous gas factory. The building was also used as explosive storage when Japan was at war with Korea.
When you get to the ruins, there may be a few rabbits around, forming a rather weird contrast between the sad history to the island's carefree animals.
The Battery Ruins (砲台跡)
During the Meiji period (1868 – 1912), Ōkunoshima was a fort to guard the Seto Inland Sea. So batteries were constructed at the island's north, central, and south end in 1897.
Although the batteries were ultimately abandoned in the Taishō period (1912 – 1926), the remnants became the storage of the poisonous gas produced.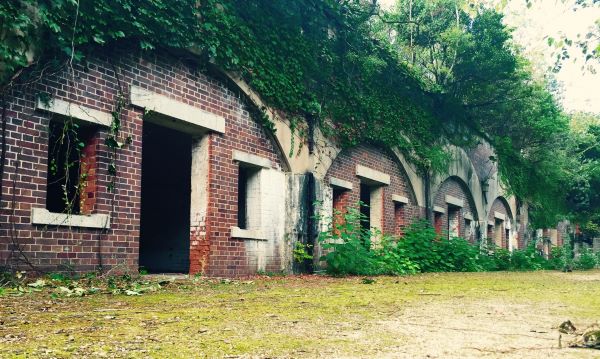 Rabbits Sound Collectors (うさぎの集音器)
On the south of Ōkunoshima Island, close to the first pier, there are four sound collectors formed in the shape of rabbit ears. The idea is that when you stick your head into one of them, you will hear the same sound as the rabbits on the island.
The direction of these collectors can be changed too! So if you come with your children, it will be quite fun to try them out as a family!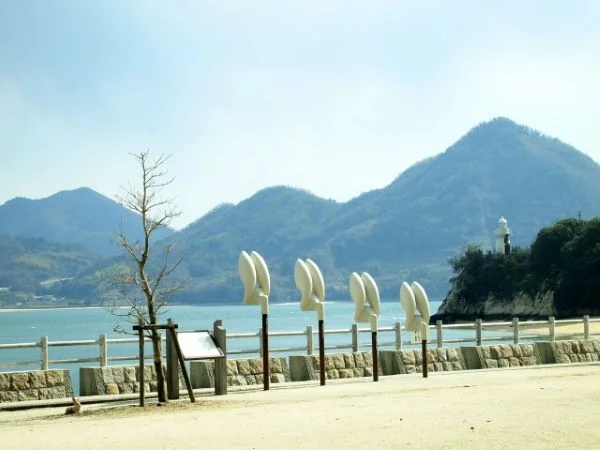 Ōkunoshima Observatory Deck (大久野島山頂展望台)
The promenades on Ōkunoshima are well-maintained. For those who love trekking, the experience of strolling around the island with rabbits popping out here and there is just exceptional!
You can also hike up to the observatory deck in 20 minutes. Although the slope is a bit steep, the tiredness of the hike will soon disappear once you indulge yourself in the spectacular scenery of the Seto Inland Sea!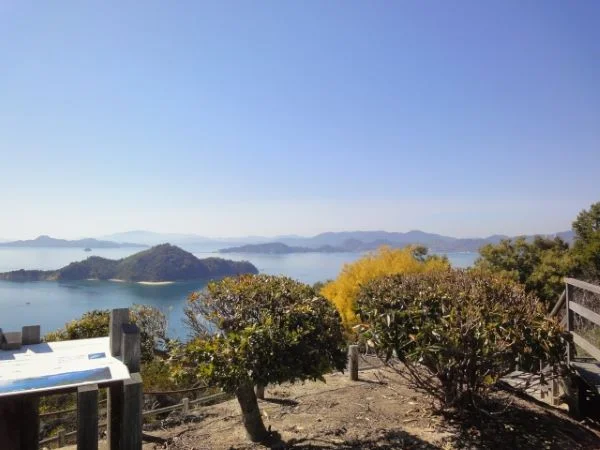 Tip: We recommend hiking from the trailhead between the Ōkunoshima Camping Ground and Ōkunoshima Visitor Center.
Camping on Ōkunoshima
If you want to spend more time on the peaceful island, camping at Ōkunoshima can be a great idea!
The camping ground is the property of Hotel Kyūkamura Ōkunoshima. So everything you will need for your camping adventures can be covered by them. They can even set up the tent for you! Furthermore, if you select a plan that includes dinner and breakfast, you don't even need to cook!
Another reason you might want to stay overnight on Ōkunoshima is because of the active hours of rabbits. They are basically nocturnal and are most active in the early mornings and at night. So if you prefer to see them hopping around instead of lying on the ground, consider booking your stay with Kyūkamura Ōkunoshima.
For more information and booking, please refer to the official website HERE.
Tip: Let the hotel know your dietary requirements in advance.
Discover the Top 10 Cat Islands in Japan
If you are interested in visiting an island filled with rabbits, you will probably want to visit an island with more feline residents than humans too!
Refer to our article on the Top 10 Cat Islands in Japan for more information (=゚ω゚)ノ.