Since ancient times, Ichinoseki has been blessed with abundant water and rice cultivation from the Ou and Kitakami mountains. Using the area's high-quality rice and water, Sekino ichi Sake Brewery (世嬉の一酒造株式会社) was founded in 1919. It is a brewery that is good at using ingredients that don't seem to go well with beer at first glance. For example, can you imagine beer made from pumpkins or oysters? While the ingredients are unconventional, Sekino Ichi's beer has won several prizes and was selected as the Japanese beer representing the country.
A century has passed. Nowadays, a couple of the sake brewery's warehouses have been turned into tourist facilities, including a restaurant, a café, and a museum. Following the stairs in the event hall, Ishikura Craston (石蔵クラストン), you can peek into the craft beer factory from the second floor.
Table of Contents
How to Get to Sake Brewery Sekino Ichi
Sake Brewery Sekino Ichi is a 15-minute walk from JR Ichinoseki Station (一ノ関駅).
The souvenir shop is open from 9 am to 6 pm.
The café is open from 10 am to 5 pm.
Kuramoto Restaurant Sekino Ichi (蔵元レストランせきのいち)
Kuramoto Restaurant Sekino Ichi is the sake brewery's restaurant. If you like craft beer and Japanese sake, it is a perfect spot for you. While the restaurant is in a Western-style building, the internal space resembles a traditional udon or soba restaurant.
Important: If you are a vegan or vegetarian, make a reservation with the restaurant for them to prepare your food separately. You can use their Web Form. If you don't understand Japanese, translate it using Google Chrome's translation function at the right of the address bar.
Kuramoto Restaurant Sekino Ichi is open from 11 am to 3 pm (last order) from Thursday to Monday.
The restaurant is currently closed for dinner.
If you like beer, try the beer sampler, which allows you to sample two or four craft beers made by Sekino Ichi. While the beers are all brewed from wheat malt, each type tastes different!
Kahō Mochi Zen (果報もち膳)
Like Ichinoseki's famous restaurant Fujisei, it also offers Mochizen. This set menu is called Kahō Mochi Zen at Kuramoto Restaurant Sekino Ichi and is one of the most popular menu items in the restaurant.
Besides being able to eat the rice cakes with different toppings, this set menu is popular at Kuramoto Restaurant Sekino Ichi because a small twig is placed in one of the 8 rice cakes. It is said that the small twig brings good luck. So not only can you enjoy the food, it is also fun guessing which bowl has that twig!
What Is Mochizen
Mochizen is a traditional Ichinoseki rice cake cuisine. A wooden box is divided into 9 sections. Besides the space in the middle filled with grated radish, each has a bite-size rice cake placed and topped with a different flavor, allowing you to enjoy the rice cake in different ways. Although rice cakes are usually used in dessert dishes, the Mochizen has more savory flavors, such as ginger and nattō.
The set menu also comes with a bowl of Ozōni (お雑煮), which is a traditional soup dish with vegetables and mochi rice cake.
The Hatto Cuisine
Another dish you can try is Tekiri Hatto Zen (手切りはっと膳). Hatto (はっと) is a representative dish in the Tōhoku region. At Kuramoto Restaurant Sekino Ichi, the hatto dough is given to the customers to stretch by hand before putting it into a hot pot filled with local vegetables. While the dish is simple, it is delicious.
"Hatto" is a dish using wheat flour dough. The dough is rolled out into thin layers after kneading before boiling.
Tip: If you want to try both Mochi Zen and Hatto, order a Hatto Mochizen.
Rice Cake Fondue (もちフォンデュ)
In addition to the traditional, local ways of eating the rice cake, Kuramoto Restaurant Sekino Ichi also has
Rice Cake Fondue. It is a must-eat if you are a cheese lover!
The fondue also comes with two sake cups, one filled with milk and another with alcohol. When the cheese fondue becomes boring, pour the milk or alcohol in to change the taste!
Note that the Rice Cake Fondue comes with sausages. If you don't eat meat, remember to ask the staff to replace it with vegetables or rice cakes.
Sake no Minzokubunka Museum (酒の民俗文化博物館)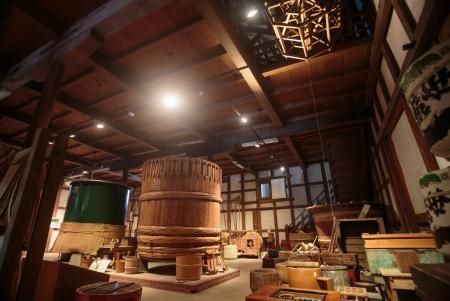 Sekino Ichi Sake Brewery has the biggest traditional two-story warehouse in the Tōhoku Region. The warehouse used for sake brewing from the last century was transformed into the Sake no Minzokubunka Museum, where sake brewing tools are displayed.
You will get a clear picture of the traditional sake brewing process here through the panels and by looking at the exhibits.
To make good sake, you have to cultivate high-quality rice. So, at Sake no Minzokubunka Museum, old agricultural machinery and household appliances for rice cultivation are also on display.
Tip: You can take a commemorative photo inside the huge sake barrel.
Moreover, you can visit the room that enshrines the god of sake, Matsuo Daimyōjin (松尾大明神). There is also a literary museum exhibiting materials on literary scholars related to Ichinoseki.
Sake no Minzokubunka Museum is open from 9 am to 5 pm.
The admission fee is 300 yen for adults and 200 yen for elementary and junior high school students.
The approximate time required here is 30 minutes.
Beer Factory Tour and Cultural Activities
Food isn't the only way to experience a culture. In addition to sampling sake and eating rice cake cuisine, there are a couple of activities you can book to join if you understand Japanese or are accompanied by an interpreter.
The beer factory tour is held at either 10 am and 2 pm.

The cost is 550 yen. If you also want to do beer tastings, it is 1,650 yen in total.

The 40-minute Sake Brewery Night Tour is held at 5:30 pm.

The cost is 500 yen, including sake-tasting at the end of the tour.

The traditional rice cake pounding (もちつき体験) can be experienced from 5,000 yen. After pounding the mochi, you can eat it with 5 types of mochi sauce.
Mochi Honzen (餅本膳体験): In Ichinoseki, there is a set etiquette for eating mochi called Mochi Honzen. It is included as a part of UNESCO's Intangible Cultural Heritage "Japanese Cuisine". If you want to learn more about the etiquette, the sake brewery offers a workshop that you can join if you have 10 or more people.
Sake Brewery Sekino Ichi also allows you to brew your original beer. Please enquire for more information.
Note the above activities/experiences require a booking. Please fill out a Booking Form at least 2 days in advance. If you want to book on the day, please call Sekino Ichi at +81-191-21-1144.
Discover Other Attractions in Ichinoseki
Of course, Sake Brewery Sekino Ichi isn't the only recommended spot in Ichinoseki to visit. The city has a wealth of beautiful natural landscapes and is the perfect destination for a weekend getaway from the big city's hustle and bustle.
So refer to our article on Ichinoseki to further plan your visit!