If you are in Okayama Prefecture's Bizen City, how about taking a detour to experience the countryside? Driving along the windy road and slowly climbing up the mountain, your field of vision will suddenly widen! Located at an altitude of 400 meters, the Hattōji Furusato Village (八塔寺ふるさと村) was where Buddhism used to prosper as much as Kōyasan (高野山). Although there are only around 13 houses (and families) that live in the village, it is a great place to enjoy, discover and imagine the ancient Japanese country lifestyle (=゚ω゚)ノ.
Below is a list of things that you can do during your time at Hattōji Furusato Village.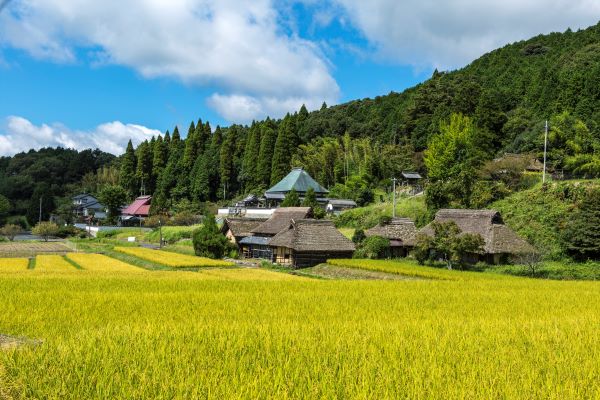 Folk Museum (民俗資料館)
The Folk Museum was originally a farmer's residence. Inside the thatched roof house, you will find various farming equipment that was actually used back in the good old days before the industrial revolution. The furniture, kitchen, and bathroom also remain in their original form and can only be used with a fire burning in the hearth.
Hattōji Furusato-Kan (八塔寺ふるさと館)
Hattōji Furusato-Kan at the village entrance is where you can go for some delicious meals or just have a cup of coffee. As the items on the menu are limited, you won't be able to get a completely vegetarian option for yourself. Their handmade soba is undoubtedly yummy, but the broth is made from bonito fish stock. If you want to confirm the ingredients in the dishes you are ordering, you can refer to the phrases in our Essential Japanese Travel Phrases for Vegetarian article!
On Sundays, there might be a farmers market held here for those who would like to get some freshly harvested seasonal fruits and vegetables (=゚ω゚)ノ.
Furusato Farm (ふるさと農園)
Not too far away from Hattōji Furusato-Kan, there is this farm where you can source fresh grapes, Japanese pears, taro potatoes, radishes, and Chinese cabbage from August to November. It is the perfect place to visit if you want to cook a vegetarian meal while in the village!
Note that the availability of fruits and vegetables is dependent on the season. We highly recommend you don't rely on this place as your only source to purchase ingredients.
Staying Overnight at Hattōji Furusato Village
If you are keen to experience a night in one of these quaint little houses, book your stay with Hattōji Villa! And don't worry. You aren't expected to be able to start the fire pit for cooking and bathing. The villa has all the essential modern facilities required for a comfortable stay. For more information, please refer to their website HERE. You will also find some information about the temples and shrines in the village on their website.
Another option is to stay overnight in the Hattōji Sansō (八塔寺山荘). It provides a bit more of a modern experience compared to the villa. For more information about the lodge, please refer to their website HERE.
On their menu bar,
"施設紹介" means facilities introduction
"料金" means rates and fees
"アクセス" means the village's access information
"空室状況" means room availability
"宿泊予約" means making a reservation
How to Get to Hattōji Furusato Village
It is a 30-minute drive from JR Yoshinaga Station (吉永駅). If you are taking a taxi, it will cost you around 4 to 5,000 yen.
From JR Yoshinaga Station, you can also take Hattōji Line (八塔寺線) bus services and get off at the terminal stop – Hattōji Villa-Mae (八塔寺ヴィラ前).
Please refer to the timetable HERE.
The left part of the PDF is for weekdays, and the right part is for Saturdays.
Note the service only operates on weekdays and Saturdays.
Please note the bus services have a capacity of only 9 people.
Hattōji Gawa Dam Park (八塔寺川ダム公園)
On your way to Hattōji Furusato Village, if the weather is good, we highly recommend that you drop by the Hattōji River Dam Park. The park is surrounded by beautiful nature and well-maintained trekking trails, so it is surprising to find out that many of the locals don't even know them at all.
Especially in spring and autumn, it is literally a hidden gem that is perfect for anyone who would love to enjoy the scenery quietly without being pushed around by a crowd. Whilst there is a nice cafe in the park, it is just too hard to resist having a picnic in the fresh air at one of the wooden picnic tables in the park!
On one side of the park, there is also an area resembling ancient Roman ruins. Although the sculptures aren't made at the hands of some famous masters, you might have a lot of fun having a photo session here (´▽`*).
Trekking Upstream of Hattōji River
Your visit to the dam shouldn't just end where the park ends. Keep following the promenade along the Hattōji River, and the scenery will just get better!
If you come in November, you will get the bonus of passing through multiple natural vegetation tunnels made from maple trees with their vibrant colored foliage (=゚ω゚)ノ.
The main dish of this scenery feast is around the Akane Bridge (あかね橋). The area is also known as Mikunikei (三國渓). The bright red suspension bridge contrasts stunningly with the surrounding greenery and the river shimmers in the sunlight! In autumn, the Mikunikei Autumn Festival is usually held here on a Sunday in mid-November. Temporary stalls are set up to sell local specialties to satisfy the appetites of those who are hungry.
For those who are catching the seasonal colors, the cherry blossom season is usually from late March to early April. And for autumn foliage, come in early to mid-November.
How to Get to Hattōji Gawa Dam Park
If you are taking public transportation, refer to the access information for Hattōji Furusato Village, but instead of getting off at Hattōji Villa-Mae (八塔寺ヴィラ前), please get off at Damu Kōenmae (ダム公園前).
Discover Other Amazing Attractions in Bizen City
A couple more attractions are worth your time in Bizen City, where Hattoji Furusato Village is located. For more information, please refer to our article on Bizen City!