While Kawagoe Hikawa Shrine is the most renowned shrine in Kawagoe, Kawagoe Kumano Shrine (川越 熊野神社) is also a shrine you won't want to miss out on. There are various fascinating rituals and activities that you can do in its precinct, including ball-throwing for good luck and cleansing your money for more money to come your way!
The quaint shrine is also known for its pebbled acupressure walkways, which would be quite painful to walk on for those who are living an unhealthy lifestyle. If you visit Kawagoe Kumano Shrine with your families and friends, how about a small competition to see who can walk to the end of the pebbled walkway?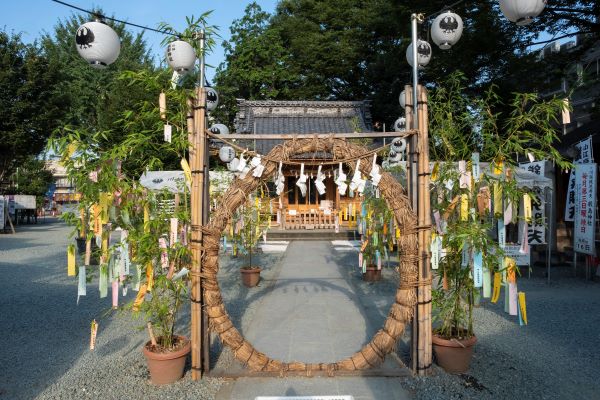 On weekends and public holidays, a cogon grass ring (茅の輪) is placed for you to perform a simple ritual to pray for good health. It is said that you will be blessed with good health if you draw the number "8" with your hand as you pass through the ring.
Instructions are usually placed around the ring if you aren't sure how to perform this ritual.
Kawagoe Kumano Shrine's History
Speaking of Kumano Shrine, you might immediately think of the Kumano Kodō (熊野古道) and the Three Great Shrines of Kumano (熊野三社). And yes, Kawagoe Kumano Shrine relates to the Kumano Shrine in Wakayama Prefecture. It was erected by ceremonially transferring a part of the god's spirit from the Three Great Shrines of Kumano in 1590. At the time, Kawagoe Kumano Shrine was a part of Renkeiji Temple (蓮馨寺) across the road and was only separated in 1868 after a decree of separation between Buddhism and Shintoism was issued.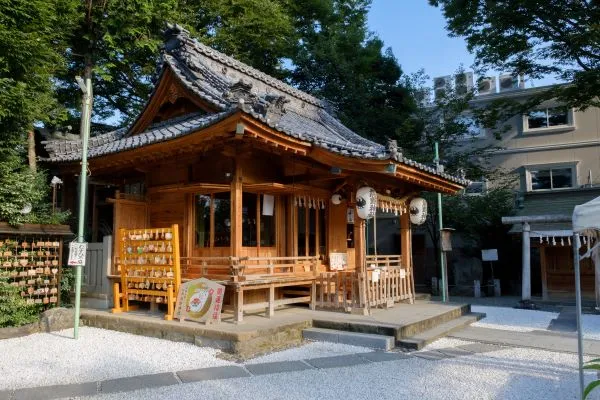 It is now a shrine where pilgrims pray for various things, especially for good relationships and connections, and where you can enjoy traditional performing art if you come at the right time!
Kayū Inari Shrine (加祐稲荷神社)
A fun activity to do at Kawagoe Shrine has to be the trial of luck ring toss (運試し輪投げ). It can determine if you are blessed with any of the below five fortunes. If you can land a ring around one of the five stakes with different fortunes labelled, god is blessing you with the relevant good fortune. For example, if your ring landed around the stake with "金運" written above, money will come your way!
Note you should only take three rings, meaning three chances.
金運 = Fortune in wealth
心願成就運 = Your wishes are likely to come true
健康運 = Good health
仕事学業運 = Fortune in career and academic success
恋愛運 = Fortune in relationship matters
But before you start tossing the rings, pay your respect to the god at Kayū Inari Shrine, an auxiliary shrine in Kawagoe Kumano Shrine's precinct. The Oinari-sama here is a god who helps people to have their wishes come true.
Note that putting 10 yen or more into the donation box is best.
Money Cleansing at Kawagoe Kumano Shrine
Whether washing the coins and notes in your wallet in a Japanese shrine sounds like a weird idea to you or not, you would want to go with the suit and put some Japanese yen in a small colander and wash it in the small pond. Because Zeniarai Benzaiten (銭洗弁財天) is one of the gods enshrined in Kawagoe Kumano Shrine, it is said that if you use the purified money, it will attract more money for you!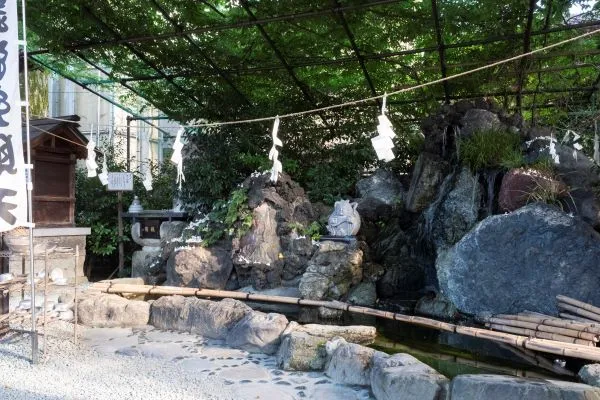 The correct way to perform this ritual is to greet the god of Itsukushima Shrine (厳島神社), enshrined in the small shrine next to the pond. While some throw coins into the pond, it is not the right thing to do. Coins should go into the donation box.
Then, take one of the colanders placed on the shelf and put some coins in it. You can then purify the coins by putting the entire colander into the pond or put it on the bamboo shelf above the pond and use a ladle to pour the pond water over the colander.
As you purify the money, imagine your mind and body are also purified. This way, the coins will become "Fukusen (福銭)", bringing you more wealth after spending it.
You can, of course, keep the Fukusen as a lucky charm.
Moreover, the 3rd Sunday of each month is the festival day for Zeniarai Benzaiten (銭洗弁戝天の縁日). Ofukusen (御福銭), money purified in the pond by the priests, is given at 11 am and 3 pm at Kochiraga Shrine. To get the Ofukusen, you will need a number plate distributed at 9 am and 12 pm to the first 50 people.
Farmer's market and traditional performances are also held on the day.
Tip: You can also purchase the Ofukusen for 200 yen at the shrine's office.
Stroking Snakes at Kawagoe Kumano Shrine
Next to Kochiraga Shrine is an even smaller shrine with two snake statues on the sides. It is said that god will bless you if you stroke these two snakes.
Head: Academic Success
Scroll: Wisdom and improvement in performance art-related skills
Snake's body: Good health
Eggs: Prosperity, a safe delivery, and blessing with children
If you stroke both snakes at the same time, god will bless you with a good relationship and ensure the well-being of your family members.
Kawagoe Kumano Shrine's Musubi Garden (むすひの庭)
Kawagoe Kumano Shrine's Musubi Garden is where you will encounter two Yatagarasu (八咫烏), a mythical crow and a guiding god in Shinto mythology. The three-leg crow is the god's messenger of the Three Great Shrines of Kumano, Kumano Sanzan (熊野三山).
During Emperor Jimmu's Eastern Expedition, the crow guided him from the Kumano Province (熊野国) to Yamato Province (大和国). So at Kawagoe Kumano Shrine, Yatagarasu is enshrined, and the way to worship the crows is unique.
How to Worship Yatagarasu
If someone is at the worship hall, wait until that person starts walking towards the torii gate.
Bow once at the torii gate and proceed further into the garden.
In addition to the path in the middle, there are two other routes on the side. Both are used for entering the garden.

If you are alone or with your family or friends, choose either route to the worship hall.
If you are with your partner, the male has to turn right, and the female has to turn left.

When you see each other again at the worship hall, the male has to greet the female first by saying, "What a beautiful lady (まあ美しい方)". The female then replied with "What a gentleman (まあ素敵な方)".
In front of the two Yatagarasu, three crystal balls are placed. Bow twice, clap twice, and bow again before you reach out for the crystal bowls.

If you are with your partner, stroke the one in the middle together that says marriage tie (Enmusubi, 縁結び) while making a prayer in your head.
If you aren't with your partner, you can touch one of the three crystal balls while praying in your head.

The other two crystal balls are:

"Gratitude Towards the God (神恩感謝) on the left
"Pray for Better Fortune (開運)" on the right.

A large voice should come in from the background, which is the advice from Yatagarasu.
After the message is delivered, the ritual is complete, and you can start heading back to the torii gate.
Time Required at Kawagoe Kumano Shrine
The shrine isn't usually packed. So 15 to 20 minutes is usually enough.
Kawagoe Kumano Shrine's Opening Hours and Access Information
Kawagoe Kumano Shrine is open from

9:30 am to 5 pm on weekdays
9 am to 5 pm on weekends and public holidays

It is around a 6-minute walk from Seibu Railway's Honkawagoe Station (本川越駅) or a 20-minute walk from Kawagoe Station (川越駅).
If you want to take a bus, get off at Renkeiji-mae (蓮馨寺前).
Note Kawagoe Kumano Shrine doesn't have a car park.
Explore Kawagoe With a Guided Tour
If you prefer a guide to introduce you to the charms of Kawagoe, how about joining one of the below tours? You can also hire a professional photographer to capture your visit!
Tip: Exploring Kawagoe in the traditional Kimono can be a great way to explore the traditional township. Refer to HERE to book a dress-up session!
Exploring Taishō Roman Yume-dōri Street
Kawagoe Kumano Shrine is close to one end of Taishō Roman Yume-dōri Street. So after enjoying the activities at the shrine, how about visiting a few shops and cafés on the street that are filled with the Taisho era vibe?
If that sounds like a good idea, refer to our Guide to the Taishō Roman Yume-dōri Street!
The Must-Visit Spots on Kura no Machi Ichibangai Street
After visiting the shrine, how about enjoying some delicious desserts on the old township's main street Kura no Machi Ichibangai?
While sweet potato might sound boring for some, the locals have their way of turning the ordinary ingredient into something extremely yummy!
For more information, refer to our Kura no Machi Ichibangai Street article!
Other Attractions in Kawagoe
Besides the religious spots, Kawagoe also has historical attractions, shops and restaurants, workshops, and museums that might interest you.
So refer to our Guide to the Little Edo, Kawagoe, for more travel ideas!