Mos Burger is a Japanese hamburger restaurant that started in 1972. Its corporate goal is to "make people happy through food." Their motto is to provide safe, healthy, and delicious food with cordial service and a smile. The burger chain has numerous restaurants across Japan and also globally. The best thing about this burger chain is its vegan/vegetarian menu!
Our Experience with MOS Burger
When we visited Osaka previously, as we didn't include breakfast at our hotel's cafe when we booked our accommodation, we were trying to find a place to obtain the necessary energy to survive the busy itinerary of the day.
We walked past the MOS Burger at Shin-Osaka Station, and we thought, let's check it out to see if they have vegetarian options in their Japanese stores (since it is the case in their Taiwanese stores).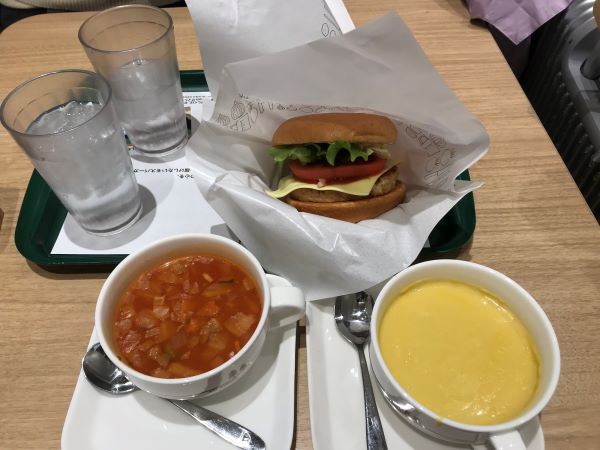 Surprisingly at the time, the staff told us just let them know what kind of burgers on the menu we wanted, and they could replace the meat patty with a plant-based patty.
We were like "wow, didn't see this coming, as the vegetarian diet isn't widely embraced by this island country!"
So next time, when you can't find a vegetarian-friendly restaurant around you, find a MOS Burger restaurant!
You can also learn some of the useful phrases for vegetarians at restaurants with our article (=゚ω゚)ノ.
What Is on the Menu
Note that we can't find the wording where they can replace any burger's meat patty with a plant-based patty, so maybe the policy has changed since then (but you can always check with the restaurant you walk in, and maybe they will surprise you too!).
Instead, there are now several vegetarian/vegan burgers on their breakfast and the normal menu. Please click HERE for their regular menu in English. You can also find out information about all the ingredients used to make their delicious burgers HERE (=゚ω゚)ノ.