When people speak about tofu dishes, they often talk about bean curd or deep-fried tofu. At Sabō Mameya (茶房まめ家), you will be blown away by the large variety of menus. From appetizer to dessert, soybeans are used in each dish. But most of the time, you can't even tell! We are sure you will be able to enjoy the food at this restaurant, even if you aren't a big fan of tofu. They have brought tofu cuisine to the extreme!
Sabō Mameya was originally opened by a guy who craved the tofu that he used to eat in his childhood. The kind of tofu that he used to have had a richer taste and contained the original flavor of soybean. It is the kind of tofu that you can hardly find nowadays because people have begun to cut corners for profit.
He dedicated 15 years to researching how to make the best possible tofu. Now, his tofu-making technique is so good that tofu makers around Japan are very eager to be taught by him. He even presented his research on the benefit of tofu at the Japanese Society of Nutrition and Food Science!
Combined with his wife's great cooking skills and his son-in-law's arranging skills, the tofu course at Sabō Mameya is just unforgettable!
Dining at Sabō Mameya
The appearance of Sabō Mameya is just like any other local's house in Obuse town. It is easy to miss it if you are without a map, but thankfully we are living in the 21st century with the blessing of Google Maps!
There are several set menus that you can choose from. The number of dishes in each course differs, but the tastiness is still the same!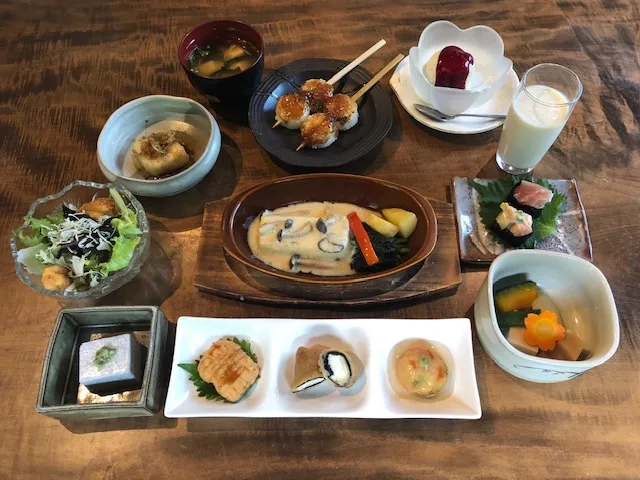 You will even get to choose your sauce preference for the tofu steak. Similar to what you would do at a typical steak house (=゚ω゚)ノ.
Check out more photos of their dishes HERE!
Tip: Make sure you give Tofu Bun a try. It is bread, but tofu at the same time! The locals love it so much that they will order at least one whenever they dine at Sabō Mameya.
The interior of the restaurant skillfully combines the elegance of western furniture with the simplicity of traditional Japanese townhouses.
You will be able to relax in the cozy atmosphere of the restaurant while enjoying a delicious course menu at Sabō Mameya.
Most importantly, where else can you find a course menu starting with 1,000 yen??
The restaurant is quite popular with the locals, so make sure you reserve your seats in advance, so you are not disappointed when you get there.
Important: If you are vegetarian or have any dietary requirements, reservation is a must as they will need to prepare broth separately for you ('ω')ノ.
How to Make a Reservation at Sabō Mameya
To make a reservation, you will need to call them directly at +81-26-247-6706.
Tip: If you can't speak much Japanese, you can always kindly ask the staff at your accommodation to make a reservation for you! When you get there, you can utilize the phrases in our Essential Japanese Travel Phrases For Vegetarian article to communicate with the restaurant staff (=゚ω゚)ノ.
Sabō Mameya's Business Hours
Lunch: 11:30~15:00 (the last order at 14:30)
Dinner: 18:00~21:00 (the last order at 20:30)
The restaurant is open daily except for Wednesdays for most months. In April, June, and autumn foliage season Sabō Mameya opens on Wednesday as well.
Sabō Mameya's Price
Lunch: course menus range from 1,000 yen to 2,500 yen
Dinner: course menus range from 1,500 yen to 3,000 yen
How to Get to Sabō Mameya
It is a 30-minute walk from Nagano Electric Railway's Obuse Station.
We know 30 minutes sounds like a long walk, but it will be worth it! Plus there are shops and sceneries on the way, so you definitely won't be bored (=゚ω゚)ノ.
Nagano Electric Railway's Nagano Station is just next to JR Nagano Station.
Other Delicious Vegan Options in Obuse
If you visit Obuse in the winter, a bowl of delicious and hot ramen will be especially appealing at night!
Find out more about this ramen place that serves vegan ramen and even vegan pan-fried dumplings with our article – Nagano Donabe Takesan (=゚ω゚)ノ.
Discover the Fascinating Attractions in Obuse
Obuse, a small town that is a 30-minute train ride away from Nagano's city center, is known for the delicious chestnuts growing out of the fields. It is the destination that all sweet tooths can't miss out on when they visit Nagano.
In addition, the town also has a couple of ukiyo-e attractions for those who are interested in artworks.
For more information, please refer to our article on Obuse!