Although the beaches on the main island of Okinawa are beautiful, if it is your second time visiting the tropical prefecture, it is time to consider visiting different islands in the prefecture! While destinations such as Miyakojima are on most people's top bucket lists, if you don't have the time or the budget, the next best spot to consider is the Kerama Islands (慶良間諸島), known for their Kerama-Blue sea. Above or under the water, you will be amazed by its breathtaking scenery!
Table of Content
Explore the Kerama Islands With a Guided Tour
If you prefer a guide to introduce you to the charms of the Kerama Islands, how about joining one of the below tours?
Kerama Islands' Profile
The Kerama Islands are a subtropical island group comprising more than 20 islands. The average temperature is between 15 to 20 degrees in winter, so a wide range of watersports can be enjoyed throughout the year. But unlike many islands in Japan that have been completely developed into resorts, a big part of Kerama Islands remains natural. So by 2014, all islands in the Kerama Islands group were designated as Kerama Island National Park (慶良間諸島国立公園).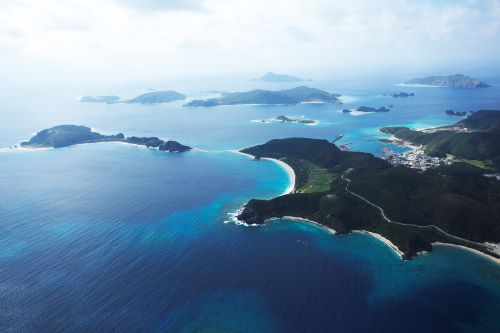 As the island group is only around 40 km southwest of Okinawa's main island, ferry services depart from Naha's Tomarikō Ferry Wharf for the most populated three inhabited islands among the Kerama Islands. Not only are the islands easily accessible from Naha, but their beauty is another main reason that Kerama Islands remain a popular tourist destination. Since Michelin Green Guide Japan gave a two-star rating to the Furuzamami Beach on Zamami Island in 2009, this part of Okinawa has also garnered attention from overseas travelers!
The three islands that you can reach from Naha are Tokashiki Island (渡嘉敷島), Zamami Island (座間味島), and Aka Island (阿嘉島). All of them are known for the beautiful scenery surrounded by the breathtaking blue sea, where a variety of colorful coral reefs and tropical fish live. As you enjoy various watersports and adore the sunset and starry sky, we are sure you will forget the hustle and bustle of your busy life!
The Beaches at Kerama Islands
The main charm of the Kerama Islands has to be the high transparency of seawater. While the beaches around Okinawa's main island are also known for their high transparency, they can't be compared with those at Kerama Islands.
The water there is so transparent that you can see tens of meters ahead!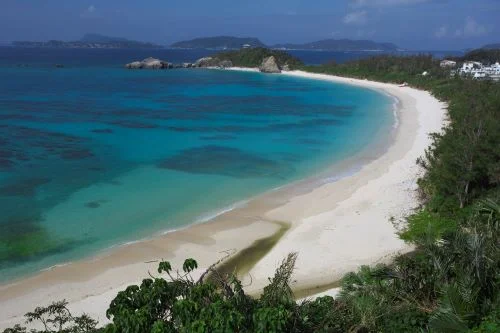 The high transparency makes it the best living environment for gorgeous coral reefs and tropical fish. Not only are the number of coral reefs in the Kerama Islands National Park said to be 60% of all coral reefs in Japan, but the number of species is around 250!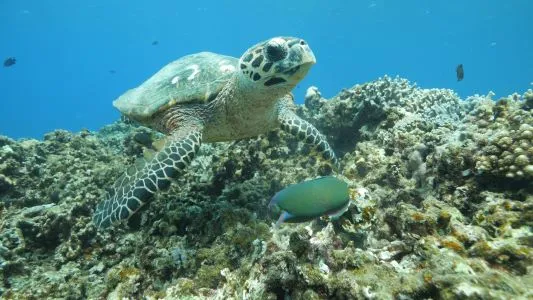 Furthermore, Kerama Islands is a famous spawning ground for sea turtles. Some sea turtles even live close to the shore, so you are almost guaranteed to see them while snorkeling or diving!
In addition, because the beaches at Kerama Islands have different characteristics, whether you are experienced in watersports or not, there is certainly a beach suitable for discovering the underwater world.
Snorkeling gear and other watersports equipment can be rented from the local rental shops, especially during the swimming season, so all you need to bring is your swimming suits and possibly a set of towels.
Of course, you can also join one of the snorkeling or diving tours where instructors will accompany you (=゚ω゚)ノ.
What Is Kerama Blue?
When you visit the Kerama Islands group, the term that you might often hear is "Kerama Blue". So what is it?
Kerama Blue is a unique blue color that can be seen when the seawater where the Kerama Islands are floating is bathed in the sunlight. If you are wondering why the same color can't be produced by the beach close to your hometown, it is because it doesn't have as many coral reefs living underneath!
While many may think of coral as a plant, corals are actually cnidarians like sea anemones and jellyfish. Because it lives symbiotically with zooxanthellae, corals are able to carry out photosynthesis when the sunlight comes in from the sea surface.
This process also results in minerals that have a purification effect being released into the water, further increasing the water's transparency.
Moreover, the white coral sands formed by the dead corals that accumulate at the bottom of the sea reflect the sunlight. The reflected light then further enhances the sea's enchanting azure color!
The Islands in Kerama Island National Park
So what are the must-visit attractions and must-do things at Kerama Island National Park? Below is a list of islands that you can visit and what you can do on the islands:
The Chibishi Islands (チービシ環礁)
The Chibishi Islands are located between mainland Okinawa and the Kerama Islands group. It is formed by three uninhabited sand dunes. Because the Chibishi Islands are located so close to Naha, if you don't have much time, it is possible to experience the charm of the Kerama Island National Park by making a half-day trip to Chibishi Islands.
In addition to watersports activities, humpback whales can also be spotted from January to March!
For more information, refer to our article on Chibishi Islands!
The Kerama Islands (慶良間諸島)
Nowadays, island hopping is possible at Kerama Islands. So by taking the ferries sailing on the Kerama Route (ケラマ航路), you can visit Tokashiki Island (渡嘉敷島), Zamami Island (座間味島), and Aka Island (阿嘉島) without needing to head back to Naha!
Tokashiki Island (渡嘉敷島)
Just a 35-minute boat ride from Okinawa's capital, Naha, you will encounter an island with some of the world's most beautiful beaches. Tokashiki Island is one of the best islands for a day trip from Naha. With close to 20 diving spots on the island, not only is it a diver's paradise, but during the winter, you can join one of the whale-watching tours departing from Tokashiki Island!
For more information, refer to our article on Tokashiki Island!
Zamami Island (座間味島)
Aside from Tokashiki Island, Zamami Island is probably the second most-visited island amongst the islands in Kerama Island National Park. Why? Because one of the beaches on Zamami Island was given a two-star rating by the Michelin Green Guide Japan!
In addition to the Kerama-Blue colored beaches where sea turtles linger, Zamami Island is another spot in the area where you can see humpback whales from January to March!
For more information, refer to our article on Zamami Island!
Aka Island (阿嘉島)
Whilst it is increasingly popular as a day trip destination from Naha, Aka Island remains a relatively less-visited inhabited island amongst the Kerama Islands group. In addition to the trendy cafes and bars facing the sea in the village, what pleasantly surprises most tourists is the Kerama Deer that live on the island!
For more information, refer to our article on Aka Island!
The Uninhabited Islands Close to Zamami and Aka Island
While the Michelin Green Guide Japan gave Zamami Island's Furuzamami Beach a two-star rating, it is not a beach for experienced snorkelers to can enjoy snorkeling anymore. Unfortunately, the beach now has a designated swimming area marked by lane dividers. Because the coral reefs inside this restricted area aren't as beautiful, snorkeling at other beaches is highly recommended if you are experienced.
The best beaches for snorkeling or diving in the region are probably the uninhabited islands close to Zamami Island. As many tourists are unaware of these hidden gems or how to get there, the coral reefs' condition close to these islands is exceptional!
For more information, refer to our article on Kerama Islands' Hidden Uninhabited Islands!
Geruma Island (慶留間島)
As you approach Aka Port, you will surely notice Aka Bridge, which connects Geruma Island with Aka Island.
Geruma Island is the smallest inhabited island in the Keruma Islands group. Because it has yet to be developed for tourism purposes, Geruma Island is able to retain its unspoiled nature. So while it doesn't have a famous beach, such as Nishibama Beach (北浜ビーチ) on Aka Island, there are other beautiful pristine beaches all over the island. The beautiful village steeped in history also offers you the original appearance of Okinawa before World War II.
As there is no public transportation on Aka, Geruma, and Fukaji islands, a rental bicycle or motorbike would be the best option to travel between attractions. Our Aka Island article has a List of Rental Shops on Aka Island that you can refer to.
Tip: The accommodation provider might be able to take you to the spots you want to visit.
Geruma Beach (慶留間の浜)
The beach in front of Zamami Village Geruma Elementary • Junior High School is a spot that you must check out when visiting Geruma Island, as the color of the water is just amazing! And even if you don't snorkel, you are likely to be able to spot a lot of fish swimming freely around the pier!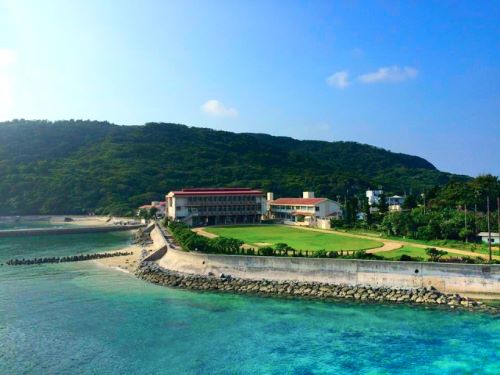 Although this beach doesn't have any facilities, you will most likely have the entire beach to yourself there! Plus the waves in the bay are calm, making it a great spot for a family trip!
Azanamui Observatory (アザナムイ展望台)
Azanamui Observatory is a nice place to take a resting break when you cycle to Geruma Island's southeast. It is where you can also see the entire Geruma Bridge. Surrounding islands, such as Amuro Island (安室島), Agenashiku Island (安慶名敷島), and Tokashiki Island can also be seen from there!
In the past, it was where the islanders would send off their loved ones.
Before Kātan Observatory (カータン展望台) was completed during the pandemic, it was the only lookout on Geruma Island.
From Aka Port, it is around 15 minutes by bicycle and a further 5-minute climb before reaching the observatory 42 meters above the ground.
Takarake Residence (高良家)
The Kerama Islands was an important stopover point for tribute ships traveling between China and Naha. But because there were many rocky areas, the ships often ran aground. The locals were then trained to become excellent sailors, and Geruma Island soon became a sailor's village.
As you stroll around Geruma Island, the red tile roofed residence in the south is Japan's designated important cultural property. The residence was built during the second half of the 19th century for the caption of the official ship to China. Initially, Takarake Residence had a thatch roof, but the current red tiles later replaced it in the early 20th century.
Because of World War II, Takarake Residence remains a rare cultural spot in Okinawa where you can get a glimpse of how the wealthy lived back in the good old days.
Moreover, if you check the pillars closely, you will find marks from the bullets fired when the U.S. army landed in World War II.
Takarake Residence's Opening Hours, Admission Fees, and Access Information
Takarake Residence is open daily except for Mondays from 9 am to 5 pm.
The admission fee is

300 yen for adults
160 yen for children

The residence is around a 20-minute from Aka Port by bicycle.
Kobato no Tō Monument (小鳩の塔)
Kobato no Tō Monument is a spot on Geruma Island that may trigger sad memories. The monument was made in 1958 to pray for the children who had passed away due to World War II, including 13 Geruma islanders who died in the mass self-determination when the U.S. army landed on Geruma Island.
For more information about the mass self-determination that happened across the Kerama Islands group's inhabited islands, refer to our article on Tokashiki Island.
Fukaji Island (外地島)
The uninhabited Fukaji Island beyond Geruma Island can also be reached by ferry to Aka Island. All you need to do is cross the Aka Bridge and Geruma Bridge (慶留間橋). Although Kerama Airport is located on Fukaji Island, it only has charter flights. But you can still adore the stunning view of Kerama Islands from Fukuaji Observatory (外地展望台) close to the airport!
Just note that the road beyond Geruma Bridge is a hill. So you might want to think twice if you want to explore Fukaji Island by bicycle!
Fukaji Observatory (外地展望台)
Fukaji Observatory is the perfect spot for a magnificent view of the entire island. Because Kerama Airport forms a part of the scenery from the lookout, it is where you can enjoy a slightly different view from other observatories in the area.
Fukaji Observatory is around a 10-minute drive from Aka Port. The stairs to the observatory are found on one side of Kerama Airport's car park. The fence in front of the airport's main gate has a small door. Although the door is normally closed, it is not locked. So you can open it yourself and climb up. The staircase leading to Fukaji Observatory is just beyond the gate. If you are lucky, you might even encounter a Kerama Deer!
From May to June, the azalea flowers should bloom at the side of the promenade!
Tip: You can park your car, motorbike, or bicycle at Kerama Airport's parking lot.
Kerama Airport (慶良間空港)
Kerama Airport, completed in 1982, is the only airport in Kerma Islands. Unfortunately, scheduled flights were suspended in 2006, so only chartered flights or helicopters from Naha Airport to Fukaji Island are currently available.
Although there is most likely no staff at Kerama Airport when you get there, you can still go inside the airport. What you will find there is a vending machine, which can be a lifesaver on a hot summer day!
Kerama Airport is around a 10-minute drive or 20 minutes by bicycle from Aka Port.
Discover the Attractions in Naha
While Naha's beaches certainly doesn't represent Okinawa's breathtaking beaches, the capital of Okinawa has a wealth of cultural properties. It is where you want to be if you love shopping too!
Since you must stop by Naha to get to the Kerama Islands, how about allocating a day or two to discover the city when you visit Okinawa next time?
For more information about what to do and where to eat, refer to our article on Naha City!
Discover the Stunning Spots in Miyakojima City
Although the gorgeous Kerama Islands are great for a wide range of watersports activities, an even better destination in Okinawa for a perfect beach holiday is Miyakojima.
Not only does the city house Japan's biggest coral reef system, but it also has a lot of cultural and historical attractions for you to explore when you are onshore.
So refer to our Top 12 Attractions in Miyakojima City article for some travel ideas!