Fukuoka is a city that is relatively laid back compared to other big cities in Japan. If you are looking to add a natural spot to take a rest from eating and shopping in the city center, consider Nokonoshima (能古島)! This island boasts a seemingly endless field of flowers throughout the year as well as a gorgeous beach that the island has been receiving around 200,000 tourists on a yearly basis!
Besides the natural scenery, Nokonoshima Island also has a few historical spots, which we have included in the below list of attractions on Nokonoshima. It is listed based on the distance from Nokonoshima Port.
How to Get to Nokonoshima Island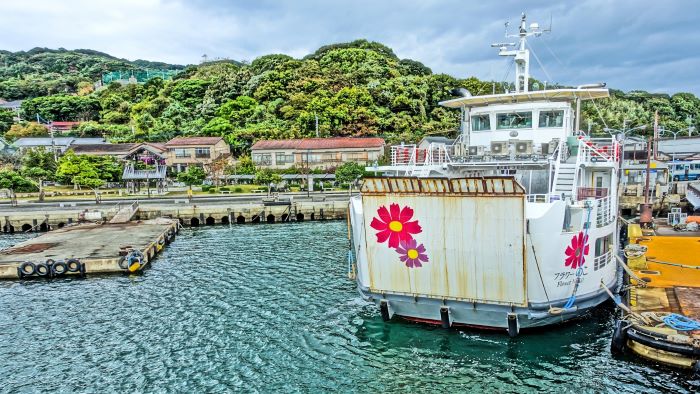 Nokonoshima is a small island with a circumference of 12 km floating in the middle of Hakata Bay (博多湾). From Hakata Station, it is easier to take a bus to Meinohama Ferry Terminal (姪浜渡船場).
From there, it is just a 10-minute boat ride to Nokonoshima.
For detailed access information, please refer to Nokonoshima Island Park's website HERE. They have summarised all the transportation methods really well, with links to various timetables.
Tips:
☛ Arrive at the ferry terminal early if you are going to Nokonoshima Island on the weekends and/or during the public holidays. Otherwise, you will have to board the next ferry once it has reached its capacity.
☛ Bring a light jacket with you in spring and autumn if you prefer to stay in the deck area. It can be quite chilly out there.
☛ On the ferry to Nokonoshima Island, it is best to get seats on the right-hand side so that you can see the Fukuoka Tower. You will be getting off from the ferry's right side as well.
What to Bring with You to Nokonoshima Island?
Insect repellent during the warmer seasons
Toilet paper: While there are toilet facilities on Nokonoshima, toilet rolls might not always get replenished. You don't want to find yourself in a situation where there are no toilet papers around you after releasing yourself on that toilet bowl!
How Long to Spend on Nokonoshima Island?
It depends on what you want to do on the island.
One day is probably enough if you plan to explore the main attractions on Nokonoshima. However, staying overnight on the island is probably better if you want to hike through the mountain trails.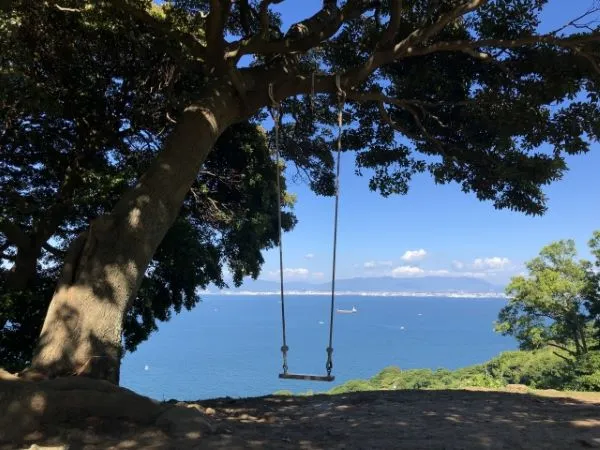 Nokonoshima Tourist Center – Noko no Ichi (能古島案内所・のこの市)
Although small, Noko no Ichi is a multi-functioned facility where you can get Nokonoshima's sightseeing information and local specialties. Because there are no convenience stores on Nokonoshima, if you have forgotten to bring something you need urgently with you, you might be able to purchase it from there.
Light meals are also served in Noko no Ichi, although there are no vegetarian options.
Instead of taking the sightseeing bus to tour around the island, why not cycle your way there? Although it is more expensive compared to standard bikes, we highly recommend renting electric-assisted bikes. Otherwise, it can be quite tiring to cycle up the hills when using regular bikes.
Tip: Before you wander off, plan your trip so that you don't miss the attractions you want to visit.
☛ In early spring, make sure you visit the east coast for the cherry trees.
☛ If you love nature, the Nature Exploration Road (自然探勝路) on the west coast is highly recommended.
Where to Dine on Nokonoshima Island
Noko's Ocean (ノコズオーシャン): The restaurant should be able to exclude meat and seafood from one of their pasta dishes
Nokoniko Cafe (ノコニコカフェ): You can enjoy drinks such as smoothies as you wait for the returning ferry. They might be able to customize a vegan sandwich for you too

The cafe is also a Nokonoshima souvenir shop. The designs of some of their items were designed by the owner!
Noko Museum (能古博物館) and Noko Ware Kiln Ruins (能古焼古窯跡)
Not too far from the ferry terminal, the Noko Museum is the spot on the island that will excite history buffs! It is a facility that displays both historical and ethnic materials of Nokonoshima Island. This includes large traditional boat models and old maps, as well as materials of Confucianism.
In particular, the Noko Ware Kiln Ruins (能古焼古窯跡) is the only ancient kiln left in Fukuoka City and the biggest kiln ruins in the Kyūshū region. The kiln was built in the mid-Edo period (the second half of the 18th century) and was used for around 20 years as Fukuoka Domain's official kiln.
An interesting discovery of the kiln ruins is that people back then used the kiln to make both Arita ware (有田焼) and Takatori ware (高取焼), which was a really rare case!
Tip: The ocean view that you will get from the Dankazuo Kahi Monument (檀一雄歌碑) on the museum's ground is magnificent!
Noko Museum's Opening Hours, Admission Fees, and Access Information
The museum is open from Friday to Sunday and on public holidays from 10 am to 5 pm

The last admission is at 4:30 pm

The museum will open every day in May and October
The admission Fee is 400 yen for university students and above
It is around a 7-minute walk from Nokoshima Ferry Terminal
Eifuku-ji Temple (永福寺)
Eifuku-ji is an old temple on Nokonoshima. Until the beginning of the Meiji period (late 19th century), it was called Jingū-ji.
On the precinct, there is a monument with a waka poem curved and a couple of Buddha statues.
Shirahige Shrine (白鬚神社)
Nokonoshima Island's Shirahige Shrine is said to be erected in the Nara period (AD 710 – 784). The gods enshrined there are the guardian gods that looked after the island.
According to one theory, the island's name, Nokonoshima, is related to the shrine. It is said that one of the gods of Shirahige Shrine, Empress Jingū (神功皇后), left a part of the spirit of the main god, Sumiyoshi no Ōkami (住吉大神), on the island. So originally, the island's name was written as "残島", meaning Remnant Island.
If you are interested in architecture, remember to check out the celestial maidens curving at the main worship hall. Also, if you have been working out your muscles, test your strength with the Chikara-ishi (力石) stone on the precinct!
On the 9th of October each year, a festival called "Okunchi (おくんち)" is held. So if you decide to visit Fukuoka in early October, how about heading to Nokonoshima on the 9th to observe this intangible cultural property of Fukuoka City?
Other Historical Spots on Nokonoshima Island
Sōta Tumulus (早田古墳)

In the mountainous area, there are two tumuli that were from the 7th century. The tumuli have a diameter of 8 meters. Although entry isn't allowed, the stone chamber of one of them is almost in perfect condition

Shikagaki Stone Walls (鹿垣)

In the Edo period, Nokonoshima is a deer hunting ground of the Fukuoka Domain. At its peak, there were about 600 deer on the island
The issue of having deer on an island that also has a strong agricultural industry was deer constantly visiting crop fields. The result was, of course, a large decline in harvest
So just around an 8-minute walk from Sōta Tumulus, around a 2 km stone wall was completed in 1836 to prevent the deer from invading the crop fields. Before the stone wall, a 3-meter wide moat was dug so deer couldn't jump over the 2-meter tall wall
Just keep in mind the majority of the wall has collapsed. Please follow the directory sign with "鹿垣" written on it to get to the ruins
Note the deer had distinct from Nokonoshima Island since 1945
Nokonoshima Observatory (能古島展望台)
The Nokonoshima Observatory is standing at the island's highest point at an altitude of 195 meters. From the top of the observatory, you will get a clear panoramic view of not only Nokonoshima but also Fukuoka City!
If you didn't rent one of the electric-assisted bicycles, the best way to get to the observatory is by taking the island's sightseeing bus and getting off at Tenbō-dai Iriguchi (展望台入口). From the bus stop, it is around a 10-minute walk through the concrete slope.
Nokonoshima Camp Village Beach (能古島キャンプ村海水浴場)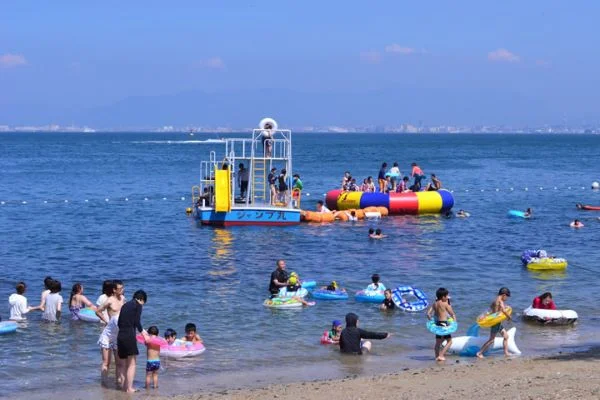 While the island is surrounded by seawater, not all coastal areas of Nokonoshima have sandy beaches.
The Nokonoshima Camp Village Beach on the northeast of Nokonoshima Island is a facility that opened in 1967. With palm trees planted around the area, it has a similar atmosphere to a tropical resort.
It is also the only place where you can camp by the beach.
During the summer, you will have a lot of fun jumping on the floating trampolines on the sea, as well as on diving platforms. There might even be sea scooters for you to rent!
To enjoy the relaxing island, from May to September, you can opt to stay at one of their camping bungalows or simply just rent a tent from them. If you love a good barbeque, they can prepare everything you need for an easy and fun barbeque session!
Furthermore, the beach is where one of the most photogenic spots on the island is located. Although it looks rather simple, the swing hung over the beach water attached to a palm tree is the perfect spot for those who like to take beautiful snaps or gain attention on social media!
Nokonoshima Camp Village Beach's Opening Hours and Admission Cost
The private beach is only open from early July to September from 9 am to 5:30 pm
The camping facility can be utilized throughout the year. But note that staff will only be on-site from 9 am to 5:30 pm
The admission cost is

1,200 yen for adults
800 yen for elementary and junior high school students
500 yen for children from 3 years old
In addition to the above, extra charges will incur to play at the diving platforms…etc. Refer to the official website HERE and change the language to English by clicking the words "日本語" at the page's top right for more details
Nokonoshima Island Park (のこのしまアイランドパーク)
The most beautiful part of Nokonoshima Island is on the ground of Nokonoshima Island Park at the northmost of Nokonoshima. The park has been enchanting visitors with the natural scenery throughout the year.
The nature park with a spacious ground of 150 thousand square meters is especially known for its breathtaking view of the flower fields and a magnificent ocean as its backdrop.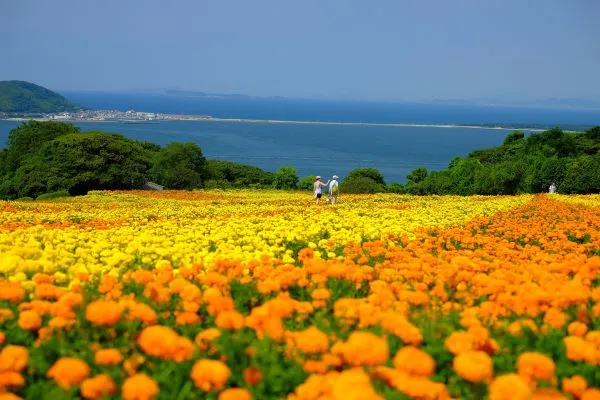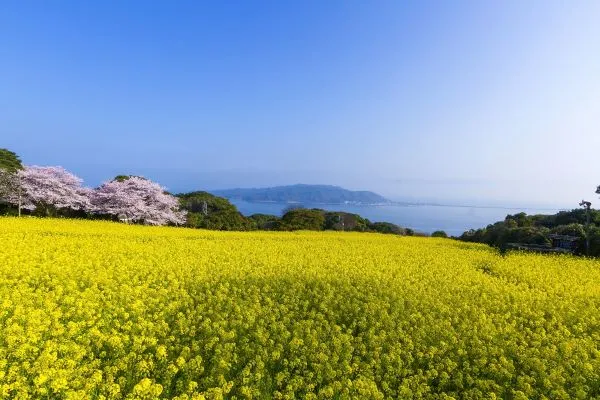 Amongst all the flowers blooming at Nokonishima Island Park, the rape blossoms are well known to bloom from late February to mid-April. Because the flowering season of the rape blossoms overlaps with cherry blossoms, the number of visitors usually peaks from late March to early April.
The park usually receives the second wave of tourists from early October to early November to adore the 500,000 cosmos.
Whilst we have only listed out two of the most popular flowers planted in Nokonoshima Island Park, it doesn't mean other types of flowers aren't stunning to look at!
Please refer to the official website HERE for the flowering calendar in Nokonoshima Island Park. Remember to change the language to English at the top right-hand side (click on the words "日本語").
The Kannon Bodhisattva of Love (恋の観音様)
At the far back of Cafe Yumeji (喫茶夢路) by the coast, there is a small worship hall with a Kannon Bodhisattva enshrined.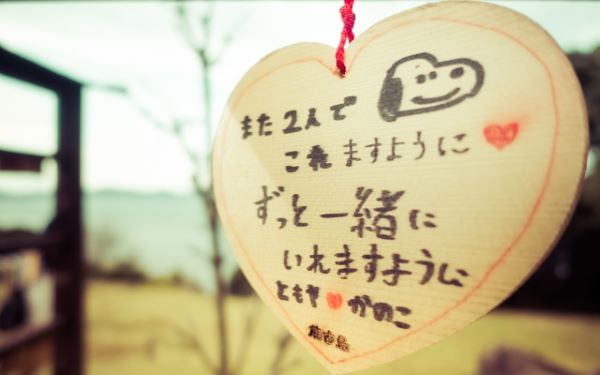 This Kannon statue has been worshiped by those who wish to find the right partner and/or pray for a happy and healthy relationship among singles and/or unmarried couples.
But more recently, the third type of pilgrims has emerged. Those whose wishes were granted would also return to the Kannon Bodhisattva to convey their appreciation.
From Cafe Yumeji, you can purchase either a normal wooden pentagon ema plaque or a heart-shaped ema to write down your wishes before you hang it next to the small worship hall.
The Facilities in Nokonoshima Island Park
The retro-style buildings from the Meiji to early Shōwa periods are reproduced in the park, which is great for photo taking.
Inside one of those houses, you will find a cheap Japanese snacks shop, Omohideya (思ひ出や). As all the snacks are cheap, you can fill up a basket, which will still be under 1,000 yen in total!
Inside the house called Hyakushoya (百姓屋), traditional Japanese toys are placed in the traditional house for you to discover. These toys were kept to entertain young children up until a few centuries ago. And yes, you are welcome to play with them too.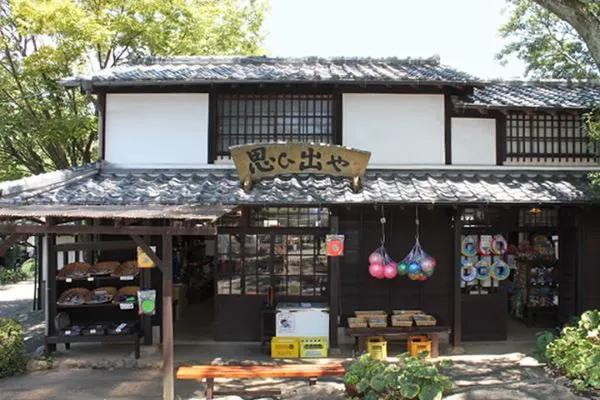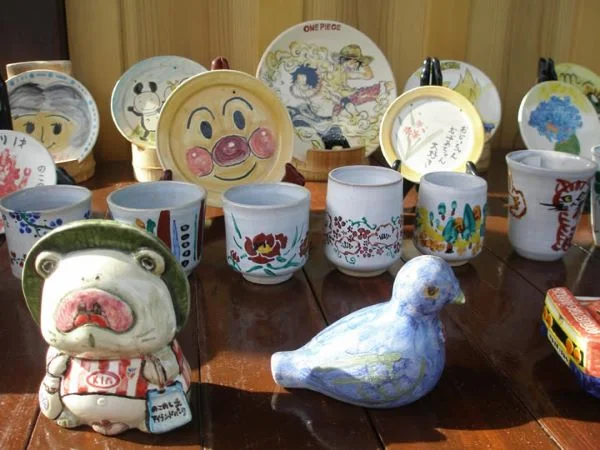 You can also participate in a pottery-making or coloring workshop costing as little as 800 yen.
Please note that it may take up to two months for them to fire the pottery you make, and unfortunately, they won't be able to send your craft overseas either.
That being said, some people just enjoy the making process even if they can't take it with them. However, if you wish to bring a final product back home as a souvenir, the pottery coloring worship is probably better.
Important: Let the staff know you want to bring the final product home on the same day because firing is required for some pottery coloring workshops.
For those who would like to stay on the island, you will probably want to reserve one of their cottages as early as possible to avoid disappointment.
How Long to Spend in Nokonoshima Island Park?
It is better to leave yourself around 3 hours from when you arrive at Nokonoshima Island. This includes time for photography, desserts in the cafe, spending time with the animals at a zoo, and taking an easy stroll around the park.
Please note that if you are heading to Nokonoshima Island, the waiting time for the returning ferry in the late afternoon may take up to an hour.
Important: There is no pure vegetarian savory menu on Nokonoshima Island Park. If you are strict with your diet, it is best that you bring your lunch and enjoy a picnic in the lawn area.
Nokonoshima Island Park's Opening Hours, Admission Fee, and Access Information
The park is open from

9 am to 5:30 pm
9 am to 6:30 pm on Sundays and public holidays from spring to autumn

The admission fee is

1,200 yen for senior high school students and above
600 yen for elementary and junior high school students
400 yen for children from the age of 3
Tip: If you are an international student, show your student ID to get a 50% off the admission fee!
Discover Other Amazing Destinations in Fukuoka City
Wondering where else around Nokonoshima is worth your time? Check out our article on Fukuoka City!
In the article, we have included all sorts of attractions that may suit your interests. There is also information available on Fukuoka's famous Yatai street stalls (=゚ω゚)ノ.