Tashirojima (田代島) is a small island east of Ishinomaki City (石巻市) in Miyagi Prefecture. It is the only "cat island" in the Tohōku region, where the cat population is larger than human residents (61 humans vs. more than 130 felines). So many locals refer to the island as Cat's Island (Neko no Shima, 猫の島).
The cats on Tashirojima Island are all used to humans. Unlike the stray cats in big cities that escape as soon as you try to get closer, the wild cats here might even walk up to you for some stroke!
Tip: As many of the roads on Tashirojima are earthen roads, a pair of sneakers is recommended.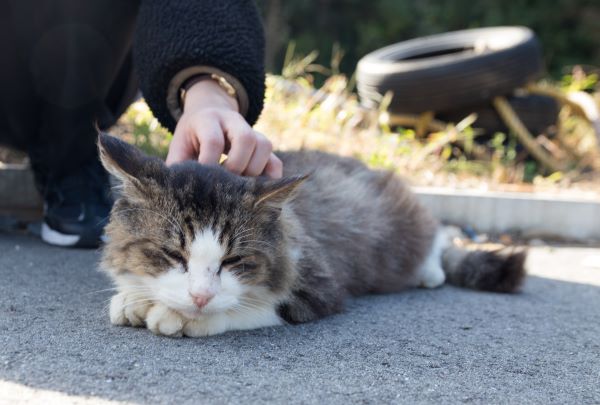 Below, we will go through how to get to Tashirojima and what to do on the island.
How to Get to Tashirojima Island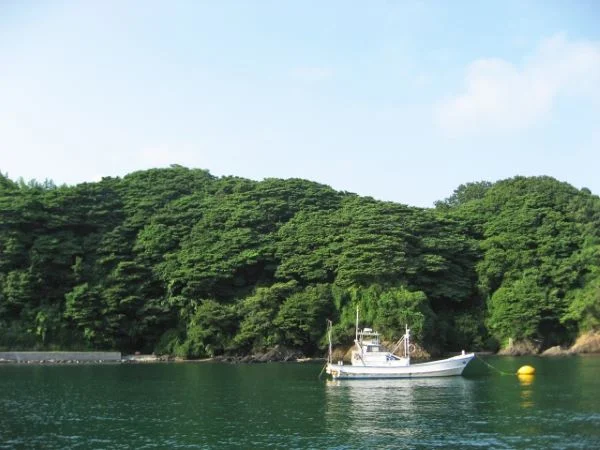 Tashirojima has two ports, the Ōdomari Port (大泊港) in the north and the Nitoda Port (仁斗田港) in the south. Although there is a higher chance of wild cat encounters around Nitoda Port, entering Tashirojima from Ōdomari Port is more recommended since it is closer to a few attractions, such as the Cat Shrine.
The distance between the two ports on Tashirojima is just two kilometers, around a 30-minute walk. Along the way, there are small attractions and rest houses for you to stop by.
From Ishinomaki Port (石巻港), you can get a map of Tashirojima (HERE is the Japanese electronic version). Paw icons mark the locations where cats are hanging around.
A one-way trip will cost 1,250 yen for adults. Ferry ticket for children (elementary school students) is half the adult's price.
How to Get to Ishinomaki Port
If you are coming from other parts of Japan, take a bullet train to JR Sendai Station (仙台駅). From there, take the Senseki Line (仙石線) to JR Ishinomaki Station (石巻駅). It is around an 85-minute train ride.
Tip: Take a short stroll around JR Ishinomaki Station if you have some time to spare. The town center is decorated by Ishinomori Shōtarō's (石ノ森章太郎) manga characters figures.
Ishinomaki has two ferry terminals; one is called Chūo (中央), and the other one is Kadonowaki (門脇).
The Chūo Port is closer to JR Ishinomaki Station (石巻駅), just a 15-minute walk. If you prefer to take a bus from JR Ishinomaki Station (石巻駅), take Miyakou Bus's (ミヤコーバス) Yamashita Kadonowaki Line (山下門脇線) and get off at Chūo Icchōme (中央一丁目). The ferry terminal is just a one-minute walk from the bus stop.
If The Chūo Port is closed, you will need to take the ferry from Kadonowaki (門脇), a 30-minute walk from JR Ishinomaki Station. If you plan to take a bus, get off at Kadonowaki Nichōme (門脇二丁目). The bus trip will take around 15 minutes. From the bus stop to the ferry terminal, it is around a 5-minute walk.
The car park at the Kadonowaki terminal is free if you plan to drive.
Tip: As the announcement on the bus is only in Japanese, ask the bus driver to notify you when to get off. You can use the below sentence for communication (or simply show it to the bus driver).
Sumimasen, Kadowaki Niōhome de Oritaidesu. Tsuitara Oshietekuremasenka?
すみません、門脇二丁目で降りたいです。着いたら、教えてくれませんか?
The Timetable for Bus and Ferry
For the ferry's timetable, please refer to the official website HERE. The ferry won't stop at the particular port if the arrival time of service is highlighted in blue.
For the bus service to the two ferry terminals in Ishinomaki, please refer to Miyakou Bus's website HERE and search for the "Ishinomaki Station" stop and the "Chuo 1-chome" stop.
To allow yourself enough time on Tashirojima to play with the cats, we recommend you take the bus that departs at 8:30 am to catch the ferry that leaves at 9 am.
Remember to purchase your ticket from the vending machine when you arrive at the ferry terminal. English notation is available, so buying the ticket shouldn't be hard. If you need help, there should be staff around.
Important:
☛ Please hold onto your ferry ticket, which must be shown to the staff on arrival.
☛ Services may be canceled without notice due to bad weather conditions.
☛ The ferry tickets can only be purchased in cash.
☛ Remember to take preventative measures for travel sickness.
The Relationship Between the Cats and the Humans on Tashirojima
Cats are treasured by Tashirojima's residents. This is why dogs are forbidden on the island.
There are two reasons that cats have been highly regarded on Tashirojima Island since ancient times.
To protect the silkworms from mice.
Cats' motions were used as indicators of weather and fishing
As no one will harm the cats on Tashirojima, they aren't afraid of humans, and many will play with strangers.
Around Ōdomari Port
The majority of Tashirojima's residents are fishermen. When they return from fishing, the cats are fed what was caught each morning. This is why a couple of them always wait at the port in the morning.
As many tourists will choose to get off the ferry at Nitoda Port, you will have a high chance of having a private session with the cats at Ōdomari Port.
The Cat Shrine (Neko Jinja, 猫神社)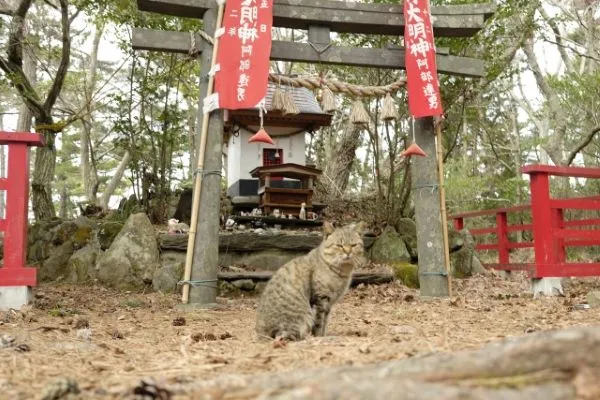 Yes, you read it right. Cat shrines are actually a thing in Japan. Around a 12-minute walk from Ōdomari Port, there is a small shrine that enshrines a cat. A red fence marks the shrine's small precinct.
In the good old days, cats on the island were used as weather reporters and crystal balls for the potential fish catch on the day.
However, one day, one of the cats passed away in an accident. Mourning the cat's departure, the fishermen decided to enshrine the cat in a newly built shrine. This is the origin of the cat shrine on Tashirojima.
On the altar, many cats' objects and toys are placed. As you get closer to the shrine, real cats might emerge from the bushes and show their bellies to you for a good belly rub!
If you are coming from Nitoda Port, the shrine is around a 20-minute walk.
Shima no Eki (島の駅)
Around a 3-minute walk south of the Cat Shrine, there is a facility called Shima no Eki (the complete name is Tashirojima Nyanko Kyōwakoku Shima no Eki (田代島にゃんこ共和国 島のえき). The facility used to be the island's elementary and junior high school.
The rest house has a similar concept to cat cafes. Light meals and drinks are served inside the facility, where cats' entry is prohibited. When you are ready to have some fun with your furry friends, many of them will be waiting on the veranda already!
Some cat toys should be left in the container attached to the wall. Feel free to use them to play with the cats.
Shima no Eki is also where you can source some exclusive Tashirojima souvenirs. At the rest house, you are also welcome to bring your food and enjoy.
Tip: If you have brought some cat food with you, donate it to the Nekogohan Oazukari Box (ねこごはん おあずかり箱) in front of the Shima no Eki.
Shima no Eki's Business Hours and Access Information
The business hours of Shima no Eki are from 10 am to 1 pm or 3 pm.

Refer to the official website HERE and scroll down for the weekly business hour announcement.
It is 300 meters away from the Cat Shrine.
Around Nitoda Port (仁斗田港)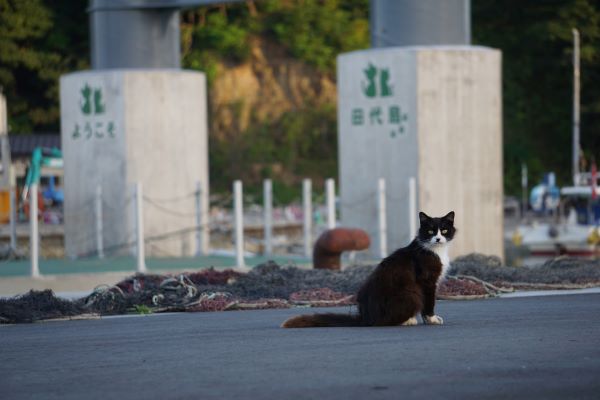 As you get closer to Nitoda Port, you will find more and more cats lying around on the side of the road.
If you arrive at Tashirojima from the Nitoda Port, you will likely encounter more than 10 cats in less than 5 minutes!
Tip: From April to October, the general public can access the toilet inside Manga Ai-land's office. Because there are only two public toilet facilities around Nitoda Port (one at the back of the office building, the other one is close to the Nitoda Port), utilize it when you see one.
Manga Ai-land (マンガアイランド)
Nitoda Port is where most shops and restaurants are located in Tajiroshima (but don't expect a shopping street, and some won't open on weekdays). If you want to stay on Tashirojima Island between April and October, how about reserving one of Manga Ai-land's cat-shaped lodges?
Their lodges are equipped with a kitchen and cooking utensils, microwave, refrigerator, and rice cooker. However, it doesn't have an air conditioner.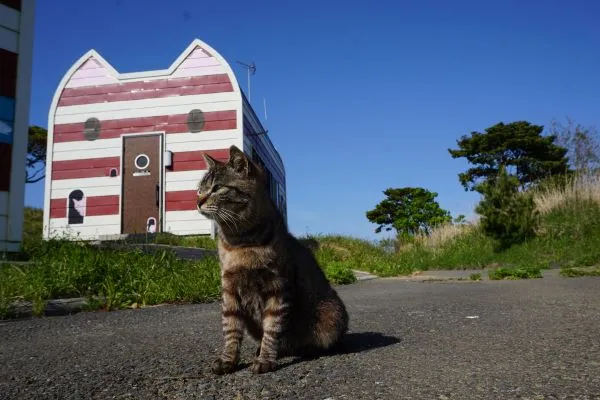 For more information on the facility and how to reserve (account creation required), please refer to Ishinomaki City's website HERE. You can translate the webpage using Google Chrome's translation function at the right of the address bar.
To reserve, fill in the webform HERE. You can email Ishinomaki City's Tourism Division at [email protected]. We have confirmed with them that they accept emails in English. Just note that there might be no English-speaking staff on Tashirojima, so you might need to rely on translation apps and body language.
Important: If you want to cook during your time on Tashirojima, remember to purchase the ingredients before you board the ferry.
Tip: If you have booked your stay at Manga Ai-land, let them know in advance that you need help moving your baggage from the Nitoda Port to the lodge. Otherwise, you will need to carry it and hike up the slope. If you inform them beforehand, a car will be waiting for you at the port for your luggage (you most likely won't be able to board the vehicle).
Things to Watch Out for on Tashirojima Island
Please don't feed the cats for their health.
Watch for ongoing traffic when you take photos of the cats on the road.
Please don't trespass on private properties.
Bring your garbage back with you unless you dine at cafes/restaurants.
Don't take the little kittens away from where you see them.
The menu items in the restaurants/cafes on Tashirojima are most likely not vegetarian, with broth/sauce containing meat/seafood extract.
Things You Might Want to Bring for Your Trip to Tashirojima
Enough water/fluid
Snacks
Sunscreen
Disinfecting wipes to clean your hands before eating and after playing with cats
Cats' toys, if desired
Lunch
Picnic sheet
Umbrella (for some shade and in case it rains)
Discover Other Cat Islands in Japan
Tashirojima Island isn't the only island in Japan known as cat island. Such kind of islands is actually scattered across the country.
To find out about other cat islands in Japan, refer to our article on the Top 10 Cat Islands in Japan!
The Rabbit Island in Japan
In addition to all the cat islands, Japan also has a rabbit island!
If you are interested, find out more information about this island with our article on Ōkunoshima, filled with a massive rabbit population!