You must have heard of the occupation of Ninja in your life. They are those people who snuck into enemies' houses to gather information. To protect themselves, they developed a series of ninja martial arts that helped them disguise themselves and/or escape from the scene smoothly.
Kōka in Shiga Prefecture is the birthplace of the Kōga School of Ninja Martial Arts, one of Japan's most famous ninja martial art schools. Centuries ago, when Samurai could be commonly seen on the streets of Japan, in the village of Kōka, 53 families actively supported the feudal lords in the region. Unlike a strict hierarchical relationship in the Iga school of ninja martial art, ninjas in Kōka resolved issues through a collegial system.
As a side note, while the geographical name of the city is Kōka, the ninja martial art style is called Kōga.
Although there aren't any ninjas in Kōka anymore, there are still a few ninja-themed attractions for you to get some vibes of the life of a ninja at Kōka. Here is the list of ninja-related attractions:
Kōka Ninja Village (甲賀の里 忍術村)
One of the popular attractions is the Kōka Ninja Village, hidden in rich nature at the foot of Mt. Suzuka (鈴鹿山). It is a destination where you can dress up like a ninja and undertake various ninja arts training. Especially if you are traveling with children passionate about ninjas, you will want to spend half a day here when you visit Kansai next time!
Exploring the Ninja House (からくり屋敷)
If you are a big ninja fan, what can beat the experience of entering a house that once belonged to the descendants of a ninja family? The Former Fujibayashi Residence (旧藤林家) in Kōka Ninja Village used to be the base of the Fujibayashi family, whose ancestors were the elites of all the ninjas in Kōka.
From the outside, it just looks like any other traditional Japanese house. But when you see someone walking out from the back of a scroll hanging on a wall, you will soon realize the house is full of tricks!
Note that the residence can only be explored through free guided tours for your safety and to protect this cultural heritage from around two centuries ago. After all, you won't want to fall into a pit or get stuck in hidden staircases during your visit.
Kōga Ninjutsu Museum (甲賀忍術博物館)
For those who would like to learn more about the history of the Kōka ninja, head to the Kōka Ninjutsu Museum, which was renovated from a house belonging to a relative of the Kōga ninja. The residence was determined to be built in the late Edo period, representing the architectural style of Kōka at the time.
In the museum, there are books with secret ninjutsu recorded. Many kinds of Shuriken (throwing stars) and other tools used by ninjas are also exhibited (such as various ladders used to climb different surfaces).
Changing into Ninja Costume
If you plan to embark on the training of becoming a ninja during your visit to Kōka Ninja Village, rent a set of ninja costumes first. It isn't just for photography sessions or cosplay purposes. It is so that your clothes won't get dirty.
Adults Ninja Costume Rental: 1,100 yen/day
Children Ninja Costume Rental: 700 yen/day
Ninja headkerchief: 200 yen/day
Ninjutsu Training Ground (忍術道場)
Ninjutsu, sometimes used interchangeably with ninpō, is a type of Japanese martial art focusing on using stealth and deception to defend oneself or fulfill an objective.
The village's Ninjutsu Training Ground, or Ninjutsu Dōjō, has various obstacle courses that help you become a ninja. Whether it is climbing up a stone wall, tightrope walking, or crossing a waterway without a boat, you will have a taste of what it was like when a ninja was on a mission.
The best thing is after you complete all the obstacles and collect all the white ninja characters, you can get a certification scroll (免許皆伝) from the village's shop!
If you want to know what trainings you will undergo during your visit, please refer to their website HERE. There are English subtitles in the Youtube video.
Tip: Bring a set of change clothes if you want to take on the challenge of crossing a waterway without a boat.
Shuriken Training Ground (手裏剣道場)
'Shuriken', commonly known as throwing stars, is a common weapon all ninjas master. So at Kōka Ninja Village, there is a training ground for you to learn how to hit a target with these hidden daggers.
Although it costs 300 yen for every 6 plays, the attraction excites most visitors, even adults.
Shinobi Shrine (志能便神社)
In the village, there is also a shrine. The Shinobi Shrine enshrines the ninjas who passed away during their missions.
Here, the main god is the Daikokuten (大黒天), also known as 'Mahakala' in Sanskrit. In Japan, The Daikokuten is said to be looking after pilgrims' career success and business prosperity.
Dining at Kōka Ninja Village
There is a restaurant in the village. However, whether you are vegetarian or not, we recommend dining elsewhere.
Kōka Ninja Village's Business Hours, Admission Fees, and Access Information
The village is open from 10 am to 5 pm daily except Mondays.

The last admission is at 4 pm.
If Monday is a public holiday, it will close on the next business day.

The admission fee is

1,100 yen for adults
900 yen for high school students
800 yen for elementary school students
600 yen for children between 3 and 5 years old
Tip: Purchase your ticket online HERE for a discount on the admission fee. You can translate the webpage with Google Chrome's translation function at the right of the address bar.
Important: Please be aware that English explanations are unavailable in the village.
From JR Kōka Station (甲賀駅), it is a 30-minute walk
You can also utilize their free pick-up and drop-off service. When you arrive at Kōka Station, their car/bus should be waiting at the north exit.

On weekdays, please call them at +81-748-88-5000 when you get to Kōka Station.
On weekends and public holidays, a reservation is normally not required. But if you don't see their car when you arrive, give them a call.

The drop-off service will depart from the village 15 minutes before the train arrives.
Important: The last drop-off service is 15 minutes before the village closes.
Tip: If you don't speak Japanese, kindly ask the staff at the station to see if they can make the phone call on your behalf.
Kōka Ninja House (甲賀流 忍術屋敷)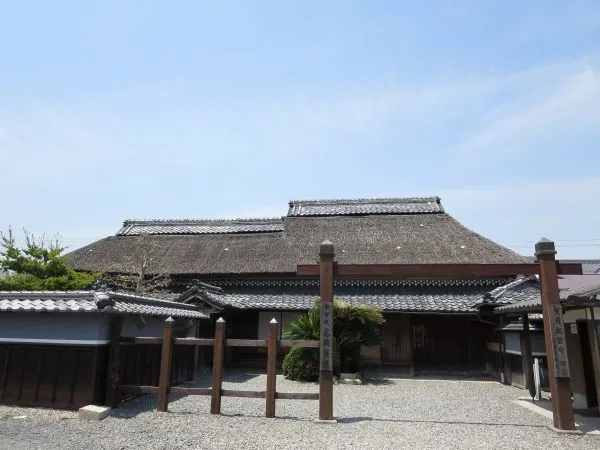 While the ninja house in Kōka Ninja Village can be fun, the Kōga School Ninja House is even more awesome. Why? Because it was the actual home of the head of the 53 Kōga school ninja families!
Mochizuki clan was the family who ruled the Kōka region since the Heian period (794 – 1185). In the turbulent Sengoku period (1467 – 1615), it became the head of all the ninja families and built this residence here, full of ninja tricks.
The complex that belonged to Mochizuki Izumo no Kami (望月出雲守) is the only ninja house that existed in Japan that had real ninjas living in it. The tricks of this house started with where the residence's entrance is. Unlike most of the attractions in the world, although you can certainly see the house's roof, you might be walking in circles before you find the front gate in the photo.
What a great way to increase the chances of survival!
Changing into Ninja Costume
You can also rent a ninja costume at Kōga School Ninja House. The good news is that it is cheaper as well!
Important: Unfortunately, this service is currently terminated due to COVID.
Inside the Ninja House
Inside this house that appeared to be a one-story complex, it is actually a three-story house! Once you enter the house, you are free to explore the hidden rooms, discover the 3-meter falling pits, windows that don't seem to open (but can be opened with a simple trick), and rotating walls!
In front of the entrance of each room, there is a touch screen panel that explains the tricks in the room. The explanation comes in English as well.
Other than the interesting architectural tricks, tools, and weapons used by the Mochiduki Clan are also on display.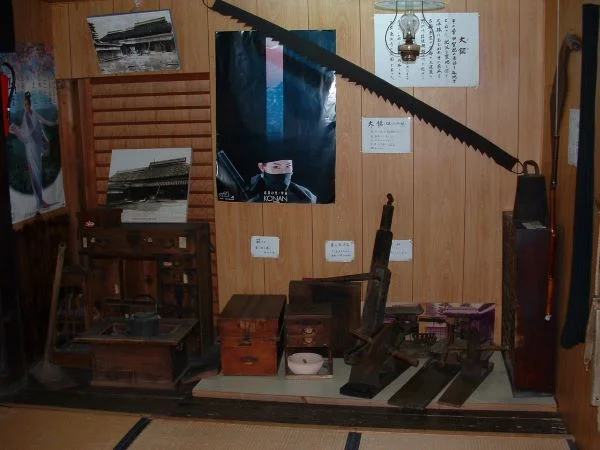 The second-floor ceiling is quite low, with the highest point only around 1.5 meters. It is a structure that is advantageous for ninjas who use daggers.
Furthermore, one of the ways to go down to the ground floor from the third floor is by a rope ladder. When you get there, the ninja diorama may give you a shock when you look above.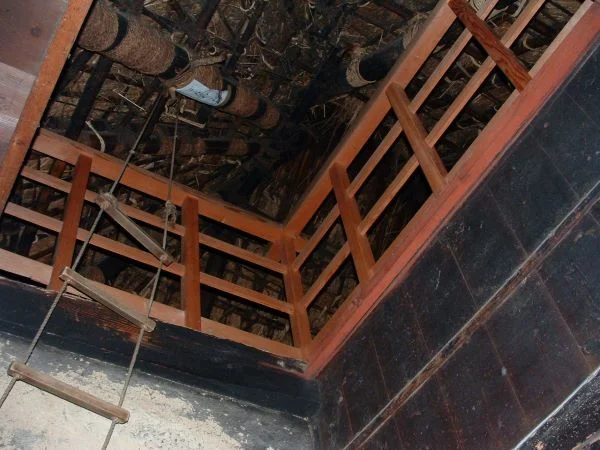 Under where the rope ladder is attached, a vertical path that goes straight down is usually covered by tatami mats. But when it is escape time, the ninjas would use this path to travel in and out of the house without being noticed by the enemies.
On the ground of the residence, there is also a training ground for Shuriken (throwing stars). It is another place in Kōga City where you can improve your sniper skill!
Note that extra charges will incur for this activity.
The Free Herbal Tea at Kōka School Ninja House
When you need a break from this ninja house, there is a resting space for you to enjoy some herbal tea on the ground floor. Mochizuki Clan excelled in manufacturing medicines and gunpowder. At the same time, utilizing medical knowledge, they make tea in various blends to maintain their physical health.
As you relax with a cup of tea in your hand, a video is played in the room that will give you more information on the history of ninjas and the Mochizuki clan. Again, English subtitles are in place for you to understand everything.
Kōka School Ninja House's Opening Hours, Admission Fee, and Access Information
The opening hours of the Kōga School Ninja House are from 9:30 am to 5 pm.

The last admission is at 4:30 pm.
It closes on Wednesdays and the 4th Thursdays.

The admission fee is

650 yen for junior high school and above
450 yen for children from 3 years old

From JR Kōnan Station (甲南駅), it is around a 20-minute walk.
Kōka History and Folklore Museum (甲賀歴史民俗資料館)
The last attraction to find ninja-related exhibits is the Kōka History and Folklore Museum on the precinct of Aburahi Shrine. It is an attraction most suitable for those who love to examine cultural properties and ninjas' armor and weapons. The museum has a total of 23 National Designated Tangle Cultural Properties in its collections, including noh play masks and traditional paintings.
But before you get too excited, please be aware that the exhibits' explanations are only in Japanese.
Kōka History and Folklore Museum's Opening Hours, Admission Fee, and Access Information
The Aburahi Shrine looks after the museum. A booking to visit the museum is required by calling them at +81-748-88-2106.
The admission fee is

200 yen for adults
150 yen for students
100 yen for children

From JR Aburahi (油日駅), it is a 30-minute walk
You can also borrow a bicycle from the Aburahi Station to cut down the required travel time.
Discover Other Fascinating Attractions in Kōka City
Apart from the ninja-themed attractions, the city is also the hometown of one of the Six Ancient Kilns in Japan!
Furthermore, there are a couple of hidden gems for cherry blossom and fall foliage hunting. So check out our article on Kōka City and start planning your next trip (=゚ω゚)ノ.