Karuizawa, Japan's famous summer resort, is one of the most popular destinations close to Tokyo. In addition to the spots close to Karuizawa Station, such as Old Karuizawa Ginza Street, Karuizawa Hoshino Area in Naka-Karuizawa is gaining popularity. While the area north of Shinano Railway's Naka-Karuizawa Station requires some walking to get to, the good news is that the attractions there are close to each other! So if you have a day or even half a day to spare, visit Karuizawa Hoshino Area, the best tourist in Naka-Karuizawa!
How to Get to Karuizawa Hoshino Area
From Karuizawa Station, take Shinano Railway (しなの鉄道) to Naka-Karuizawa Station.

The train ride takes around 5 minutes.
You can also take a bus from JR Karuizawa Station's north exit to a couple of spots in Naka-Karuizawa.

Refer to HERE for the bus timetable.
Tip: Refer to Karuizawa Hoshino Area's website HERE for free parking information.
The Recommended Spots in the Hoshino Area
Explore Karuizawa With a Guided Tour
If you prefer a guide to introduce you to the charms of Karuizawa, how about joining one of the below tours?
You can also book to participate in one of the workshops/activities below!
Uchimura Kanzō Memorial Stone Church (石の教会 内村鑑三記念堂)
The stone church in the Karuizawa Hoshino Area was built to celebrate the achievements of Uchimura Kanzō, a Christian evangelist in the late 19th to early 20th century. This artistic architecture that blends in well with the nature of Karuizawa is one of the main landmarks in the town. The stone church's design incorporates all of the five major elements of the creation of the world that appear in the Old Testament: earth, fire, sky, water, and air.
Unlike the traditional Gothic-style church, it is hard to realize that you are proceeding towards a church while walking on its approach with several arches in the direction that matches the sun's orbit. In fact, the architecture is created by arches with glass filling in the space between the curved symmetrical structure. This allows natural light to shine through the glass wall to lighten the interior. Surrounding by the forest and with water flowing through the nave, the stone church has all the essential elements required for life creation!
Another thing worth mentioning about the stone and glass used to construct the artistic building is what the material represents. The stone represents a man, and the glass represents a woman. Together, they express how life can be created, as well as the concept of marriage.
Whilst different from the traditional church stereotype, the stone church's ambience is solemn, perfect for worshipping and praying. Even if you don't believe in God, the sound of the flowing water and refreshing greenery will surely make you feel calm and refreshed.
If you are interested in examining this stunning architecture, it is open to the public from Monday to Thursday from 9 am to 6 pm as long as no wedding is held.
Uchimura Kanzō Memorial Stone Church's Opening Hours and Access Information
Uchimura Kanzō Memorial Stone Church is open from 10 am to 5 pm from mid-April to late November.

Note that the church will be closed to the public if a wedding ceremony is held that day.

The church is around a 10-minute walk from HARUNIRE Terrace.
Karuizawa Kōgen Church (軽井沢高原教会)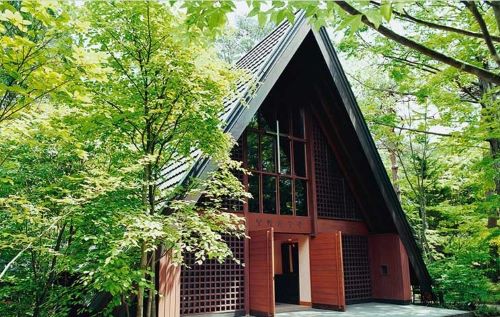 In the Taishō era, a community was formed by great writers and various artists in Karuizawa Hoshino Area. In particular, the building of Karuizawa Kōgen Church, buried in the forest, used to be where these talented people in the past gathered!
The building, completed in 1921, was the venue of the Free Art Education Seminar (芸術自由教育講習会), where various topics were freely debated.
Before the spot was converted into a church in 1941, it was named Hoshino Yū Gakudō (星野遊学堂). The wording is still carved above the gate!
Nowadays, the spot is a popular wedding venue. And if you visit the church at 8 am on Sunday, you are welcome to participate in the service. The service lasts for 30 minutes. At 4 pm and 4:15 pm, a live harp performance is also held for 10 minutes!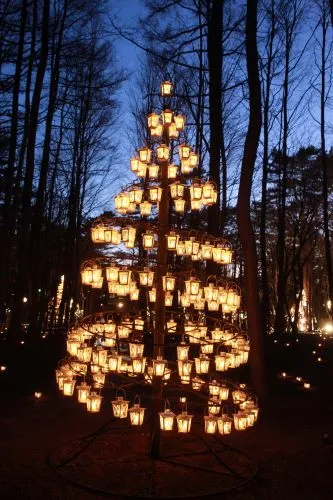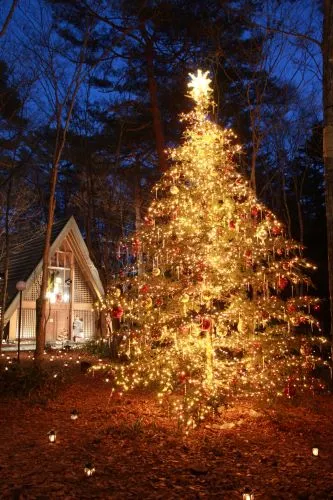 Besides being a wedding venue, seasonal events are held at Karuizawa Kōgen Church, and most of them involve the spot being illuminated by candles at night. So if you plan to spend a night at Karuizawa around August, early October to early November, or around Christmas, remember to check for any events that you can participate in!
Around Christmas: Christmas in the Stary Forest (星降る森のクリスマス)
In August: Summer Candle Night (サマーキャンドルナイト)
Karuizawa Kōgen Church's Opening Hours and Access Information
Karuizawa Kōgen Church is open from 9 am to 5 pm.

Note that the church will be closed to the public if a wedding ceremony is held that day.

The church is around a 10-minute walk from HARUNIRE Terrace.
HARUNIRE Terrace (ハルニレテラス)
HARUNIRE Terrace is a commercial complex in Karuizawa with a traditional look, with the Yu River (湯川) flowing on its right and the complex being surrounded by a Japanese elm forest. With trendy restaurants and boutique shops, the terrace is one of the most popular spots in the Hoshino Area for those wanting to take a break from sightseeing in Karuizawa.
For more information about which of the 16 shops and restaurants is worth your time, refer to our article on HARUNIRE Terrace!
Hoshino Onsen Tonbo-no-Yu (星野温泉 トンボの湯)
If you don't mind bathing with strangers, a great way to rejuvenate at the end of the day is to indulge in a hot spring. Established in 1915, Hoshino Onsen Tonbo-no-Yu is known as an onsen that makes your skin shiny and soft. Many celebrities and famous writers in the past would utilize the facility when they visited Karuizawa.
Not letting Hoshino Resort's name down, Tonbo no Yu is stylish and equipped with both indoor and outdoor baths, so you can soak in the hot springs while gazing at the lush green garden! Amongst all the bathtubs, the one made of Japanese cypress has a depth of 90cm, allowing your shoulders and body to be soaked in the hot spring. The scenery beyond the floor-to-ceiling window also makes the bathing experience even more amazing. In winter, it would almost feel like you are bathing amongst the snow!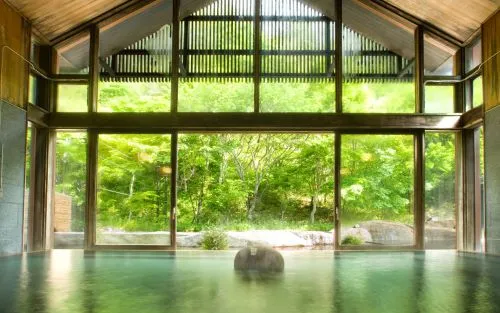 The outdoor hot spring pool is made of stone. Next to it, there is also a sauna. A cold spring bath is also available too!
Toiletries, including body soap, shampoo, and lotion, are provided. You can also rent a towel set for 350 yen from the reception.
Tips:
☛ There are free lockers for customers to utilize.
☛ If you are after a cafe to chill after a hot spring session, visit Cafe Hungry Spot next to Hoshino Onsen Tonbo-no-Yu.
Hoshino Onsen Tonbo-no-Yu's Business Hours and Access Information
Hoshino Onsen Tonbo-no-Yu is open from 10 am to 10 pm.

The last admission is at 9:15 pm.

The admission fee is:

1,350 yen for adults
800 yen for children from 3 years old to elementary school student
Note that the admission fee increases by 200 yen during the Golden Week, August, and from the 29th of December to the 3rd of January.

The hot spring is around a 5-minute walk from HARUNIRE Terrace.
Picchio Visitor Center (ピッキオ)
Close to Tonbo no Yu, there is a visitor center by the Kera Pond (ケラ池). In fact, Picchio is more of a local wildlife research center. The center, established to protect nature, holds various tours into Karuizawa Wild Bird Sanctuary.
Knowledgeable staff will guide you to wild nature and introduce you to the ecological system of Karuizawa, the fun facts, and its wildlife. In addition to just walking around in the forest, the guide will likely also be showing you videos and photos to make the entire session a lot more informational.
Besides the daytime tours, nighttime tours are also conducted, allowing you to spot nocturnal animals such as flying squirrels. Before stepping out into the wild, a small lecture about flying squirrels and the tips of spotting squirrels are held indoors. So when you are in the forest, you will know exactly what to look for. Because Picchio knows the flying squirrels' active time, the spotting rate of these cute animals is close to 100%!
And don't worry about walking through the dark forest. You will be boarding a special vehicle that makes exploring the forest at night easy.
If you are interested in seeing the flying squirrels, you can book the tour HERE!
Picchio Visitor Center also has a cafe facing the pond where you can grab a nice cup of coffee.
In winter, it becomes an outdoor ice rink (Kera Pond Skate Rink, ケラ池スケートリンク」) where you can enjoy ice skating. The pond in the forest, where many wild animals reside, is one of the best spots in the area to enjoy the winter sport.
For more information, including the operating period and admission fee, refer to their website HERE.
Karuizawa Wild Bird Sanctuary (軽井沢野鳥の森)
What many don't know about Karuizawa is that it is one of Japan's three major wild bird habitats. About 80 kinds of wild birds can be observed throughout the year in Karuizawa, especially in Karuizawa Wild Bird Sanctuary. Particularly in spring, birds from South East Asia will arrive at Karuizawa to breed, making the forest even more lively!
The best time to visit Karuizawa Wild Bird Sanctuary in spring is at dusk when the sun is about to set. It is when many birds start chirping, sounding like a small concert in the forest. Limited to May each year, Picchio Visitor Center usually holds birdwatching tours at dusk.
Picchio Visitor Center's Opening Hours and Access Information
Picchio Visitor Center is open from:

9:30 am to 4 pm from September to April
9:30 am to 5 pm from May to August

The visitor center is around a 10-minute walk from HARUNIRE Terrace.
Reservation to join the tours is essential. Please book via the official website HERE.
Discover Other Attractions in Naka-Karuizawa
As you may have guessed, Karuizawa Hoshino Area is just a part of Karuizawa town. Close to it, there are a few cafes and restaurants that serve mouthwatering cakes and vegetarian dishes, contemporary museums, and other great natural spots!
So refer to our article on Naka-Karuizawa to plan your visit!