JR Kyūshū, a part of the wider Japan Rail group, runs the most sightseeing trains in Japan. One of these trains is Yufuin no Mori (ゆふいんの森), which means "The Forest of Yufuin". Just like its name, the train was built to reflect the many charms of Yufuin, a hot spring town in Ōita Prefecture (大分県) surrounded by rich nature.
Departing from JR Hakata Station (博多駅), there are nine stops along the train line. Each of the stations on the train line has its own charms, with Beppu and Yufuin being the most popular destinations for tourists, both local and international.
Table of Contents
A Brief Introduction of Yufuin no Mori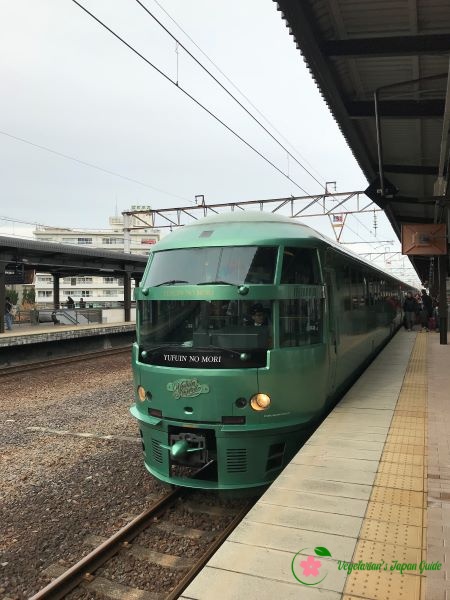 Yufuin no Mori is a limited express train that runs from Hakata via Yufuin to Ōita and Beppu. Unlike most of the trains in Japan, to board Yufuin no Mori you will have to reserve your seat in advance.
While it is called a limited express train, it can run slower than the local trains, especially between Beppu and Yufuin. When we rode Yufuin no Mori, the train even stopped for the local trains to go through before it started moving again Σ(゚Д゚).
But then again, it is a sightseeing train, so the nice scenery surrounding the train line is probably more important than the train's speed.
So, if you want to experience what the sightseeing train has to offer but don't want to spend too much time on the train, take the ordinary limited express services (such as the limited express Sonic) to one of the Yufuin no Mori's stops, and board the Yufuin no Mori for a shorter but still scenic ride to your final destination. The Yufuin no Mori services departing from Hakata are the most crowded in any case.
That was actually what we did when we visited Beppu and Yufuin. It is a lot faster to take the Limited Express Sonic from Hakata to Beppu than to take Yufuin no Mori. Then after we visited Beppu, we took Yufuin no Mori to Yufuin.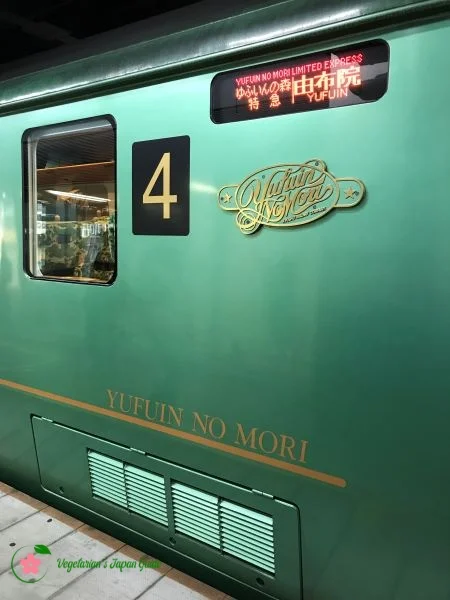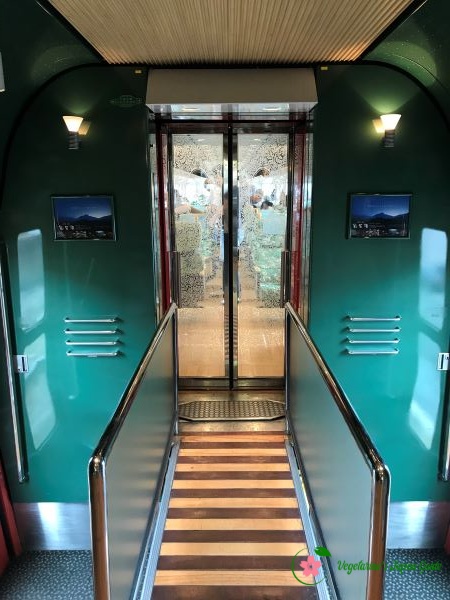 Just like any other sightseeing train in Japan, the interior of the train, even the carriage joining section, is elegantly designed.
Yufuin no Mori, to express the trace of nature in Yufuin, the carriages are covered with wooden floorboards. With the green walls and chairs, doesn't it remind you of the forest?
That is why the sightseeing train is called Yufuin no Mori. Mori, in Japanese, means forest. So the train's name means exactly Yufuin's Forest.
Yufuin no Mori's Bar Counter
Make sure you head to the bar counter on the train. Here, you will find bento boxes and desserts provided by famous local restaurants along the train line. It saves you the trouble of needing to travel to the restaurants!
Important: There are no pure vegetarian options available, and reservations for the bento boxes are required. HERE is the menu of Yufuin no Mori's bar.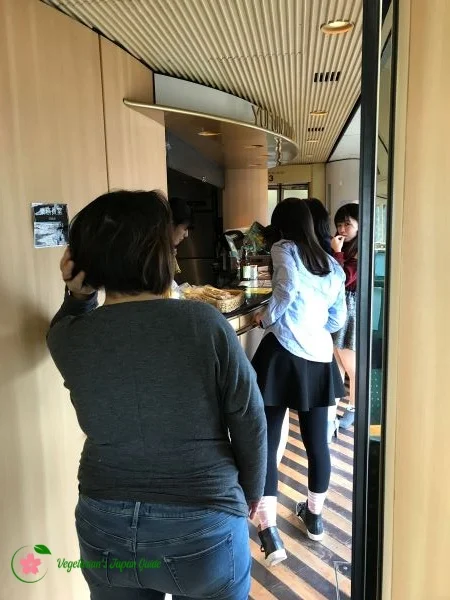 Yufuin no Mori's Train Stamp
Opposite the bar counter, you will find a special stamp for tourists who ride the train. This is similar to a pressed penny or other souvenirs. Feel free to stamp it on the card provided by the train. It is of high memorial value (=゚ω゚)ノ.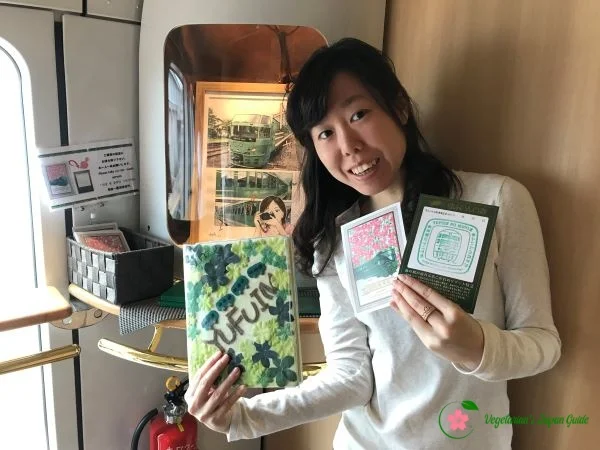 Traveling with a Group of People? Reserve the Booth Seating!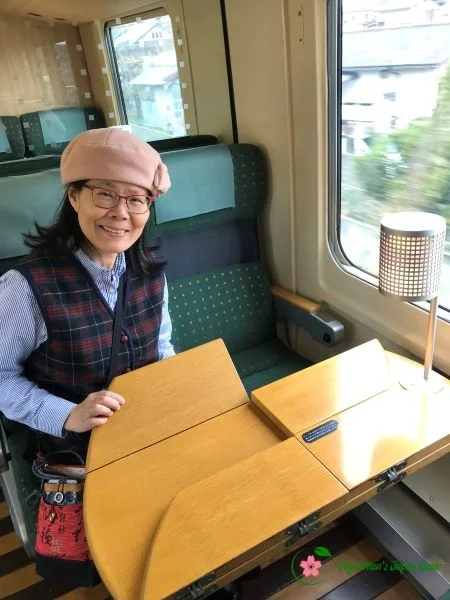 If you are traveling with a group of 3 or 4 people, we recommend you reserve the Booth Seating when you purchase your tickets. It comes with a table that can be easily put away, which is quite handy (perfect for playing your favorite board games if you aren't interested in the beautiful scenery through the window).
As the Booth Seating is quite limited on the train, you will want to make your booking early to avoid disappointment.
Important: Note the booth seating can't be reserved online. Please visit a JR Kyūshū ticket office to reserve.
Yufuin no Mori's Carriage with the Best View
When making your reservation for the Yufuin no Mori, you will probably want to ask for seats at the front or the back of the train where the drivers' compartments are located.
Because the view there is the best!!!
Also, there will be staff carrying a board with the image of the train as well as a date stamp visiting each carriage to take photos for the customers.
So make sure you don't fall asleep before you catch them (=゚ω゚)ノ.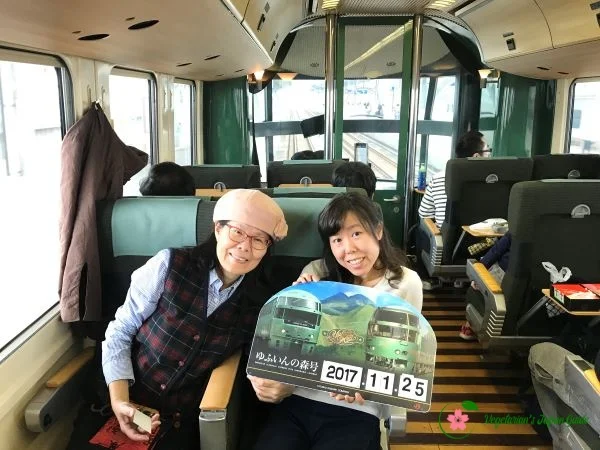 How to Reserve and the Cost of Boarding Yufuin no Mori
You can make your reservation of Yufuin no Mori at any JR Kyūshū's Station's ticketing office, Midori-no-Madoguchi (みどりの窓口). Any JR Passes that cover the north Kyūshū region can be used to reserve your seats without extra charges. Or, it will be 5,190 yen for an adult ticket (half price for kids) from Hakata to Yufuin.
Tip: If you don't have a JR Pass, reserve online in advance HERE and get a discount on your train fare!
Refer to HERE for the train's timetable for more information about Yufuin no Mori.
Bike Rental at Yufuin
While we can't find this information on the official Yufuin no Mori's English website, you will get a special discounted price if you want to explore Yufuin with a bike if you take a JR train to Yufuin.
When you make your reservation for Yufuin no Mori, you can get the Rakuchari bike ticket (楽チャリ利用券) reservation ticket (指定券) that shows the timeslot that you reserved. These two tickets will allow you to rent the bikes from Yufuin Tourist Information Center (由布市ツーリストインフォメーションセンター) at a special price. The Information Centre is located just at the right of the JR Yufuin Station (由布院駅).
The price list is as below:
~ 2 hours: 410 yen
2 ~ 4 hours: 810 yen
> 4 hours: 1,220 yen
The Yufuin Tourist Information Center is open at 9 am. You will need to return your bike by 5 pm on the same day.
Important: Please note when you pick up the bike, you will need to show the staff your ID, or they will ask for a 10,000 yen deposit (that will be returned to you when you return the bike).
Explore the Most Unique Onsen Town – Yufuin
So what to do once you reach the destination – Yufuin?
Follow our article on Yufuin as a guide to know where are the best spots to stroll around when you arrive at this relaxing and beautiful town (=゚ω゚)ノ.
Coin Lockers & Baggage Keeping Services at Yufuin
You will be able to find coin lockers in JR Yufuin Station, or the Yufuin Tourist Information Centre located just opposite the station is able to temporarily keep your bags for you.
At Yufuin Station, there are 6 small lockers (400 yen), 28 middle lockers (600 yen), 4 large lockers (700 yen), and, 22 extra-large lockers (900 yen).
The Tourist Information Center is able to keep your luggage while you explore Yufuin from 500 yen per piece, depending on the size of your bag. Note the center is operating between 9 am and 7 pm. So if you plan to check in or retrieve your belongings outside of their business hours, it's probably a better idea to use the coin lockers in the Station.