For all the farm animal lovers, you will have a lot of fun at Rokkōsan Pasture (神戸市立 六甲山牧場) meeting their sheep, goats, horses, rabbits, and even guinea pigs! Especially the sheep, although they graze on grassland, they are used to human beings around them. So unlike some sheep in other pastures that will start escaping from you when there is still a long distance between you and them, some sheep at Rokkōsan Pasture will run towards you suddenly (≧▽≦).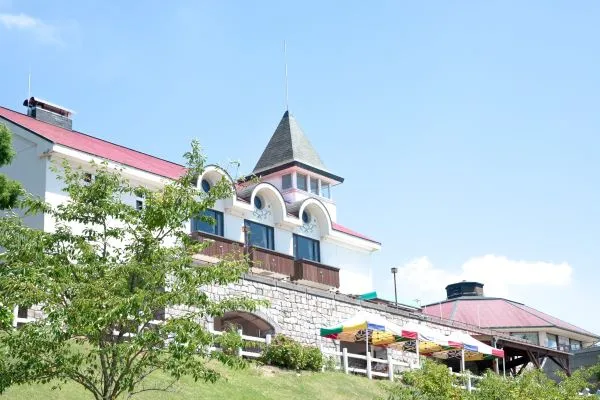 Although in Japanese only, you can refer to the pasture's map HERE.
Important: Accordingly to the Japanese legislation to prevent infectious diseases in animals. Please refrain from entering Rokko Pasture if you have been in Japan for less than 7 days. Note that even if you have satisfied this condition, clothes, shoes, and accessories that have been worn overseas in the past 4 months cannot be worn in the pasture.
Tip: There are coin lockers at the north entrance if needed.
Small: W 41.5cm x D 4.25 cm x H 3.20 cm costing 100 yen
Medium: W 41.5cm x D 4.25 cm x H 5.40 cm costing 200 yen
If your belong can't fit into the medium locker, you can check it in at the north ticket gate for 200 yen
Meeting the Animals at Rokkōsan Pasture
Sheep's grazing hours: 9:30 am to 3:30 pm daily except on rainy days (please don't feed them)
Meeting the goats: 9:30 am to 4:30 pm daily except on rainy days

Feeding is possible between 9:30 am to 3 pm
Feeds can be purchased at 100 yen per pack
Sheep dog show at sheepdog showground (シープドッグショー会場) in the south area

1 pm to 1:20 pm on weekends and public holidays

Feeding the calf with milk: at 11:30 am and 2:30 pm in front of the dairy cow barn (乳牛舎前)
Horse riding is also available, but you won't be allowed to wander off freely and has to be led by staff.
Rokkōsan Pasture's Restaurant and Cheese Factory
The one thing that you have to try is the soft-serve ice cream because this locally-made ice cream is just divine! Made from freshly squeezed milk from the milk cow of the pasture with creamy Camembert cheese in it, it just can't get any fresher and tastier!
For lunch, drop by the restaurant Sheep Bell (シープベル). Although limited, they have menus that don't contain meat or seafood. You can refer to their menu HERE.
If you still have doubts or are wondering if they can replace the meat/seafood in a certain dish with vegetables or tofu/mushroom, utilize the phrases in our Essential Japanese Travel Phrases for Vegetarians and Vegans article to check with the staff when you get there (=゚ω゚)ノ.
If you love cheese, Restaurant Kobe Cheese (レストラン 神戸チーズ) has many cheese fondue menu (but all include meat/seafood items as part of the set menu, unfortunately)…
Make Your Own Butter and Dairy Products
At B1 of Makiba Yume Kōbō's (まきば夢工房) Taiken kyōshitsu (体験教室), you get to make a range of dairy products such as ice cream and butter (note some aren't from scratch). Each dairy-making experience takes around 20 to 30 minutes, costing from 1,000 yen to 1,500 yen per person.
If interested, drop by between 10 am and 4 pm and apply!
Note most of the experiences require two people to participate. Apart from cheese making that requires participants to be middle school students and above, the rest require participants to be in the fourth grade in elementary school and above.
Craft Products Making with Wool
Besides dairy products, you can make your own craft with the wool from the farm's sheep! The activity takes around 30 – 40 minutes and costs from 1,000 yen depending on which craft you choose to make.
The venue is Cheese House's (チーズ館, Chīzu-kan) ground level's Exhibition Hall (展示ホール). However, it is only available on weekends and public holidays between 10:45 am and 3 pm.
Rokkōsan Pasture's Opening Hours, Admission Fees, and Access Information
Rokkōsan Pasture is open from 9 am to 5 pm except for Tuesdays

The last admission is at 4:30 pm.

The admission fees are

500 yen for adults
200 yen for elementary and junior high school students

From Rokkō Cable Line's Rokkō Cable Sanjō Station (六甲ケーブル山上駅), or, from Maya Ropeway Sanjō Station (摩耶ロープウェー山上駅), take Rokkō Maya Sky Shuttle Bus (六甲摩耶スカイシャトルバス) and get off at Rokkōzan Bokujō (六甲山牧場)
Tip: For those who plan to drive, keep your receipt after you paid for your parking. With the receipt, you should be able to park at the other car parks in the pasture.
Discover Other Attractions in Mt. Rokkō Mt. Maya
Rokkōsan Pasture is just one of the many awesome attractions in Mt. Maya. To find out where else you can visit during your time on the mountain, check out our article about Mt. Rokkō and Mt. Maya for more information (=゚ω゚)ノ!