Adoring Japan's cherry blossoms is one of the main reasons that people around the world visit Japan. So if you plan to visit Morioka in early spring, note the below spots in the city where you will be amazed by the beauty of Japan's national flower. Some of them are well-known, whereas others are hidden!
Morioka's Top Cherry Blossom Spots
Morioka's Cherry Blossom Season
Morioka's cherry blossoms usually bloom from mid April to the beginning of May.
Morioka-jō Castle Site Park (盛岡城跡公園)
With around 250 cherry blossoms planted, the Morioka Cherry Blossom Festival (盛岡さくらまつり) is held at Morioka-jō Castle Site Park from around mid-April to Golden Week. Even at night, the park is still lively, with people adorning the flowers illuminated by traditional lanterns.
For more information, refer to our Morioka-jō Castle Site Park article!
Ishiwarizakura Cherry Tree (石割桜)
There is a cherry tree that you will want to check out in the courtyard of Morioka District Court (盛岡地方裁判所) regardless of the season.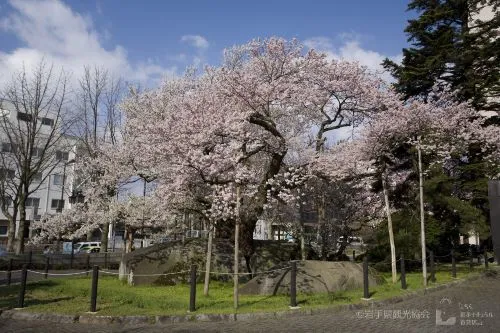 The 11-meter-tall tree that grew from a granite crack is just amazing to see. This is why the tree was named Ishiwari, meaning breaking a rock.
Apparently, the granite's crack was caused by thunder. The cherry seed that fell into the crack sprouted and slowly grew up to the magnificent tree in 350 to 400 years. It is one of the examples that shows us how strong the vitality of a plant can be. After seeing it, you will agree with the decision made in 1923 that designated the cherry tree as a national natural monument.
As you can imagine, the locals value this fascinating cherry tree a lot. The best example happened in 1932 when Morika District Court caught fire. A local gardener named Fujimura Jitarō (藤村治太郎) saved the tree from the fire using his Kimono short coat to put out the fire that was already burning the branch close to the court. A lot of measures and efforts were then put into place to ensure the tree is back to being healthy again.
Tips:
☛ Ishiwarizakura usually blooms from mid to late April. At night, it is also illuminated during the season.
☛ The Morioka Shidare Cherry Tree (モリオカシダレ) in Ryūkokuji Temple (龍谷寺) in Morioka is another national natural monument.
How to Get to Ishiwarizakura Cherry Tree
Ishiwarizakura is a 15 to 20-minute walk from Morioka Station.
If you plan to take a bus, get off at Chūō Tōri Itchōme (中央通一丁目).
Important: As Ishiwarizakura is on Morioka District Court's ground, it can only be seen between the court's opening hours, between 8:30 am and 5:45 pm.
Note you can view it from the sidewalk even outside of the court's opening hours.
Takamatsu Park (高松公園)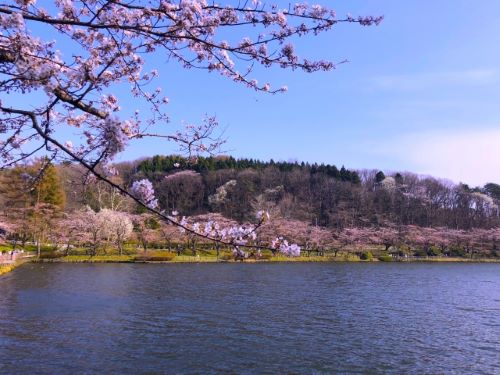 To adore cherry blossoms, Takamatsu Park is the best spot in Morioka's city center. With more than 1,200 cherry trees planted in the park, the scenery is so amazing that it was chosen to be one of Japan's Top 100 Cherry Blossom Spots.
Of course, a cherry blossom festival is held during the season. The flowers are illuminated with traditional lanterns from 6 pm to 9 pm. There are also temporary stalls set up during the event.
How to Get to Takamatsu Park
From JR Morioka Station, take Iwateken Kōtsū's (岩手県交通) Route 11 bound for Matsuzono Eigyōjo (松園営業所) and get off at Takamatsu no Ike-guchi (高松の池口). The park is then a 5-minute walk.
Yonai Water Treatment Plant (米内浄水場)
Yonai Water Treatment Plant, completed in 1934, is the city's oldest water treatment facility. At the same time, it is also a cherry blossom spot in Morioka. The 33 weeping cherry trees planted at one side of the plant makes the rural landscape gorgeous to adore.
Note food is prohibited at Yonai Water Treatment Plant. It take around 15 to 20 minutes to walk around the plant.
How to Get to Yonai Water Treatment Plant
During the cherry blossom season, Yonai Water Treatment Plant is open from 9 am to 6 pm.
The small waterway museum at Yonai Water Treatment Plant is open from 9:30 am to 5:30 pm from the 16th of April to November.
Yonai Water Treatment Plant is just a 3-minute walk from JR Kami-Yonai Station (上米内駅).
Important: Arrive early if you plan to drive. Roads to Yonai Water Treatment Plant can be crowded from 8:30 am.
The water treatment plant is also open to the public during the flowering period, giving us another reason to visit it between late April and early May.
Sakura Park Himekami (サクラパーク姫神)
Sakura Park Himekami is a new hidden cherry blossom spot that has existed since 1999. Thanks to the donation of 10,000 sakura seedlings from a community society called Furusato Tamayama-kai (ふるさと玉山会), Morioka is on its way to having Japan's best cherry blossom spot. The society members residing in Tokyo were from the old Tamayama Village (玉山村) that was combined into Morioka. After the city received the donation, the 37-hectare site at the foot of Mt. Tenpō (天峰山) was chosen, and the seedlings were planted in 1998 and 1999.
More than 20 years have passed, and the seedlings have grown. They now cover a large part of the hill and create a magnificent yet amazing cherry blossom scenery in early spring. Locating at an altitude of 450 meters, Sakura Park HImekami is another spot in Morioka to adore the Ou mountains, including Mt. Iwate and Hachimantai, where the mysterious scenery called the Dragon Eye is located..
How to Get to Sakura Park Himekami
Sakura Park Himekami is open from:

9 am to 5 pm from mid-April to August
9 am to 4 pm September to mid-November.

From Ginga Railway's Takizawa Station (滝沢駅), it is a 20-minute drive. The railway company also has a Morioka Station next to JR's Morioka Station.