Obuse, a small town in Nagano prefecture, famous for its chestnut produce and a large variety of chestnut sweets, is a must-go for all the sweet tooths! And among all the sweets shops in Obuse, Obusedō (小布施堂) is probably the most famous sweets maker.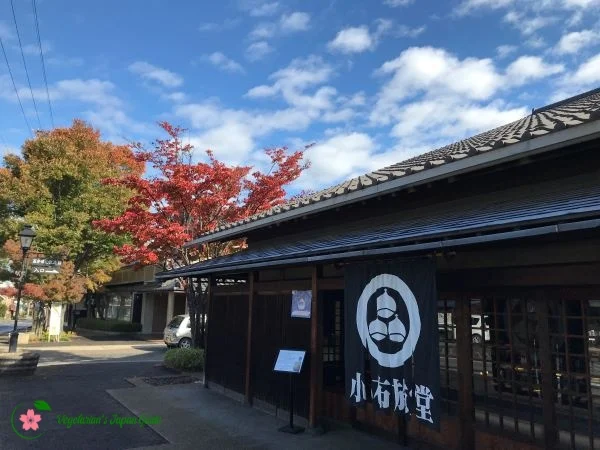 Obusedō was founded in the Meiji period (1868 – 1912). With vast experience in making Japanese sweets with chestnuts, it later successfully developed a western chestnuts sweets menu. Its Mont Blanc cake is so so famous that customers from all around Japan will start queuing from midnight!
Kuri no Tenshin Suzaku (栗の点心 朱雀)
Kuri no Tenshin Suzaku is the best chestnut dessert the shop offers its customers. Made from freshly picked chestnuts, the dessert is only available for a month each year during the chestnuts season, from early September to mid-October.
Without adding any additional ingredients, the freshly steamed chestnuts are crushed and layered on top of the pre-made chestnut paste.
Kuri no Tenshin Suzaku is only offered to the first 400 customers each day when the dessert is on the menu. People will queue from midnight just to get one of the exchange tickets that the shop starts to distribute at 8 o'clock in the morning!
Even if you get there at 5 am, there will probably already be more than 100 people in the queue Σ(゚Д゚).
If you are really keen to try it out, Kuri no Tenshin Suzaku will be served from the 10th of September to the 16th of October in 2022.
Mont Blanc Suzaku Cafe Entotsu (えんとつ)
As travelers, we wanted to have enough energy to explore during the daytime. So instead, we went for the Mont Blanc Suzaku that is served at the Mont Blanc Suzaku cafe Entotsu (next to Obusedō).
Mont Blanc Set with a drink is 2,000 yen (not cheap, but we are still glad we ordered it!)
Cafe Entotsu opens between

12 pm and 4 pm but may change depending on the seasons
12 pm to 3 pm in January
12 pm to 2 pm in February

You can save your spot on the arrival sheet provided by the cafe 30 minutes before it opens, as the number of Mont Blanc is also limited each day
If you are more of a Japanese sweets kind of person, you will also find traditional sweets such as yokan, monaka, rakugan…etc, all filled with Obuse's best quality chestnuts!
HERE, you will find photos of all the sweets that you can purchase from Obusedō's takeaway shop (in Japanese only, click on the "詳しく" to view all the sweets under each category that you can get from Obusedō)
Obusedō's Business Hours and Access Information
9 am to 5 pm daily
To get to Obusedō it is a 10-minute walk from Nagano Electric Railway's Obuse Station.
Discover the Fascinating Attractions in Obuse
Obuse, a small town that is a 30-minute train ride away from Nagano's city center, is known for the delicious chestnuts growing out of the fields. It is the destination that all sweet tooths can't miss out on when they visit Nagano.
In addition, the town also has a couple of ukiyo-e attractions for those who are interested in artworks.
For more information, please refer to our article on Obuse!